Field Notes from MIR Tour Managers Reporting In from Siberia's Lake Baikal to Georgian Wine Country
For 35 years, MIR, whose name means peace and world in Russian, has been dedicated to connecting people from all over the world to our unique collection of destinations, and our diverse staff of experienced and thoughtful tour managers are instrumental in this endeavor.
Here are some field notes from four MIR tour managers from their respective hometowns of Irkutsk (Siberia), St. Petersburg (Western Russia), Tbilisi (Georgia), and Lviv (Ukraine) on how they have been making the best of the last several months as world travelers slowly begin to consider their next adventures.
We hope you enjoy learning about how some of our MIR tour managers are spending their days until they can get back to what they love most – travel.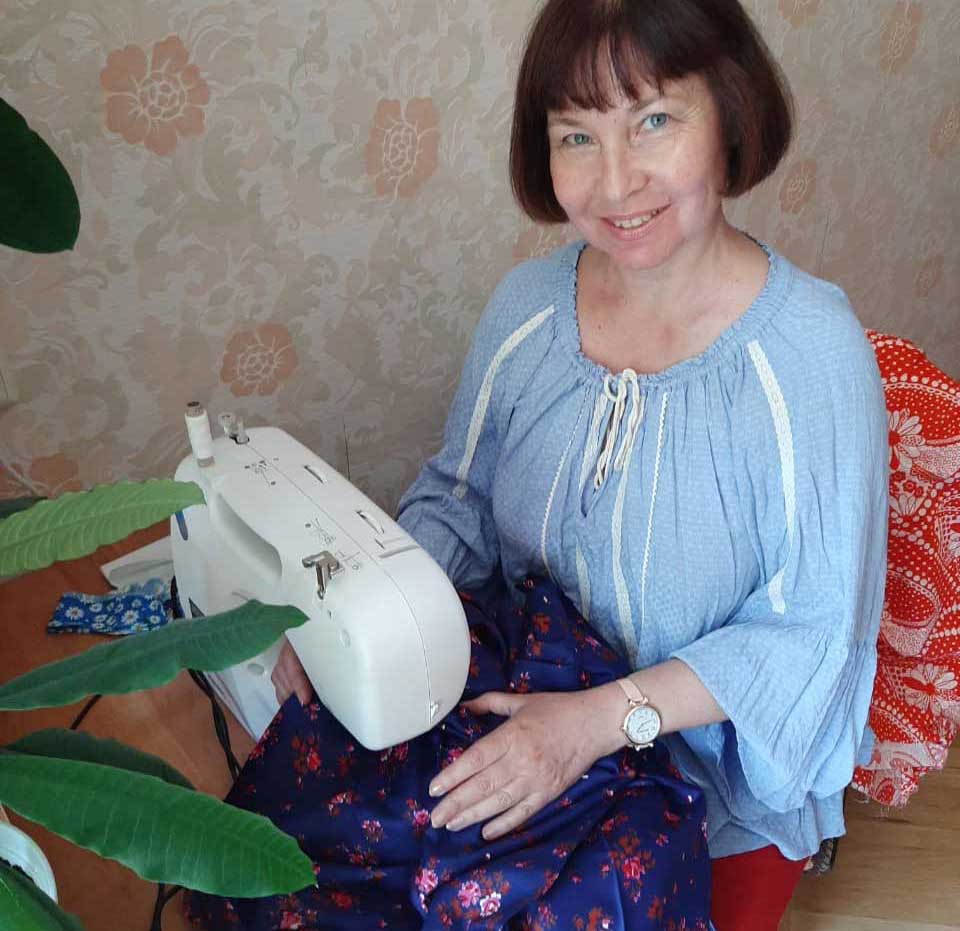 Katya Puzyreva
Hails from: St. Petersburg, Russia
From Russia Sewn with Love
MIR tour manager and guide Katya Puzyreva has always had an aptitude for turning the proverbial lemons into lemonade. With unexpected time on her hands this spring, Katya temporarily relocated to her mother's home in Peterhof, a village that is also home to the former Summer Imperial Residence of Russian Czars. With the glorious parks and gardens with famous fountains recently reopened, Katya is able to fully appreciate the absolutely idyllic setting in which she finds herself, 'amongst blooming tulips and singing birds.' She's been inspired during this pause to resume a previous passion but with a distinctively Russian twist: sewing.
(click image to view larger photo)
"Several years ago when the Russian Golden Ring towns started occupying an immense share of my working schedule as a tour manager, a desire to sew resurfaced. The ancient Russian cities and villages located to the West from Moscow are so colorful, so vibrant, so lively – and the locals so hospitable and sincere – that it's a place that I long to return to. History, traditions and nature combine together and the resulting influence on handicrafts of the region such as on matrioshka dolls, woolen shawls, lacquer boxes and huge variety of locally made cotton fabrics, is readily apparent.

Recently, traditional patterns of the 19th century started reappearing in such cities as Ivanovo, Shuya, Kostroma and Yaroslavl. They can be likened to meadows with wild and garden flowers. So I could not resist this temptation any more, and on one of my trips, I went shopping in Suzdal to one of the tiny cute shops located a few steps from our hotel. I bought several meters of local cotton. My choice met with approving nods by several women from our MIR group. But just recently I had the opportunity to begin work on my "Russian cotton project." All of our group lectures and talks on national costumes, tours to the museums of applied art and wooden architecture, folklore dances are now peacefully coexisting in my new blouse.

I am not the only one inspired by these Golden Ring trips: recently I received a note from one of our MIR travelers who said: 'I think about that wonderful trip every day, especially now that my paintings are still mostly relating to the icons I saw. And thinking about icons is uplifting right now.' Indeed, I couldn't agree more – ancient arts and crafts which surround us during the trips are really uplifting, and reminders of them help us to survive these challenging times – they brighten our life!"

– Katya Puzyreva
(click image to view larger photo)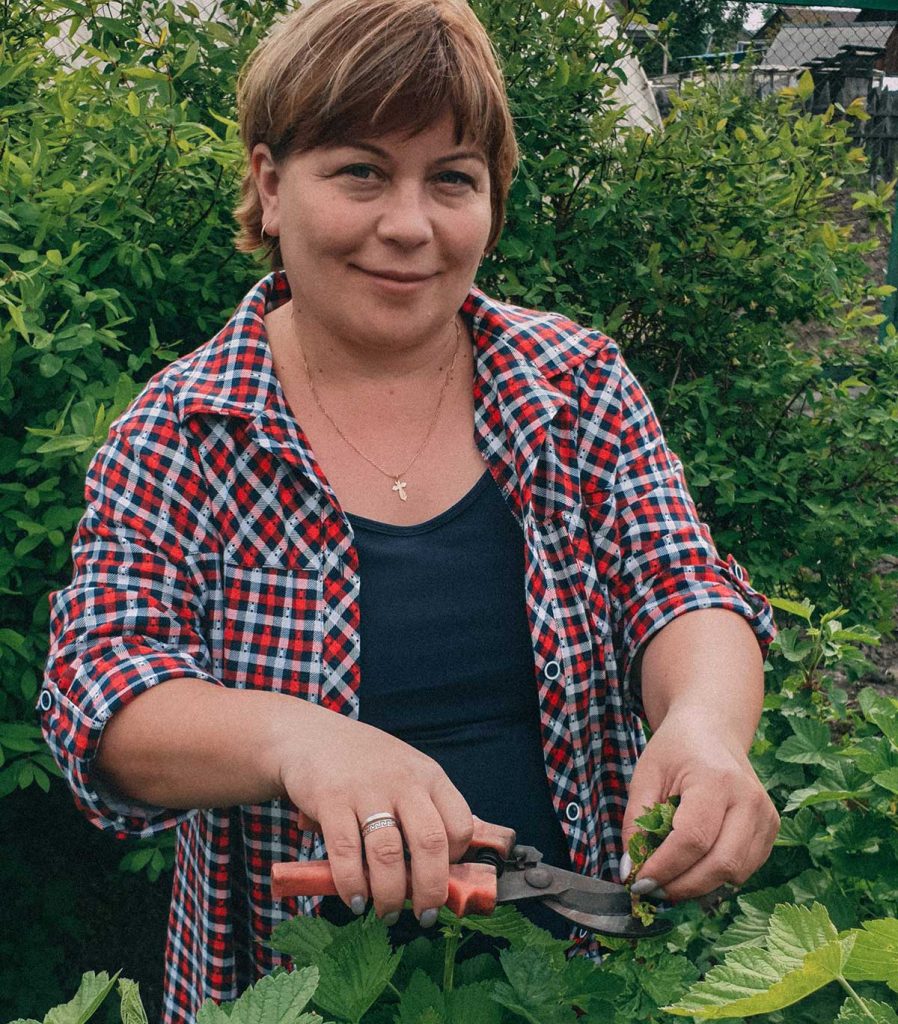 Alla Shishkina
Hails from: Irkutsk, Siberia, Russia (near Lake Baikal)
Siberian Strawberries, Stories, and Shutters
Lake Baikal-based MIR guide and tour manager Alla Shishkina, together with her family, is taking advantage of recent downtime to delve into those projects in and around the house for which they never typically have time. One such project is to restore the old shutters with 'eyebrows' left from the old house and use them to decorate the window frames of the new shutters.
(click image to view larger photo)
"Parts of the old shutters are in a pretty good condition and we do hope they will protect our home and help to live in peace. Siberians in the old times were very superstitious and believed that evil spirits could enter their dwellings through gates and windows. That's why they used different patterns and ornaments with symbolic meanings on shutters and on window surroundings both for decoration and protection. In Irkutsk one can see many old wooden houses richly decorated and well preserved to this day."

– Alla Shishkina
Alla and her family live within walking distance to the banks of the Angara River — the only river which flows out from Lake Baikal, while 336 rivers flow into the lake. They often venture to the riverbank in search of fresh air, and to meditate and take a swim if the weather permits. This helps them recharge and take on other physical tasks such as tending an ambitious garden and building greenhouses.
(click image to view larger photo)
"Now we have three separate greenhouses for tomatoes, cucumbers and peppers, plus vegetable and flower beds. It always surprises people to learn about the variety of fruits, vegetables, plants, trees and flowers we can grow here in Siberia. In our very own garden we have fir tree, bird cherry tree, cherry, plum, blue-berried honeysuckle, raspberry, black currant, gooseberry, and Baikal strawberry. Baikal strawberry is very fragrant and has a taste of a wild strawberry but is much bigger. It can endure cold temperatures during the long Siberian winter."

– Alla Shishkina
(click image to view larger photo)
"Several items found in our garden are specific to Siberia. For instance, Siberian stone pine tree (Pinus Sibirica) – the cones contain edible pine nuts – or Bagulnic (Russian name) and Rhododendron dauricum with purple flowers blooming very early in spring. People here use it medicinally to treat coughs, fevers, wounds, and digestive problems. The soft leaves are used as a seasoning, as a tea, and can also be crumbled in a salad. One more very interesting plant specific to Siberia that we grow in our garden is called Sea Buckthorn (lat. Hippophae Rhamnoides). Sea buckthorn has many health benefits. Oil extracted from yellow-orange berries is great for the skin, and the berries are rich in vitamins and we often use them to make jellies, juices or tea. Everyone in our family is a big fan of homemade herbal tea. Of course, all ingredients such as Rhododendron dauricum, peppermint (Mentha), Calendula, currant leaves, raspberry, and sea buckthorn berries come from our garden."

– Alla Shishkina
(click image to view larger photo)
To keep up her English skills, Alla has been reading English language books and watching movies and TV shows, and also helping tutor students to boost their English skills via on-line classes. Some of her favorites: The Princess of Siberia by Christine Sutherland, The Shaman's Coat (a native history of Siberia) by Anna Reid, and Genghis Khan and the Making of the Modern World by Jack Weatherford.
"Jack is a good friend of MIR and I've had the good fortune of meeting him in person when he occasionally hosts MIR groups during our Mongolia travels (read our interview with Jack).

Speaking of travels, I will be very glad to get back to traveling further afield in Siberia and beyond. I miss the blue transparent water of Lake Baikal as seen from Olkhon Island, the shamans and throat singers of Tuva, and the vast open steppes of Mongolia. But there is one place I am looking forward to going for the first time: I am dreaming of making it to Kamchatka – one of the seven wonders of Russia. Kamchatka, a 1,250km-long peninsula in the Russian Far East, is geologically very active and has numerous volcanoes, geysers, hot springs and even a lake of acid. Nineteen of Kamchatka's volcanoes constitute the "Volcanoes of Kamchatka" UNESCO World Heritage Site."

– Alla Shishkina
(click image to view larger photo)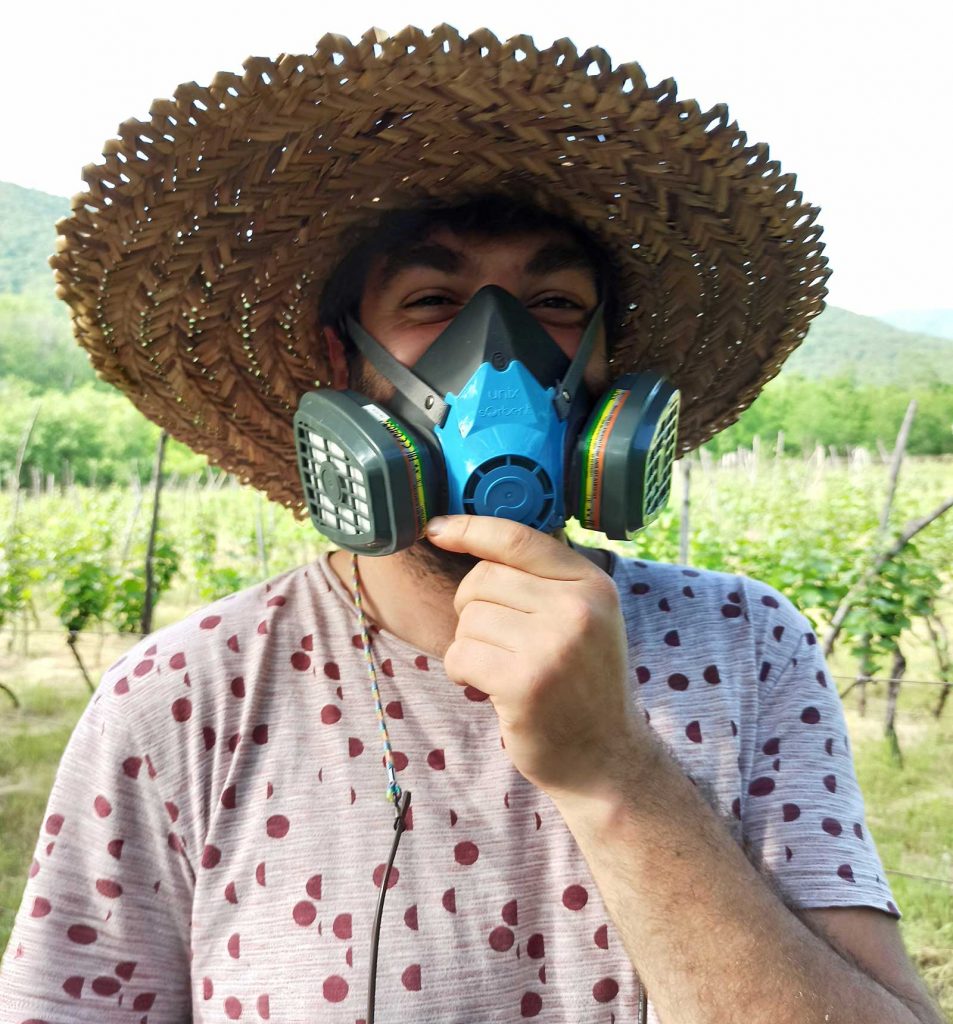 Davit Nozadze
Hails from: Tbilisi, Georgia
In Pursuit of Every Georgian's Dream
In the country that claims to be the birthplace of wine, and home to over 500 varieties of grape, the national dream of Georgia is to own one's very own vineyard, be it any size or shape. Our Tbilisi-based tour manager Davit Nozadze found himself in the enviable position of fulfilling that very coveted dream just as the pandemic was beginning to sweep the world and temporarily close down the Republic of Georgia in the process.
"My 2020 Covid-19 story starts with actually buying a vineyard in a small village called Shilda, located in the country's best-known wine growing region of Kakheti. Just before the pandemic arrived, a friend of mine found a vineyard being sold on the internet. Not knowing anything about the property, we jumped in a car and made the two hour-plus drive from Tbilisi that brought us to the foothills of the Greater Caucasus Mountains in the midst of an Acacia forest, where we discovered two small patches of land with orphaned Rkatsiteli grapes growing. The place instantly captivated us and we knew it was going to be ours — we bought it straight away. Its rustic beauty was simply impossible to pass up.

The vineyard had not been taken care of for years and was essentially orphaned, as the previous owners had no means to take care of it for at least the past five years. It became like a school playground for us — having some minimal theoretical knowledge of grape growing, and lots of winemaker friends helping us out (including quite a few phone consultations with Shota Lagazidze from Lagazi Wines), combined with lots of advice from the grape growers of Shilda village, we were encouraged to take the dare and believe that we could bring the vineyard back to life. We are three friends and co-owners and none have a background in the industry, but this is something we have wanted for a long time and we now have the courage and drive together to materialize our vision."

– Davit Nozadze
(click image to view larger photo)
The vineyard is so new that it doesn't yet have a name, but the plan is to grow grapes and make wine for personal consumption for the next several years, using this time as an opportunity to educate themselves and learn the entirety of the process from grapes to fermenting the juice. Along with the Rkatsiteli grapes, there is also a small amount of Saperavi grapes growing as well. Davit estimates the two varieties have been growing for 40 and 15 years respectively, and the intent is to carry on the tradition and not to transform anything or add any other grape varieties. In the future it is their goal to find an additional small plot of land in the region on which to plant additional Saperavi grapes.
Davit's "tour manager 'always an educator' mindset" clicked in immediately and he developed aspirations, beyond a traditional personal vineyard, of creating some sort of educational community center — a place where people are welcome to interact with this very tangible form of Georgian culture, volunteer in the vineyards, learn about grape growing, and take a turn learning how to build with traditional masonry using the local river bed stones and locally-made clay. Such is the grand plan for how they imagine the evolution of their new endeavor, and we can't wait to get there ourselves and make it available to MIR travelers as well.
While Davit looks forward to September 1, 2020 when Georgia begins to re-open to international visitors and guiding opportunities will slowly resume throughout the South Caucasus, he still hopes he'll find ample time to steal away to Shilda to nurture his new project and tend to his beloved grapes.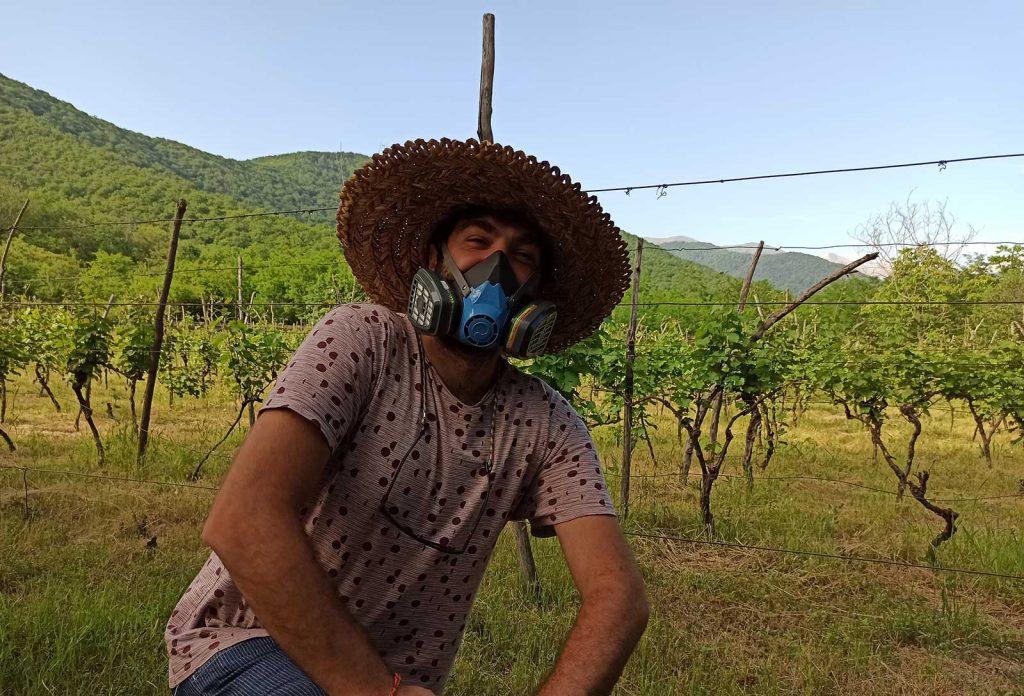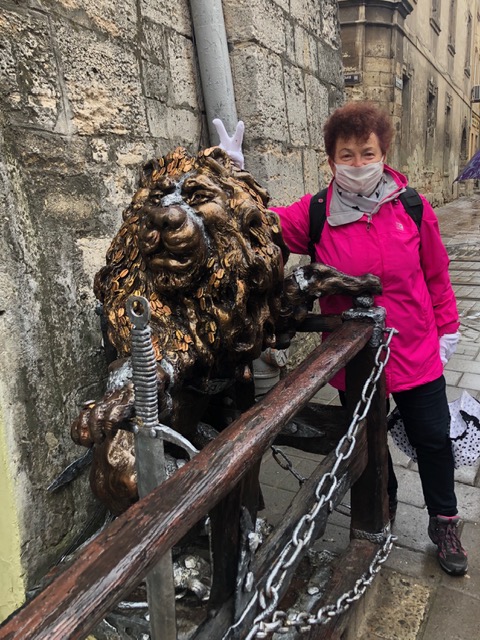 Iryna Trushkevych
Hails from: Lviv, Ukraine
Famous People from the City of Lions
MIR tour manager Iryna Trushkevych, from Lviv, Ukraine, has spent much of her recent free time dreaming up new ways to combine two of her favorite things: walking the colorful streets of her beloved hometown, and educating travelers from around the world on the history and culture of her native city and country.
(click image to view larger photo)
Iryna draws inspiration for her themed walking tours in part from the history and architecture that surrounds her; in the 13th century, Lviv was founded by Ukrainian cultural hero Danylo Halytskyi, who named it after his son Lev, the equivalent of Leo, or lion. Throughout the ensuing 750 years the city has worn the title of "City of Lions" proudly, and local artisans and architects over the centuries have woven the symbol of the lion into the fabric of the city, which is home to thousands of sculptures and various works of art depicting the noble cat.
(click image to view larger photo)
With fond memories of convincing her daughter to brave cold, winter walks with the promise of candy for each lion she could find, an idea was born to showcase Lviv's vast collection of lion depictions, each with their own storied origins, to international travelers who will soon return to her cherished hometown.
(click image to view larger photo)
Another idea for a themed walking tour came to Iryna through her recollection of an encounter with American classical pianist Emanuel Ax:
"A few years ago my friends in the UK presented me with a book named East West Street by Philippe Sands that describes some events of World War II, many of which took place in Lviv. Every year Philippe Sands visits a different city around the world to attend a performance of "A Song of Good and Evil," based on his best-selling book. In 2017 he came to Lviv with a special guest, American pianist Emanuel Ax, who was born in Lviv to Polish-Jewish Holocaust Survivors who then emigrated to Canada in 1956, and later to America. It was the first visit to Lviv for Emanuel Ax since his emigration.

After the performance I asked Mr. Sands to sign my book, and he was surprised that I had an English copy, as everyone else wanting a signature had a Ukrainian edition from Lviv. I told him I am an English-speaking guide and invited him to join my tour of Lviv the next day. Unfortunately, he had to leave the next day and could not accept my offer, but the pianist Emanuel Ax together with his wife Yoko Nozaki, who is also a pianist, joined me. It was such an honor to be his guide for his first visit to Lviv in over 60 years.

That experience came to mind during quarantine and I decided to create a new tour called "Famous People of Lviv," highlighting well-known people from all over the world who had lived in Lviv. Some examples include the Sheptytski brothers Andrey and Klementiy, who saved over 150 Jews during World War II, Solomiya Krushelnytska, the famous 20th century soprano of La Scala opera in Milan who made a success of Giacomo Puccini's Madam Butterfly, and a lawyer and a judge from the Nuremberg Trials; Rafal Lemkin, who introduced the concept of Genocide, and Hersch Lauterpacht, who coined the term "crimes against humanity."

– Iryna Trushkevych
(click image to view larger photo)
Iryna was thrilled to put her quarantine dreams into practice on May 30, the very first day that the government of Ukraine allowed domestic tourism to resume. Local tour participants wore masks and maintained a distance of at least 1.5 meters apart at all times, and Iryna was overjoyed to once again return to her decades-long passion for educating visitors on the splendors of Lviv.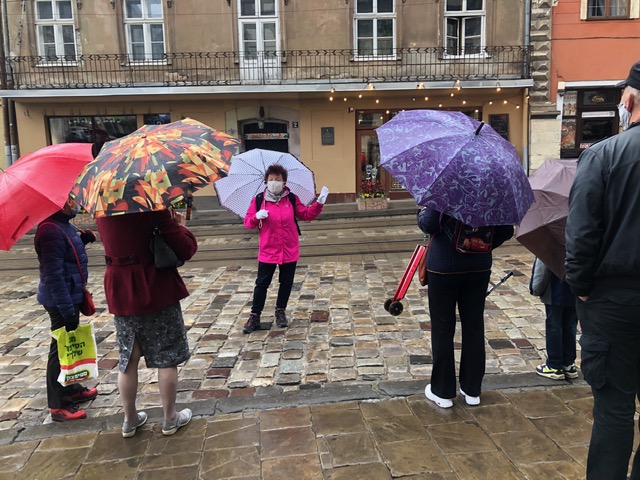 Iryna is very enthusiastic about the eventual return of international travelers to Ukraine and looks forward to leading MIR travelers on private tours of her city, as well as an in-depth, 2-week tour through Belarus, Ukraine, and Moldova in May of 2021.
(click image to view larger photo)
Top photo: Alla Shishkina