How to Make the Most of Your Time at the Hermitage – An Expert Shares Her Tips

Positioned in the heart of St. Petersburg, Russia, the Hermitage is the second largest museum in the world, and one of the world's greatest. It would take months for a person to stop and examine each of the exhibits here, which include works by Leonardo da Vinci, Michelangelo, Raphael, Titian, Rembrandt, Rubens, Van Gogh, Matisse, Gauguin, and Picasso, as well as treasures from ancient Rome, China, and imperial Russia.
(click image to view larger photo)
The fabulous rooms with their inlaid floors and gilded woodwork, and the grand double entry staircase, are works of art in themselves.
Interested in making the most of your time at the Hermitage?
Here are some insider travel tips:
The Hermitage: Before Your Visit
---
Make a plan before you go, and give yourself enough time. Even if you were to walk quickly, it would take more than a day merely to pass by every exhibit.
Check out the Hermitage website. It's extensive, filled with photos, and tells you about current and permanent exhibitions. The website has some planning tools to help you make a list of the items you want to see. Try out these online tools:
Trip Planner – Helps you to create and organize your visit
Interactive map – Review the layout of the three floors to get a perspective of what is found where
Upon Arrival to the Hermitage
You'll be handed a map with your entrance ticket to help you on your way, but early planning is important so you don't miss anything you really want to see. You can rent good audio guides in English at the entrance of the museum.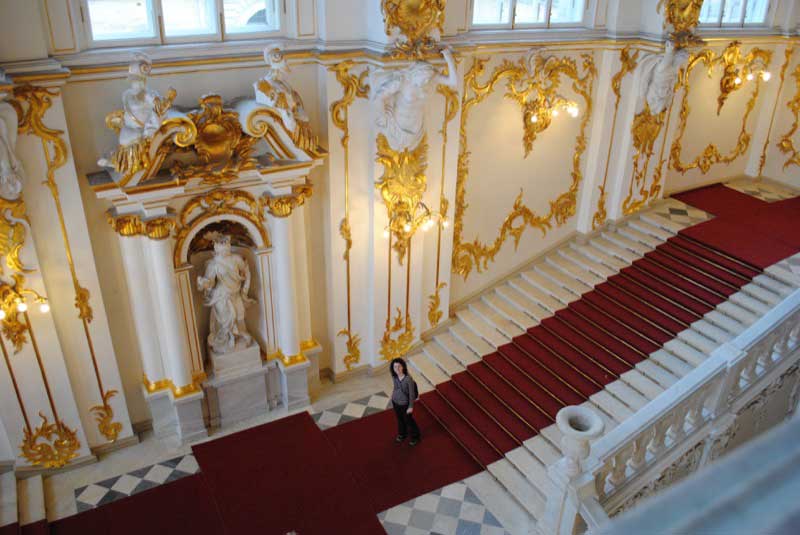 Most people will enter the main floor of the Hermitage by climbing the majestic Jordon staircase and then will walk through 11 magnificent official halls, once used for state business and royal audiences. After this introduction, it's best if you either have your game plan in place, or have a MIR guide with you to lead you to your must-see exhibits.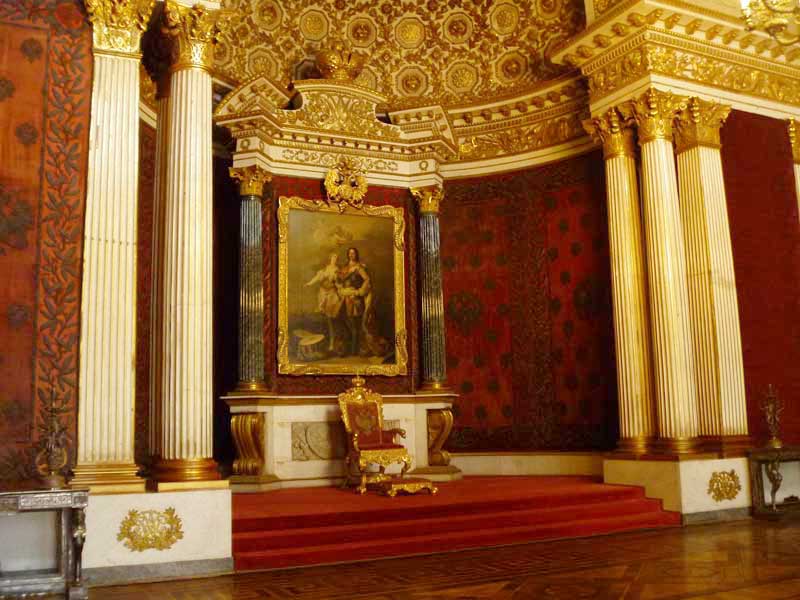 The Hermitage: Inside Scoop
---
To Everything There is a Season: When to Go
Summer or winter – each has its advantages.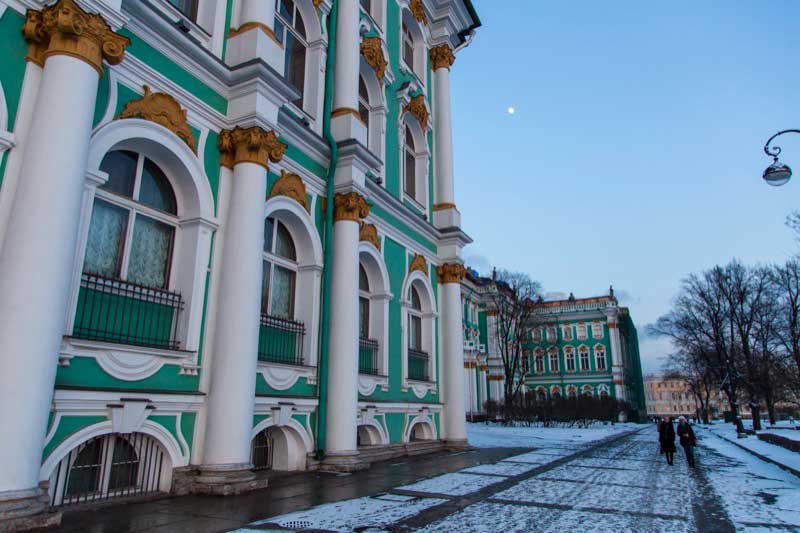 In summer, the lines are longer, but it can be more pleasant to stand out in the sun. I recommend getting in line a half hour before opening time (10:30am). Usually you don't have to wait more that 40 minutes to get inside, and then you have all day to browse.
I usually don't recommend paying for the early opening if you're on your own. Big groups of passengers from the river cruise ships typically take advantage of the early entry option, so I find it more satisfying to enter at the usual time and not have to contend with them. If you're with a private group, or a tour, paying for early entry can be a good option, because the crowds are still smaller than during peak hours.
(click image to view larger photo)
In winter, you can arrive only 10 minutes before opening time, and should be able to enter quickly. The halls are much quieter in winter, and your experience may feel more personal and special.
Oops: Travel Bloopers
The main mistake Hermitage visitors make is trying to fit in too much. You simply can't see it all, so decide on your "must-sees" and map them out.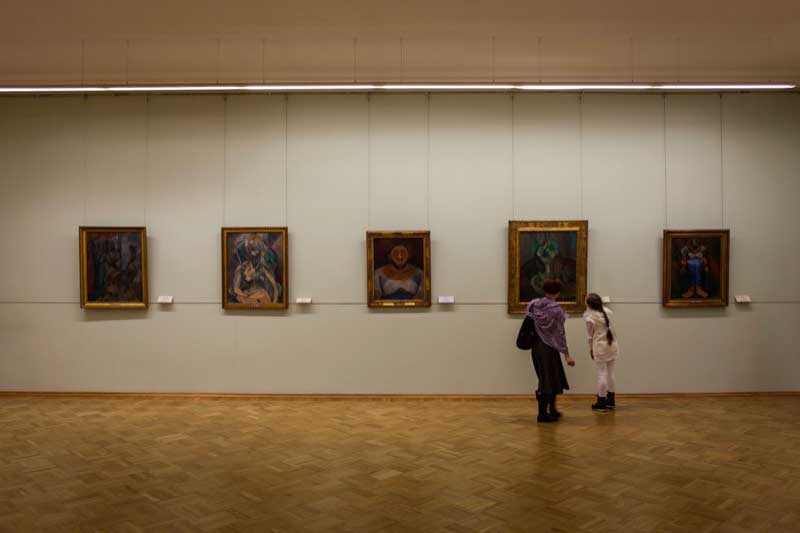 Note: The famous collection of French Impressionist paintings has been moved across the Palace Square to the General Staff Headquarters. You can buy a "complex" ticket in the main building, good for entry (during one day only) to the main complex, General Staff, Menshikov Palace, Winter Palace of Peter I, and the Imperial Porcelain Factory Museum. It's best to finish at the main building before you go over to admire the French Impressionists, since once you've left each building, you can't re-enter.
Take a Moment to Recharge
If you take a break for coffee, tea, or a bite to eat, and recharge your batteries, you'll be able to enjoy yourself for much longer.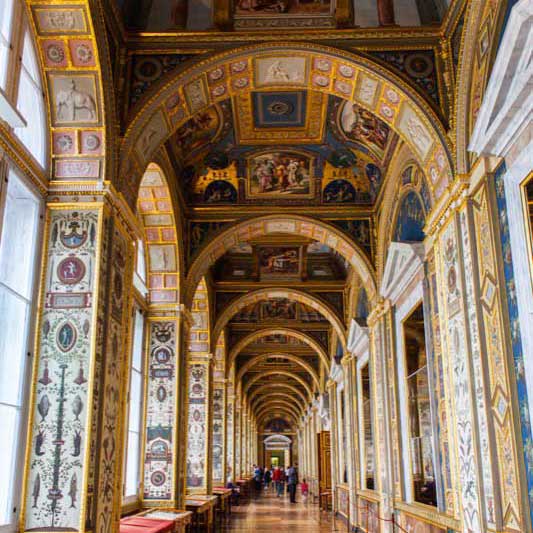 On the ground floor near the coat check is a handy cafeteria that serves fast and moderately priced Russian and international food. You can purchase coffee, tea and pastries, as well as sandwiches, pizza and piroshky here without taking too much time out of your day. It's a good place to rest your legs and take a break.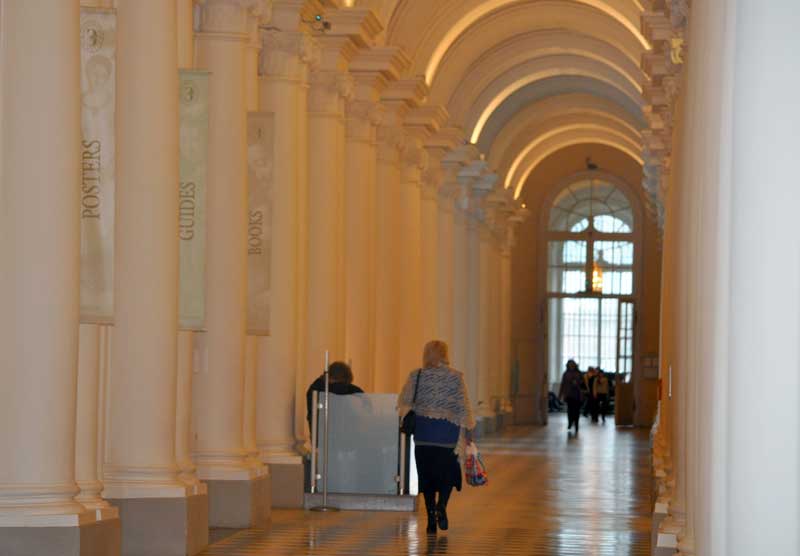 There is an elegant sit-down restaurant in the Hermitage, with excellent (but expensive) cuisine, tablecloths, china and wait staff; personally, I hate to spend too much time eating when I'm at the museum. If you're ready for an hour and a half break, go ahead and give it a try. It's definitely worth the price.
Of course, in the vicinity of the Hermitage there are many varied restaurants and cafés, but the catch is that once you leave the museum, you can't re-enter without standing in line all over again. Don't leave until you're ready to.
Hire a Guide
I recommend that you hire a local MIR guide to get the most out of your time. They will ask you about your preferences and time limitations and put together a great tour for you, giving you background, history and anecdotes about the works of art.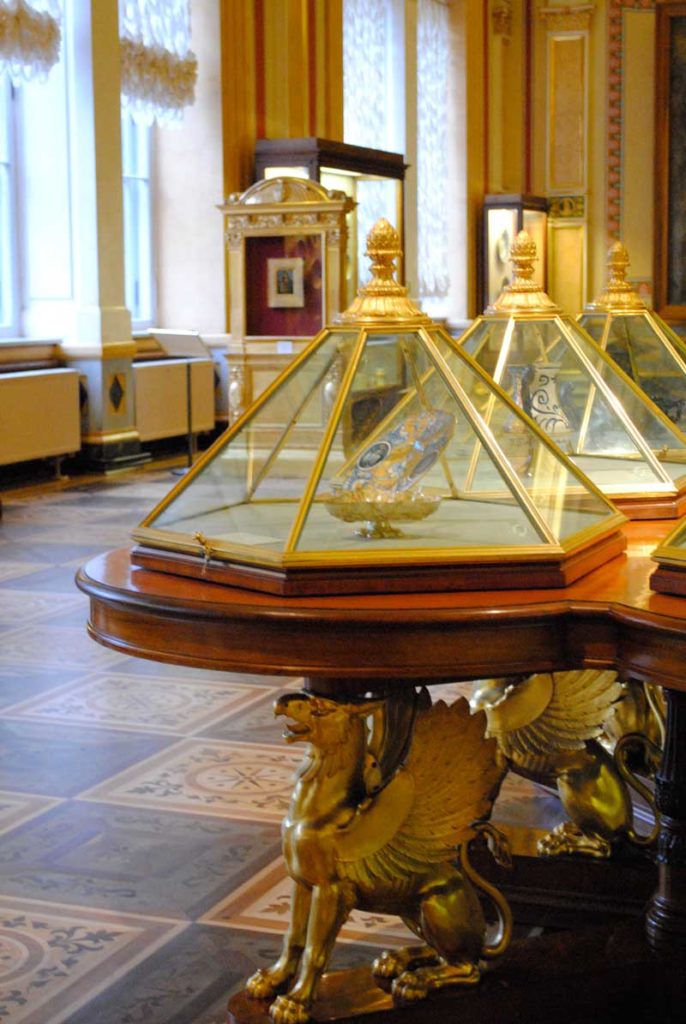 It is a much richer and more rewarding experience, in my opinion, than wandering on your own, reading the plaques that explain what everything is. If you say, "Surprise me," your guide will – with all their own personal favorites and the exhibits that they feel are essential for a first-time visitor.
Are Photos Allowed?
Visitors are allowed to take photos inside the Hermitage free of charge, however, the Hermitage reserves the right to deny permission to photograph or change their policies without notice. No flashes are allowed, and taking photos or videos of temporary exhibits is prohibited.
(click image to view larger photo)
Shop Savvy
There are some very nice shops on the first floor near the café. You can buy books, postcards, and real Russian souvenirs that come with certificates verifying their provenance. There is a shop selling beautiful replica jewelry, some set with real stones. I highly recommend shopping here, because everything is high quality and authentic.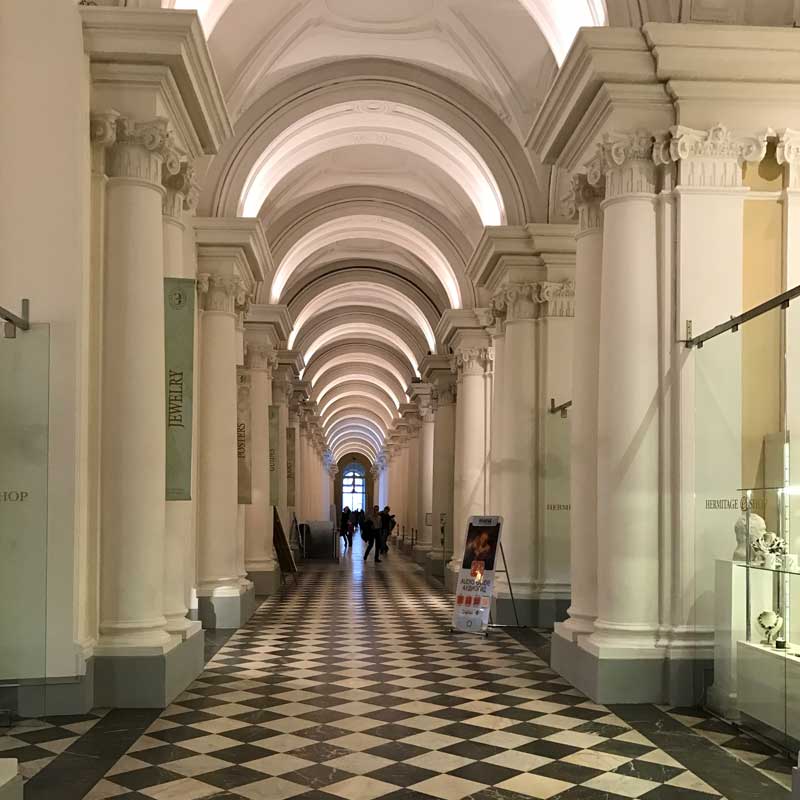 Attention!
Follow the rules, which are simple: Don't Touch and Don't Argue. If the room attendants who oversee each room say anything to you, listen to them and do what they tell you. You can be thrown out for arguing.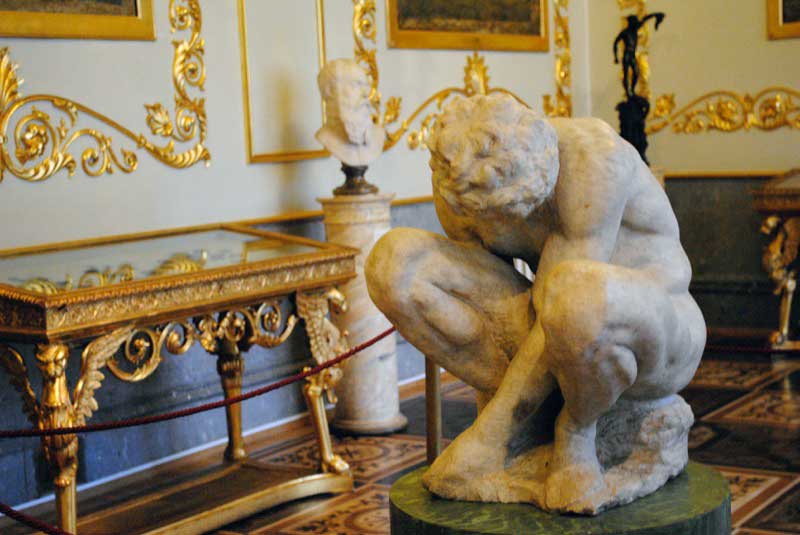 You'll be required to leave any coats and backpacks at the coat check, which is sizeable and convenient. You can carry your purse with you. Food and drink are not allowed in the museum – even the ubiquitous water bottle – but you can stop in at the café any time for a refresher.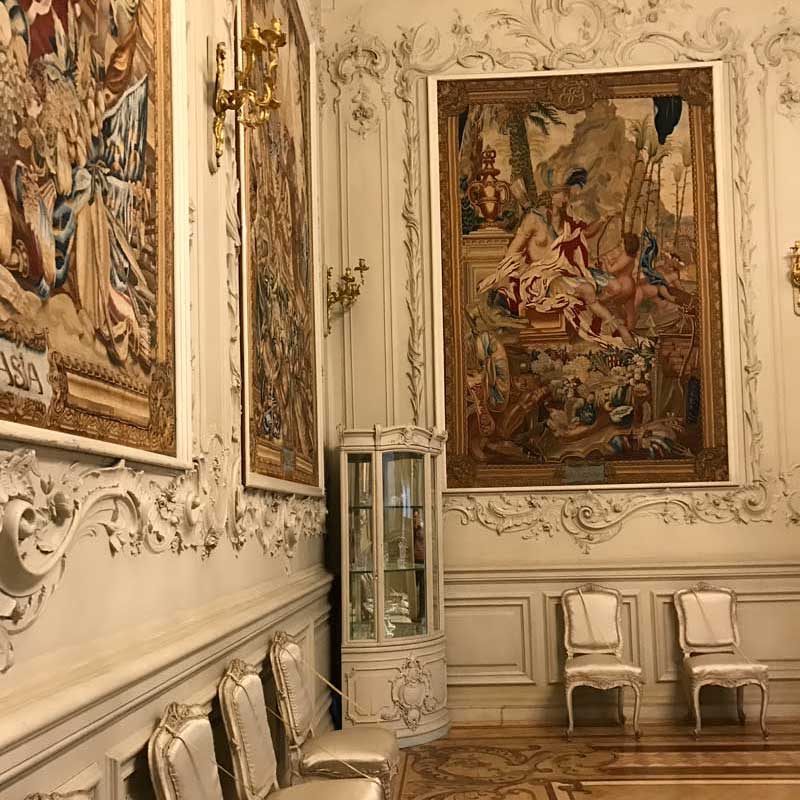 Stay on the lookout for Hermitage cats! Normally they stay in the basement during the day, but it's possible you may see one roaming the halls along with you.
Double Your Pleasure
At this writing, with an exchange rate of 59 rubles to the dollar, it costs approximately $10.00 for an all-day entry ticket to the Hermitage (about $13 for entrance to both the main building and the General Staff Headquarters, where the French Impressionists are living.). If you are staying for a few days in St. Petersburg, it's my recommendation that you go back to the Hermitage more than once, if it's at all possible. You could even drop by for an hour to seek out and contemplate the masterpiece of humanity that touches you most deeply. It would be money well spent to enrich your soul this way.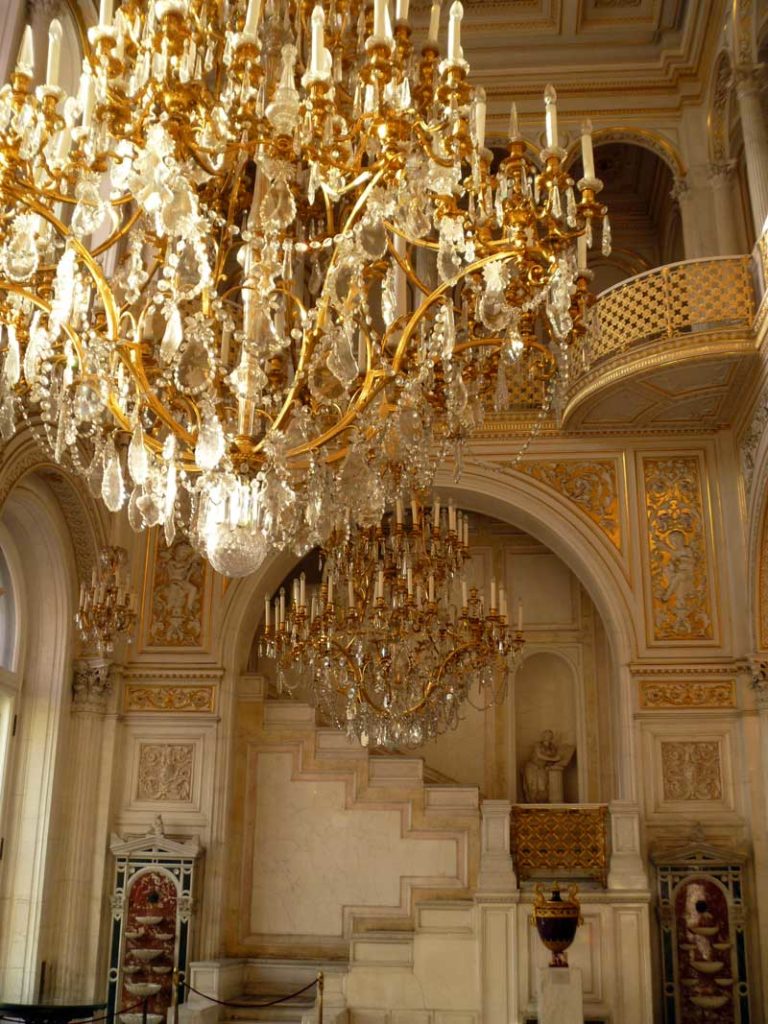 Favorites
---
Each person will have his or her "essential" exhibits at the Hermitage, and they may all be different. For example, whether you love antiquities, Asian art, Flemish painting, Russian icons or 20th century art, you'll find much to appreciate. Say you are a fan of Matisse, you must make sure you give yourself plenty of time to appreciate the Hermitage's collection of some forty striking works by the visionary artist.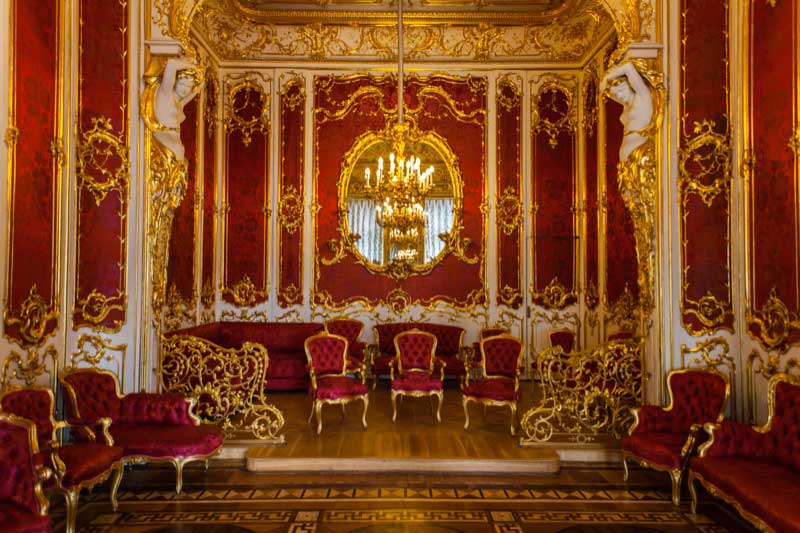 Olga's Favorite: the da Vinci madonnas
I love the artwork of the Italian Renaissance, and the Hermitage has nine rooms filled with works representing the 13th to the 16th centuries. The da Vinci madonnas – "The Benois Madonna" and "The Litta Madonna" – are my favorite masterpieces, and there are also wonderful works by Michelangelo, Raphael and Titian.
(click image to view larger photo)
Mariana's favorite: Matisse, "Music"
Our copywriter, Mariana Noble, loves the enormous Matisse painting of five red-orange people singing and playing instruments, called "Music." Next to it is another huge canvas in the same colors with five people dancing. "To me, they're profoundly joyful," she says.
Helen's favorite: The Rembrandt collection
Helen Holter, Content Manager, says,
No one does [light and shade] better than Rembrandt; thankfully the Hermitage has an entire room devoted to his works. Grab a seat before the crowds descend and spend time (nearly) alone as you take in – behold – the two dozen masterpieces of this master artist.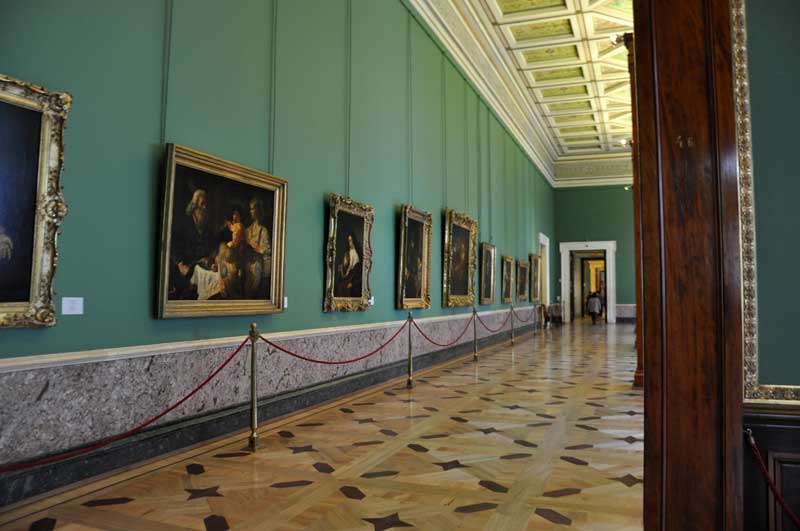 Liz's favorite: The Peacock Clock
Liz Tollefson, Marketing Director, says:
The highlight of my visit to the Hermitage was witnessing the winding of the beautiful Peacock Clock, located in Pavilion Hall. It's more than just a clock, it's a 240+ year old automaton that methodically transforms from a stationary golden statue to a moving work of art, wondrously exploding with whimsy.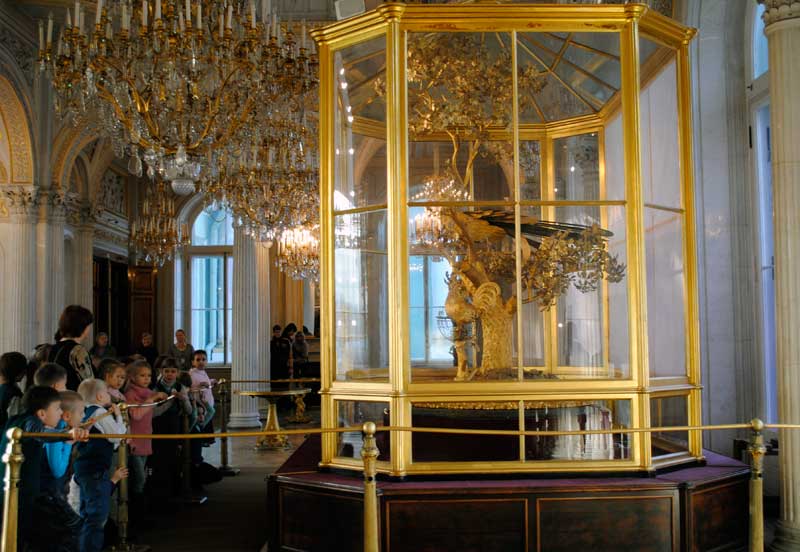 The clock is so ornate and complex, these days it only shows off for people at 7pm on Wednesdays (subject to change). If you can't time your visit for this once-a-week winding, there's a video of it in action next to the Peacock Clock display."
MIR can arrange a private striking of the Peacock Clock for groups – for an extra fee, of course.
Make the Most of your Trip to St. Petersburg with MIR
MIR has over 30 years of travel experience in Russia with affiliate offices in Moscow, St. Petersburg, and Siberia offering on-the-ground support and tour managers that clients rave about. MIR's full service, dedication, commitment to quality, and destination expertise have twice earned us a place on National Geographic Adventure's list of "Best Adventure Travel Companies on Earth."
Explore the Hermitage with MIR. You can experience the Hermitage like a local on any of these MIR small group tours and rail journeys by private train:
Or design your own trip with the help of a MIR Private Journeys Specialist. MIR has spent 30 years handcrafting tours and we'd love to take your ideas and weave them into a trip tailored especially for you. Travel wherever, however, and with whomever you like, relying on our expert assistance. Contact us to find out more about our custom and private travel expertise – each trip handcrafted to your interests, dates and pace.