Put a Ring on It: Our Favorite Towns in Russia's Golden Ring
John Seckel heads our affiliated Moscow office and knows the backwaters not only of Russia's capital, but the entire country. Here he writes about what you can expect on a MIR tour of the Golden Ring, the ancient towns that form an elliptical circle to the north and east of Moscow. The towns along the Golden Ring offer intimate views into Russia's past.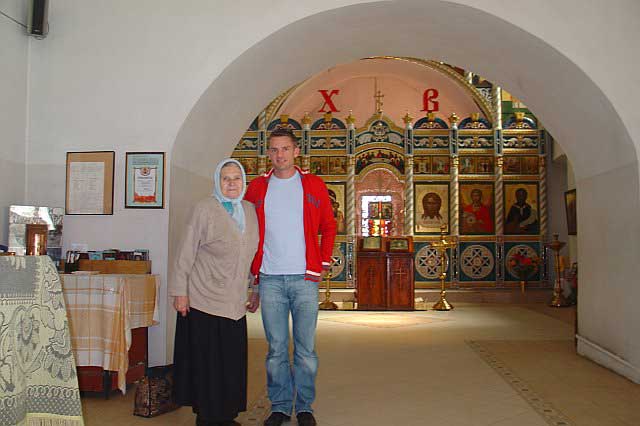 As the saying goes, "If you have only seen New York, then you haven't seen the U.S." The same goes for Russia. If you have only been to Moscow or St. Petersburg, you haven't seen Russia.
Don't get me wrong, I love Moscow, and it's been my home for over 19 years, but I really enjoy getting out into the regions for a change of scenery. A great way to get outside of Moscow and feel life in the more rural regions is by visiting cities on Russia's Golden Ring.
And you don't have to go far to do it. A few hours here and a few hours there by vehicle and you are at your destinations. Whether you're with a group or on an individual tour, you are bound to come up close to a side of Russian life that you won't see in the capitals.
Vladimir
---
About three hours from Moscow, you'll arrive at a city called Vladimir. Founded by the last of the great Kievan princes, Grand Duke Vladimir Monomakh, Vladimir is between 900 and 1,000 years old. Right away, you feel that this is not Moscow. The roads are narrower and the buildings are shorter. You can turn your tempo down now and get in the groove for a couple days of a slower life pace. Let your local guide take over.
If you have not seen Russian churches with frescoes up to this point, this is your time to really get your fill. I'll be honest, I'm not a church person and I won't remember the name or the year it was built, but I can take in the beauty and appreciate the work that the builders and painters put into their creations.
Bogolubovo
---
In Vladimir, you are very close, about a 15-minute drive, to a place called Bogolubovo. This is a very special place with a small, but significant church, called Church of the Intercession on the Nerl. It's one of the most perfect little churches in Russia. It's located in the middle of a field. Don't let the walking distance stop you from going right up to it. (You're not allowed to drive.) It is well worth the walk. At certain times of the year, the church is completely surrounded by water.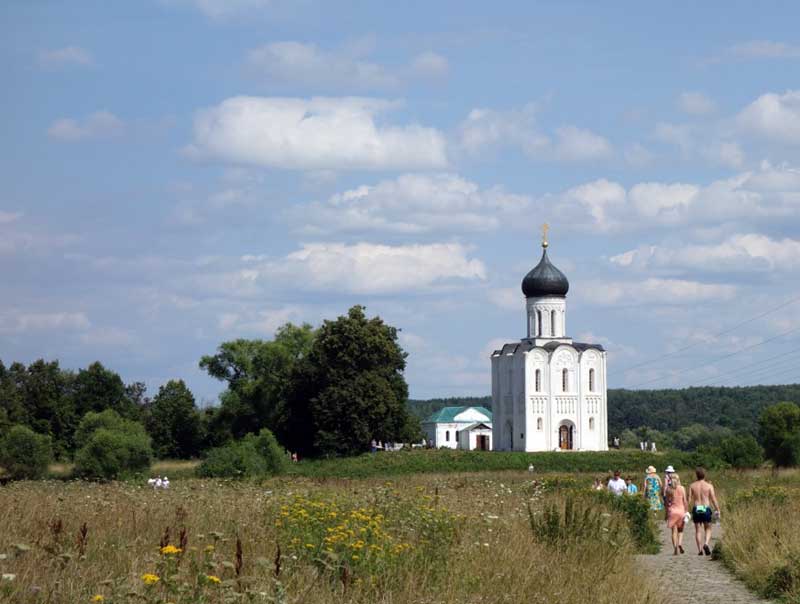 And, along the way, you could do a little shopping. I purchased some great shawls for my mom and sisters, made by the local women. It's a great way to interact with more rural people and get presents for your family and friends. Don't forget, prices are negotiable.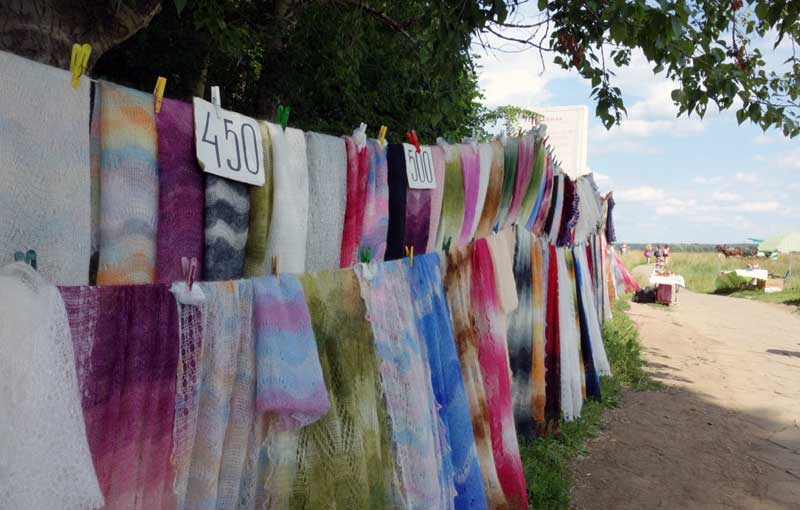 Suzdal
---
Your day does not end here. You still have some activities in the tiny city of Suzdal ahead of you. Arrive to Suzdal in time for an excursion at the UNESCO-listed Savior Monastery of St. Euthymius, founded in 1352. Here you'll visit the prison museum and hear the bells ringing at the 16th century five-domed Cathedral of the Transfiguration of the Savior.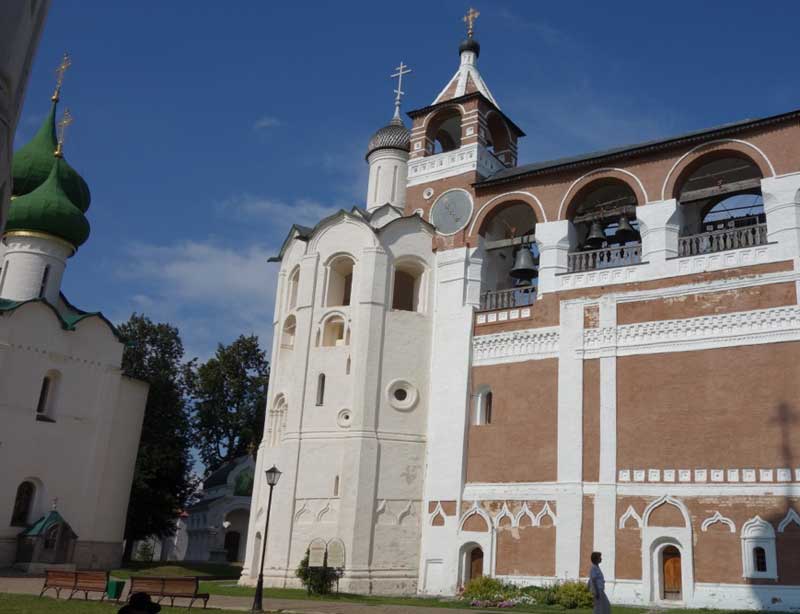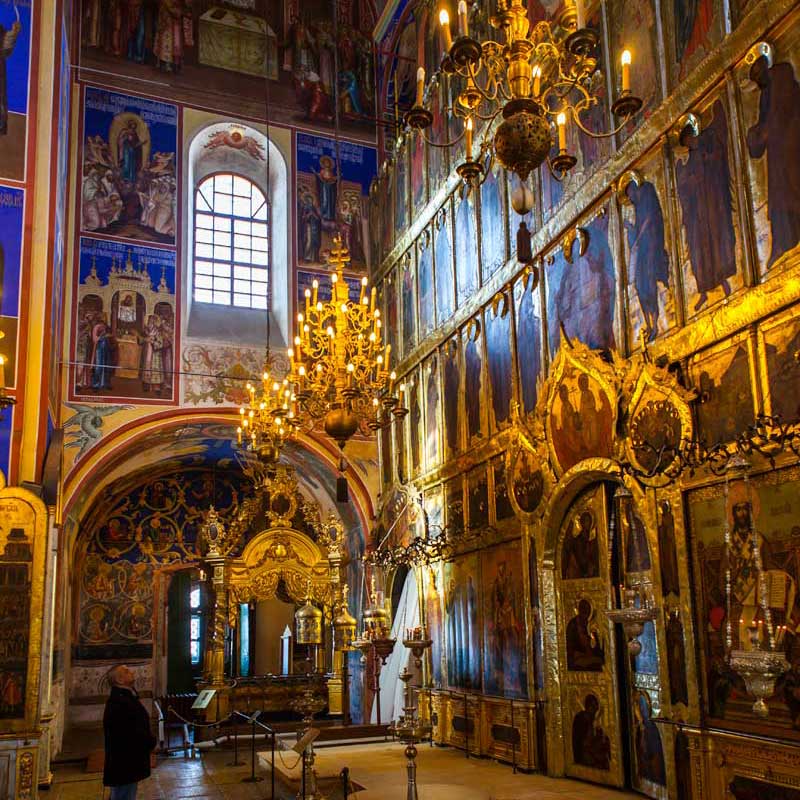 I haven't forgotten about eating. I like good food, and what better way to have good food and get to meet a local family than to have a dinner with them? This is a chance to ask questions to learn about them and to let them learn about you. Your hosts will be extremely happy to see you eat, so be sure to eat a lot! In Russia, it is common for a host to keep asking you if you would like more and more. In other cultures, it may be the practice only to offer additional helpings once, but not here. It's customary, when visiting a Russian home, to bring a small gift for your host family. It could be something like a box of chocolates or a calendar you brought from your home country, or maybe you could bring a bouquet of flowers or a bottle of wine for dinner.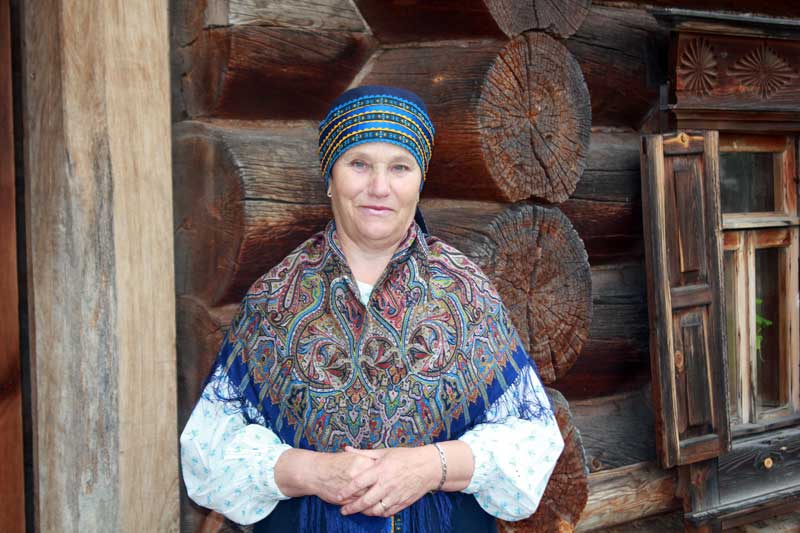 The next morning after you have had a good night's sleep, get ready to enter a sort of old time Russian village. It's called the Museum of Wooden Architecture, but it's not like a museum at all. You don't go into a building and walk from picture to picture. You take a step back in time to see what village life was once like. I have been here several times and hope to go back several more times. Watch out for the geese, though!
(click image to view larger photo)
Then you go to explore the kremlin. Yup, Suzdal has a kremlin also. Even after living in Russia for so many years, I still like to hear the meanings behind the different colors of the onion domes each time I go to the Suzdal kremlin.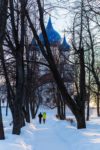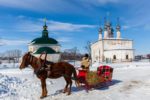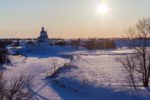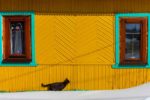 + 1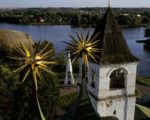 (click image to view larger photo)
Plyos
---
I forgot to mention earlier that you may want to have a light breakfast on this day. Why, you may ask? Because you are off to a place called Plyos. And what do we do in Plyos? Besides having a short excursion near the banks of the Volga River with a spectacular view – we eat.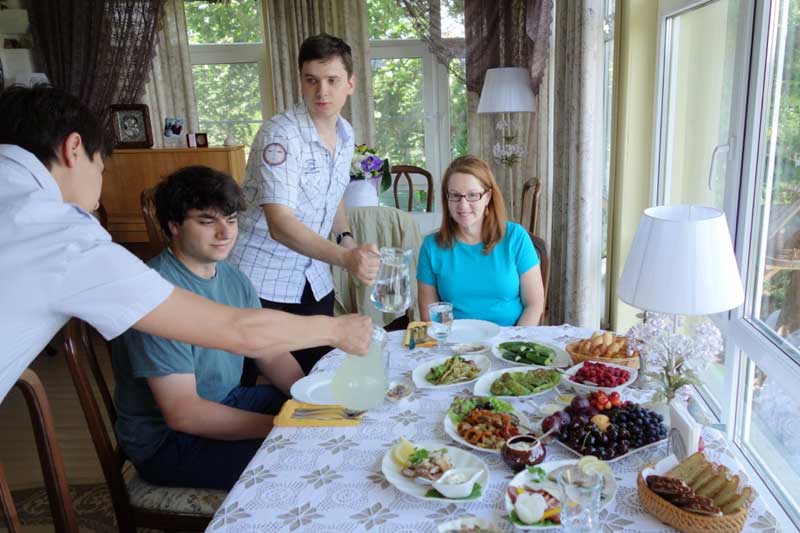 Hmm – maybe I should say we have a feast at a French-Russian family's small house/hotel business built on a hill overlooking the Volga. The food just keeps coming out and coming out. One of my favorite parts is the home-made bottled mushrooms. It sounds simple, but it's the simple things in life that make it worth living.
The family has a proud tradition of canning their own food, and will happily show you their food cellar. You don't want to turn down this offer.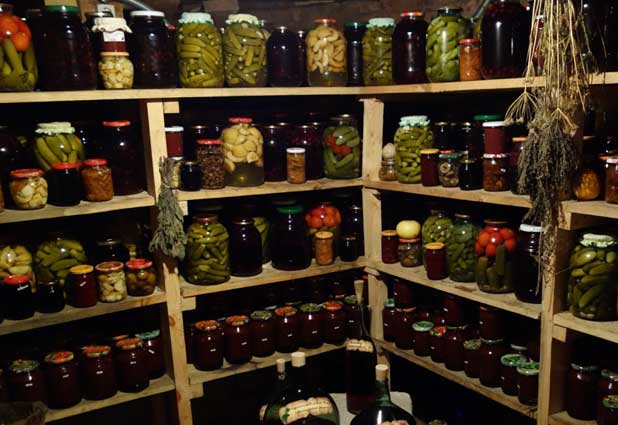 The eating does not end here. Your next stop is the Russian Izba, or Russian Cottage house. I remember giggling a bit at this house visit. I loved the dry sense of humor with which the host tells you about her house and how life was like "back then."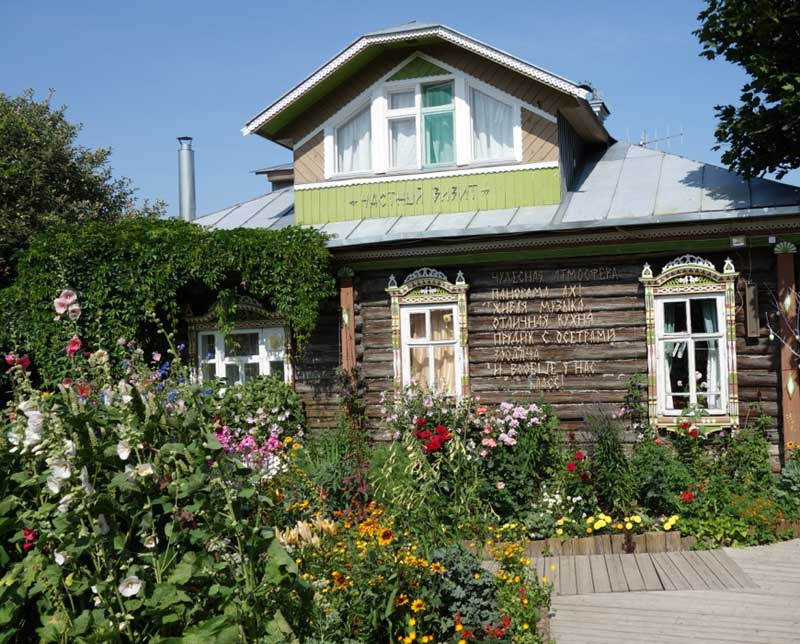 Even after still being full up to my tonsils from the French-Russian family lunch, I had two helpings of the home-made oatmeal that was offered by our host. It's not that 1-minute stuff that you just add hot water and it is already done. This is the real nitty gritty thing that seems to have been baked. Once again – eat and make your host happy. Your only task after this is to sit back and enjoy the ride to Kostroma and get yourself into a holiday mood as you check in to Hotel Snegurochka (Hotel Snow Maiden).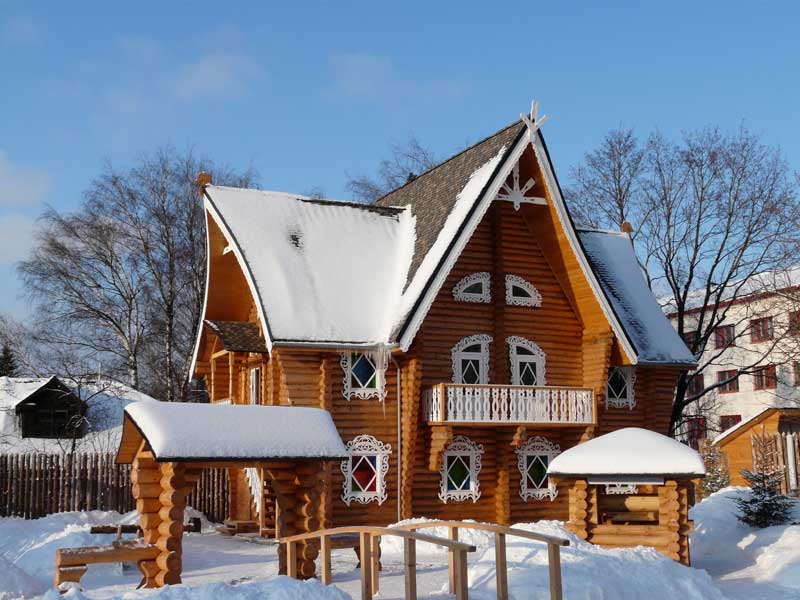 Kostroma
---
For me, Kostroma is your typical provincial city. It has a mix of old and new and then some Soviet buildings added to it. Life seems slow here. Alcohol is not permitted for purchase in stores after 9pm. (Be careful – some cash registers will stop sales at 8:55pm, which, sadly, happened to me once.)
Luckily the hotel is located on the banks of the Volga River so I usually take a long walk along the river to try to walk off some of the food that I have indulged in in Plyos. I have been to Plyos several times and each time is the same. The food is so good, I just can't control myself, and then in Kostroma I'm chiding myself for having eaten too much. So, at this point, the walk along the river is just what the doctor ordered. Hmm, dinner this evening?? Maybe not.
After a short city tour to give you a feel of just how much life has slowed down compared to Moscow, you will visit Ipatievsky Monastery. Once again, I may not remember the dates and names, but I do remember what the masters went through to make such beautiful creations. The side-effects of mercury were not known back then, and many masters paid for their creations with their lives, as mercury was used in the process of creating some of the door decorations. The monastery is connected with the history of the Godunovs and Romanovs and produced the oldest of Russia's chronicles, which contain the most ancient history of Rus.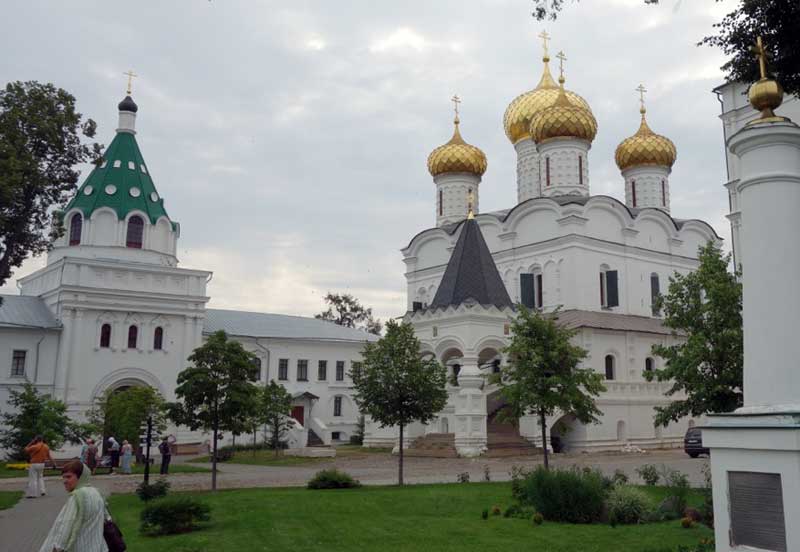 Yaroslavl
---
The next city on your travel plan is Yaroslavl. Yaroslavl has a bigger and more modern feel to it when you compare it to any of the previous cities on the Golden Ring. For me, the highlight of this city is the Yaroslavl Art Museum, sometimes called the Governor's House because it was the residence of the Yaroslavl Governors. The museum is small enough that it is not overwhelming. (That's something I like about small towns: the museums aren't so big that your attention span is pushed to the max.)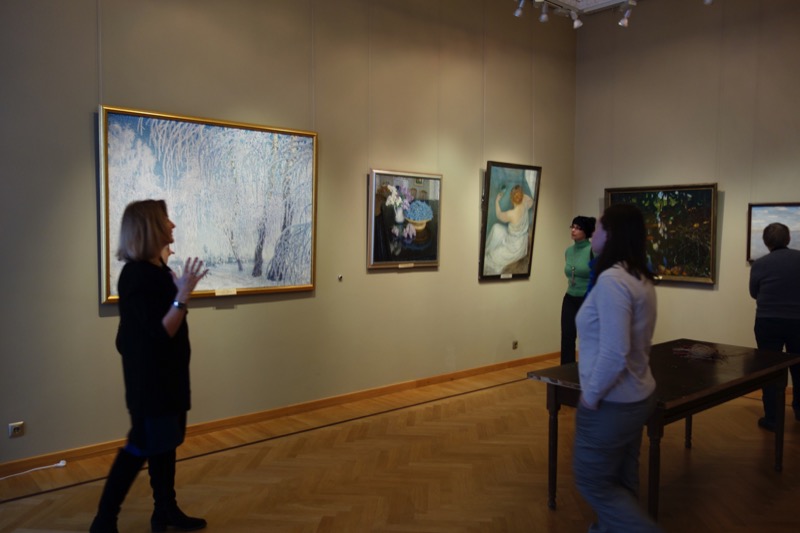 And this is not your typical art museum building: you get the added value of being in a former Governor's mansion. If the weather is on your side and navigation has started on the Volga, you might also have the chance to take a short boat ride. You are not driving, so have a glass of champagne or wine or some ice-cold shots of vodka and watch the banks of the river pass by.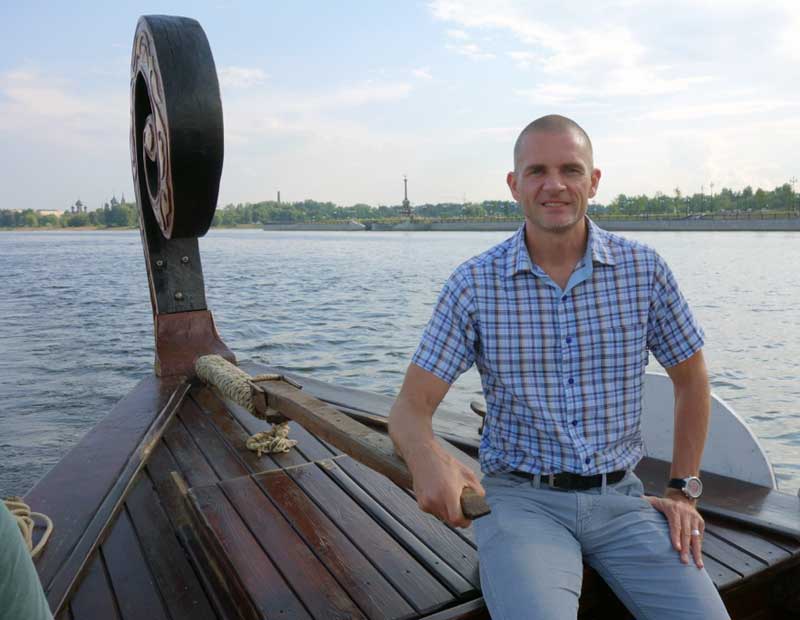 Rostov Veliky
---
The next day usually starts a little earlier, as you are heading off to a tiny town called Rostov Veliky (Rostov the Great) and further on to Sergiev Posad. Slow your gears back down after having sped them up a bit for Yaroslavl. When I hear the name Rostov Veliky, right away the word finift, or enamel, comes to mind. You'll visit the Rostov kremlin – yes, another kremlin – and learn, among many other things, about what enamel meant to the city. Just outside of the kremlin, there's an open-air market. Don't miss this chance to get great jewelry with enamel. It will be much cheaper here than in Moscow, and the selection is wide.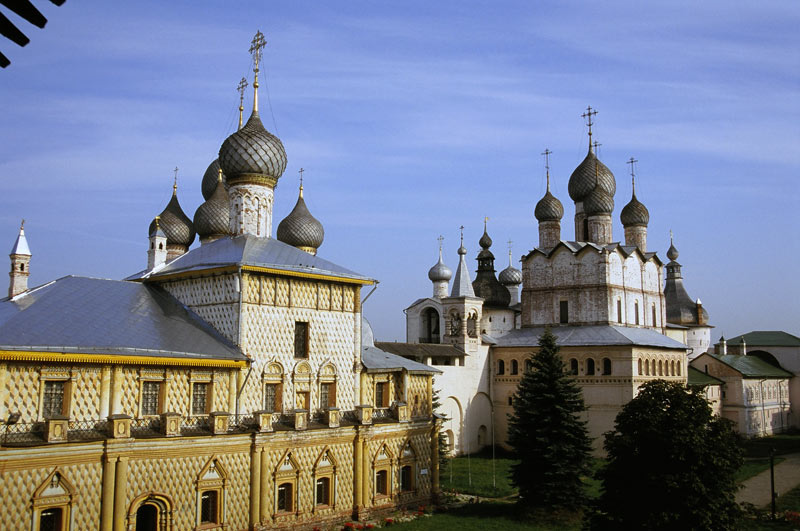 Sergiev Posad
---
A few hours down the road will bring you to a city called Sergiev Posad. The most famous site here is the Trinity Sergius Lavra. It is visited by many, many, many people; you will see crowds here at any time that you stop by. The excursion here takes about an hour, giving you the history and bringing you into some of the churches. Then you'll have time on your own to explore.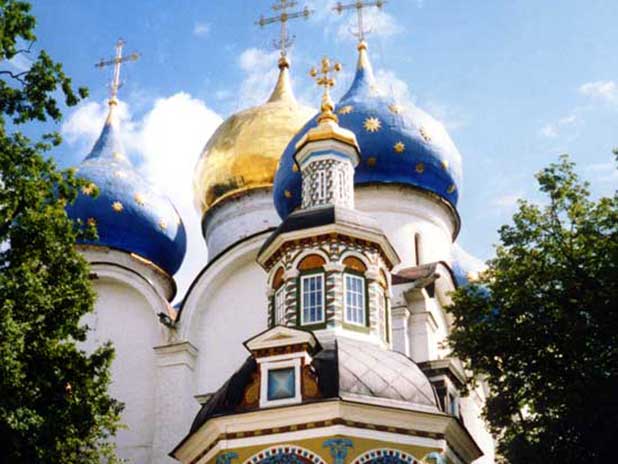 I enjoy people-watching at this monastery. There always seems to be some sort of event or holiday taking place. There are people lined up to fill their containers with holy water from a well. There are pilgrims that come here to worship. There are travelers from all over the world. If you are thirsty or would like a snack to hold you over until dinner, you can stop by the Lavra café and get a cup of tea and a tasty bun. Your hotel is located within walking distance of the monastery, so you can check out some of the shops on the way back if you haven't already maxed out on souvenirs.
Fedoskino
---
On the next morning, the last – but not least – stop on your Golden Ring adventure will be a stop at the Fedoskino factory that makes the one-of-a-kind lacquer boxes. This is one of those places where you may bite your nails at the price, but after taking the tour and meeting some of the painters, you really understand that these boxes are original works of arts and worth the price. Something to remember here is that they don't take credit cards. Well, maybe that's a good thing – I would be very tempted to buy too much if they did!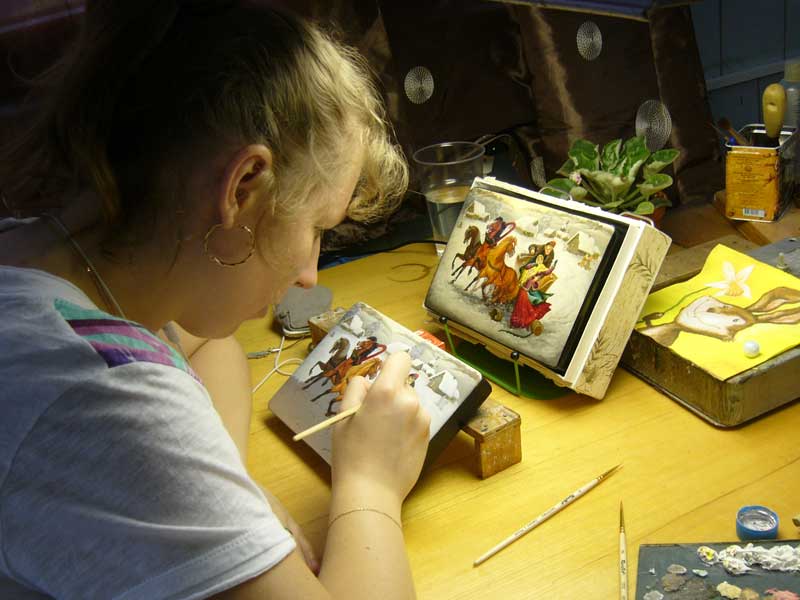 With Fedoskino behind you, it is back to the big city – Moscow.
Circle the Golden Ring with MIR
Explore the Golden Ring on the MIR's classic small group tour: Russia's Imperial Capitals & Ancient Villages, or travel privately on our Essential Golden Ring program.
Or, call us to plan your own itinerary to the Golden Ring. MIR specializes in personalized, private journeys; we love to take your ideas and weave them into a trip tailored especially for you. Contact us to find out more about our custom and private travel expertise – each trip handcrafted to your interests, dates, and pace.
MIR has more than 30 years of travel experience to Russia with affiliate offices in Moscow, St. Petersburg, and Siberia that offer on-the-ground support and tour managers that clients rave about. MIR's full service, dedication, commitment to quality, and destination expertise have twice earned us a place on National Geographic Adventure's list of "Best Adventure Travel Companies on Earth."