The Russian Dacha: An Interview with Katya Boyarskaya
You might have heard the term dacha (dot•cha) before, but do you know what the word means? And do you know how important the dacha is in Russian culture? This quintessentially Russian cultural icon is worthy of a travelers full embrace. And it's a not-to-be-missed experience on any Russia trip.
We asked Katya Boyarskaya to tell us all we need to know about dacha life, and about her own dacha located in the Komarovo region outside St. Petersburg, Russia.
What's the heritage of the Russian dacha?
Katya: The word dacha first appeared in the Russian language during the time of Peter I, the founder of St. Petersburg. It comes from the verb to give, "davit," as Peter I gave land to his close and faithful subjects.
Abroad, people might know the word dacha from Russian literature. For example, in the novels of Dostoevsky or in Chekhov's works – in particular, the play The Cherry Orchard. The English translations can vary, but more often the Russian word dacha is used, since there is no literal equivalent. Dacha is not just a cottage, nor a second house. It's more than that.
Before the Revolution, the dacha was a smaller variant of estate or landed property, because at the end of the 19th and beginning of the 20th century, real estate became difficult to maintain. In addition, with the industrial revolution came the middle class and when the first railways were built, dachas began to appear around large cities.
These houses, often quite large and made of wood, were very beautiful and intended mainly for summer living. They usually had two or three bedrooms, a living room, always a balcony, a terrace, and a mezzanine. And since the summer in Russia is very short in most regions, dachas became especially popular and valued amongst big city residents.
Historically, and today, where were the most popular dacha areas around St. Petersburg?
Katya: Popular places to build dachas were, and still are, in the smaller towns of Pushkin and Pavlovsk. For example, several characters in Dostoevsky's novel The Idiot have dachas in Pavlovsk. It stands to reason, as both towns in the south of Petersburg are royal residences with palaces and luxurious parks, and Petersburgers wanted to live near the royal court.
The same goes for nearby Peterhof, on our "northern sea" – the Gulf of Finland. The gulf is shallow and warms up in summer, and it is where the first dachas began to appear.
There are also very spacious, sandy beaches on the other side of the gulf, on the northern shore, with dunes and pine trees. This is where my dacha is located, in the village of Komarovo. Dachas appeared here later, at the very end of the 19th century. These were the lands of the Finnish principality, which had been part of Russia since the time of Peter the Great. This area became a favorite for artists and intelligentsia. They used to say, "The southern coast of the gulf is royal, and the northern one is seditious (kramolny)." They built very beautiful houses in the wooden Art Nouveau style, very popular at the time, complete with terraces and turrets.
What became of dachas during the revolution and war?
Katya: Of course, many houses were damaged during the Revolution and WWII. Those dachas that survived were then used as children's summer camps, nursery schools, and rest homes.
But mostly, dachas suffered the most in the 1990s during Perestroika, under Gorbachev. It was a time when virtually no laws or regulations worked. In addition, these houses were not officially protected by the state, and many were demolished and modern houses devoid of any cultural value were built in their place. Nevertheless, some dacha buildings have survived and have even been restored. Today, people understand the value of these wooden buildings and are ready to invest in their preservation.
Were dachas built in Soviet times?
Katya: Yes! Dachas became even more popular in Soviet times. The original meaning of the dacha was preserved, and the land was also "given" for use (all the land belonged to the state) completely free of charge. However, the "owners" built houses on their own.
Around this time dachas assumed a new, very important function – the land was used to grow fruit (mainly apples and low maintenance berries such as currants and cherries) and vegetables (potatoes, carrots, turnips), which saved people some money. The state supported this idea of pursuing one's own benefit.
Dachas in Soviet times were small and simple in appearance (two rooms and a veranda), but still provided more space for personal needs and receiving guests than communal apartments (kommunalkas). They also provided an opportunity to take a break from the Soviet officialdom. There were no professors or artists at the dacha – all were dachniks and all were equal.
What is Komarovo famous for?
Katya: If St. Petersburg is unofficially called the cultural capital of Russia, then Komarovo is undoubtedly the small cultural capital of Russia. Soviet times are marked by a long list of great names of artists who lived around St. Petersburg and especially in Komarovo.
Perhaps the local landscape; the proximity of Finland and Sweden, which were forbidden to visit at the time; the "sad coolness" of the Gulf of Finland; and the surrounding dunes allowed them to breathe more freely, communicate without fear of officials, and combine leisure and creative work.
There were (and are) dachas for writers, composers, architects, and actors (who were especially fond of Komarovo). Here, the great composer Shostakovich rested at his relatives' dacha and then built his own house.
It was also here that the great filmmaker Andrei Tarkovsky wrote the script for his film "Stalker," and where the great Russian poetess Anna Akhmatova lived in her small house during summertime.
Nobel laureate Joseph Brodsky often visited and lived here with his friends, and the great actor Nikolai Cherkasov, who starred in Eisenstein's films Alexander Nevsky and Ivan the Terrible, also had a dacha here.
Ballet fans would even hide in the bushes and wait for the great ballerina Galina Ulanova to go out into the garden to the gazebo to do her morning ballet exercises (she stayed at her relatives' dacha).
This list of names might mean little to a foreigner, but this list represents the glory of Russian theater, music, and literature. Also of note, the so-called Akademgorodok (town of academics) was built in Komarovo in the 1950s for outstanding scientists, including several Nobel laureates. Many of the scientists and artists are buried in a small local cemetery, which gradually turned into a real "pantheon".
When did your family first have a dacha?
Katya: I spent all my childhood summers in Komarovo. As soon as I was born, my parents built a small house on the land that the state gave them – a dacha (two rooms, a veranda, and a tiny mezzanine upstairs). My parents were famous film and theater actors. In my childhood and youth, I met many of the people mentioned above on that list. I have many friends here in Komarovo – we grew up together at neighboring dachas.
For several years I was a member of the local municipality, and it seems I know everything and everyone here.My dacha is my fortress, not the apartment where I live in the city. My parents' dacha recently had to be dismantled, but now a new house stands there complete with all modern amenities and adapted for living in winter. And, of course, during the quarantine, the dacha was such a blessing! I personally lived at my dacha all that time.
How do you keep dacha traditions alive?
Katya: During the pandemic lockdown, all of the office staff and I worked remotely and felt very disconnected. We missed personal communication and new experiences. At the end of last summer, when the restrictions were partially lifted, I invited everyone to my dacha.
Everyone had been there before with our travelers for dacha dinners, but usually there is no time to simply walk around the village to learn about its history, to learn about the dacha lives of its famous inhabitants, and to take a closer look at the old dachas.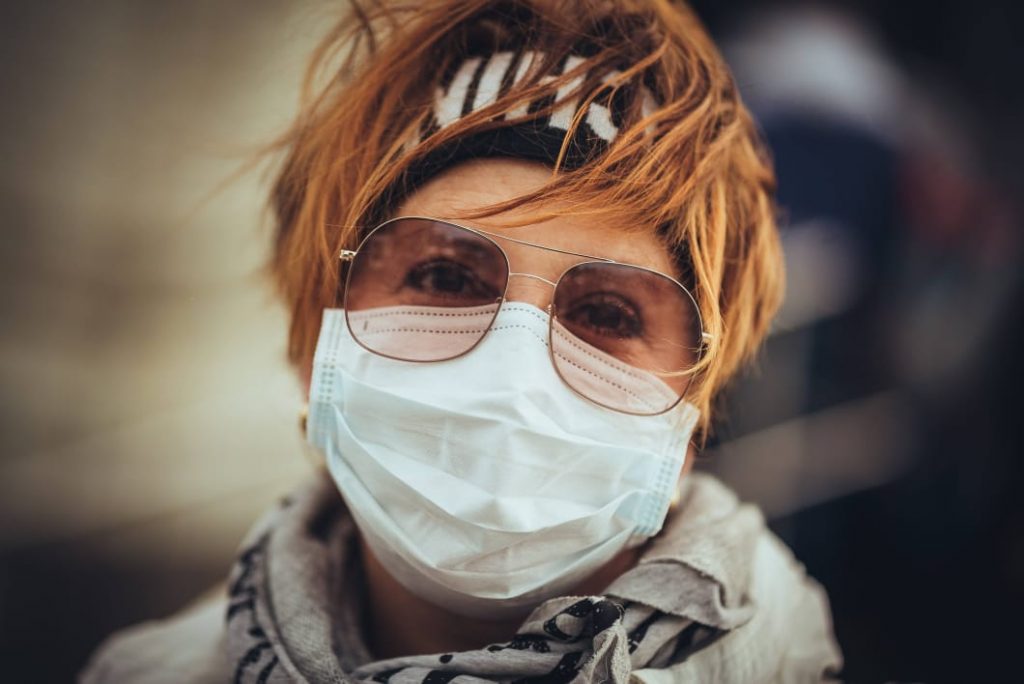 Since I used to work as a guide when I was younger, I came up with an idea for a tour of my dacha village in Komarovo. Then, my colleagues began to send their friends and relatives to me, and I happily share my knowledge and love for this place. In addition to being a very informative excursion, it is also a wonderful walk among pine trees.
Lockdown was not lost time for me. I finalized and republished a book about my family for the fourth time, the first edition of which was published back in 2006. It is called The Boyarsky Theater Dynasty, and one of the chapters is named and dedicated to Komarovo. I personally experienced the "creative power" of this place, since it is where I wrote my book.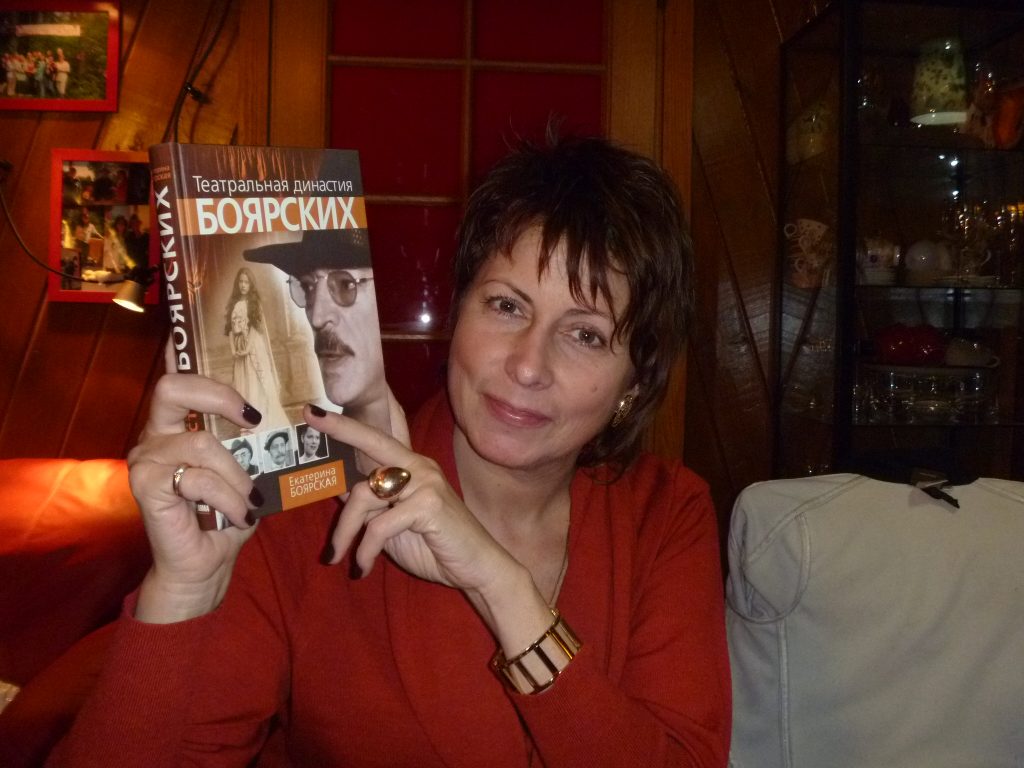 Tell us about your family, please.
Katya: Besides my parents, many of my relatives were also actors or somehow related to the theater. The most famous is my cousin Mikhail Boyarsky, a theater and film actor, singer, showman, and, as many call him, 'the symbol of St. Petersburg.' He is known throughout Russia and the Post-Soviet States.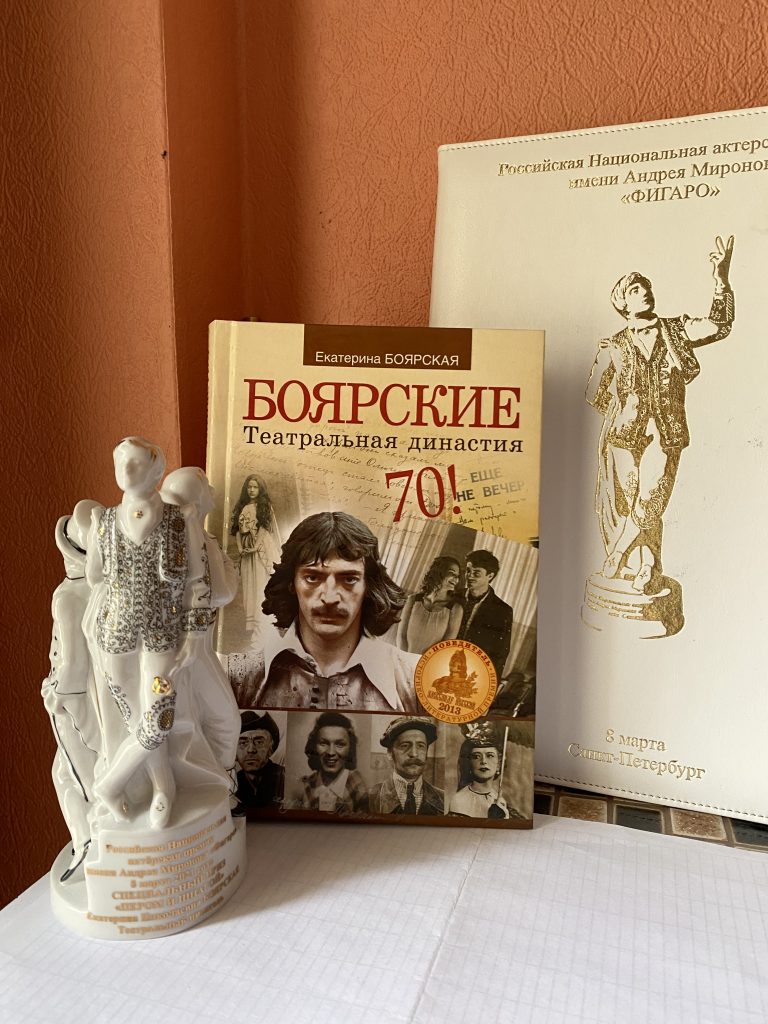 I graduated from the St. Petersburg College of Performing Arts, my specialty being History and Theory of Drama Theater. I used to work as a drama critic, but in the 1990s I switched to guiding and have been involved with international travel up to this point, spending the majority of that time working with MIR.
The 4th edition of my book about the Boyarskys was timed to coincide with the 70th birthday of Mikhail Boyarsky. Each edition was replenished with new facts and photographs. For this book I'm humbled to say that I was awarded a Russian National Theater Prize, a Figaro, along with many famous St. Petersburg and Moscow theater and cinema stars. The ceremony took place on March, 8, 2021 in one of St. Petersburg's theaters.
What can a guest to your dacha expect?
Katya: As a hostess, I love to share stories and have so many that one evening is never enough to tell them all! My friends, who also receive guests at their dachas, try to answer as many questions as possible and to share as much of our personal family stories as well.
On our cozy verandas over a glass of Russian vodka followed by a homemade snack, we share our thoughts and opinions with guests, and always part as the fast friends.
The doors of Komarovo dachas are always open for those who want to learn not only about St. Petersburg palaces and museums, but also about everyday life of today's average families. We are looking forward to hosting guests once again!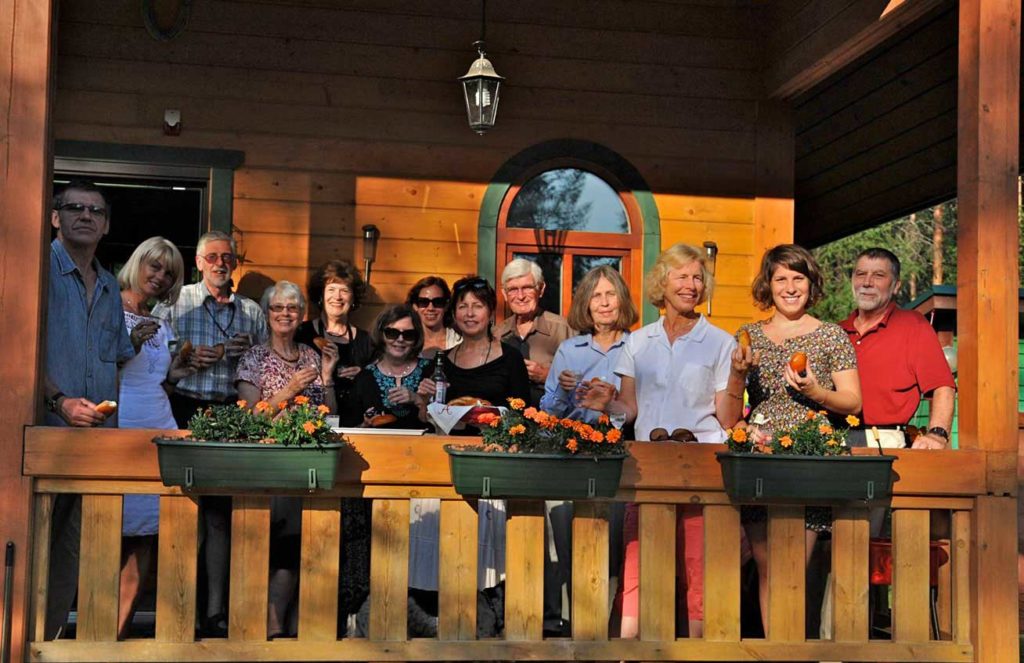 Travel to Russia with MIR
MIR has over 30 years of travel experience to Russia, with affiliate offices in Moscow, St. Petersburg, Irkutsk, and Ulan Ude offering on-the-ground support. Our full service, dedication, commitment to quality and destination expertise have twice earned us a place on National Geographic Adventure's list of "Best Adventure Travel Companies on Earth."
Whether you're thinking of traveling sooner or later, don't miss out on the layers of history and diverse cultures of Russia.
Chat with one of our destination specialists now!