Travel Inspiration: What's New in Moscow, Russia
We're in regular communication with our friends and colleagues overseas and appreciate their insight so much, we thought you'd also appreciate a first-hand update from the international MIR network. We are tapping the network of guides, tour managers, partners, and staff in our affiliated ground offices to relate their first-hand accounts from MIR's destinations in our new blog series: Reporting in from MIR Destinations.
Recently, our blog introduced you to several of our tour managers. As the world gradually reopens, you may be wondering what's happening in a specific destination you're planning on visiting sometime in the future. This blog series will provide field reports with detailed updates and conditions on the ground.
We have previously shared destination reports from Mongolia & China, Central & East Europe, the Baltics, the Balkans, Central Asia and the South Caucasus & Turkey. This batch is from Russia. Read a dispatch from some of our local staff in:
Moscow, Russia (see below)
Reporting in from Moscow, Russia
Information current as of December 8, 2020.
1. Let's start with the status of international flights into Moscow – what's the situation?
John: Though the Russian borders are closed to most travelers at present, we are seeing some border openings with restrictions. Currently, flights are operating for Russian citizens and citizens of reciprocating countries to England, Tanzania, Turkey, Switzerland, the United Arab Emirates, Egypt, the Maldives, Belarus, Kazakhstan, Kyrgyzstan, Ethiopia, Serbia, the Seychelles, South Korea, Japan, and Cuba. Each day we hear of discussions about new countries being added to the list. It is constantly changing and new restrictions, or easing of restrictions, are being introduced. Limited numbers of flights are available to other locations, and air travel remains erratic and subject to cancellations. Aeroflot continues to have weekly flights from Moscow to New York carrying Russians returning to Russia, cargo, and limited passengers who have authorization to enter (usual tourism to Russia is currently not allowed).
At present, the two-week self-isolation requirement has been canceled. Before departing for Russia, you must have a certificate for a negative PCR COVID-19 test that has been carried out no earlier than 72 hours before arrival. It can be printed in Russian or English.
(click image to view larger photo)
2. What's new in Moscow?
John: One of the biggest changes happening on the tourism front is that Russia is ready to begin its e-Visa program starting from January 1, 2021. Citizens of 52 countries including EU member states, China, India, Mexico, Saudi Arabia, Turkey, and Japan (unfortunately, the U.S. and Canada are not on the initial list) will be able to visit Russia for tourism, business, and humanitarian activities on an e-visa. Visiting friends and relatives is also allowed with the new visa format. Applicants will need to fill out an application and upload a photo and a copy of their passport on a special site administered by the Russian Foreign Ministry. The cost of the visa will be $40. A letter of invitation, proof of accommodation, or air ticket bookings are not required for the e-visa.
In terms of Moscow itself, since the time I arrived in Moscow 23 years ago, it seems that everything is new. This is a city that has changed and continues to change for the better, and this is very noticeable on the transportation front. Our metro system has grown and keeps growing. In addition, we can now check when the next bus is going to arrive using our phone; and when we get on that bus, there is a good chance to get where we are going quickly, as the city now has designated bus lanes in many areas.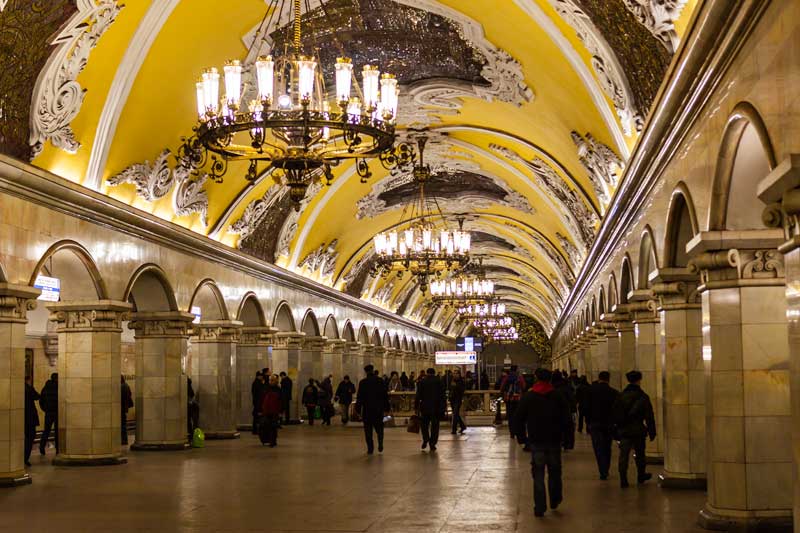 The use of taxis has gotten very easy, too. We used to hail taxis on the side of the road and then would have to haggle about prices. Now, you can order a taxi on your phone at a fixed price and pay using a credit card, which is connected to your taxi program. Uber is widely in use as well.
In terms of hotels, the Accor group just opened the first Mövenpick Hotel in all of Russia in the center of Moscow this fall. This 5-star hotel has 154 rooms of Swiss quality, five of which are of the luxury category. A heated indoor swimming pool, hammam, and sauna are available for relaxing and enjoyment as well.
Moscow and the surrounding area have a lot to offer to visitors. About an hour by car from the city, via a completely renovated modern highway, a park complex called "Patriot" has been growing and growing. The park was originally opened in 2015 and includes an aviation museum, museum of armored vehicles, museum of artillery, sports facilities, and simulators. Russia has been actively encouraging patriotism amongst its citizens, and this park was created to promote civic education, create an attractive image of service in the Armed Forces, and develop a sense of love and respect for the Motherland.
An important event of the summer was the opening of The Main Cathedral of the Armed Forces of the Russian Federation, which has become a spiritual symbol of Russia. It was timed to coincide with the 75th anniversary of the end of the Great Patriotic War (WWII), the signing of Germany's act of unconditional surrender on May 8, 1945.
The building of the Northern River Terminal on the bank of the Moscow canal has long been in the making. An architectural monument of the 1930s and an example of the Stalinist Empire style, this river transportation station spent many years in a state of ruin and desolation and then repair and restoration. A symbol of Moscow, the building has now been completely renovated and finally opened to the public in September of this year. The park around it has become an area for relaxation as well as a home to squirrels, who have taken up residence there. One of the main reasons to give this place a visit is its observation deck, which gives a spectacular view of the canal and of the neighboring banks with houses of nearby districts.
The Victory Museum in Victory Park has opened a new exhibit called "The Memory of Heroes of The Home Front." The new exposition takes up 3,000 square meters and is dedicated to the contribution that home front workers made to Russia's victory in WWII. Thousands of ordinary citizens, scientists, those working in medicine and in cultural fields, and all those who worked selflessly for the good of the country during the difficult years of WWII are celebrated here.
(click image to view larger photo)
And I should also mention the VDNKh park area, which is a favorite place for Muscovites and visitors to the city. The abbreviation means "Exhibition of Achievements of the National Economy" and dates back to Soviet times. The park has become a modern place of leisure, and the pavilions and fountains have been restored and brought back to life. The latest news is that the historical pediment of the main entrance pavilion has been repaired and now looks like it did when it was first built.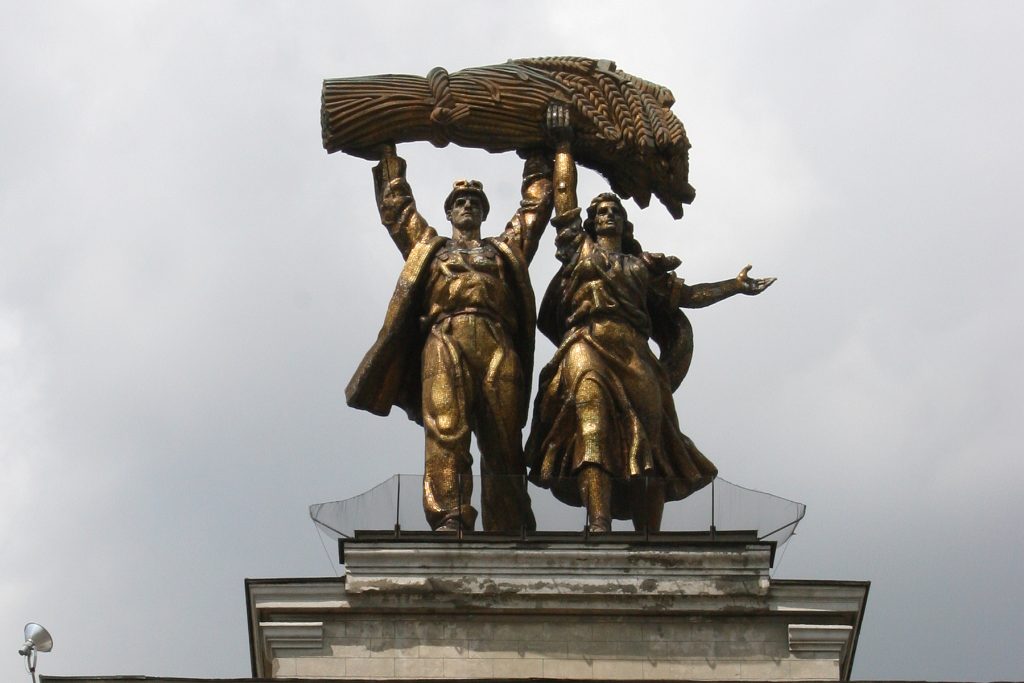 3. How strong is the USD these days?
John: The exchange rate between the U.S. dollar and the Russian ruble can fluctuate considerably throughout the day. At present, the rate is between 73-75 rubles to the dollar. In the morning the rate can be 73.50, in the afternoon 75, and then back to 73.50 at the end of the day. To give some perspective, a two-liter bottle of cola is around 129 rubles, or about $1.75. A half-liter bottle is going to be around 50 rubles, or .68 cents. A liter of 95 gas is around 46 rubles, or about $2.35 for a U.S. gallon (1 US gallon = 3.78 liters). A Big Mac in Moscow costs 135 rubles, or about $1.82.
(click image to view larger photo)
4. What's the first dish and/or beverage you most like to introduce visitors to?
John: The drink that I would first introduce visitors to in Russia is called kvas. Now comes the difficult part. How to describe the taste of kvas? Well it is for sure not your typical Coke or Pepsi. One translation described kvas as being a traditional Slavic sour drink, which is prepared on the basis of fermentation from flour and malt (rye, barley) or from dry rye bread, sometimes with the addition of odorous herbs, honey, or honeycombs. Kvas can also be prepared from beets, fruits, or berries. I would call kvas a fuzzy, brown-colored drink that tastes a lot like dark bread, but in a liquid form, and is lightly alcoholic. Kvas may be about 1 or 2 proof when it comes to alcohol, or around 0.5-1% as it is a fermented drink.
(click image to view larger photo)
Kvas is not only a drink in the summer months to quench your thirst, but one of the main ingredients of a cold soup called okroshka. In the summer heat, no one can refuse a delicious cold dish of okroshka. The recipe is simple and can be slightly modified to your tastes. Okroshka can either be made with sausage similar to bologna, with boiled chicken, or even with vegetables. The recipe is short and sweet: chopped boiled potatoes, chopped boiled eggs, fresh sliced cucumbers and radishes, diced green onions and dill, a bit of salt and pepper to taste, mix it all together, and then add some cold kvas. No cooking or heating is needed – only enjoying. Some like to add a fermented milk drink called kefir or sour cream instead of kvas. For me, the choice always falls on kvas.
Moscow – Political, Historical, and Emotional Heart of Russia
Moscow is at the heart of the immense changes sweeping Russia today. A booming metropolis where centuries-old landmarks stand shoulder-to-shoulder with 21st-century high-rises, Moscow is as energetic as Manhattan, with a lot more history behind it and more room to grow. The city's glittering cathedrals, ancient fortresses, incredible art galleries, and modern monuments are just some of the amazing and awe-inspiring sights you can see here.
Whether you're thinking of traveling sooner or later, don't miss out on the exhilarating combination of dignified history and experimental progress of Moscow, Russia. Check out all the travel options for yourself.
Questions about traveling to Moscow? Amy Stidger loves planning trips to Moscow and is happy to chat anytime.
No matter your travel style, there's a Moscow adventure that's right for you.