Travel Inspiration: What's New in Siberia, Russia
We're in regular communication with our friends and colleagues overseas and appreciate their insight so much, we thought you'd also appreciate a first-hand update from the international MIR network. We are tapping the network of guides, tour managers, partners, and staff in our affiliated ground offices to relate their first-hand accounts from MIR's destinations in our new blog series: Reporting in from MIR Destinations.
Recently, our blog introduced you to several of our tour managers. As the world gradually reopens, you may be wondering what's happening in a specific destination you're planning on visiting sometime in the future. This blog series will provide field reports with detailed updates and conditions on the ground.
We have previously shared destination reports from Mongolia & China, Central & East Europe, the Baltics, the Balkans, Central Asia and the South Caucasus & Turkey. This batch is from Russia. Read a dispatch from some of our local staff in:
Siberia, Russia (see below)
Reporting in from Siberia, Russia
Information current as of December 9, 2020.
1. Let's start with the status of international flights into Siberia – what's the situation?
Vlad: At present, there are only domestic Russian flights into and out of Irkutsk and within the region. However, there are international flights arriving into and flying out of Moscow.
The 14-day quarantine requirement has been lifted for passengers arriving into Russia from countries with which regular international flights have resumed. Other foreign citizens are only permitted to enter for special reasons. All passengers, including transit passengers, are required to provide a negative COVID-19 PCR-test (taken within 72 hours) in order to check in and board the flight. They will also be required to complete a special form during the flight.
(click image to view larger photo)
2. What's new in Irkutsk and Ulan Ude?
Vlad: The wonderful Wooden Architectural and Ethnographic Museum in Taltsy, about 30 miles from Irkutsk, opened several new exhibitions. Given this is a favorite museum for travelers to visit, this is welcome news. The 19-20th century Rural Medical Post is a copy of the medical post that was located in the settlement of Oloy. On the ground floor is the feldsher's office. A feldsher is the medical/healthcare professional who provides many medical services in Russia, mainly in rural areas. The exhibition was opened on the eve of the Day of the Medical Worker. Over the course of the next year, the museum is planning to construct a mosque and a Catholic Church on site in order to better depict how different people lived in the Irkutsk region.
(click image to view larger photo)
Work also continues at the museum on the Moscow Tract exhibition, which will show a recreated post house from 1877. Such post houses functioned as the Post Offices of their day, and in each post house there would be spare horses, food, and shelter. In the 19-20th centuries, post houses were state-owned institutions where post riders delivered mail and packages to a postmaster. Post riders would overnight in a special room, but other travelers passing by could also stop here for an overnight and buy a hot dinner. A local claim to fame is that Chekhov, one of the Russia's beloved and most well-known writers, stopped for a night in this post house.
In Buryatia, on the eastern side of Lake Baikal about 100 miles from Ulan Ude, a new museum opened this summer in the building of a former fish factory. This place looks less like a museum and more like an abandoned plant. The plant was built almost 100 years ago, and the building has been surprisingly well preserved. A local guide organizes excursions to the fish plant and shares a story of how Lake Baikal fed the whole country during World War II.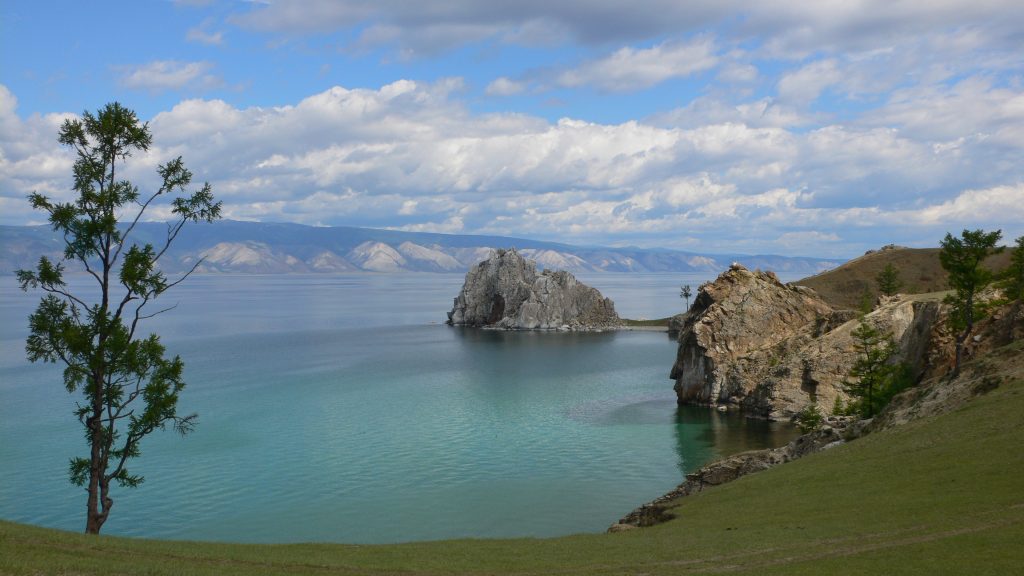 In terms of hotels in the region, a new hotel called the Amurskiy Hotel has opened in Irkutsk. This is the first 5-star hotel in the city and is located a short walk from the Irkutsk Drama Theatre. Its stylish interior design and spirit of authentic elegance offer a combination of luxury and coziness. It is a smaller hotel with only 17 rooms, but each room fuses natural and eco-friendly materials with modern technology. The hotel also has a spa zone with a pool, hammam, infrared sauna, gym, and shower.
On October 17th, the symbolic foundation stone for the first 5-star hotel on Lake Baikal was placed at the Sagaan Morin Touristic Complex, on the eastern shore of Lake Baikal in the village of Sukhaya. The hotel will be large (with 200 rooms) and the complex will feature a boulevard with fountains, restaurants with terraces, and souvenir stores.
In railway news, a fully repaired and renovated Soviet class P36 steam locomotive will now be operating on the Old Circumbaikal Railway. This is the most scenic stretch of railway around southern Baikal, which follows a portion of the original tracks. The locomotive was built in 1955 and retired in 1983, and has stood as a monument in Irkutsk for more than 30 years. There are only nine such locomotives still intact in Russia.
(click image to view larger photo)
I'm also very excited to announce that the "Rossiya" branded train, which operates along the Trans-Siberian Railway between Moscow and Vladivostok, has been completely renovated. The train now contains innovative twin-coach units, letting you easily move between two coaches through a glass door with the push of a button. These new coaches are equipped with a shared shower cabin, shared toilet cabins with touch-sensitive taps and electric hand dryers, and 4 sockets and USB ports within the compartments. There is also a hot and cold water dispenser and a vending machine in the common area.
(click image to view larger photo)
3. How strong is the USD these days?
Vlad: The Russian ruble continued to regain ground against the U.S. dollar over the past months after sliding to a four-year low at the end of March. The current exchange rate is about 73-75 rubles to the dollar.
(click image to view larger photo)
4. What's the first dish and/or beverage you most like to introduce visitors to?
Vlad: The highlights of Baikal cuisine can be attributed, first and foremost, to hunting and fishing. Indigenous peoples fished not only in the purest lake waters, but also in many of its tributaries during different seasons. More than 60 species of fish live in Lake Baikal, and one of the major gastronomic attractions of the area is omul. Just like any other fish, omul can be fried, smoked, salted, and baked. The taste of omul varies a lot depending on the preparation and the time that has passed since it was caught.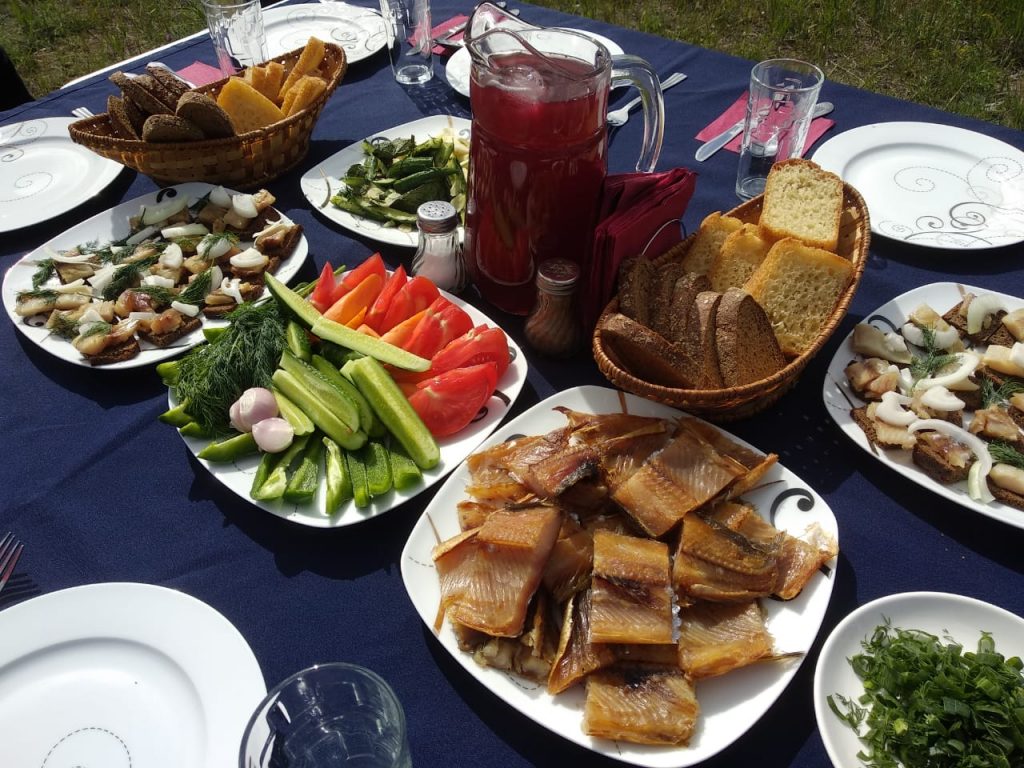 Freshly salted omul is so delicate that it's eaten quickly in large amounts, even by those who usually avoid fish. Among gourmets, it is highly valued as an ideal appetizer for chilled vodka. Cold-smoked and hot-smoked omul is a real Baikal delicacy!
Another local highlight is the low-salted cisco fish, famous far beyond Siberia for its soft and delicate taste. I would also recommend all of the following Siberian dishes, which I personally love:
Salamat – a homemade Buryat variety of cheese made of sour cream boiled with flour and served warm.
Buuza – a type of Mongolian steamed dumpling usually filled with meat. In Buryatia, they are shaped like a ger and you can see steam emitting from the 'chimney' when it's just cooked.
Shulen – mutton soup with homemade noodles. This is one of the most popular soups in nomadic cuisine as it's easy to cook, very nutritious, and never salted too much.
Green tea with milk.
Shangy – Buryat bread.
(click image to view larger photo)
Siberia – Where Steppe Culture Meets Taiga
To outsiders, Siberia is likely to conjure up visions of vastness and isolation, of Dr. Zhivago trudging across frozen tundra, of ice-age mammoths dug out of glaciers, or of harsh gulag forced labor camps. But Siberia is so much more. The sheer size of the taiga (the subarctic forest) is awe-inspiring, especially when seen from a seat on the legendary Trans-Siberian Railroad; pristine Lake Baikal, the deepest and oldest freshwater lake in the world, has developed its own unique species of marine life; and its vast wilderness encompasses unsurpassed beauty and incredible natural riches. This far-flung region has a tremendous diversity of cultures that have learned to co-exist in spite of the extremes of climate, terrain, and history. And the people delight in sharing their centuries-old traditions, from shaman ceremonies to folksongs of the Old Believers.
Whether you're thinking of traveling sooner or later, don't miss out on the wild beauty and diverse culture of Siberia. Check out all the travel options for yourself.
Questions about travelling in Siberia? Joanna Millick loves planning trips to Siberia and is happy to chat anytime.
No matter your travel style, there's a Siberia adventure that's right for you.