Travel Inspiration: What's New in St. Petersburg, Russia
We're in regular communication with our friends and colleagues overseas and appreciate their insight so much, we thought you'd also appreciate a first-hand update from the international MIR network. We are tapping the network of guides, tour managers, partners, and staff in our affiliated ground offices to relate their first-hand accounts from MIR's destinations in our new blog series: Reporting in from MIR Destinations.
Recently, our blog introduced you to several of our tour managers. As the world gradually reopens, you may be wondering what's happening in a specific destination you're planning on visiting sometime in the future. This blog series will provide field reports with detailed updates and conditions on the ground.
We have previously shared destination reports from Mongolia & China, Central & East Europe, the Baltics, the Balkans, Central Asia and the South Caucasus & Turkey. This batch is from Russia. Read a dispatch from some of our local staff in:
St. Petersburg, Russia (see below)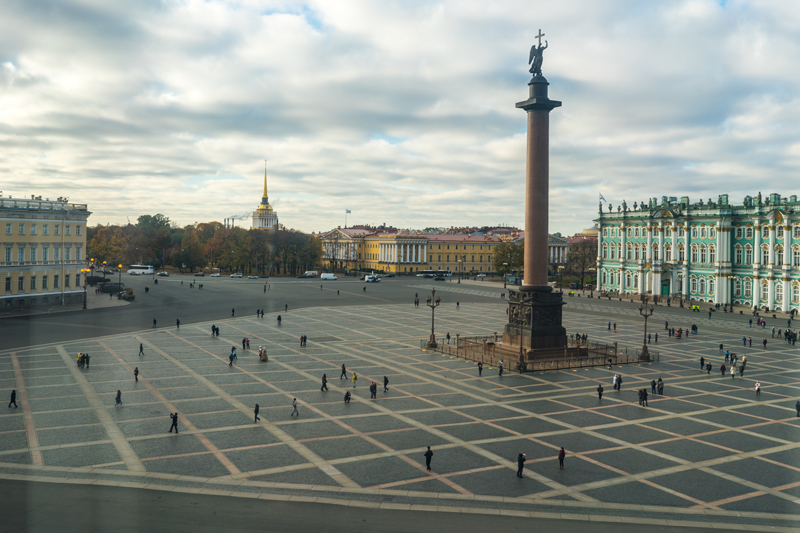 Reporting in from St. Petersburg, Russia
Information current as of December 7, 2020.
1. Let's start with the status of international flights into St. Petersburg – what's the situation?
Katya: At the moment, Pulkovo Airport in St. Petersburg is operating normally. There are domestic flights to other Russian cities as well as international flights to popular resort cities in Turkey such as Istanbul, Antalya, Bodrum, and Dalaman. There are also regular flights to London and Tanzania.
Despite the easing of quarantine restrictions, the airport has strict rules aimed at preventing the spread of COVID 19 including limited occupancy in some areas, mask and glove use, and social distancing requirements. Airport employees use personal protective equipment and undergo regular medical examinations; airport facilities, passenger buses and ramps are regularly disinfected; and ultraviolet air purifiers have been placed around the facility.
Since July 27th, restrictions to enter the territory of the Russian Federation have been lifted for citizens of Turkey, Great Britain, and Tanzania. Russia resumed flights with other destinations in August including Abkhazia. In September, flights between Switzerland, Kyrgyzstan, Belarus, and Kazakhstan resumed. Negotiations are underway to resume regular flights with Greece and the Czech Republic.
All foreign citizens arriving to Russia are required to provide proof of a negative COVID 19 test. Some airlines (including "Rossiya," which is the largest airline in the Russian Federation) reserve the right to prevent passengers from boarding the aircraft if this document is not available. All passengers flying with Rossiya Airlines must pass a temperature control when boarding the plane, and they are not allowed to board without a face mask, which they have to wear throughout the flight.
If a passenger does not have a negative COVID 19 test upon arrival to St. Petersburg, they must get a test within 48 hours of arrival and self-isolate at home or at a hotel until the test results are received. For the convenience of arriving passengers, Pulkovo Airport has a 24-hour COVID 19 testing center. The cost of testing is 2,550 rubles (about $31).
You can find detailed information about COVID 19 infection prevention measures at Pulkovo airport's official website and Rossiya Airline's official website.
(click image to view larger photo)
2. What's new in St. Petersburg?
Katya: Despite the fact that almost all cultural sights in St. Petersburg and its suburbs were closed during the height of the pandemic and quarantine here, most museums continued to operate. Many museums also started to offer new virtual formats, providing online tours and lectures.
Currently, all museums in St. Petersburg are open. Admission is managed exclusively by e-tickets. Tours are available with group sizes limited to 5-10 people. Masks are required in all museums and visitors follow strict routes, using separate entrances and exits to avoid crowds.
During the past months, restoration was completed in some museums and new renovation projects have started. At Peterhof, they have started restoring the Upper Garden, a special monument preserving the unique atmosphere of Peter the Great's era. They have also finished reconstructing the Large Greenhouse in the Lower Park of Peterhof, and a new Museum of Garden and Park Art is going to be opened there.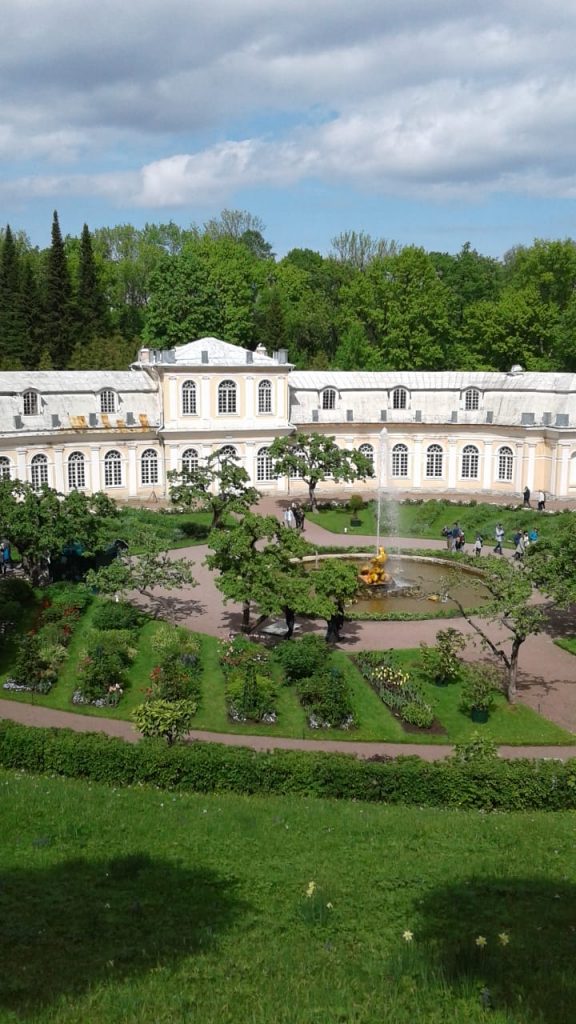 On June 23, a monument to Peter the Great was erected in Peterhof's Alexandria Park. Originally made in 1841 in Denier's workshop in Paris, the monument has been in storage for more than 75 years. The restoration of the Venus de Medicis sculpture in Alexandria Park has also been completed.
In Tsarskoye Selo (Pushkin), they are planning to complete the restoration of the statue of Hercules in the Cameron Gallery by December 2020.
Alexander Palace is also under restoration, and they are planning to open 8 halls there by the end of 2020: The Retinue Room, The Bedroom, The Lilac Study, The Rosewood Living Room, The Reception room, The Study, The Moorish Lavatory, and The Valet Room.
(click image to view larger photo)
In one of the city parks – the 300th anniversary of Saint Petersburg Park located on the shore of Neva river ­– the frigate "Poltava" will be installed. Built according to the drawings of Peter I, it will be a museum with an historical exposition, and semicircular seats will be put around it to conduct interactive shows.
(click image to view larger photo)
Restaurants are also currently open in St. Petersburg. Theaters have opened, but the number of tickets sold has been reduced. Hotels are open, but they are currently occupied primarily by Russian travelers.
The main news of 2020 is the opening of the tower where the headquarters of Russia's largest gas provider, Gazprom, will be located. The height of the tower will be 462 m, and there will be a 360-meter observation deck with a 360-degree views and a panoramic restaurant on the 75th floor. The opening is planned for the end of the year.
Despite all the restrictions, domestic tourism was extremely popular in Russia this year. Due to the ban on flights abroad, Russian citizens chose to travel within Russia, with seaside resorts being the most popular this summer.
(click image to view larger photo)
3. How strong is the USD these days?
Katya: At the moment, the dollar continues to grow against the ruble. The exchange rate is currently about 75 rubles to the dollar.
(click image to view larger photo)
4. What's the first dish and/or beverage you most like to introduce visitors to?
Katya: Among the many dishes I'd recommend, blini (pancakes) have traditionally had a special place in Russian cuisine. They appeared in Russia sometime in the 7th century, and it was believed that they were a symbol of the Sun, which was worshipped by pagans in ancient Russia. Initially, pancakes were considered a memorial dish that was distributed to the poor in memory of the dead. Later, it became the personification of one of the most revered holidays in Russia, Maslenitsa. Blini can be served as an independent dish with a variety of fillings, as a dessert with honey or jam, or to accompany strong alcohol with caviar or herring.
(click image to view larger photo)
Another popular (although not exactly Russian) dish is Beef Stroganoff. It first appeared in Russia at the end of the 19th century and was included in a number of cookbooks before becoming very popular in the Soviet era.
The name of the dish is associated with Count Stroganov. There are several legends describing how this dish appeared in Russia. One of the more romantic legends goes like this: The great Count Stroganov had a bride who was probably not a "paragon of virtue." In any case, the young count found out that she was unfaithful to him. Since the proud nobleman did not want to stoop to a duel with unworthy rivals, he expressed his emotions with a saber on a piece of tenderloin in the kitchen that was intended for dinner. When he was done with the meat, it was no longer suitable for steaks – the meat was torn into small strips. The chef had to cook from what he had, and he did it so well that the count presented the dish at one of the receptions. So began the triumphal procession of beef stroganoff in restaurants around the world.
According to a second legend, Tsar Alexander I plays an important role. Or rather, his chef, the world-famous Antoine Karem. Tsar Alexander was in debt to the rich Stroganov family, and since there was no way to pay off the debt at that time, Tsar Alexander came up with the idea of rewarding Prince Stroganov with glory. He asked his chef to come up with a great dish and name it after the Stroganovs. Antoine Karem, who was already called "the cook of kings and the king of cooks" accepted the challenge. We can still see the result, beef Stroganoff is a dish that is known all over the world and that has immortalized the Stroganov name.
The third legend is a little sad, but it is most likely to be true. Count Stroganov, one of the richest men of his time, lost almost all of his teeth in his old age causing him to be unable to eat his favorite – beef. The count's chef, Andre DuPont, came up with a recipe for a dish where small pieces of beef were stewed in sauce. From time to time, he hosted delicious free lunches at his home in Odessa. No wonder the crowds took advantage of this opportunity! They could eat like royalty and it was there that this masterpiece was presented – the dish named "Beef Stroganoff."
Regarding alcoholic beverages (other than vodka), we have another interesting and ancient traditional drink called polugar, or "bread wine." The recipe for polugar appeared long before the invention of vodka. In order to check if it was ready or not, the polugar was poured into a bucket and set on fire. If half of the original volume remained in the bucket, the drink was considered ready.
Since polugar was prepared at home, the state could not make any profit from selling it, so this drink was eventually banned. Today interest in this drink has been revived and it its produced according to preserved ancient recipes.
Similar to vodka, polugar is transparent and dry. Its strength is 38.5%, but it differs from vodka in its bright aroma of bread, as it is made with malt. This drink has become popular in many bars and restaurants, and visitors can try it in pure form as well as mixed with a variety of tinctures, both sweet and spicy. There are even bars today that fully specialize in this type of alcohol – they can tell the story of its origin and preparation and organize tastings.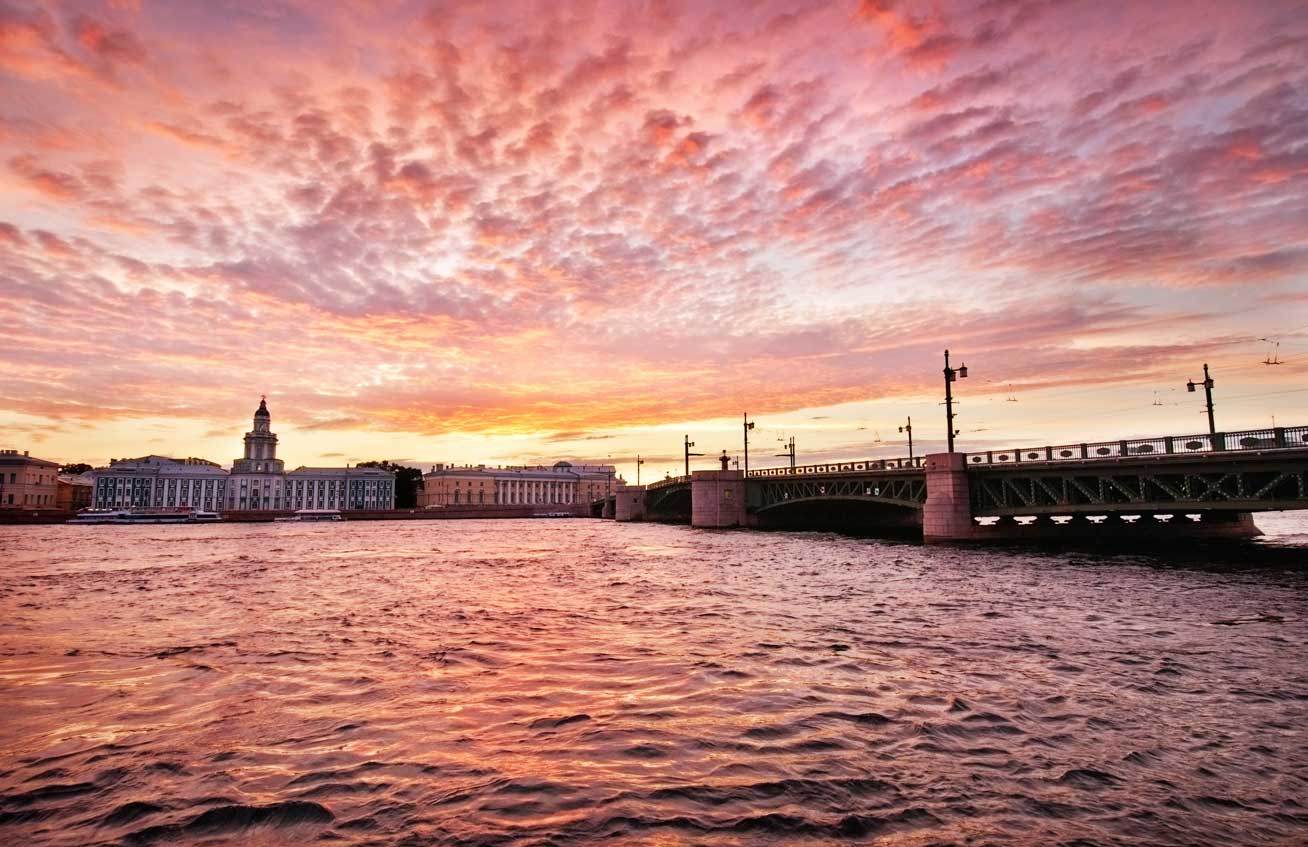 St. Petersburg – Onion Domes, Imperial Palaces, and an Enduring Culture
Western Russia's domed Orthodox churches, world-renowned museums, high culture, and down-to-earth street life make this region a must-see on anyone's travel bucket list. In particular, Peter the Great's elegant northern capital of St. Petersburg has enjoyed a city-wide facelift since it's 300th anniversary in 2003, and sushi bars and luxury boutique hotels line its streets. In the White Nights of June, when the sun hardly leaves the sky, the sidewalks bustle into the early morning hours, and the city's rich cultural life, imperial palaces, spacious gardens, and historic monuments dazzle all year long.
Whether you're thinking of traveling sooner or later, don't miss out on the fascinating culture and artistic soul of St. Petersburg, Russia. Check out all the travel options for yourself.
Questions about travelling to St. Petersburg? Joanna Millick loves planning trips to St. Petersburg and is happy to chat anytime.
No matter your travel style, there's a St. Petersburg adventure that's right for you.