Traveler Spotlight: What It's Like to Travel to Russia's North Caucasus
In March 2021, the director of MIR's affiliated Moscow office, John Seckel – an American who has resided in Russia for nearly 20 years – returned from a trip to Dagestan and Chechnya in the North Caucasus region of southern Russia. We recently caught up with him to find out more about his experiences.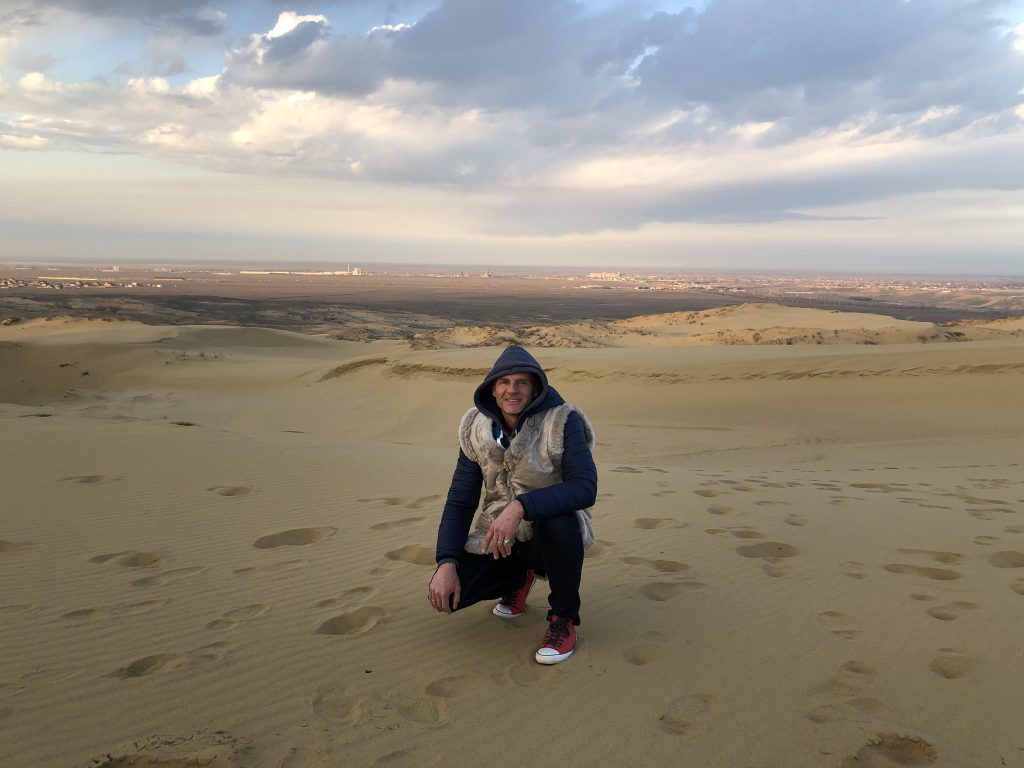 [Note from MIR: At present, Russia has not yet reopened for foreign travelers.]
What was it like at the airports?
John: The beginning of my trip to Chechnya and Dagestan started at Moscow's Sheremetyevo Airport Terminal B. Aeroflot is now using this recently built, modern terminal for most of their domestic flights. At the entrance to the airport there are signs requiring everyone to wear masks.
Upon entering the airport, you go through the first security check. Many of the security check booths were working so as to avoid crowding. Inside the airport, the atmosphere was very calm. I would not have noticed a difference from my previous pre-pandemic trips aside from the fact that everyone was wearing masks.
All of the check-in booths were working and there was only a few-minutes wait to drop off my luggage. There were no COVID-19 questions asked at check-in. Even though the airport was full of travelers, the line at security was short – only 2 passengers were in front of me. People without tickets are allowed into the airport, but only up to the second security check. All of the security checkpoints were open, which helped keep the line moving.
Once past the security checkpoint, I went to the business lounge to wait for my flight to Grozny. The lounge was open and working as usual, and all was as it had been prior to March 2020. The only difference being that we were in masks.
The airport does have signs reminding travelers to social distance, and seats have reminders on them to keep space between yourself and other passengers. But all of the stores and restaurants were open, and the general atmosphere of the airport was of everyday life and nothing out of the ordinary.
What was it like on the plane and out in the streets?
John: At the very entrance to the plane, flight attendants spray your hands with a sanitizer spray and remind you to wear your mask at all times during the flight, except when eating. While on the flight, we were frequently reminded to wear our masks and to make sure it covered our nose as well.
Chechnya has recently discontinued the requirement to wear a mask in their region. The situation with the virus has improved and it was decided by the government of the region that masks were no longer needed. Like in the U.S., policies regarding mask requirements are handled on a regional basis in Russia, not federally.
Out on the streets of Grozny, the capital city of Chechnya, life was normal and people were going about their daily business as usual. Since the mask requirement was removed, we observed few wearing a mask.
What it was like traveling within Chechnya and Dagestan – any special requirements?
John: There is no special permit required to fly or drive into Chechnya. For a short period of time a negative COVID-19 test was needed, but that requirement has been rescinded. The same is the case for the Dagestan region – no special permit or COVID-19 test is needed to visit. There are police checkpoints at the borders between the two regions, but keep in mind that these two regions have a history of unrest in the past. Because of this, police still randomly stop drivers for spot checks of vehicle documents. This is regarded as a normal practice here and accepted.
In Dagestan the mask requirement is still in place to enter stores and restaurants. In open spaces outside, we were not required to wear a mask.
These regions have had, in the not-so-distant past, considerable political upheaval and strife. They're also sort of stereotyped into our minds as 'unsafe' – an impression which is dated, and which may or may not be valid in recent years. What's the situation today?
John: Russian friends sometimes ask me, "What did you lose there that you need to go?" meaning, "Why the heck would you go there?" I was on a trip to Dagestan last year and I liked it so much that I wanted to come back again. I was also in Grozny a few years back, and the chance to return was one I jumped at. For me, the short amount of time that I had allotted to be in those two places the first time around was just not enough.
Both of these regions have stereotypes for being dangerous due to past events, but things have changed and I felt totally safe in both regions on both of my trips there. Peace is valued. Their societies have seen the horrors of war – no one wants to go back to those times.
How developed was the tourism infrastructure?
John: Even though Chechnya and Dagestan are neighboring regions and have similarities, they are very different. Chechnya is an oil rich region and run with an iron fist. Dagestan is more of an agricultural region, with not as large of a budget as Chechnya. As such, there was some difference in the quality of roads, favoring Chechnya over Dagestan.
Much of Grozny (capital of Chechnya) was significantly impacted during the periods of conflict in the 1990s and early 2000s. The city has since been largely rebuilt, and it's really something to see. It was kind of a new start for the city. I almost felt like I was in Ashgabat, Turkmenistan because of all the new buildings and the pomposity.
I was in general very happy with the level of hotels available in both Chechnya and in Dagestan. The Chechen capital has two top-end hotels. I stayed at the one called Grozny City, which is centrally located in a skyscraper complex and home to a business center and private apartments. At night, all of the buildings are beautifully illuminated. Chechnya at night is colorful. I have never seen so many illuminated buildings anywhere.
The coast of Dagestan along the Caspian Sea has really been built up and new hotels are opening. I stayed at 4 different hotels and found the quality to be similar to what I would find in the Golden Ring area outside of Moscow. In addition, room size was very good by comparison to many European hotels.
One thing to note about travel in this region is that 'eastern style' (or squat) toilets are not uncommon. However, standard 'western-style' toilets were in all of the hotels that we stayed in and could be found in the newly remodeled restaurants as well.
Breakfasts at the hotels were mainly buffet style, and I could always find something to eat. And since I don't eat meat, I was given boiled eggs instead of sausages. In general, restaurants were understanding and accommodating of my dietary requirements and substituted meat with vegetable dishes or fish.
Another thing to keep in mind is that large portions are very common in this region. It's a cultural thing – they don't want you to go away from the table hungry and then think poorly of the host. Chechnya and Dagestan are meat-eating societies. Lots of mutton and beef are used, but no pork, as these are Muslim societies. For example, a traditional meal in Chechnya can consist of a large chunk of boiled beef with boiled dumplings in a garlic tomato sauce. In Dagestan it is much the same, but the dumplings will differ in size.
Trout farms are popping up all over as well, so don't miss the chance to try the fresh baked trout if you like fish. It was delicious!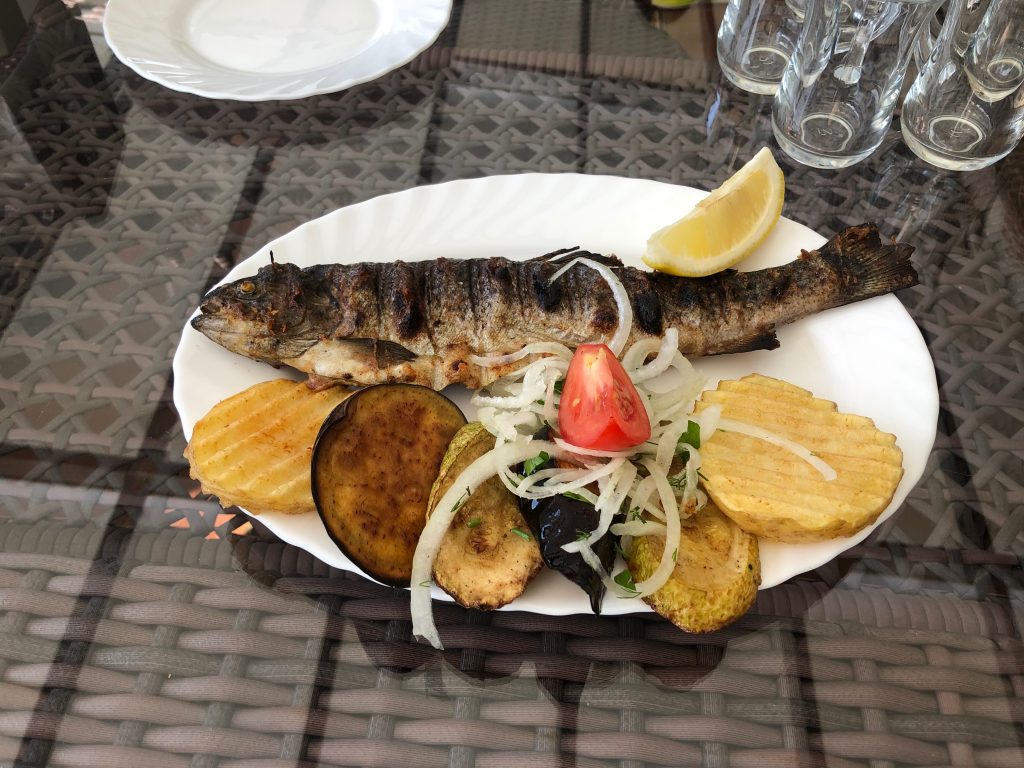 What did you find most memorable or distinctive about Dagestan and Chechnya?
John: The first thing that comes to my mind when I think about Chechnya is the almost total ban on alcohol in the region. There is only one store in the entire region that sells alcohol. It is on the Grozny city outskirts and sells alcohol from 8:00 am to 10:00 am. Dagestan is not as strict as Chechnya regarding alcohol limitations. It is sold in most stores, but not all; and it may be available in a restaurant, or the menu may be alcohol free. These are tea drinking societies. Where I would have normally ordered a beer during my dinner, I tried a wild cherry tea and a punch type drink made with berries.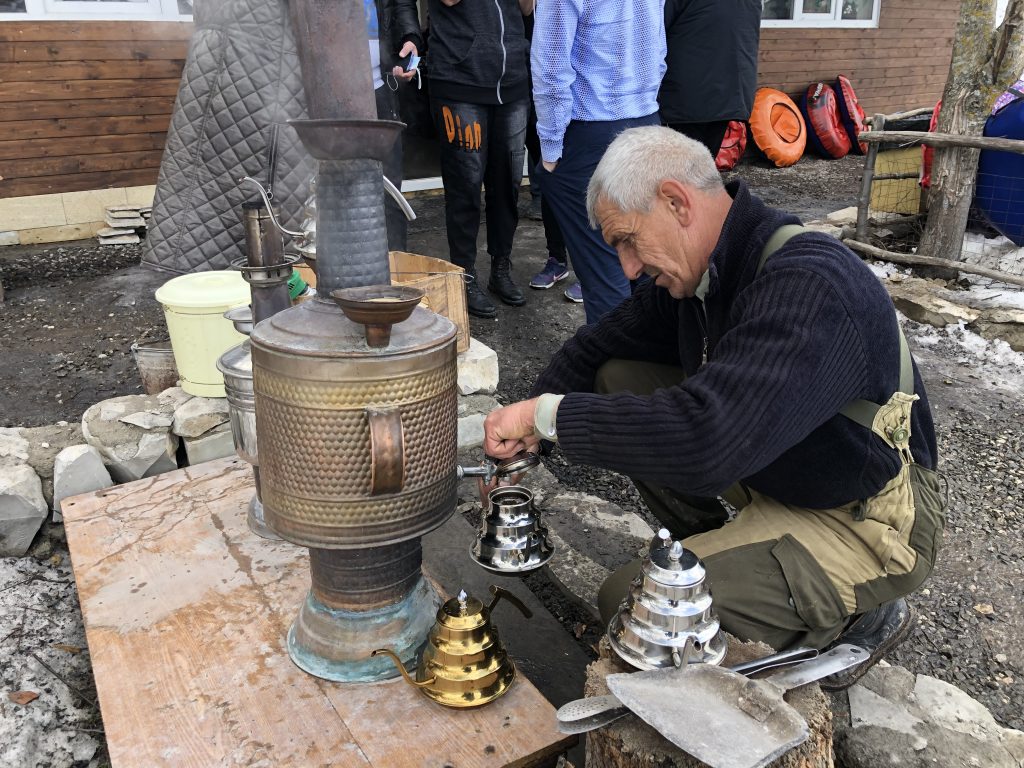 One experience in Dagestan that was very special was lunch with a family in their private home. We drove on a mountain road through many small villages and finally stopped in the village of Khuchni. The views en route were spectacular; but if you're afraid of heights, you are in for a rush of emotions. We were met by one of the brothers at the door, where shoes must be removed. Caution – make sure your socks don't have holes in them (though you can bring your own slippers if you'd like).
Eating traditionally, we sat on the floor and not around a table; that was lucky it seemed as I feared a table would have broken under the weight of the huge amounts of different types of food that we were offered. While guests chatted with some male household members, the women of the family were busily cooking in the kitchen. A female friend of the family came over to converse with us during the lunch along with an adult son. We were told about their family traditions and had the chance to ask them questions. Even though we are living in a modern world full of technology and globalization, this family, like others in the region, still very much follow tradition and the ways of their ancestors. It was interesting to learn that even with so many family members living under one roof, they still value having more children.
The family relies on drinking water from the mountains that their village has piped down into their homes. Ladies use the toilet in the house and men use the outhouse outback. Guests are always given an opportunity to use the indoor facilities. I could have used the toilet in the house if I had wanted to, but the son was eager to show me his garden and I welcomed the opportunity for this chance interaction in the yard.
I also got to try my hand at weaving a rug. Their village is famous for rug weaving and it's still the norm that young girls are taught this tradition to "keep the feet of the family warm."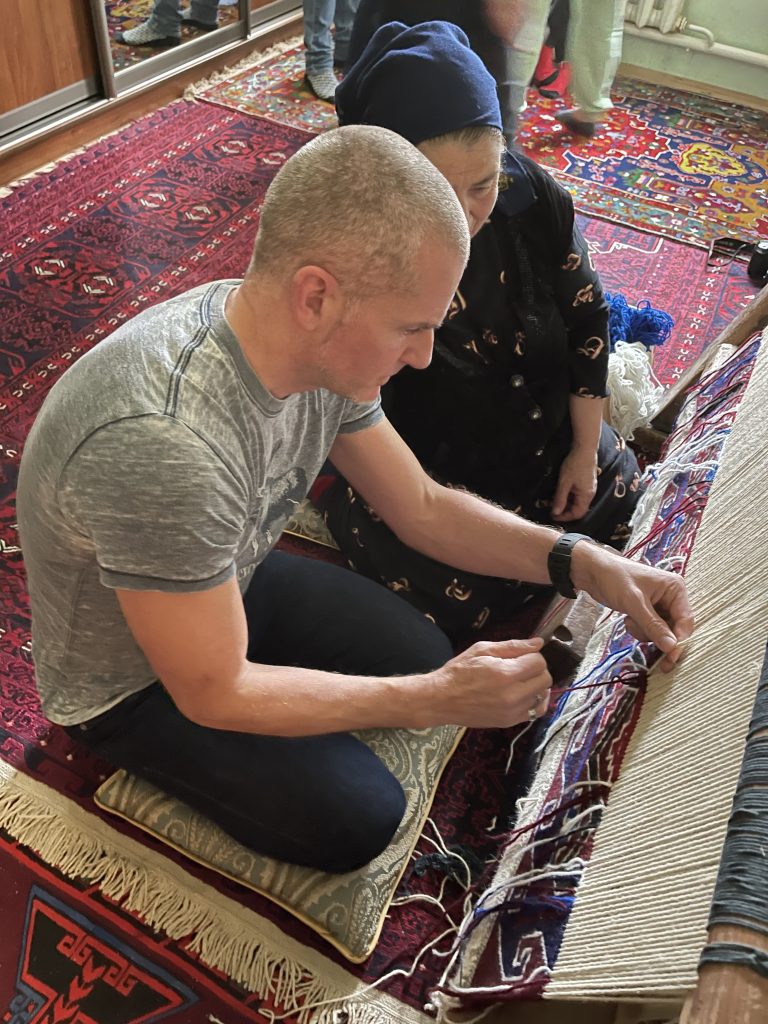 Our local guides gave us a fascinating inside view into family life. It was eye opening to learn that the word 'stepfather' hardly exists in Chechnya. If a divorce takes place, the children always stay with the father. In Dagestan, it is still common during the courting period of a relationship for a female member of the girl's family to accompany the girl on any dates with a suitor. Languages can differ so much in such a small area that people of one village may not understand the language of a neighboring village. The word "family" here has much meaning. If you are building a home, all family members will help in the construction. Families are traditional large, with 8-12 children common, and the youngest son stays at home to take care of the parents. The final word of the elder of the village is law.
I think what I learned the most on my trips to Dagestan and Chechnya is that what you see on TV in Russia is one thing, but you learn the true story of how the people in these areas live by interacting with them in everyday situations. Ordinary people-to-people relations are really what matter and can change stereotypes.
I have lived in Russia for over 20 years and have seen the Northern lights while on a Yenisei River cruise from the Siberian city of Krasnoyarsk to Dudinka above the Arctic Circle. I have stood on the Curonian Spit in the Kaliningrad Region, seeing the Baltic Sea on one side and the Curonian Lagoon on the other. However, Southern Russia and the region of the North Caucasus in particular, is one of the most intriguing places I've been because of the many nationalities that live there and their strong belief in preserving local traditions. I almost felt as if I had crossed the Russian border and entered a different country.
Travel to the North Caucasus with MIR
MIR has over 30 years of travel experience to Russia, with affiliate offices in Moscow, St. Petersburg, Irkutsk, and Ulan Ude offering on-the-ground support. Our full service, dedication, commitment to quality and destination expertise have twice earned us a place on National Geographic Adventure's list of "Best Adventure Travel Companies on Earth."
Interested in exploring the North Caucasus, including Chechnya and Dagestan, yourself? Check out our Return to the North Caucasus small group tour.
Whether you're thinking of traveling sooner or later, don't miss out on the layers of history and diverse cultures of Russia.
Chat with one of our destination specialists now!