Photo credit: Kirkenes Snow Hotel
error_outline
All Russia tours for 2022 have been canceled.
From Moscow to St. Petersburg via the Arctic Circle Aboard the Golden Eagle
Overview
Experience winter above the Arctic Circle in the best way imaginable – aboard the luxurious Golden Eagle private train. You'll travel through the snow to Kirkenes, Norway, where, if luck is on your side, you'll get a view of the spectacular but elusive Northern Lights.
The trip begins in Moscow and ends in St. Petersburg, with time to see the sights in those two great cities, and also to visit two of the most beautiful towns on the historic Golden Ring. Along with the romantic train journey, winter adventures include rides in a dogsled and a horse-drawn sleigh, and ice fishing for succulent snow crab.
Travels to: Russia
Photos and details: Discover what life is like aboard the Golden Eagle.
Map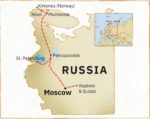 Itinerary
Days 1-3: Moscow (Russia), Vladimir, Suzdal

Arrive in Moscow and enjoy a champagne reception and welcome dinner. The next day, tour the heart of the city – Red Square – and take in the iconic domes of St. Basil's Cathedral, the massive medieval Kremlin, and the Armory Museum before boarding the Golden Eagle private train to begin your journey. Take a trip outside of Moscow to Vladimir and Suzdal, two of the towns that make up the historic Golden Ring. Both were seats of power from the 12th through the 14th centuries, and they continue to be home to some of Russia's most beautiful architecture, collectively designated as the UNESCO World Heritage Site "White Monuments of Vladimir and Suzdal." Take a sleigh ride in Suzdal before re-boarding the trip for the trip to the Arctic Circle.

HIGHLIGHTS

Moscow's 850-year-old Kremlin and Red Square, a UNESCO World Heritage Site
The colorful domes of St. Basil's Cathedral
The treasures of the Armory Museum, from Faberge eggs to the ivory throne of Ivan the Terrible
The blue-and-gold gilded domes of Vladimir's Cathedral of the Assumption
Suzdal's kremlin, which encompasses several well-preserved churches and other historic buildings
A choral performance by monks at Suzdal's frescoed cathedral at the Savior Monastery of St. Euthymius
Dashing through the snow in a classic Russian horse-drawn sleigh

Days 4-5: Arctic Circle, Murmansk

Watch the snow-covered woods transform into open tundra as the Golden Eagle crosses into the Arctic Circle. Stop in the port city of Murmansk, headquarters of Russia's Northern Fleet; the warm waters of the Gulf Stream keep it ice-free for most of the winter. Tour the world's first nuclear-powered icebreaker, the Lenin, now a museum ship. As the train rolls north, continue to watch the sky for the Northern Lights.

HIGHLIGHTS

The snowy train ride into the Arctic Circle
An onboard discussion of the Northern Lights over tea with a guest astronomer
The ghostly fog that keeps the waters of Murmansk's port warm in winter
A tour of the world's first nuclear-powered icebreaker, launched in 1957
Searching for the Northern Lights from a comfortable coach

Days 6-7: Kirkenes (Norway)

Disembark and travel by bus to Kirkenes, Norway, a town so far north that for more than a month each winter the sun doesn't rise above the horizon. Over a two-night hotel stay, spend evenings riding in a comfortable bus through the "Aurora Borealis Zone" in search of optimum locations for viewing the Northern Lights. When not Lights hunting, tour the fascinating Snow Hotel, built entirely from snow; ride in a dogsled behind a team of huskies; meet a herd of reindeer; and go king-crab fishing on a frozen fjord.

HIGHLIGHTS

More opportunities to look for the Northern Lights
The novel, surprisingly intricate décor of the Snow Hotel
A dogsled ride on the tundra
Fishing for king crab with a master fisherman, and then eating your catch

Days 8-9: Nikel (Russia), Petrozavodsk

Return to Russia to re-board the train and Nikel before continuing south. On the way, stop in Petrozavodsk, a town created by Peter the Great as the site of an iron foundry to outfit the ships of his navy.

HIGHLIGHTS

More opportunities to look for the Northern Lights from the cozy bar or the warm cabin of your train
Petrozavodsk's Alexander Nevsky Cathedral, built by and for the city's foundry workers

Days 10-12: St. Petersburg

Arrive into St. Petersburg and explore Peter the Great's imperial capital and Russia's most beautiful city. Make visits to the Hermitage, one of the world's great museums; majestic St. Isaac's Cathedral; Nevsky Prospekt, the city's grandest thoroughfare; and, outside of town, beautifully restored Catherine's Palace.

HIGHLIGHTS

The Hermitage Museum, home to the world's second-largest art collection (after the Louvre), with works by Michelangelo, Raphael, Rembrandt, Titian, Van Gogh, and scores of other masters
St. Isaac's Cathedral, with its dome covered in 220 pounds of gold
Nevsky Prospekt, St. Petersburg's grandest street, lined with elegant buildings and upscale shops and restaurants
The beautifully restored Amber Room at Catherine's Palace
A gala first dinner in the handsome dining car of the Golden Eagle private train
Dates &amp Prices
Minimum group size: Minimums vary – call for confirmation status
Land Tour Price, Per Person.
2023 Dates

Silver Class, double occupancy

$16,295

Silver Class, single occupancy

$24,495

Gold Class, double occupancy

$20,395

Gold Class, single occupancy

$33,695

Imperial Suite Class, double occupancy

$34,695

Imperial Suite Class, single occupancy

$67,695
What's Included
Tour Includes

Accommodations, as noted in the itinerary.
All meals, from dinner on Day 1 through breakfast on final tour day, including a generous allowance of wine, local beer, and soft drinks with lunch and dinner.
Arrival/departure transfers, provided you arrive and depart on the tour start/end dates and in the tour start/end cities.
All guided off-train tours, as outlined in the itinerary.
Services of an experienced Train Tour Manager as well as local guides for scheduled off-train tours.
Complimentary tea, coffee, and mineral water from your car attendant at all times while on board the train.
All gratuities.
Baggage handling.
Complete pre-departure information, including detailed packing list, reading list, and Touring with MIR handbook with country-specific information, maps, and travel tips.
Assistance booking your custom flight arrangements, on request. (Please note that international airfare is not included in the land tour cost.)

Not Included

International airfare, including taxes/fuel surcharges, and surface transport to the point of joining/leaving the tour. MIR is able to assist with arrangements, as detailed in the itinerary.
Meals and drinks not specified as included in the itinerary.
Single supplement (difference between double rate and single occupancy rate) if requested or required.
Optional pre- or post-tour extensions.
Expenses incurred as a result of delay, modification, or extension of a tour due to causes beyond MIR's control.
Visa fees, excess baggage charges, airport departure taxes, vaccination, and other medical costs.
Travel insurance, including cancellation, medical, and evacuation insurance.
Items of a personal nature, such as phone calls, email, laundry, and alcohol.
Activity Level
Level 3: Medium
This rail journey by private train features significant touring on foot, throughout which travelers are expected to keep up with other group members, and will feature cold weather and icy and/or wet walking surfaces. Walking during touring days will be on a variety of base surfaces as well, with many streets and sidewalks being uneven, and elevators generally not available during touring excursions, leading to some stair climbing. Challenges on board the train include long onboard distances with heavy doors, as well as steep steps and gaps to navigate while embarking and disembarking. Only those willing to accept the local standards of amenities and services should consider joining this program.
Travelers must be able to walk one to two miles per day while keeping up with other group members. Streets and sidewalks can be uneven or have unexpected surfaces, and handrails are not always present. Steps, which may be required due to lack of elevators, may be steep and/or uneven, and may also lack handrails. The weather will be cold and likely wet and icy when off the train. The distance on board the train between sleeping and dining carriages may be significant, and there are many heavy doors to navigate when moving throughout the train. Getting on and off the train involves navigating steep steps, low platforms and possible gaps between the train and the platform. Navigating rail stations may also involve traveling up and over steep steps/footbridges to cross tracks, or steep steps and dark tunnels to cross under to/from the train station. Although porterage is provided where possible, you may have to carry your baggage for short distances.
General shortcomings of the tourism infrastructure may include problems with bureaucratic service and availability and quality of public restrooms when not on board the train.
Gallery