error_outline
Russia tour sales suspended
Ancient City, Modern Capital
Overview
There's no debating that Moscow, Russia's governmental, cultural, and economic capital, is one of the world's great cities. On this in-depth tour, MIR's experienced local guides will show you its many sides from the opulence of the czars, the hulking grandiosity of the Soviet era, and to the dynamism of present-day life. You'll visit the iconic sights of Red Square and also discover less familiar wonders, from the hill where Napoleon surveyed the city to the bunker where Stalin prepared for nuclear war. Moscow is home to a MIR office and one of our favorite destinations. Nobody does it better.
Travels to: Russia
Map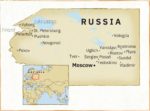 Itinerary
Days 1-3: Touring Moscow (Russia)

After meeting your guide at the hotel, begin your tour with a panoramic view of the city from Sparrow Hills, and then visit two major sights nearby: UNESCO-listed Novodevichy Convent and Poklonnaya Gora. The following day, make a stop at Lenin's tomb before descending into the Moscow Metro to explore several of its most ornate stations. Emerge above ground at VDNKh, a group of lavish Soviet-era pavilions dedicated to achievements of the USSR; there, visit the Memorial Museum of Cosmonautics. End the afternoon at Izmailovo Market, the best place in the city to find souvenirs and crafts, and a great spot for people-watching. For dinner, learn the meaning of Russian hospitality with a meal in the home of a local family.

HIGHLIGHTS

Novodevichy Convent, a showcase of Russian baroque architecture with a cemetery holding the graves of Russian luminaries including Gogol, Chekhov, Khrushchev, and Yeltsin
Poklonnaya Gora (Hill of Homage), home to a major complex of WWII memorials, and the site where Napoleon stood with his troops in 1812 while waiting to receive the keys to the city
The carefully embalmed body of Soviet founding father Vladimir Lenin, occupying a place of reverence on Red Square
The extravagantly decorated stations of the Moscow Metro
Monumental Soviet-era architecture at VDNKh
The retro space-age feel of the Memorial Museum of Cosmonautics, filled with rockets, landing capsules, and other artifacts of space exploration
People-watching at Izmailovo Market
A home-cooked dinner with a Muscovite family

Day 4: Red Square

This day is dedicated to the heart of the city, Red Square, and the sights that surround it. You'll examine the domes of Russia's most famous church, St. Basil's Cathedral; explore the massive Kremlin, the center of Russian politics; tour the Armory Museum, a storehouse of national treasures; and browse through GUM, a historic shopping arcade. In the evening, attend a ballet or opera at one of Moscow's renowned theaters.

HIGHLIGHTS

The 850-year-old Kremlin and Red Square, a UNESCO World Heritage Site
The colorful domes of iconic St. Basil's Cathedral
The treasures of the Armory Museum, from Faberge eggs to the ivory throne of Ivan the Terrible
Shopping at the boutiques of GUM
A performance at one of Moscow's renowned theaters

Day 5: Day trip to Kolomenskoye

Start the day with a trip outside the city to the UNESCO World Heritage Site of Kolomenskoye. The 390-acre grounds, which include a former royal summer palace, serve as an architectural museum featuring historic buildings both native to the site and relocated from elsewhere in Russia. In the afternoon, return to the city to tour the Pushkin Museum of Fine Arts, the best collection of foreign art and antiques in Moscow.

HIGHLIGHTS

Kolomenskoye Museum Preserve's pretty, park-like grounds and its beautiful buildings, displaying a variety of Russian architectural styles
The Pushkin Museum's especially strong collections of ancient artifacts and Dutch masters

Days 6-7: More Moscow sights

On your final full day, visit three more distinctive Moscow sights. At the Tretyakov Gallery, tour a collection that encompasses the history of Russian art from the 11th century to the present. Learn secrets of
the past at Stalin's underground bunker, buried 200 feet below the city. And take a leisurely stroll along Moscow's most famous street, Arbat, today an artsy hangout lined with craft stands and street performers. The itinerary ends the next morning with a transfer to the airport – or with further MIR touring (see "Stay a Little Longer …" below).

HIGHLIGHTS

The world-class collection of Russian art at Tretyakov Gallery
Stalin's Bunker (Bunker 42), an abandoned relic of the Cold War built to withstand a nuclear attack
Dates &amp Prices
Please note:
Private trip prices vary by season and are subject to hotel availability for your travel dates.
Listed prices below are based on double occupancy and a 2 traveler minimum.
Hotel upgrades, additional nights, and solo traveler prices are available on request.
Land tour price, per person, starting from:
2023 Dates

Available: January - December

Tour, double occupancy

$3,795
What's Included
Tour Includes

Shared accommodations as noted in the itinerary. Contact MIR for hotel upgrade prices.
Meals, as noted in the itinerary.
Restaurant tips for included meals.
One arrival and one departure transfer. Additional arrival and departure transfers available at additional cost.) MIR will arrange for travelers to be met upon arrival and seen off on departure, whether or not we make your air arrangements.
Ground transportation throughout itinerary by private vehicle (type of vehicle depends on number of travelers in your group.)
Services of experienced, English-speaking local guides, drivers, and other staff, as noted in the itinerary.
Guided sightseeing tours and entrance fees, as outlined in the itinerary.
Special events, excursions, and cultural performances, as outlined in the itinerary.
Complete pre-departure information, including detailed packing list, reading list, and Touring with MIR handbook with country-specific information, maps, and travel tips.
Final document packet, including luggage tags, final updates, and more.
Assistance booking your custom flight arrangements, on request. (Please note that international airfare is not included in the land tour cost).

Not Included

International airfare and taxes/fuel surcharges.
Meals and drinks not specified as included in the itinerary.
Single supplement if requested or required.
Baggage handling.
Gratuities to local guides, drivers, porters, and other service personnel.
Expenses incurred as a result of delay, modification, or extension of a tour due to causes beyond MIR's control.
Travel-related insurance, including cancellation, medical, and evacuation insurance.
Visa fees, excess-baggage charges, airport departure taxes, vaccination and other medical costs.
Optional pre- or post-tour extensions.
Items of a personal nature such as phone calls, email, laundry, and alcohol.
Activity Level
Level 2: Moderate, but Customizable
This 'Essential' itinerary in modern and cosmopolitan Western Russia, which is designed for private travel, features long days walking and standing, and some possibly long days in the touring vehicle. Only those fit to travel and who accept the local conditions should consider joining this program.
There is a significant amount of touring on foot, and those travelers planning to take the program as written should be able to walk one to two miles a day comfortably. Footing can be an issue and travelers should be able to negotiate cobblestones, uneven surfaces (possibly steep and/or wet), and deal with situations without handrails or ramps. Some attractions are only accessible via steep staircases. Museums rarely have elevators.
Past travelers have also encountered challenges with plumbing, bureaucratic service, variety of locally available foods, and availability and quality of public restrooms.
Accommodations in the basic program are generally four-star hotels. Upgrades may be available, please call for details.
Gallery