Multi-Region
Land of the Midnight Sun by Steam
error_outline
All Russia tours for 2022 have been canceled.
White Nights Across the Arctic Circle Aboard the Golden Eagle Private Train: Special Steam-Hauled Program
Overview
Join a band of adventurous travelers during the "White Nights" of summer on a luxury steam- hauled rail journey celebrating the Midnight Sun. Begin in magnificent Moscow and board the luxury Golden Eagle train as it makes its way north, stopping in sumptuous St. Petersburg, where fashionable boulevards and serene canals glisten in the oblique rays of the Midnight Sun. Make your way towards the Arctic Circle, pausing en route at the open-air museum at Kizhi Island and visiting the Arctic ports of Murmansk and Archangelsk.
Witness the golden hours of the Midnight Sun and take advantage of the long, sun-filled days bathed in brilliant color. The journey returns south to end in stunning Moscow where it began, exploring UNESCO-listed Red Square with its imaginatively decorated St. Basil's.
Travels to: Russia
Photos and details: Discover what life is like aboard the Golden Eagle.
Map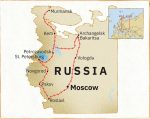 Itinerary
Days 1-3: Moscow (Russia), Roslavl

After arrival in Moscow and a night at a five-star hotel, kick off your special steam-hauled program with an extended visit to the Podmoskovnaya Train Station and Locomotive Depot. The next morning, depart to the Kazansky station to board the luxury Golden Eagle private train. The train will make a brief stop in Roslavl, where a 'strategic reserve' of steam locomotives is stored for future use.

HIGHLIGHTS

Festive Welcome Dinner in Moscow to meet the group
Podmoskovnaya Train Station and Locomotive Depot, part museum, part working station for steam locomotives.
A Welcome Reception in the handsome Bar Lounge Car of the Golden Eagle private train for an introduction to the train staff.
Evening stop in Roslavl, where there is a 'strategic reserve' of steam locomotives stored for future mainline use.

Days 4-5: Aboard Train, Pskov, Novgorod

Spend a relaxing day onboard the private train before making stops in Pskov and Novgorod. In Pskov, one of Russia's oldest cities, admire the old defensive walls, towers, churches, and dwellings for which the town is known. The UNESCO-listed site of Novgorod was one of Russia's first and most important cities. Enjoy a visit to the five-domed Cathedral of St. Sophia here.

HIGHLIGHTS

1,100-plus year-old city of Pskov, with its signature limestone architecture
Cathedral of St. Sophia in UNESCO-listed Novgorod

Day 6-7: St. Petersburg, Petrozavodsk, Kizhi Island

Arrive in Pushkin and visit the beautifully restored Catherine's Palace with its infamous Amber Room before exploring St. Petersburg, Peter the Great's imperial capital and Russia's most beautiful city. The next day, stop in Petrozavodsk, a town created by Peter the Great as the site of an iron foundry to outfit the ships of his navy, and take a hydrofoil (weather permitting) over Lake Onega to Kizhi Island, the location of a UNESCO-listed open-air museum. Re-board the train to continue north towards the Arctic Circle.

HIGHLIGHTS

The beautifully restored Amber Room at Catherine's Palace
Imperial Waiting Room at Vitebski Station in St. Petersburg
Petrozavodsk, founded by Peter the Great as the site of an iron foundry
UNESCO-listed open-air museum on Kizhi Island, stocked with old wooden churches and houses form the Karelia region of northwest Russia.

Days 8-9: Murmansk, Nikel

Cross the Arctic Circle today and stop in the port city of Murmansk, headquarters of Russia's Northern Fleet; the warm waters of the Gulf Stream keep it ice-free for most of the winter. Tour the world's first nuclear-powered icebreaker, the Lenin, now a museum ship. Continue north toward the border with Norway, arriving into Nikel early morning. The area around Nikel has been devastated by acid rain from the huge nickel smelting plant here. A twenty-mile area around the town is devoid of greenery. This eerie place is one of the highlights of an Arctic Circle tour.

HIGHLIGHTS

The ghostly fog that keeps the waters of Murmansk's port warm in winter
A tour of the world's first nuclear-powered icebreaker, launched in 1957

Days 10-12: Kem, Solovetsky Island, Archangelsk

The town of Kem along the shore of the White Sea is the jumping off point to the UNESCO-listed Solovetsky Island. Pay a visit here before continuing on to Archangelsk, the city on the White Sea that has played an integral role in Russia's maritime history since the 15th Century. Much of the next day will be spent rolling south back towards Moscow.

HIGHLIGHTS

Solovetsky Monastery on UNESCO-listed Solovetsky Island
British and American Arctic Convoy War Graves in Archangelsk
The collection of traditional houses, farmsteads, windmills, and churches of the northern regions at the open-air Wooden Architecture Museum at Malie Kareli

Days 13-15: Vologda, Yaroslavl, Moscow

Make a stop in Vologda, a historic city some 250 miles northeast of Moscow, and in Yaroslavl, a UNESCO-listed World Heritage site known for its artist and craftsmen heritage. Then it's on to Moscow, where the Golden Eagle journey ends but the touring continues. Visit the heart of the city, Red Square, and take in the iconic domes of St. Basil's Cathedral and the massive, medieval Kremlin. You'll also descend down to the city's famous metro system for a tour of some of the most impressive stations.

HIGHLIGHTS

Vologda Kremlin, begun by Ivan the Terrible in 1566
UNESCO-listed Yaroslavl
Farewell dinner on the final night onboard the train
Moscow's 850-year-old Kremlin and Red Square, a UNESCO World Heritage Site
The colorful domes of St. Basil's Cathedral
Some of the most impressive stations of Moscow's opulent metro system
Dates &amp Prices
Minimum group size: Minimums vary – call for confirmation status
Land Tour Price, Per Person.
Call for dates and prices
What's Included
Tour Includes

Accommodations, as noted in the itinerary.
All meals, from dinner on Day 1 through breakfast on final tour day, including a generous allowance of wine, local beer, and soft drinks with lunch and dinner.
Arrival/departure transfers, provided you arrive and depart on the tour start/end dates and in the tour start/end cities.
All guided off-train tours, as outlined in the itinerary.
Services of an experienced Train Tour Manager as well as local guides for scheduled off-train tours.
Complimentary tea, coffee, and mineral water from your car attendant at all times while on board the train.
All gratuities.
Baggage handling.
Complete pre-departure information, including detailed packing list, reading list, and Touring with MIR handbook with country-specific information, maps, and travel tips.
Assistance booking your custom flight arrangements, on request. (Please note that international airfare is not included in the land tour cost.)

Not Included

International airfare, including taxes/fuel surcharges, and surface transport to the point of joining/leaving the tour. MIR is able to assist with arrangements, as detailed in the itinerary.
Meals and drinks not specified as included in the itinerary.
Single supplement (difference between double rate and single occupancy rate) if requested or required.
Optional pre- or post-tour extensions.
Expenses incurred as a result of delay, modification, or extension of a tour due to causes beyond MIR's control.
Visa fees, excess baggage charges, airport departure taxes, vaccination, and other medical costs.
Travel insurance, including cancellation, medical, and evacuation insurance.
Items of a personal nature, such as phone calls, email, laundry, and alcohol.
Activity Level
Level 2: Moderate
This rail journey by private train features some touring on foot, throughout which travelers are expected to keep up with other group members. Walking during touring days will be on a variety of base surfaces, with many streets and sidewalks being uneven and elevators generally not available during touring excursions, leading to some stair climbing. Challenges on board the train may include long onboard distances with heavy doors, as well as steep steps and gaps to navigate while embarking and disembarking. Only those willing to accept the local standards of amenities and services should consider joining this program.
Travelers must be able to walk one to two miles per day while keeping up with other group members. Streets and sidewalks can be uneven or have unexpected surfaces, and handrails are not always present. Steps, which may be required due to lack of elevators, may be steep and/or uneven, and may also lack handrails. The distance on board the train between sleeping and dining carriages may be significant, and there are many heavy doors to navigate when moving throughout the train. Getting on and off the train involves navigating steep steps, low platforms, and possible gaps between the train and the platform. Navigating rail stations may also involve traveling up and over steep steps/footbridges to cross tracks, or steep steps and dark tunnels to cross under to/from the train station. Although porterage is provided where possible, you may have to carry your baggage for short distances.
General shortcomings of the tourism infrastructure may include problems with bureaucratic service and availability and quality of public restrooms when not on board the train. And in true expedition style, some delays or changes in the itinerary are likely.