error_outline
Russia tour sales suspended
Cruise on the I/B 50 Years of Victory
Overview
Join MIR on a once-in-a-lifetime voyage to the very top of the earth, experiencing life at its most remote and mysterious at the North Pole. Retrace the path of early polar explorers as you cruise aboard the world's largest icebreaker, keeping a lookout for the astonishing array of wildlife in the Arctic and enjoying fantastic views of an endless, frozen icescape.
Travels to: Russia, Franz Josef Land, North Pole
Photos and details: Discover what life is like aboard the I/B 50 Years of Victory (view a PDF).
Map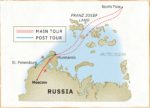 Itinerary
Days 1-2: Moscow (Russia)

Gather in Moscow, capital city of Russia. Admire Red Square, the Kremlin, and the incredible treasures inside the Armory Museum, then descend more than 200 feet underground into Bunker 42, Stalin's secret Cold War-era communications center.

HIGHLIGHTS

Moscow's 850-year-old Kremlin and Red Square, a UNESCO World Heritage Site
The Armory Museum, housing Russia's national treasures
Stalin's Bunker (Bunker 42), an abandoned relic of the Cold War built to withstand a nuclear attack

Days 3-4: Murmansk

Fly to Murmansk, the largest city above the Arctic Circle. Get an introduction to the history of Arctic exploration at the Regional History Museum and peruse the inner corridors of the world's first nuclear-powered icebreaker, the Lenin.

HIGHLIGHTS

Arctic port of Murmansk, Soviet "Hero City" in WWII
World's first nuclear-powered icebreaker, launched in 1957

Days 5-9: Voyage to the North Pole

Embark aboard the expedition ship, the icebreaker 50 Years of Victory, specially built to navigate the challenging northern reaches of the Arctic Ocean. Cruise north across the Barents Sea, keeping an eye out for ice-dependent marine mammals such as the bowhead whale, Arctic seal, and polar bear. Enjoy lectures and discussions by the expedition crew, and board the ship's helicopter for a thrilling aerial view of the Arctic's icy polar expanse.

HIGHLIGHTS

Barents Sea, home to a huge diversity of organisms due to the convergence of the warm Gulf Stream and the cold arctic waters
Possible sightings of sea ice and ice-dependent mammals, such as polar bears
Onboard presentations in the Aft Saloon
Flight-seeing tours aboard the icebreaker's helicopter
Photography lectures and workshops from an experienced professional photographer
Guided tour of the icebreaker's engine room

Day 10: 90°N (North Pole)

Disembark today at the North Pole, celebrating with a champagne toast and an unconventional barbecue on the frozen landscape. The surface of the pole is covered by a floating sheet of ice, which averages between 2 and 3 meters thick. Choose to take an optional polar plunge into the chilly waters surrounding the pole, or float high above the frigid ice on a tethered hot-air balloon ride.

HIGHLIGHTS

Barbecue and champagne toast upon landing at 90°N
International Round Dance around the North Pole
Optional tethered flight by hot air balloon (weather permitting)
Optional polar plunge

Days 11-13: Franz Josef Land

The ship continues to Franz Josef Land, a glaciated archipelago and nature sanctuary that's been part of the Russian Arctic National Park since 2012. In the 24-hour daylight of the Arctic summer, trace the shores by helicopter and Zodiac in search of walrus and remote migratory seabird colonies, and land at various islands to explore the remnants of historic polar expeditions.

HIGHLIGHTS

Landings and Zodiac cruises to points of interest
Mysterious stone spheres on Champ Island
Cape Fligely on Rudolf Island, northernmost point of land in the Eastern Hemisphere
Tikhaya Bukhta, currently a Russian Arctic National Park ranger station, and formerly a major base for polar expeditions

Days 14-16: Across the Barents Sea, Murmansk (Russia)

Cross back across the Barents Sea, enjoying Arctic landscapes and wildlife sightings from the ship's panoramic open decks. Disembark back in Murmansk as the extraordinary voyage comes to an end.

NOTE: Itinerary, landings, and all other activities during the cruise depend strongly on ice and weather conditions, and are subject to the decisions of the Expedition Leader and the captain of the vessel. Encounters with any mentioned wildlife cannot be guaranteed.

HIGHLIGHTS

Ice floes and shore-fast ice support seals, whales, arctic fox and polar bears
Dates &amp Prices
Minimum group size: Minimums vary – call for confirmation status
2022 DATES
July 7 – 22
Land Tour Price, Per Person
| | | |
| --- | --- | --- |
| | Standard, twin share | $32,995 |
| | Standard, single | $56,090 |
| | Mini Suite, twin share | $37,995 |
| | Mini Suite, single | $75,990 |
| | Junior Suite, twin share | $43,995 |
| | Junior Suite, single | $87,990 |
| | Grand Suite, twin share | $44,995 |
| | Grand Suite, single | $89,990 |
| | Victory Suite, twin share | $47,995 |
| | Victory Suite, single | $95,990 |
| | Arkitka Suite, twin share | $49,995 |
| | Arkitka Suite, single | $99,990 |
Additional internal air cost, all categories: $200 per person (economy class, subject to change)
Call for dates and prices
What's Included
Tour Includes

Accommodations per the itinerary: 2 nights Moscow, 2 nights Murmansk, 11 nights aboard the I/B 50 Years of Victory.
Meals per the itinerary, including breakfast, lunch and dinner daily while aboard. Some landside meals may be left independent per the itinerary so that you may experiment on your own.
Restaurant tips for included meals.
Complimentary coffee, tea, and cocoa available around the clock while aboard ship.
Transfer from hotel to the port in Murmansk on embarkation day.
Transfer from the port to the airport or central location in Murmansk upon disembarkation.
Shipboard accommodation with housekeeping.
Services of experienced, English-speaking local guides, drivers and other staff.
Arrival/departure airport transfers. MIR will arrange for all travelers to be met on arrival and seen off on departure whether we make your airfare arrangements or not, provided you arrive and depart on the tour start/end dates in the tour start/end cities.
Ground transportation for the landside touring by private vehicle (type of vehicle depends on group size and terrain).
Guided sightseeing tours and entrance fees as outlined in itinerary.
All helicopter shore excursions and activities throughout the voyage.
All zodiac shore excursions and activities throughout the voyage.
Shore landings included in daily program.
Special events, excursions, and cultural performances per the itinerary.
Program of lectures and informal discussions by experienced Expedition Team and guest lecturers.
Professional Expedition Leadership.
Branded Poseidon Expeditions parka – yours to take home at the end of the program.
Rubber boots for shore landings – on loan for the time of the cruise.
Gratuities to local guides, drivers, porters, and other service personnel.
Hair dryer and bathrobes in each cabin.
Complete pre-departure information, including detailed packing list, reading list, Touring with MIR handbook with country-specific information, maps, and travel tips.
Customized visa application and instruction kit (please note, visa fees are not included in the tour price).
Final document packet including luggage tags, final updates, and more.
Digital Voyage Log.
All miscellaneous service taxes and port charges throughout the program.
All shipboard luggage handling.
Personalized medical insurance covering the risks of evacuation and repatriation. Coverage: 100,000 EUR. Duration: cruise days only. This is only for passengers under 85 years old.

Not Included

Internal airfare (internal airfare is quoted separately and is subject to change by airlines).
International airfare or taxes/fuel surcharges.
Helicopter flying time in excess of that offered for the group.
Meals not specified as included in the itinerary.
Single supplement charge, if requested or required.
Items of a personal nature (phone calls, email, laundry, alcohol, excess baggage, etc).
Onboard expenses such as telecommunication/internet services; laundry, bar and beverage charges.
Tips for stewards and other service personnel aboard (at your discretion).
Baggage handling except for aboard.
Excess luggage charges on international and local flights.
Visa/passport fees, airport departure fees.
Expenses incurred as a result of delay, modification or extension of a tour due to causes beyond MIR's control.
State arrival and departure taxes (if levied).
Travel and trip cancellation insurance beyond that mentioned above.
Activity Level
Level 4: Rigorous
This intentionally adventuresome and unique tour features the challenges of polar exploration and travel on a working icebreaker vessel with limited creature comforts. These include excursions off-board by helicopter or Zodiac, which include travel by foot on ice and by small vessel in ice filled seas; traveling by foot on icy and snowy terrain; and expedition helicopters with low clearances, tight seating conditions, and noisy and uncomfortable conditions.
Shipboard restrictions and limitations include the possibility of steep gangplanks and stairways, limited space, slick surfaces, tripping hazards such as unexpected steps and lips on hatchways, low doorways and overhead clearance, narrow passageways, and unstable surfaces. Rough seas and cold weather are to be expected. Only those very fit to travel and who are willing to accept local standards of amenities and services, and the physical challenges of the program, should consider joining. We strongly encourage you to speak with us about any questions you may have regarding the rigors of this trip or destination when considering this tour.
Travelers must be able to walk 2-plus miles a day while keeping up with fellow travelers on a variety of terrain, including snow, ice, rocks, mud, and the like. Even during mainland touring minor challenges will be present: uneven or unexpected walking surfaces, broken pavement (streets or sidewalks), and a general absence of handrails or ramps. Some attractions are only accessible via steep staircases with tall, uneven steps. Museums generally do not have elevators. Although porterage is provided where possible, you may have to carry your baggage for short distances.
Past travelers have also encountered challenges with plumbing, bureaucratic service, variety of locally available foods, and availability and quality of public restrooms.
About the I/B 50 Years of Victory:
Built in 2007, the 128-passenger I/B 50 Years of Victory is one of the most powerful and sophisticated vessels of its kind, ideally suited to explore the challenging northern reaches of the Arctic Ocean while providing her guests with cozy and comfortable accommodations and amenities. Combining advanced technology with modern conveniences, this state-of-the art icebreaker has been equipped with heavy-duty Zodiac landing crafts and its own helicopter for shore excursions and sightseeing, and features the latest in navigation and communications systems, including telephone and e-mail (Immarsat and Irridium).
Travelers should take note that this is a real working icebreaker, and was not originally intended for touristic purposes; therefore, it is important to keep in mind that the accommodations may not be up to the standards North American travelers expect.
Click here to see photos and additional information about the expedition ship, including categories of staterooms/suites available on board the I/B 50 Years of Victory.
Gallery