error_outline
Russia tour sales suspended
From Olkon Island to the Valley of the Czars
Overview
Join MIR's Siberian Odyssey to discover an isolated, traditional culture inhabiting a serene, surprisingly hospitable landscape. You'll explore Lake Baikal, the oldest and deepest lake in the world, home to colorful species of flora and fauna found nowhere else; cross the Valley of the Czars to visit ancient Scythian burial mounds; and be welcomed into local Tuvan life, visiting with nomads, attending shaman ceremonies, and hearing a performance of traditional throat singing. MIR has decades of experience introducing visitors to this remote but welcoming corner of the world.
Travels to: Russia
Map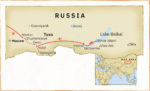 Itinerary
Days 1-2: Irkutsk (Russia), Listvyanka

Arrive in Irkutsk and take a tour of the surprisingly sophisticated little city that is Siberia's cultural capital. Make a stop at the open-air Museum of Wooden Architecture on your way to the town of Listvyanka, set along the shores of UNESCO-listed Lake Baikal – the world's deepest and oldest freshwater lake. Learn about the lake's unique ecosystem at the Baikal Museum, where an aquarium is home to two nerpas – a species of freshwater seal found only at the lake.

HIGHLIGHTS

Irkutsk's finely detailed 19th-century homes and Cathedral of the Epiphany
The 166-acre Wooden Architecture Museum, a collection of authentic Russian and indigenous buildings from the 17th to the 20th century
Little Listvyanka village and its Baikal Museum, which includes aquariums displaying the lake's unique marine life

Days 3-5: Olkhon Island, Irkutsk

Discover the beauty and diversity of Lake Baikal with a two-night stay on its largest island, Olkhon. Explore the forests, the sand dunes, and the cliffs that tower over the deepest part of the lake. The indigenous Buryats believe the lake's gods live on the island. Meet a local shaman and attend a ceremony on Burkhan Bay at Shaman Rock, one of Olkhon's most distinctive landmarks. Return to Irkutsk to in anticipation of a morning flight to Tuva.

HIGHLIGHTS

A tour through Pribaikalsky National Park, which covers 70% of Olkhon Island, protecting the distinctive flora and fauna
Khoboi Cape, where panoramic views capture Lake Baikal's serene immensity; this is also the place where it's most likely to sight nerpas, the lake's freshwater seals
Attending a shaman ceremony at Shaman Rock
Learning the customs and traditions of the islanders at Olkhon Nature and History Museum
Irkutsk's Decembrist House Museum, once the home of Prince Sergei Volkonsky, one of a group of 19th century democratic revolutionaries exiled to Siberia

Days 6-8: Kyzyl

Settle in for a three-night stay in Kyzyl, capital of the autonomous region of Tuva, and then venture out to discover the sights and people. Tuva was part of Mongolia for over a thousand years before coming under Chinese rule in 1757 and Russian control in 1911; its present-day society shows influences from all three of these cultures. With your MIR guide as translator and cultural ambassador, meet a range of locals including a monk at a Buddhist temple, a practitioner of Tuvan shamanism, a traditional soapstone carver, a bead maker, and a nomadic family living far out on the steppe. One evening, hear a performance of Tuvan throat singing, a remarkable technique in which a single voice simultaneously produces two and sometimes three distinct tones.

HIGHLIGHTS

Meeting a Buddhist monk at his temple
Visits to the workshops of a soapstone carver and a bead maker
A ceremony performed by a Tuvan shaman
An evening throat-singing performance
A journey onto the remote steppe to visit a nomadic family, who demonstrate Tuvan cheese making and who may give an impromptu throat-singing lesson

Days 9-11: Turan, Shushenskoye, Abakan

Continue west to the town of Turan and the Valley of the Czars, so-called because of its many burial mounds of the ancient Scythians, an equestrian culture that once dominated the steppes of Eurasia. Tour Arzhan II, a major archaeological site, and make a stop in Tanzibei, a village where Lenin was once exiled. Continue to Shushenskoye, where the State Ethnographic Museum complex recreates a 19th century Siberian village. In Abakan, the capital of the small Russian Federation republic of Khakassia, visit the Khakassia Local Studies Museum, known for its collection of burial totems, and head outside of town to the Great Salbyk Mound, a Bronze Age burial site nearly 100 feet tall. On your last night in Siberia, attend a performance of Khakassian folk music.

HIGHLIGHTS

The Arzhan II archaeological site, where a 7th century BC Scythian mound was discovered containing over 5,000 gold ornaments
Tanzibei, a village restored to resemble its condition when a young Vladimir Lenin was exiled there from 1897 to 1900.
A meal with a local family in a Tanzibei home
The recreated Siberian village at Shushenskoye's State Ethnographic Museum
The forest of limestone burial totems, one 3,000 years old, at Khakassia Local Studies Museum in Abakan
A performance of Khakassian folk music

Days 12-13: Moscow

A morning flight to Moscow leaves much of the trip's final full day for touring the capital. Pay visits to Red Square, home to iconic St. Basil's Cathedral and the massive Kremlin, and Novodevichy Convent, site of Russia's most prestigious cemetery. An optional tour descends into the Moscow Metro to experience some of its most opulent stations.

HIGHLIGHTS

Red Square, the heart of Moscow and a UNESCO World Heritage Site
UNESCO-listed Novodevichy Convent, a showcase of Russian baroque architecture with a cemetery holding the graves of Russian luminaries including Gogol, Chekhov, Khrushchev, and Yeltsin
The extravagantly decorated Moscow Metro stations, known as "underground palaces"
Dates &amp Prices
Small group tour – max 12 travelers
Land tour price, per person. Based on double occupancy and minimum group size of 4 travelers.
2023 Dates

Tour, double occupancy

$7,295

Plus internal airfare

$675
What's Included
Tour Includes

Accommodations, as noted in the itinerary.
Most meals, as noted in the itinerary.
A daily supply of bottled water.
Arrival/departure airport transfers on the tour start/end date. MIR will arrange for all travelers to be met upon arrival and seen off upon departure whether or not we make your flight arrangements.
Ground transportation throughout tour by private van or coach. (Type of vehicle depends on group size.)
Services of experienced, English-speaking local guides, drivers, and other staff, including a MIR Tour Manager.
Guided sightseeing tours and entrance fees, as outlined in the itinerary.
Special events, excursions, and cultural performances, as outlined in the itinerary.
Gratuities to local guides, drivers, and other service personnel, including servers at group meals.
Complete pre-departure information, including detailed packing list, reading list, and Touring with MIR handbook with country-specific information, maps, and travel tips.
Final document packet, including luggage tags, final updates, and more.
Assistance booking your custom flight arrangements, on request. (Please note, international airfare is not included in the land tour cost.)
Customized visa information and instructions. (Please note, visa fees are not included in the tour price.)

Not Included

International airfare and taxes/fuel surcharges.
Meals and drinks not specified as included in the itinerary.
Single supplement (or partial single supplement where applicable), if requested or required.
Gratuities to Tour Manager.
Expenses incurred as a result of delay, modification, or extension of a tour due to causes beyond MIR's control.
Travel insurance, including cancellation, medical, and evacuation insurance.
Visa and/or passport fees, excess-baggage charges, airport departure taxes, vaccination and other medical costs.
Optional pre- or post-tour extensions.
Items of a personal nature such as phone calls, email, laundry, and alcohol.
Internal airfare. (Internal airfare is quoted separately and subject to change by airlines.)
Activity Level
Level 4: Rigorous
This intentionally adventuresome small group tour features challenging overland travel sometimes on rough unpaved roads in 4WD vehicles, a significant amount of touring on foot, some touring by boat, some hiking, managing your own bags to and from hotels, and some rustic accommodations. Conditions are expected to be particularly challenging during the Tuva portion of this itinerary. Only those very fit to travel and who are willing to accept local standards of amenities and services, and the physical challenges of the program, should consider joining.
If you rely on electricity for CPAP, or for any other reason, you must have your own battery or other back-up, or please reconsider participation. We strongly encourage you to speak with us about any questions you may have regarding the rigors of this trip or destination when considering this tour. If you are looking for a less adventurous experience, MIR offers other scheduled tour options featuring more comfortable accommodation and less rigorous touring.
Travelers must be able to walk at least 2 miles a day while keeping up with fellow travelers on a variety of terrain, including packed dirt (muddy when wet) and some light hiking over uneven terrain. Drives can be rough, on unpaved roads, and in basic vans or off-road vehicles.
Please note that for the Lake Baikal program we travel by boat, and travelers should expect steep and potentially slick gangways, the possibility of rough water, doorways with raised thresholds, and steep stairwells within the boats. Some attractions are only accessible via steep staircases with tall, uneven steps, and some of the sites may involve steep steps inside narrow passageways with limited light. Elevators are not available at touring sites, nor at some of the hotels.
Other challenges include overall shortcomings in the tourism infrastructure of these remote destinations, including some that can cause walking challenges such as unpaved sidewalks, uneven surfaces and steps, packed-dirt streets, broken pavement (streets or sidewalks), and a general absence of handrails or ramps. Accommodations vary from three or four-star properties to relatively basic and simple hotels in the more remote areas. Past travelers have also encountered challenges with plumbing, bureaucratic service, variety of locally available foods, and availability and quality of public restrooms.
Gallery