error_outline
Russia tour sales suspended
An Uncommon Adventure on Frozen Lake Baikal
Overview
When you think of Siberia, you may think of punishment and exile, of barren tundra and vast expanses of nothingness – of a place of no return. But Siberia is a wild and wooded place of unimaginable beauty, whose cities glow with warmth even in winter. When snow bends the evergreen boughs in a Zhivago-esque backdrop, UNESCO-listed Lake Baikal freezes so hard that you can walk on water, race teams of sled dogs, and fish through the ice. Experience the rare opportunity to sweep across the frozen lake by hovercraft to sacred Olkhon Island, the place where the indigenous Buryat people believed the gods of Baikal once lived – an unparalleled slice of real Siberian life.
Travels to: Russia
Map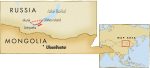 Itinerary
Days 1-3: Irkutsk (Russia), Listvyanka

Arrive in Irkutsk and take a tour of the surprisingly sophisticated little city that is Siberia's cultural capital. Check out the fantastic ice sculptures and mazes that dot the snow-covered main square, as well as the famous Baikal ice-breaker, Angara, that used to bull its way through the Baikal ice, before making your way to the town of Listvyanka set along the shores of UNESCO-listed Lake Baikal – the world's deepest and oldest freshwater lake. Enjoy a frosty troika ride over the river and through the woods, sleep in a charming Siberian wooden lodge on the shores of the great lake, and spend a day zooming around on snowmobiles and dogsleds on frozen Lake Baikal.

HIGHLIGHTS

Accept a welcome present of a toasty pair of Siberia's signature felt boots called valenki, the type of footwear worn for hundreds of years by Russian explorers and trappers
Explore Irkutsk's finely detailed 19th-century homes and Cathedral of the Epiphany
Climb to the bell tower of the Church of the Exaltation of the Holy Cross and enjoy a concert of chimes by a master bell-ringer
Overnight in the little village of Listvyanka on the shores of sacred, UNESCO-listed Lake Baikal
Enjoy Siberian specialities in the home of a Listvyanka family: fresh frosted Baikal fish reminiscent of sashimi, vodka served in shot glasses made of ice, and traditional Buryat winter sausages
Dash through the taiga and onto the frozen river on a traditional troika ride
Bundle up and ride a snowmobile and dogsleds over frozen Lake Baikal
Warm up in a traditional Russian banya, steaming the winter cold away

Days 4-5: Olkhon Island

Boldly go where no one you know has gone before – on an adventurous tour by hovercraft of sights along the "great ice road," the frozen shore of Baikal. Discover the beauty and diversity of Lake Baikal with a two-night stay on its largest island, Olkhon. The indigenous Buryats believe the lake's gods live on the island.

HIGHLIGHTS

Take a hovercraft ride over the lake to Olkhon Island, seeing the methane bubbles frozen in ice at Bolshoi Goloustnoe and the Sagan-Zaba petroglyphs along the way
Enjoy a picnic lunch on the ice and explore Peschanaya (Sandy) Bay
Attend a sunrise shaman ceremony at Shaman Rock
Explore Khoboi Cape, where panoramic views capture Lake Baikal's serene immensity, and Uzury Bay, one of the only places on north Olkhon where the land slopes gently toward the water and ends in a beach

Days 6-7: Ust-Orda, Irkutsk

On your way back to Irkutsk, stop in the settlement of Ust-Ordynsky, capital of the Ust-Orda Buryat Autonomous District, and discover the region's buddhist heritage. With a population of about 15,000, the indigenous Buryats make up over a third of the mostly rural population here. Mongolian and Tibetan lamas began making their way to the eastern shores of Lake Baikal in the 17th century. Their teachings spread among the indigenous Buryat people and either superseded or existed alongside the shamanism that had been prevalent earlier. Enjoy a festive farewell dinner for your last night before departing.

HIGHLIGHTS

Discover one of Siberia's reconstructed Buddhist datsans, or monasteries, in Ust-Ordynsky
Make a toast to the four winds in true Buryat fashion, celebrating your winter adventure during a festive farewell dinner at a Buryat restaurant
Dates &amp Prices
Small group tour – max 12 travelers
Land tour price, per person. Based on double occupancy and minimum group size of 4 travelers.
Call for dates and prices
What's Included
Tour Includes

Accommodations, as noted in the itinerary.
Most meals, as noted in the itinerary: 6 breakfasts, 5 lunches, and 6 dinners.
A daily supply of bottled water.
Arrival/departure airport transfers on the tour start/end date. MIR will arrange for all travelers to be met upon arrival and seen off upon departure whether or not we make your flight arrangements.
Services of experienced, English-speaking local guides, drivers, and other staff, including a MIR Tour Manager.
Ground transportation throughout tour by private van or coach. (Type of vehicle depends on group size.)
Guided sightseeing tours and entrance fees, as outlined in the itinerary.
Special events, excursions, and cultural performances, as outlined in the itinerary.
Gratuities to local guides, drivers, and other service personnel, including servers at group meals.
Complete pre-departure electronic document that includes detailed packing suggestions, reading list links, country-specific information, maps, travel tips and more.
Assistance booking your custom flight arrangements, on request. (Please note, international airfare is not included in the land tour cost.)
Customized visa information and instructions. (Please note, visa fees are not included in the tour price.)
Electronic final update bulletin with any late news, updates, and important information.

Not Included

International airfare and taxes/fuel surcharges.
Meals and drinks not specified as included in the itinerary.
Single supplement, if requested or required.
Gratuities to Tour Manager.
Expenses incurred as a result of delay, modification, or extension of a tour due to causes beyond MIR's control.
Travel insurance, including cancellation, medical, and evacuation insurance.
Visa and/or passport fees, excess-baggage charges, airport departure taxes, vaccination and other medical costs.
Optional pre- or post-tour extensions.
Items of a personal nature such as phone calls, email, laundry, and alcohol.
Activity Level
Level 3: Medium
While we believe this program is designed to be comfortable for travel in this region, this is an adventurous tour and involves daily walking (with some hiking), cold temperatures, icy surfaces, hovercraft rides over rough terrain, and the overall shortcomings of the tourism infrastructure. To reap the full rewards of this adventure, travelers must be able to walk at least two miles – including some hills and stairs – a day while keeping up with fellow travelers, and carry their own baggage when necessary. Travel in remote Siberia often involves driving over rough, unpaved roads in basic vans or off-road vehicles.
It is important to keep in mind that Siberia is not yet up to the standards North American travelers expect. Services are improving in the region; nevertheless, you may encounter problems with plumbing, bureaucratic service, rough road conditions, unpaved sidewalks, uneven surfaces and steps, availability and quality of public restrooms, and variety of locally available foods. Some streets are not paved, and some attractions are only accessible via steep staircases with tall, uneven steps. Museums generally do not have elevators. Although porterage is provided where possible, you may have to carry your baggage for short distances.
Every effort has been made to make the information in this schedule accurate. However, trip itineraries are always subject to change. We will do our best to inform you in advance of any changes; but due to the nature of travel in Russia, this may not always be possible. This tour maintains a focus on cultural interaction, and we will be visiting private homes and sharing meals with local residents. It is therefore important that tour members have a desire to involve themselves in the local culture in order to enjoy this trip. Only those willing to accept these conditions should consider joining this program. Flexibility, a sense of humor, and the ability to walk 2-3 miles a day (including some hills, stairs, and light hiking) and manage your own baggage at all times are essential components to the enjoyment of this trip.
Gallery