Why Is Yakutsk, One of the Coldest Cities on Earth, the Next Hot Destination?
The Sakha Republic, aka Yakutia, is located in northeast Russia, with more than 40% of it sitting above the Arctic Circle. The region consists of almost 2 million square miles of taiga and tundra running 1,600 miles south from the Arctic Ocean.
Yakutsk, its capital, is one of the coldest big cities on earth – so cold it's entirely built on permafrost. Most of its buildings are on pylons or stilts, made of wood or concrete, so they won't melt the permafrost. It came into being in 1632, when the Yenesei Cossacks built a stockade here on the great Lena River.
The indigenous Yakut people had granted the Cossacks territory for a settlement, and they used their fort as a place to deal in furs, transporting them on the Lena. The city began to grow when gold and other minerals were discovered in the 1880s.
Here is why we should all go to Yakutia before the rest of the world discovers its remote and quirky qualities:
YAKUTSK, AN UNKNOWN CAPITAL CITY
---
Yakutsk is one of the most remote big cities in the world. Only one road connects it to the rest of the highway system, and you have to cross the Lena River to get to it. Getting to Federal Highway A360, the Lena-Yakutsk Highway, requires either a ferry or a trip across the winter ice-road. (At certain times, as the ice breaks up into floating ice-flows, it's impossible to cross except by hovercraft or helicopter.) The road remained unpaved until 2014. Even in excellent frozen conditions, it can take 12 hours or so to drive its 747 miles.
(click image to view larger photo)
Lisa Peterson, MIR traveler, shared this upon returning from her visit to Yakutsk:
"I was surprised to see that Yakutsk is such a large, vibrant city. I hadn't known what to expect; there's very little written about it in guidebooks. It's not glamorous, but it's really interesting. It only gets about 2,000 visitors a year. I saw displays of beautiful reindeer hide boots decorated with embroidery and appliqué. Apparently, it's fashionable to wear traditional Sakha winter clothing, even in the city, so there are lots of fur shops. I visited in the summer, and everyone takes advantage of the warm weather and long evenings to promenade in the streets. They pick various wild berries all summer. I drank bright red lingonberry juice at every meal."

– Lisa Peterson
MUSEUM OF MAMMOTHS
---
Periodically, mammoth bones – sometimes whole carcasses – are discovered sticking up out of the tundra, swept there by floods or perhaps buried in avalanches. A few of them still have food in their mouths. You can see some of their remains and learn about their lives and deaths at Yakutsk's Museum of Mammoths.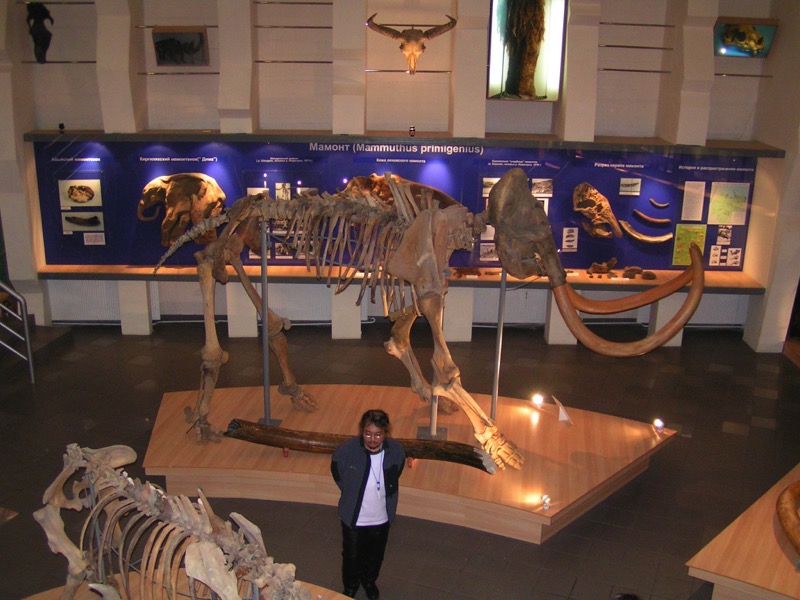 LENA PILLARS
---
About a half day's journey south of Yakutsk along the Lena River, the spectacular Lena Pillars Nature Park spreads over three million acres of subarctic plateau cut through by rivers, with areas of deep permafrost, tundra, taiga, dunes, and rocky bird habitat. The park's most celebrated feature is the Lena Pillars, fantastic limestone columns up to 650 feet high towering over the river. Their spires and crenellated parapets were included on the UNESCO World Heritage List in 2012.
(click image to view larger photo)
Lisa shared this memory from her trip to the Lena Pillars:
"This was a fun day. We drove a couple of hours on dirt roads to a boat landing, and on the way passed through little indigenous villages that looked like they were from the 1700s. At the boat dock, there was a small herd of wild horses just hanging out on the shore. Our little boat sped off for the pillars, which were so much bigger than I had imagined. It looked like there were miles of them, and our boat seemed tiny up against them. On the boat ride back, the captain stopped at an ancient petroglyph site, and we got out to examine them."
KINGDOM OF PERMAFROST
---
The Kingdom of Permafrost takes you deep into the mountain through chilly halls and chambers of permafrost lined with stalactites of frost and fantastic ice sculptures that change every year. The King of the North presides in one hall, and in another you can toast Winter with chilled vodka served in shot glasses made of ice.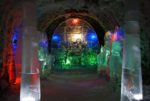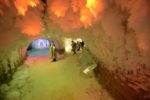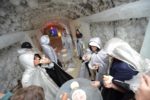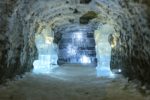 + 1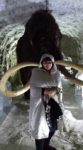 (click image to view larger photo)
CHOCHUR MURON ETHNOGRAPHIC COMPLEX
---
The Chochur Muron Ethnographic Complex includes replicas of a wooden Cossack fort and a yurt-like Yakut balagan. Fitted with authentic furnishings, artifacts, and decorations, the dwellings demonstrate what life in a harsh climate was like. Also on the grounds are Siberian huskies, flocks of ducks and geese on the small lake, reindeer, and shaggy Yakut ponies that are available for horseback rides. The central log building holds a great restaurant serving local Siberian specialties.
(click image to view larger photo)
DIAMOND FACTORY
---
The Sakha Republic is estimated to produce 26% of the world's raw diamonds. You can visit the factory of one of Yakutsk's largest producers of finished gems, the EPL Diamond Company. Here diamonds are cut, polished, and made into jewelry that is sold through EPL's chain of retail stores.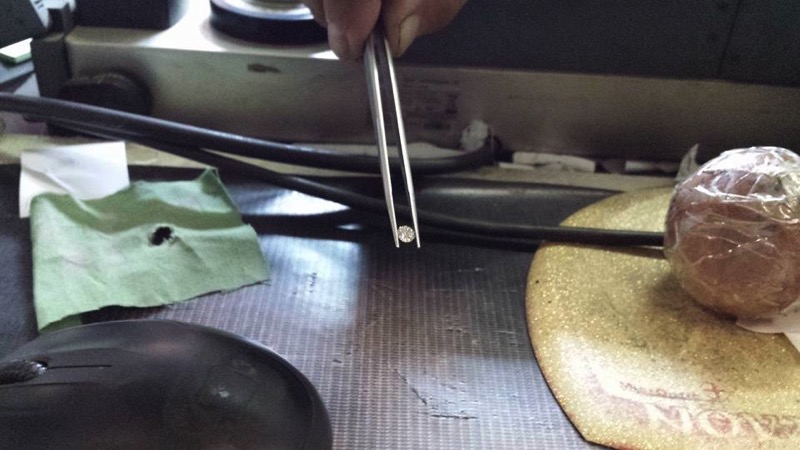 KHOMUS MUSEUM OF THE WORLD'S PEOPLE
---
Another intriguing museum in Yakutsk is the Khomus Museum of the World's People. The khomus, also known as the Jew's harp or mouth harp, may have been the first musical instrument ever created, with specimens dating from the Stone Age. The Khomus Museum of the World's People in Yakutsk exhibits more than 350 of the portable instruments from all over the world. At different times in various parts of the world, people have made khomus from bamboo, wood, ivory, and metal.
The museum honors one of Yakutsk's shining moments­ – the time in 2011 when 1,344 fans gathered in the National Circus building to successfully challenge the Guinness World Record for simultaneous khomus-playing. You can see ­– and hear – the phenomenal record-breaking event here.
POLE OF COLD
---
How cold and warm does Yakutia get? Between November and March, the temperature in Yakutsk never gets above freezing; and in January, average highs are around -42.7° Fahrenheit. Local people wear fur coats with hoods that stretch beyond their noses so they can breathe air warmed by their bodies.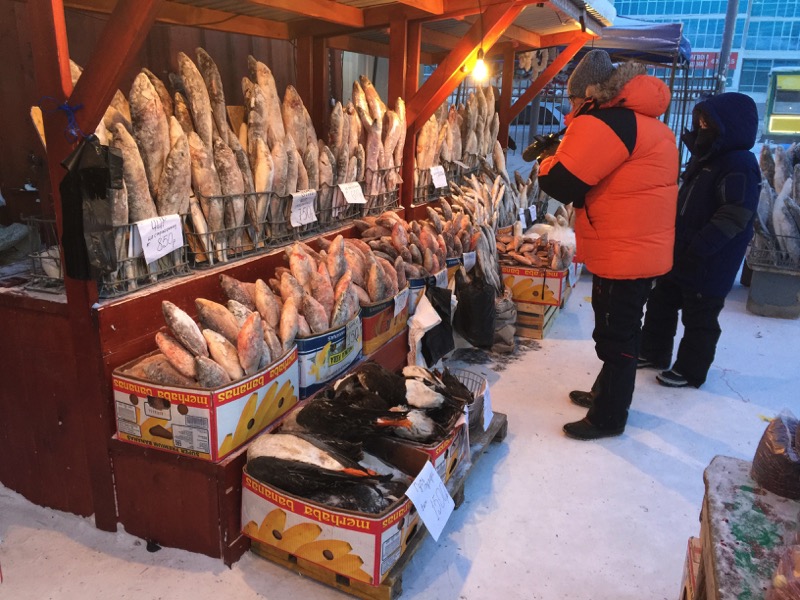 But if you travel northeast by vehicle for two days (575 miles from Yakutsk) along the Kolyma Highway (aka "Road of Bones"), you'll find the town of Oymyakon, one of the coldest inhabited places on earth, and the home of the northern hemisphere's "Pole of Cold." The coldest temperature measured here was -89.9° Fahrenheit.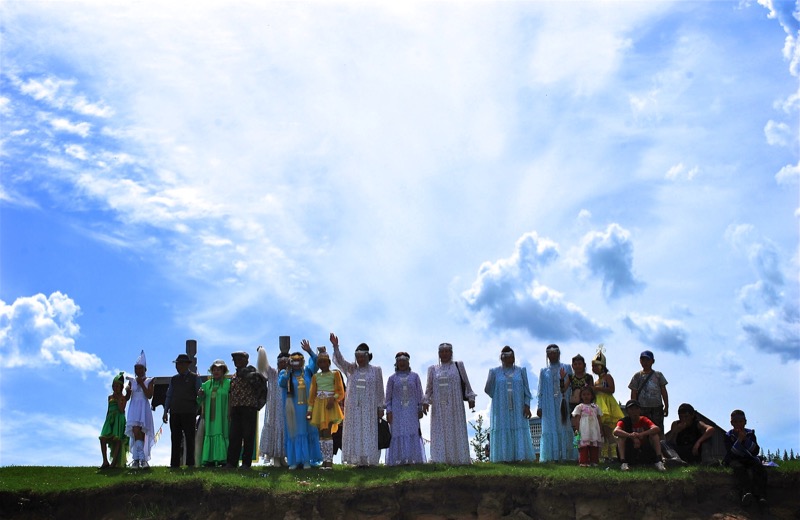 Summers are sunny and warm (the average July temperature is nearly 70° Fahrenheit, though temps of 100° are not unheard of), and feature nearly 24/7 daylight. Vegetables grow huge in the gardens and the greenhouses, and the fishing is great in the rivers.
Travel to Yakutsk with MIR
MIR is your Siberia/ Russian Far East travel expert – with more than 30 years of travel experience to Russia and affiliate offices in Ulan Ude and Irkutsk (both in Siberia), as well as in Moscow and St. Petersburg.
You can join a small group tour – Remote Russia: Yakutia & Kamchatka – and visit both Yakutia, the challenging northern frontier known for mammoths and diamonds; and the wild Kamchatka Peninsula, uneasily perched on the Pacific Ring of Fire.
Or you can book a custom private journey to Yakutia, based on your interests and schedule. MIR specializes in personalized private journeys, and we'd love to take your ideas and weave them into a trip tailored especially for you. Travel wherever, however, and with whomever you like, relying on our expert assistance. Contact us to find out more about our custom and private travel expertise.