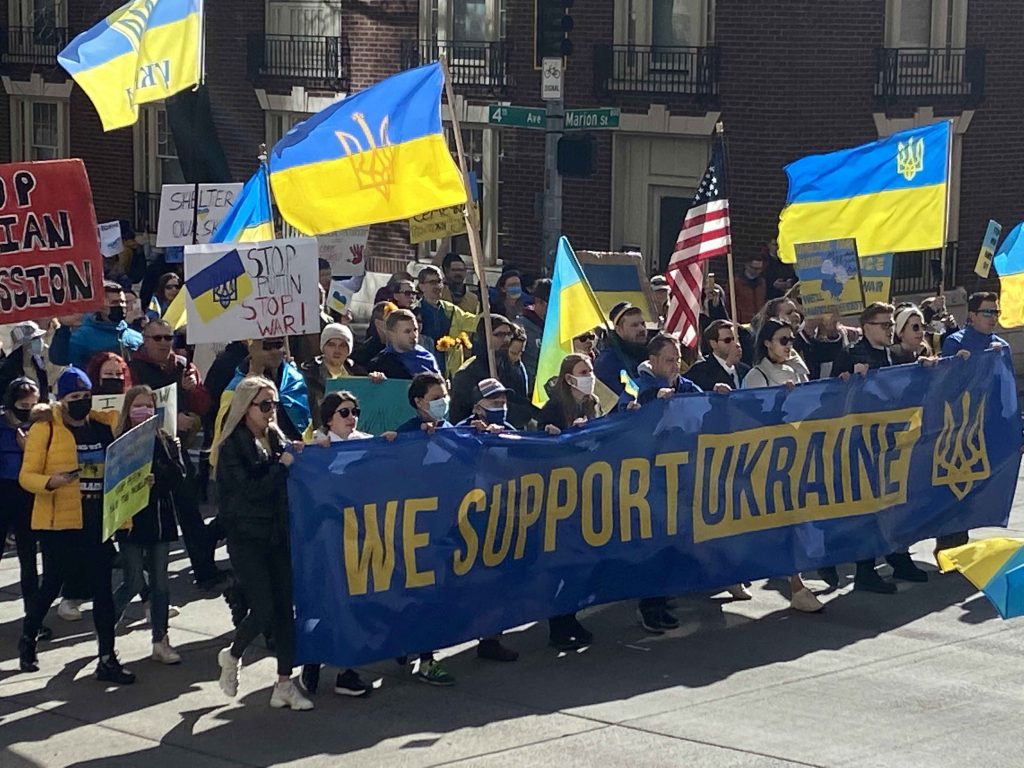 Over two weeks have passed since Russia's unprovoked invasion of Ukraine. Two devastatingly sad and tragic weeks. The situation has only worsened in that time, and it is increasingly clear that the Russian government will not heed the world's call for peace. MIR staff have been following the news closely, and the stories we have read of Ukrainian heroism and sacrifice are inspiring.
In sharp contrast, Russia appears to be set on making the war as painful as possible for Ukraine. Domestically, the Russian government has adopted repressive new censorship laws – laws designed to stifle dissent and deprive the Russian people of accurate information about the war. It is deeply disturbing and hearkens back to the worst of the Cold War, when the Soviet Union was largely detached and isolated from the free world. Only now, this is not a cold war. Civilians are dying. Cities are in ruins.
We struggle daily to find ways to help. Shortly after the war began, MIR canceled all upcoming tours to Russia and Belarus. In our last blog post we highlighted several charities to which you can donate to support the people of Ukraine. We as a company have made donations to all of these, and many of us at MIR have done so individually as well. Those links are here again: International Rescue Committee, The International Committee of the Red Cross, Save the Children, The UN Refugee Agency, World Central Kitchen, Direct Relief, Mercy Corps the United Nations World Food Program, Doctors Without Borders and the World Monuments Fund's (WMF) Ukraine Heritage Response Fund. These are just a few of the organizations doing essential work in this time of great need, and we hope you will join us in supporting one or more of them.
There are bright spots amidst the darkness. The world is largely united against Russian aggression. There are differences of opinion in methods and means, but it is clear to all of us who is right and who is wrong in this conflict. That unity has manifested itself thousands of times across the planet over the past two weeks in the form of solidarity rallies and antiwar protests, large and small.
Over the past weekend, current and former MIR staff members in Seattle and Tucson attended rallies in their respective hometowns. At both events the public outpouring of support for Ukraine was impressive. The world needs more displays of freedom and support like these. It is vital to avoid complacency in the face of such great injustice.
There have even been antiwar demonstrations in Russia. Sadly, these have been universally met with harsh police repression and arrests. The freedom that we have here in the United States, in Canada, in Europe, and in much of the rest of the world is something to cherish. Ukrainians are dying to ensure that their children and grandchildren will have that same freedom in years to come.
The support for Ukraine that we have seen extends to our partners and colleagues in the field. It has been reassuring and reaffirming to find that so many of us in the travel industry are of the same mind. MIR President Douglas Grimes and Vice-President Annie Lucas are currently traveling in Georgia. They sent us this report from the road:
"As in so many places, here in the country of Georgia where we are currently traveling, the support for Ukraine can be seen and felt throughout the capital city of Tbilisi and beyond. Frequent peaceful rallies take place on Tbilisi's main thoroughfare Rustaveli Avenue. Private winemakers from the natural wine industry are organizing fundraisers in conjunction with their international importers to support Ukrainians. The government has sent direct humanitarian aid, and the hospitality Georgians are known for is being extended to Ukrainian citizens who are currently in the capital with free hotel accommodation, among other services. Every Georgian we have personally encountered in Tbilisi is standing together with Ukraine and praying for a swift end to the violence and a peaceful resolution to this conflict."
A final bright spot that we would like to touch on has been you, MIR's community of travelers! Your emails and telephone calls expressing support for Ukraine, including much concern for our staff overseas (and us in Seattle) have been heartwarming to receive. We are grateful for you.