There was a problem processing your credit card.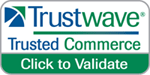 Do not try to make a payment through our online payment again.
Instead, please call your MIR contact person and advise them of the situation.
You may need to contact your bank, but it's important that we be involved to help avoid you being double-charged.
Questions? Call us at 206-624-7289, 8:30am-5:30pm Pacific time Monday-Thursday or email us.