Multi-Region
Central European Classics by Private Train: Westbound
Photo credit: Martin Klimenta
Budapest to Prague Aboard the Golden Eagle Danube Express
Overview
Enjoy the pleasures of Old World rail travel as you glide in style from Budapest, Hungary, where layer upon layer of civilizations have flowered and faded, and on to sophisticated Prague, the "Hundred-Spired City." On the way, watch green and friendly Slovakia unspool outside your window; visit beautiful Krakow, whose medieval Market Square is Europe's largest; and end in historic Prague for a two-night stay in a five star hotel. Encounter four UNESCO World Heritage Sites as you roll from one fascinating city to the next.
Also available: an Eastbound departure from Prague to Budapest
Travels to: Czech Republic, Hungary, Poland, Slovakia
Photos and details: Discover what life is like aboard the Golden Eagle Danube Express.
Map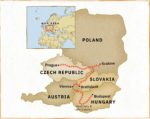 Itinerary
Days 1-3: Budapest (Hungary), Keszthely

UNESCO-listed Budapest, built in the grand style of the Habsburgs, has a legacy of fine baroque, neoclassical, and art nouveau buildings and broad avenues. Visit the Royal Palace, used by Franz Josef of Austria, and Matthias Church, originally built in 1255. Enjoy the views from Gellert Hill before a free afternoon. Board the Golden Eagle Danube Express private train and head for Lake Balaton and Keszthely, the oldest town in the region. Here, tour the Helikon Castle Museum or take a boat ride on the lake.

HIGHLIGHT

Budapest, UNESCO-listed capital of Hungary
Royal Palace, the largest baroque palace in Hungary that served as Franz Josef's summer home
Church of Our Lady, commonly known as Matthias Church in honor of renovations completed by King Matthias Corvinus in the 15th century
Views of the city from Gellert Hill
Morning reception at the Royal Waiting Room at Budapest's train station
Lake Balaton, the largest freshwater lake in Central Europe, and the town of Keszthely, on the northwest shore

Day 4: Kosice (Slovakia), Poprad

Head into Slovakia and stop in Kosice, which dates back to the 13th century, before continuing on towards the High Tatras. In Strba, join the Tatra Rack & Scenic (Narrow gauge) Railway to for the 15 minute climb into the mountains. Switch to another train and enjoy an extremely scenic journey to Poprad to re-join the Golden Eagle Danube Express.

HIGHLIGHTS

Visit Kosice's historical center and the St. Elisabeth Cathedral, Slovakia's largest church
Climb 1,457 feet (444m) in 5 km into the Tatra Mountains on the Tatra Rack & Scenic (Narrow gauge) Railway
Enjoy an hour-long train ride through the scenic Tatra mountains to Poprad

Day 5: Krakow (Poland)

Poland's royal capital from the 11th-16th centuries, Krakow was included on UNESCO's first World Heritage list in 1978. Discover the largest remaining medieval town square in Europe, Rynek Glowny, laid out in 1257. Enjoy a free afternoon to explore on your own, or choose to join a tour to UNESCO-listed Auschwitz-Birkenau, the notorious Nazi concentration camp outside of town.

HIGHLIGHTS

UNESCO-listed Krakow, the only large Polish city to escape the destruction of WWII
Rynek Glowny, the Main Market Square, where artisans sell a wide variety of handcrafted goods
Wawel Castle, the seat of Polish kings for hundreds of years

Days 6-7: Prague (Czech Republic)

Arrive in Prague, capital of Czech Republic, included on the UNESCO World Heritage List for its rich architectural and cultural history. Enjoy an introduction to Prague's Old Town, admiring the Town Hall, established in 1338, and the 15th century astronomical clock. Cross the 14th century Charles (Karel) Bridge, used for almost five and a half centuries before becoming a pedestrian-only bridge. Explore the old Jewish Quarter, with monuments commemorating the life and work of the Jewish community of Prague through the centuries. Wind your way through the city on an historic tram car to visit iconic Prague Castle, the largest ancient castle in the world.

HIGHLIGHTS

Prague, capital of Czech Republic and UNESCO World Heritage site
Old Town and the Town Hall, established in 1338 as the seat of Prague's authorities
Gothic Charles (Karel) Bridge, graced by 30 baroque statues
Josefov, the Jewish Quarter, home to some of the oldest buildings in Prague
Watch the Changing of the Guards at Prague Castle, a place of coronation and residence of kings and emperors
Dates &amp Prices
Minimum group size: Minimums vary – call for confirmation status
Land Tour Price, Per Person.
Call for dates and prices
What's Included
Tour Includes

Accommodations, as noted in the itinerary.
All meals, from dinner on Day 1 through breakfast on final tour day, including a generous allowance of wine, local beer, and soft drinks with lunch and dinner.
Arrival/departure transfers, provided you arrive and depart on the tour start/end dates and in the tour start/end cities.
All guided off-train tours, as outlined in the itinerary.
Services of an experienced Train Tour Manager as well as local guides for scheduled off- train tours.
Complimentary tea, coffee, and mineral water from your car attendant at all times while on board the train.
All gratuities.
Baggage handling.
Complete pre-departure information, including detailed packing list, reading list, and Touring with MIR handbook with country-specific information, maps, and travel tips.
Assistance booking your custom flight arrangements, on request. (Please note that international airfare is not included in the land tour cost.)

Not Included

International airfare, including taxes/fuel surcharges, and surface transport to the point of joining/leaving the tour. MIR is able to assist with arrangements, as detailed in the itinerary.
Meals and drinks not specified as included in the itinerary.
Single supplement (difference between double rate and single occupancy rate) if requested or required.
Optional pre- or post-tour extensions.
Expenses incurred as a result of delay, modification, or extension of a tour due to causes beyond MIR's control.
Visa fees, excess baggage charges, airport departure taxes, vaccination and other medical costs.
Travel insurance including cancellation, medical, and evacuation insurance.
Items of a personal nature such as phone calls, email, laundry, and alcohol.
Activity Level
Level 2: Moderate
This rail journey by private train features significant touring on foot, throughout which travelers are expected to keep up with other group members. Walking during touring days will be on a variety of surfaces with many streets and sidewalks being uneven. Elevators are generally not available during touring excursions, leading to some stair climbing. Challenges on board the train include long onboard distances with heavy doors, as well as steep steps and gaps to navigate while embarking and disembarking. Only those willing to accept local standards of amenities and services should consider joining this program.
Travelers must be able to walk a mile per day keeping up with other group members. Streets and sidewalks can be uneven or unexpected surfaces, and handrails are not always present. Steps, which may be required due to lack of elevators, may be steep and/or uneven and may also lack handrails. The distance on board the train between sleeping and dining carriages may be significant, and there are many heavy doors to navigate when moving throughout the train. Getting on and off the train involves navigating steep steps, low platforms and possible gaps between the train and the platform. Navigating rail stations may also involve traveling up and over steep steps/footbridges to cross tracks, or steep steps and dark tunnels to cross under to/from the train station. Although porterage is provided where possible, you may have to carry your baggage for short distances.
General shortcomings of the tourism infrastructure may include problems with bureaucratic service, and availability and quality of public restrooms when not on board the train.
Gallery