error_outline
Join us for the holidays!
Brilliant Holidays in Krakow, Zakopane, Warsaw, and the Polish Highlands
Overview
Celebrate the heartfelt holiday traditions of Poland, wandering Krakow's brilliant Christmas Market and Warsaw's Main Market Square. Explore Zakopane, Poland's winter capital of ski hills and spas, and experience a traditional torch-lit sleigh ride through the mountain snow followed by a bonfire with roasted kielbasa and hot mulled wine. Join a Polish family in their Warsaw home for the intimate Christmas Eve feast called Wigilia, where you can sample 12 different traditional dishes. This wintry journey brings you close to the warm heart of Poland's long-standing customs.
Travels to: Poland
Map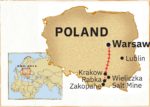 Itinerary
Days 1-4: Krakow (Poland), Wieliczka, Rabka

In Krakow's UNESCO-listed medieval Market Square, browse the Christmas Market where some of the country's finest artisans display their handcrafted gifts such as hand-painted pottery, crèches, and gingerbread ornaments. Make Polish pierogi under the guidance of your own private chef, and descend into the Wieliczka Salt Mine. Sample regional delicacies and hot mulled wine in the snowy mountain town of Rabka, lined with 19th century log buildings.

HIGHLIGHTS

UNESCO-listed Krakow, Poland's royal capital from the 11th to the 17th century
Pierogi class with private chef, and tour a small factory where Poland's famous hand-blown glass ornaments are created
Wieliczka Salt Mine, a UNESCO Site with beautiful chambers and chapels carved out of salt

Days 5-6: Zakopane

Take a magical torch-lit sleigh ride bundled in blankets, then warm yourself at a bonfire, roasting kielbasa and tasting Polish vodka in Zakopane – the highest town in Poland. Set high in the Alp-like Tatra Mountains, it is called the "Winter Capital of Poland" because of its celebrated ski hills and spas.

HIGHLIGHTS

Torch-lit sleigh ride and bonfire, replete with singing, hot mulled wine, tea, and kielbasa
Attend a tasting and demonstration of a master cheesemaker making oscypek, a smoked sheep's milk cheese unique to Zakopane
Ride the funicular up Gubalowka Hill for breathtaking views of the Tatras Mountains

Days 7-10: Warsaw

Return to Krakow to take the train to Warsaw. Enjoy a walking tour of Warsaw's 18th century Old Town surrounding the Market Square, and wander down Royal Road, strung with swags of elegant white lights. Gather in a Polish home for a traditional family-style Wigilia, the Christmas Eve vigil and dinner, beginning as the first star appears in the eastern sky. Taste each of the 12 dishes served at a Christmas Eve dinner. Attend the midnight church service of Christmas carols sung by the whole congregation together. This yearly service is so much a part of Polish Christmas traditions that a participant does not have to be a believer to enjoy the joyful ritual.

HIGHLIGHTS

Poland's capital, Warsaw, with its UNESCO-listed Old Town, rebuilt from the ground up after WWII
Christmas markets filled with handcrafted traditional ornaments and Nativity scenes
Christmas Eve Wigilia dinner and celebration with a local family, followed by Midnight Mass for carol singing
Dates &amp Prices
Small group tour – max 16 travelers
Land tour price, per person. Based on double occupancy and minimum group size of 4 travelers.
2024 Dates
2023 Dates

Tour, double occupancy

$6,295
What's Included
Tour Includes

Accommodations, as noted in the itinerary.
Most meals, as noted in the itinerary.
A daily supply of bottled water.
Arrival/departure airport transfers on the tour start/end date. MIR will arrange for all travelers to be met upon arrival and seen off upon departure whether or not we make your flight arrangements.
Ground transportation throughout tour by private van or coach. (Type of vehicle depends on group size.)
Services of experienced, English-speaking local guides, drivers, and other staff, including a MIR Tour Manager.
Guided sightseeing tours and entrance fees, as outlined in the itinerary.
Special events, excursions, and cultural performances, as outlined in the itinerary.
Gratuities to local guides, drivers, and other service personnel, including servers at group meals.
Complete pre-departure information, including detailed packing list, reading list, and Touring with MIR handbook with country-specific information, maps, and travel tips.
Final document packet, including luggage tags, final updates, and more.
Assistance booking your custom flight arrangements, on request. (Please note, international airfare is not included in the land tour cost.)
First-class train tickets from Krakow to Warsaw

Not Included

International airfare and taxes/fuel surcharges.
Meals and drinks not specified as included in the itinerary.
Single supplement (or partial single supplement where applicable), if requested or required.
Gratuities to Tour Manager.
Expenses incurred as a result of delay, modification, or extension of a tour due to causes beyond MIR's control.
Travel insurance including cancellation, medical, and evacuation insurance.
Visa and/or passport fees, excess-baggage charges, airport departure taxes, vaccination and other medical costs.
Optional pre- or post-tour extensions.
Items of a personal nature such as phone calls, email, laundry, and alcohol.
Activity Level
Level 2: Moderate
This small group tour in modern and cosmopolitan Poland features long days walking and standing while touring, some possibly long days in the touring vehicle, cold weather, icy and/or wet walking surfaces, and possible challenges of changes due to travel around festive holiday times. Only those fit to travel and who accept the local conditions should consider joining this program.
Travelers must be able to walk one to two miles a day, keeping up with fellow travelers. The weather will be cold and likely wet and icy, with other shortcomings in the tourism infrastructure that can cause walking challenges such as uneven surfaces (cobblestones) and steps, and a general absence of handrails or ramps. Some attractions are only accessible via steep staircases. Museums rarely have elevators.
Past travelers have also encountered challenges with plumbing, bureaucratic service, variety of locally available foods, and availability and quality of public restrooms.
Accommodations are planned to be four-star properties.
Gallery
1/8

Municipality of Krakow

3/8

Filip Kwiatkowski / Stołeczne Biuro Turystyki / Warsaw Tourist Office

4/8

Polish National Tourist Board

5/8

Polish National Tourist Board

6/8

Polish National Tourist Board

8/8

PZ Studio Zbigniew Panów / Warsaw Tourist Office/mediabank.warsawtour