error_outline
Flexible Private Trip — Book Your Dates for You & Yours
Highlights of Czech Republic, Slovakia & Hungary
Overview
Hidden from view for much of the 20th century, the hip and historic countries of Czech Republic, Slovakia, and Hungary boast gorgeous countryside, handsome churches and city centers, warm people, and almost 30 UNESCO World Heritage Sites combined. On this 8-day overland journey, relish in the medieval masterpieces, baroque architecture, sophisticated museums, and up-to-the-minute cultural life of three extraordinary European capitals — Prague, Bratislava, and Budapest.
Travels to: Czech Republic, Hungary, Slovakia
Map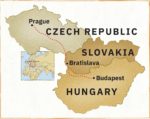 Itinerary
Days 1-3: Prague (Czech Republic)

Called the "Hundred-Spired City," Prague's beautifully-preserved Gothic, Baroque, and Neoclassical churches and palaces make it one of the great cities of Europe. Explore the UNESCO-listed city including Prague Castle, which began in the 9th century as a walled hill-fort; the Lobkowicz Palace, belonging to the noble Lobkowicz family, renowned for their patronage of Beethoven; the Charles Bridge, with its 30 Baroque statues; and the immense Gothic Tyn Church, with its tall spires built during the 14th-16th centuries.

Learn about the rich Jewish heritage of Prague with a walking tour of the Jewish Quarter. Pay your respects at the Old Jewish Cemetery, with 12 layers of graves and more than 12,000 gravestones. Visit the Gothic Old-New Synagogue, completed in 1270; the Spanish Synagogue, designed in a Moorish style; the Klaus Synagogue, built in honor of a 1573 visit from Emperor Maximillian II; and the Jewish Museum, displaying artifacts from synagogues and homes saved from the Nazis.

HIGHLIGHTS

Prague, capital of Czech Republic, called the "Hundred-Spired City"
Prague Castle, the largest ancient castle in the world, and the Old Royal Palace, the oldest part of the castle complex
Little St. George's Basilica, originally founded in 920
Lobkowicz Palace at Prague Castle, recently returned to an American-born scion of the family, William Lobkowicz
Golden Lane, a row of tiny 16th century houses within the territory of Prague Castle
The 14th century Charles (Karel) Bridge, designed by King Karel's architect,  connecting Prague Castle to the Old Town
Tyn Church, the most important church of the 15th century Hussites
The Estates Theater, built in 1783, the place where Mozart premiered his opera, Don Giovanni
The Jewish Quarter, Josefov, with Prague's Old Jewish Cemetery, the Gothic Old-New Synagogue, and the Pinkas Synagogue, made into a memorial to the Jews of Bohemia and Moravia, with their names inscribed on its walls

Days 4-5: Bratislava (Slovakia)

Catch the train to Bratislava, capital of Slovakia situated on both sides of the Danube River. An introduction includes the city's most important places such as the National Theater, the modern city center, and the Primate's Palace. Enjoy fantastic views from Bratislava Castle and from the high ground of Devin Castle, an ancient stronghold of the Celts, Romans, and Slavs above the confluence of the Danube and the Morava Rivers. Take a walking tour of the squares, courtyards, and lanes of the Old Town, visiting Michael's Gate, the Opera House, St. Martin's Cathedral, and the Old Town Hall.

HIGHLIGHTS

Devin Castle, ancient stronghold of the Celts, Romans, and Slavs
Michael's Gate, one of Bratislava's oldest buildings
Late 18th century Mirbach Palace, now an art gallery
Palffy Palace, location of the first public concert by six-year-old Mozart
Bratislava Castle, a 1950s reconstruction of 15th century defensive additions and Maria-Therese's renovations in the 18th century

Days 6-8: Budapest (Hungary)

Take the train along the Danube to Budapest, capital of Hungary, built in the grand style of the Hapsburgs. Tour the highlights of this art nouveau city, including the monumental Parliament Building, built from 1880 to 1902. This neo-Gothic extravaganza features spires, courtyards, sculptures, frescoes, a 16-sided 96-meter rotunda, and 88 pounds of gold leaf. Visit the Church of Our Lady, commonly known as Matthias Church, originally built in 1255. Admire the city from the mock-medieval Fisherman's Bastion, providing the most beautiful views in town. Soak in the hot mineral pools, take a plunge into the cold pool, and enjoy spa treatments at the famous Gellert Spa and Baths.

HIGHLIGHTS

Budapest, capital of Hungary, with fine Baroque, Neoclassical, and Art Nouveau buildings
Parliament Building, the largest parliament building in the world at the time of its completion
Matthias Church, where King Matthias Corvinus had both of his royal weddings
Seven-towered limestone Fisherman's Bastion, with beautiful views over the city
Jewish Quarter, with the Dohaney Street Synagogue and its Jewish Museum
Gellert Spa and Baths, a magnificent art nouveau thermal spa opened in 1918
Dates &amp Prices
Please note:
Private trip prices vary by season and are subject to hotel availability for your travel dates.
Listed prices below are based on double occupancy and a 2 traveler minimum.
Hotel upgrades, additional nights, and solo traveler prices are available on request.
Land tour price, per person, starting from:
2023 Dates

Available: January - December

Tour, double occupancy

$2,995
What's Included
Tour Includes

Shared accommodations as noted in the itinerary. Contact MIR for hotel upgrade prices.
Meals, as noted in the itinerary.
Restaurant tips for included meals.
One arrival and one departure transfer. Additional arrival and departure transfers available at additional cost.) MIR will arrange for travelers to be met upon arrival and seen off on departure, whether or not we make your air arrangements.
Ground transportation throughout itinerary by private vehicle (Type of vehicle depends on number of travelers in your group).
Services of experienced, English-speaking local guides, drivers, and other staff, as noted in the itinerary.
Guided sightseeing tours and entrance fees, as outlined in the itinerary.
Special events, excursions, and cultural performances, as outlined in the itinerary.
Complete pre-departure information, including detailed packing list, reading list, and Touring with MIR handbook with country-specific information, maps, and travel tips.
Final document packet, including luggage tags, final updates, and more.
Assistance booking your custom flight arrangements, on request. (Please note that international airfare is not included in the land tour cost).

Not Included

International airfare and taxes/fuel surcharges.
Meals and drinks not specified as included in the itinerary.
Single supplement if requested or required.
Baggage handling.
Gratuities to local guides, drivers, porters, and other service personnel.
Expenses incurred as a result of delay, modification, or extension of a tour due to causes beyond MIR's control.
Travel-related insurance including cancellation, medical, and evacuation insurance.
Visa fees, excess-baggage charges, airport departure taxes, vaccination and other medical costs.
Optional pre- or post-tour extensions.
Items of a personal nature such as phone calls, email, laundry, and alcohol.
Activity Level
Level 2: Moderate, but Customizable
This 'Essential' itinerary, which is designed for private travel, features long days walking and standing, and some possibly long days in the touring vehicle. Only those fit to travel and who accept the local conditions should consider joining this program.
There is a significant amount of touring on foot, and those travelers planning to take the program as written should be able to walk one to two miles a day comfortably. Footing can be an issue and travelers should be able to negotiate cobblestones, uneven surfaces (possibly steep and/or wet), and deal with situations without handrails or ramps. In the hotels, you may find that showers/baths have steep steps up or ledges, which can become slippery and require extra caution. Some attractions are only accessible via steep staircases. Museums and hotels may not have elevators.
Past travelers have also encountered challenges with plumbing, bureaucratic service, variety of locally available foods, and availability and quality of public restrooms.
Accommodations in the basic program are generally three- to four-star hotels, some quite small with basic amenities and services. Upgrades may be available, please call for details.
Gallery