Handcrafted, Private Tours to China
Overview
You want to do things your way. We get it. MIR has been planning custom, private tours from scratch for over three decades, and we understand just how important flexibility is in travel.
Traveling privately on a custom private tour affords a great deal of flexibility – flexibility to immerse yourself in your own exclusive experience, to craft an itinerary around your interests, to go at your own pace, and to travel when it's right for you.
How does it work? We'll connect you with one of our Private Tour Designers so that you can share your vision and expectations with us.
We'll ask you questions to better learn about your interests: Want to get an inside look into the daily life of a panda keeper at a Giant Panda sanctuary by volunteering to assist the caretakers for a day? How about a visit to a private fig orchard to try what are considered to be the most flavorful figs in China – and possibly the world?
We'll share our extensive experience in the region – and our suggestions. And then we'll dig into it and custom-craft a private tour itinerary for your review. Give us a call at 800-424-7289 to get started, or click here to be on your way.
Signature Experiences
Below are just a few examples of the signature experiences that MIR can arrange for you in China. Let them be a source of inspiration, then get in touch with one of our Private Tour Designers to craft an itinerary that's uniquely suited to your travel goals, budget, and style.
Experience the ancient Silk Road tradition of riding a Bactrian camel at Mingsha (Echoing Sand) Dunes
Enjoy freezing-cold frivolity at the Harbin Snow & Ice Festival, the world's largest winter festival – with its own Guinness Record
Learn the secrets of making delectable Chinese noodles, and taste the results in a mouthwatering lunch
Meet a local family that guides you in the ancient crafts of Chinese "farmer painting" and paper cutting
Suggested Private Tours
And if you don't feel that a fully-customized trip is what you seek, we've got the perfect solution. Whether you're looking for a compact trip that hits the highlights or something more in depth, MIR offers suggested private tours that can be adapted to your choice of dates. Our itinerary, your dates – it's a great option whether you're traveling solo, as a couple, or in a small group.
Need a bit more encouragement? Or want a better lay of the land? Read more about how to design your own trip.
Also keep in mind that you can customize and tweak any of our small group tours to match your preferred dates of travel. Get in touch, we're here to help.
Map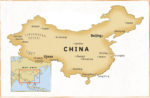 Gallery
1/12

Russ Cmolik & Ellen Cmolik

2/12

China National Tourist Office

3/12

China National Tourist Office

4/12

Russ Cmolik & Ellen Cmolik

6/12

China National Tourist Office