Plot Your Own Path
Overview
Traveling privately on a custom itinerary means flexibility – flexibility to immerse yourself in your own exclusive experience, to craft an itinerary around your interests, and to travel when it's right for you.
Want to get an inside look into the daily life of a panda keeper at a Giant Panda sanctuary by volunteering to assist the caretakers for a day? How about a visit to a private fig orchard to try what are considered to be the most flavorful figs in China – and possibly the world? Need suggestions?
To get started planning a China itinerary, read more about how to design your own trip. Also keep in mind that you can customize any of our small group tours to match your preferred dates of travel. Get in touch, we're here to help.
Signature Experiences
These are just a handful of examples of signature experiences that MIR can arrange for you in China. Let them be a source of inspiration, then get in touch with one of our Private Journey Specialists to craft an itinerary uniquely suited to your travel goals, budget, and style
Experience the ancient Silk Road tradition of riding a Bactrian camel at Mingsha (Echoing Sand) Dunes
Enjoy freezing-cold frivolity at the Harbin Snow & Ice Festival, the world's largest winter festival – with its own Guinness Record
Learn the secrets of making delectable Chinese noodles, and taste the results in a mouthwatering lunch
Meet a local family that guides you in the ancient crafts of Chinese "farmer painting" and paper cutting
Private Itineraries
Whether you're looking for a comprehensive trip that captures all the highlights, or something more in depth and out of the ordinary, MIR's Private Journeys specialists can design a one-of-a-kind itinerary with your choice of dates for you, your family, or your group of friends.
Map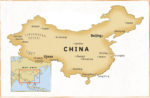 Gallery
1/12

Russ Cmolik & Ellen Cmolik

2/12

China National Tourist Office

3/12

China National Tourist Office

4/12

Russ Cmolik & Ellen Cmolik

6/12

China National Tourist Office