Photo credit: Maciej Leszczełowski / Stołeczne Biuro Turystyki / Warsaw Tourist Office
Handcrafted, Private Tours to Poland
Overview
You want to do things your way. We get it. MIR has been planning custom, private tours from scratch for over three decades, and we understand just how important flexibility is in travel.
Traveling privately on a custom private tour affords a great deal of flexibility – flexibility to immerse yourself in your own exclusive experience, to craft an itinerary around your interests, to go at your own pace, and to travel when it's right for you.
How does it work? We'll connect you with one of our Private Tour Designers so that you can share your vision and expectations with us.
We'll ask you questions to better learn about your interests: Want to learn the painstaking Polish art of blowing and decorating glass Christmas ornaments? How about exploring your roots by visiting the villages your ancestors once called home?
We'll share our extensive experience in the region – and our suggestions. And then we'll dig into it and custom-craft a private tour itinerary for your review. Give us a call at 800-424-7289 to get started, or click here to be on your way.
Signature Experiences
Below are just a few examples of the signature experiences that MIR can arrange for you in Poland. Let them be a source of inspiration, then get in touch with one of our Private Tour Designers to craft an itinerary that's uniquely suited to your travel goals, budget, and style.
Float leisurely down the River Dunajec on a handmade raft poled by gorale (Polish highlanders) in traditional costume, taking in the scenery of the Pieniny Mountains.
Learn how to make pierogi, Poland's national dish, with your own private chef. Practice mixing and rolling the thin dough, then stuffing it with any number of savory ingredients including mashed potatoes and onions, ground meat, cheese, or even fruit.
Take a private guided tour of the Auschwitz-Birkenau concentration camp, where an estimated 1 million people, 90% of them Jews, were tortured and killed. Visit the Auschwitz-Birkenau Memorial and Museum, honor the victims, and learn more about the atrocities committed by the Nazis.
Sample some of Poland's finest vodkas in true Slavic fashion hosted by vodka experts. The experience includes Polish accompaniments such as pickles, Polish sausages, horseradish, and smalec, traditionally prepared pork fat with herbs and spices.
Suggested Private Tours
And if you don't feel that a fully-customized trip is what you seek, we've got the perfect solution. Whether you're looking for a compact trip that hits the highlights or something more in depth, MIR offers suggested private tours that can be adapted to your choice of dates. Our itinerary, your dates – it's a great option whether you're traveling solo, as a couple, or in a small group.
Explore suggested private tours: Essential Poland
Need a bit more encouragement? Or want a better lay of the land? Read more about how to design your own trip.
Also keep in mind that you can customize and tweak any of our small group tours to match your preferred dates of travel. Get in touch, we're here to help.
Map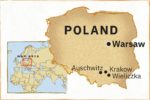 Gallery
3/11

Filip Kwiatkowski / Stołeczne Biuro Turystyki / Warsaw Tourist Office

4/11

Polish National Tourist Board

5/11

Polish National Tourist Board

6/11

Polish National Tourist Board

7/11

Maciej Leszczelowski / Stołeczne Biuro Turystyki / Warsaw Tourist Office

8/11

PZ Studio Zbigniew Panów / Warsaw Tourist Office / mediabank.warsawtour