Pristine Kamchatka: Bears, Bubbling Geysers, and the Bystraya River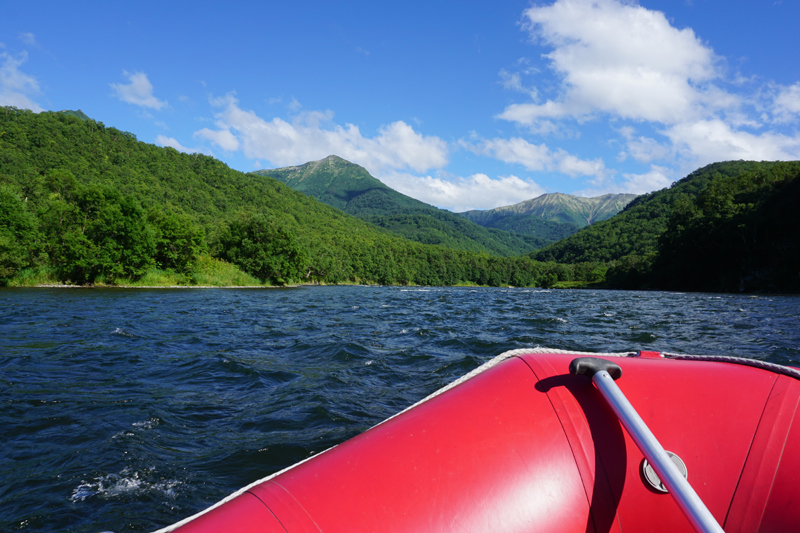 The wild Kamchatka Peninsula is a wide volcanic promontory on Russia's east coast, perched uneasily over a segment of the Pacific Ring of Fire and known for its bears, geysers, volcanoes, reindeer, and untamed rivers.
Here's my tour diary of a trip to this remote and sparsely populated place:
How to Get to Kamchatka
---
Kamchatka is about as far to the east as one can go in Russia. In fact, it is so far to the east that it is nearly in the Western Hemisphere, and closer to Alaska than to Moscow. The distance from the regional capital of the province, Petropavlovsk-Kamchatsky, to Anchorage is around 2,000 miles, whereas Moscow is over 4,200 miles distant. When it is 5 pm in Kamchatka, Muscovites are just starting their workday at 8 am. Residents of Alaska, however, are getting ready for bed at 9 pm the evening before, since the International Date Line lies between them.
I seized the opportunity to travel to this wild and remote Russian peninsula when offered the chance, and I would now rate it right up with the Pamirs of Tajikistan as one of my all time favorite destinations (MIR or otherwise). My trip was scheduled for August, when the weather in the area is optimal, though still highly variable.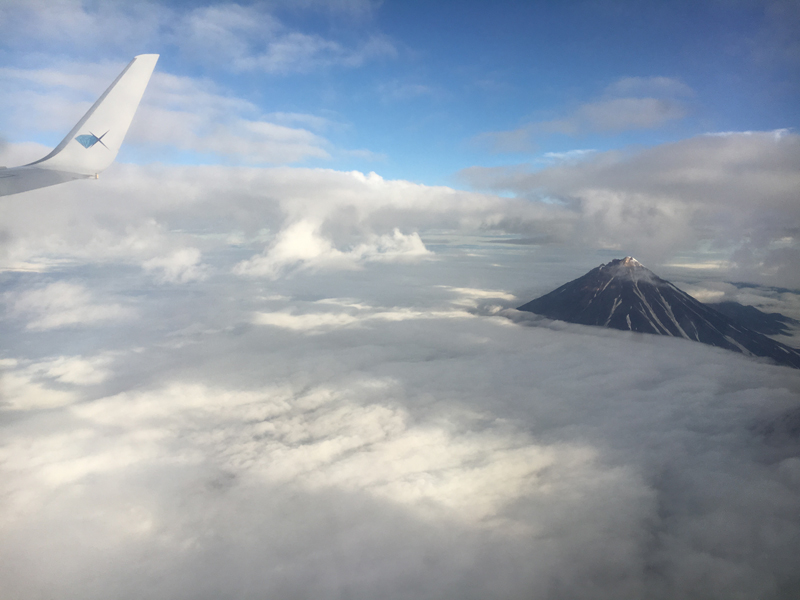 I flew from Seattle to Anchorage, where I had to spend the night in order to catch the early morning direct flight to Petropavlovsk-Kamchatsky the next morning. This flight, operated by Yakutia Airlines, is incredibly convenient and in my opinion the best way to get to Kamchatka (or Yakutia) from the U.S. The flight's typical early departure time all but requires one to overnight in Anchorage. It departs from the airport's seldom-used North Terminal, and hunters and fisherman bound for the Kamchatkan wilderness make up the majority of travelers. All the camo gear, rifles, fishing poles, and bear spray made for an interesting check-in process. The flight itself is remarkably short, considering it takes you ahead a full 20 time zones. The views of the peninsula's iconic cone-shaped volcanoes on the descent are spectacular.
The City and Surroundings
---
Petropavlovsk-Kamchatsky is itself a pleasant but fairly bland place to visit. Tourism, the Russian Navy, and fishing are all large contributors to the town's economy, and most of the 180,000-plus population is connected in one way or another to those industries.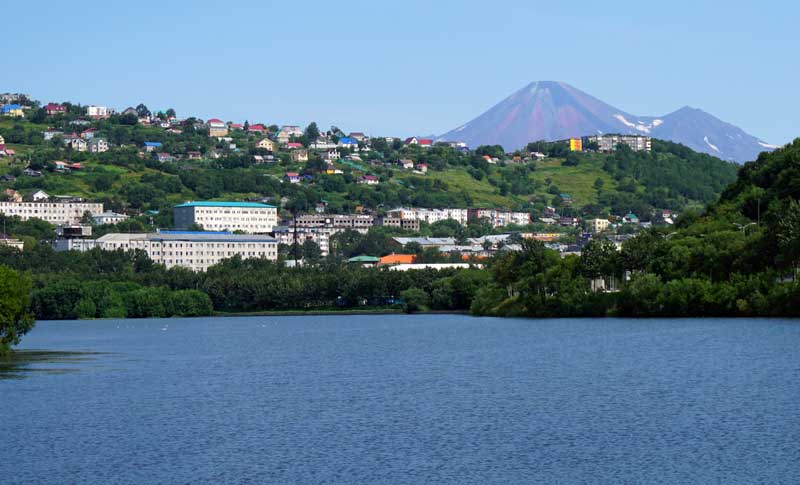 There are a few interesting museums covering the local geology, natural history, and indigenous cultures; a scattering of minor monuments and statues; and a handful of supermarkets and restaurants. The town is primarily a base, though, for excursions further afield.
(click image to view larger photo)
My first morning in town was spent visiting a few of the local museums and monuments. My favorite spot that day was the Museum of Volcanology, at which an animated docent described and showed me the many unique volcanic minerals that can be found around the peninsula, accompanied by pictures and footage of lava flows and eruptions. I left with a small chunk of obsidian inscribed with the word "Kamchatka" in flowing, cursive Cyrillic.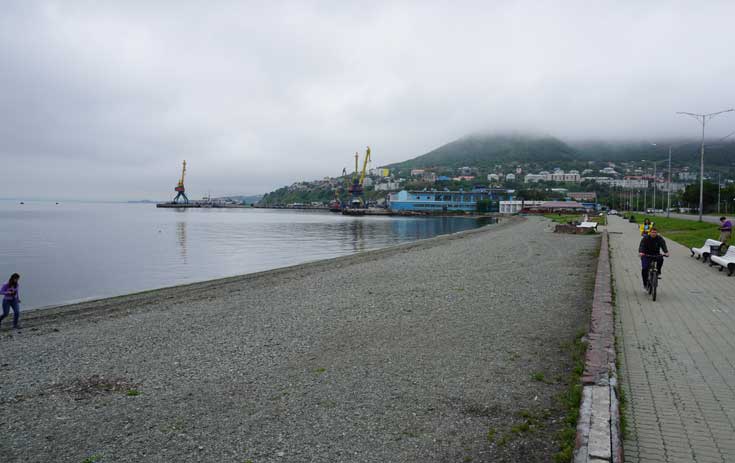 In the afternoon I ventured out along a bumpy dirt road to Khalaktyrsky Beach. The city is located the tranquil circular Avacha Bay, set in from the Pacific Coast, and Khalaktyrsky is the nearest beach actually on the ocean itself.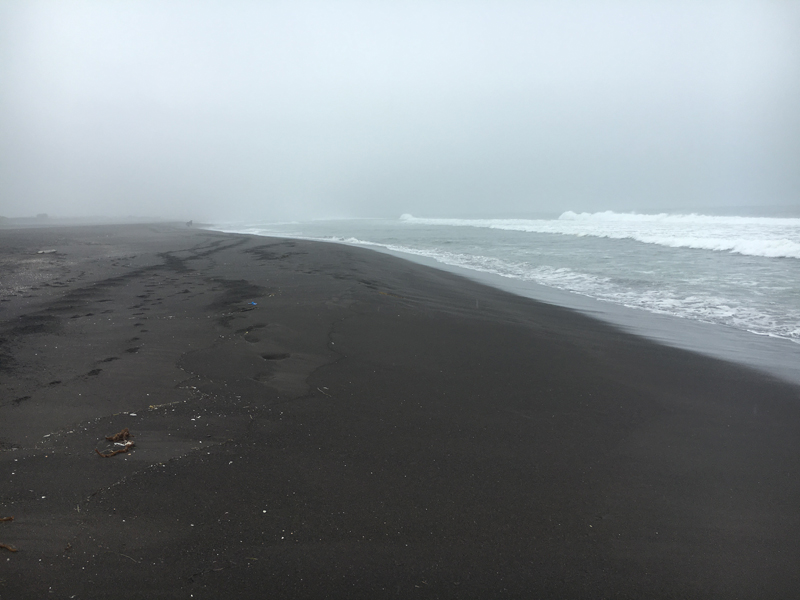 The beach's sand is black from the nearby volcanoes, and it's a popular spot with local and visiting surfers braving the frigid water to ride the sizable waves. It was a foggy, gloomy afternoon, but I still loved it. The waves were huge, and it was fun to look out across the Pacific, knowing that only open ocean separated me from the familiar beaches back home in Washington State.
Boating on Avacha Bay
---
The next morning the plan was for me to take a helicopter out to the Valley of the Geysers – Kamchatka's answer to Yellowstone National Park – but all flights were grounded due to the continuing thick fog. I would try again on a later day, and instead rest at the hotel this morning in the hope that the fog would burn off enough to allow me to take a boat ride on Avacha Bay.
This sort of weather-related delay and shuffling around of plans is common in Kamchatka. I would recommend always seizing the opportunity when the weather is good: if it is clear and you can get on a helicopter, best to do it then, even at the expense of other plans.
At MIR we typically build our tours with that in mind, and with extra time for padding. In any event, the fog did eventually lift that day, and I was taken down to the waterfront to board a small yacht for a tour around the bay.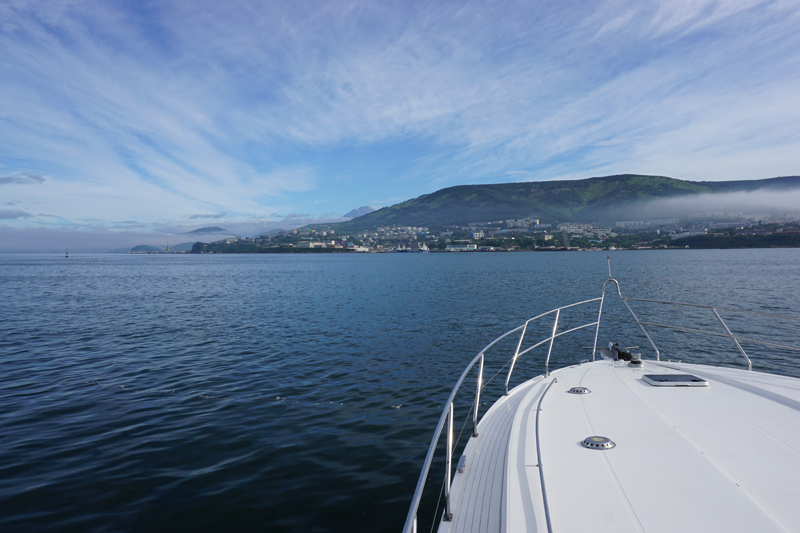 Out on Avacha Bay we visited a few ocean caves and sea stacks by Zodiac (launched from the back of the yacht), observed a group of naval vessels putting out to sea, and enjoyed the views of the volcanoes towering above the town. Then we ventured out of the bay into the Pacific Ocean. Cruising there, we saw all sorts of wildlife with a focus on birds: auklets, puffins, countless other seabirds I cannot identify, and even a Steller's sea eagle. Seeing the masses of brightly colored puffins perched precariously on sea cliffs is a sight I won't soon forget.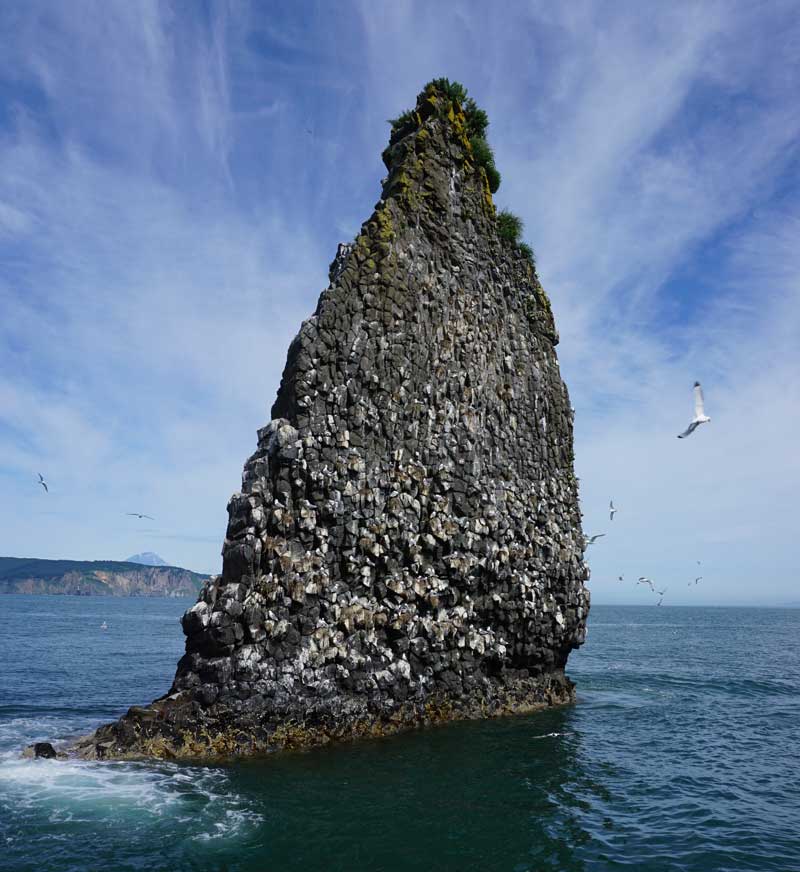 Unfortunately, without a telephoto lens in tow, it is tough to photograph the spectacle. We also saw a whale surface a few times, possibly a Minke, and a few sea otters bobbing in the water near some kelp and a rock pinnacle.
(click image to view larger photo)
We anchored the boat off a beach well to the south of town and set to fishing. The fish were remarkably easy to catch – we collectively pulled up a dozen or more starry flounder in the span of an hour. The boat's kitchen staff promptly fried them up for us to eat, along with ukha (a Russian fish soup) and good rye bread.
Note to self: Bring sunscreen! Seeing the fog that morning, and not thinking of the capriciousness of the local weather, I did not.
Of Bears and the River
---
The morning of my third day I woke up to fog again, but this did not come as a disappointment. The gloom gave my sunburned skin a much-needed break; and it also meant that instead of scrambling to the heliport, I could head out into the hinterlands for some river rafting and camping. I was very excited. I picked up my sleeping bag and packed a daypack with my best rain gear, checked out of the hotel, and met my driver. We drove two hours out to Malki, a small village with a riverside hot spring in the hilly interior of the peninsula.
When we arrived my rafting guide was busy packing up the raft and supplies, so he asked me to explore around the hot springs area. I walked past the bear fence and down a path to the river. Passing over a small bridge spanning the river, I paused to watch bright red salmon wending their way upstream to their spawning grounds.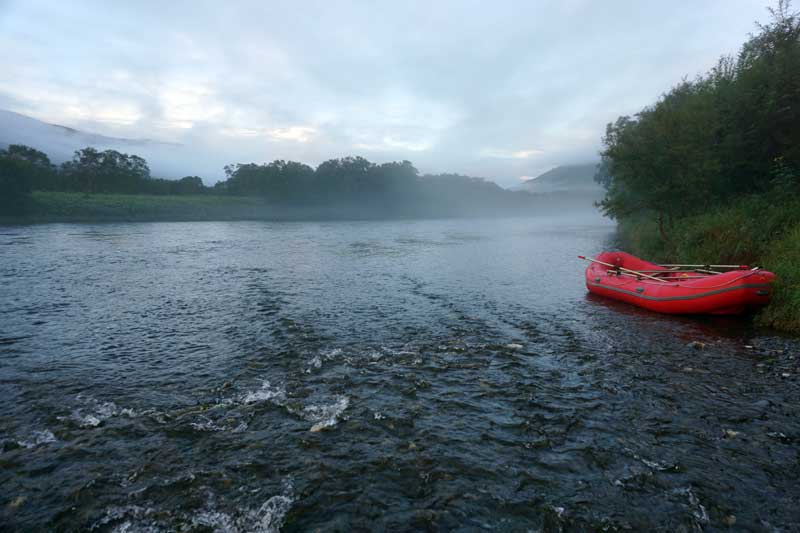 The geothermal water in Malki comes up out of the ground right next to the small river, and visitors dig pools in the sand and gravel on the riverbanks to allow the cold river water to dilute the scalding spring water to a tolerable temperature. A small colony of frogs was happily croaking in some nearby ponds of lukewarm water. My guide later told me that they stay active in the warm water year-round, even when everything else is hibernating through the harsh winters.
On my return to the staging area, my guide announced that all was ready. We hopped in a car with the raft and supplies in tow, and made our way down to the Bystraya River. Bystraya means "swift" in Russian, and while there were no real rapids (at least where we put in), the river was swollen from recent rains and definitely living up to its name.
My guide gave me a quick briefing on the river and our plans. I asked if we would see any bears, at which he grinned and assured me we would. He then reassured me that he was well prepared, showing me a shotgun and a handful of shells. I donned my waders, applied some sunscreen this time (the fog had lifted), grabbed a paddle, and jumped on board.
That first day we floated placidly down the river. Our speed was relatively high, but the water was very smooth. The surrounding hills and mountains were forested, bright green, and utterly pristine. I still tell people about how in two days on that river, I saw not one person, not one settlement, and most surprisingly, not one piece of litter. I have never before traveled in a place so pristine.
We did, however, see bears – in total four of them: a mama and two cubs ambling along an embankment, and later in the day, a juvenile walking alone. The bears here are brown bears, large ones similar in appearance to the huge brown bears found in Kodiak, Alaska – possibly even their ancestors.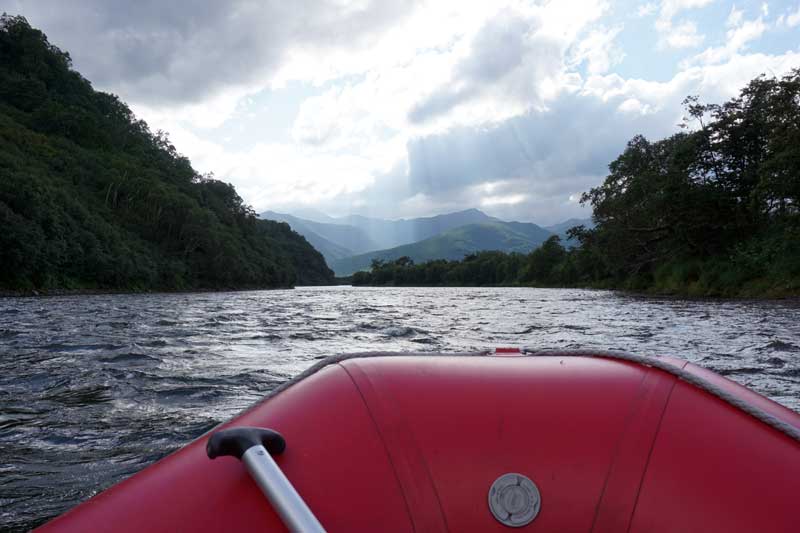 As we navigated down the river, we took turns casting a line out into the water in the hopes of catching a salmon for dinner. We had a few nibbles, but no luck getting a fish up into the boat. Towards the end of the seven-eight hours on the river we went through a series of exhilarating rapids, and then, spotting a likely camping site, made our way to the shore. We heaved our raft and supplies up the slope to a flat, grassy area, and began unpacking. I pitched the tents while my guide built a fire and assembled a portable picnic table, chairs, and canopy. He told me to go fish, and he would get dinner ready.
I pulled on my waders again, and walked out a few yards into the river. Despite standing there for nearly an hour, I got exactly zero bites. The cold of the river was such that my feet and calves went numb. It had also started to rain, so I called it a day and went back up to the camp. My guide was sitting under the canopy, slicing salami, cheese, bread, and sipping Armenian brandy he'd brought from the city.
I was alarmed. Cured meat and smoked cheese may as well have been bear bait. We'd just seen that juvenile an hour or two upstream. What was my guide thinking? I glanced at the loaded shotgun propped up against the table, and thought back on all the stories he had told me that day. He knew what he was doing. I did not. It also occurred to me that, it being August, the bears were fat and likely satiated with the seasonal bounty of berries and spawning salmon.
So, I bit my tongue, took a tin mug of brandy, and sat down to eat. The rain picked up and actually got quite heavy. After a few refills of brandy, plenty of salami and cheese (I did not want leftovers sitting around!), and some very entertaining bilingual conversation, I made my way to my tent. Everything I owned was damp, but my sleeping bag was warm, and the sound of the rain lulled me to sleep.
Cold, Cold Water
---
Waking up the next morning was wonderful. No bears had eaten me, I was well rested, and the rain had stopped. A thin veil of fog covered the river, and the sky was pink. It was beautiful. We had a light breakfast, some tea, and packed all the gear up.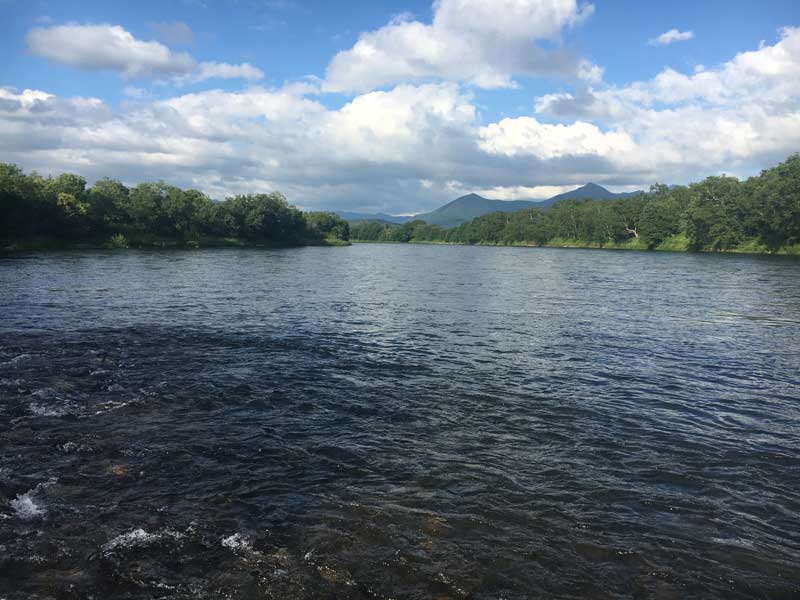 The river was even more swollen today, so we clipped along at high rate of speed. We just sat back and let the river carry us. Unfortunately, a deluge of rain began again almost immediately after we set off. After the first 30 minutes or so, I began to get cold. I was wearing thigh-high waders and a good raincoat, but there was a 12" strip of exposed clothing on my upper thighs. No matter what I did, I could not cover it up, and as the torrent of rain continued, my pants grew sopping wet. The water seeped up to my shirt, and dripped down into my waders. Within an hour my teeth were chattering, my hands and feet were aching, and I was pretty miserable.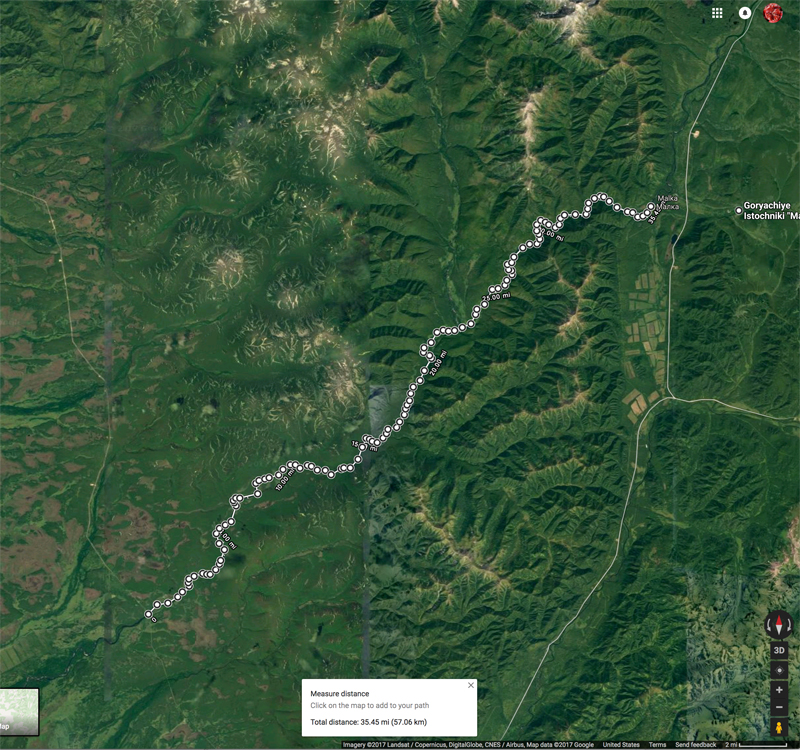 The journey today was supposed to take another six hours. There would be no break for lunch, as we needed to get to an oil pipeline access road where a jeep would be meeting us at a set time. The thought of sitting for six hours, cold to the bone, drenched, and stuck on a small boat was daunting. As luck would have it, the river was moving so fast we actually made the site after just four hours. When we got there I was shaking uncontrollably and about as unhappy as I've ever been. Even another bear sighting that afternoon had not cheered me. But we had made it, and still, no bears had eaten me.
My guide saw what was going on and quickly set up a camp stove and the canopy. It was still pouring. I swapped my sopping wet clothes out for some that were only just a little damp, and watched him cook a hot meal of buckwheat and tinned beef. Simplicity aside, it was one of the most welcome meals I've had. We then packed everything up and walked to the crest of a nearby hill to try to use a radio to ascertain how close our transport out was. We ended up waiting around an hour, but the jeep eventually came and took us back to the city. Needless to say, I enjoyed a long, hot shower almost immediately on getting into my room.
We had covered a bit over 35 miles in those two days, and made our way almost down to the Sea of Okhotsk, on the western side of the peninsula. The cold aside, this was probably my favorite experience of the trip.
The Valley of the Geysers by Mil Mi-8 Hip Helicopter
---
I woke this morning to sunshine and clear skies – the first such morning since my arrival in Kamchatka. Seeing the weather, I had a feeling that I would be on the helicopter today. And indeed, within a few minutes my guide called to give me instructions and confirmation that I would be going out to the Valley of the Geysers.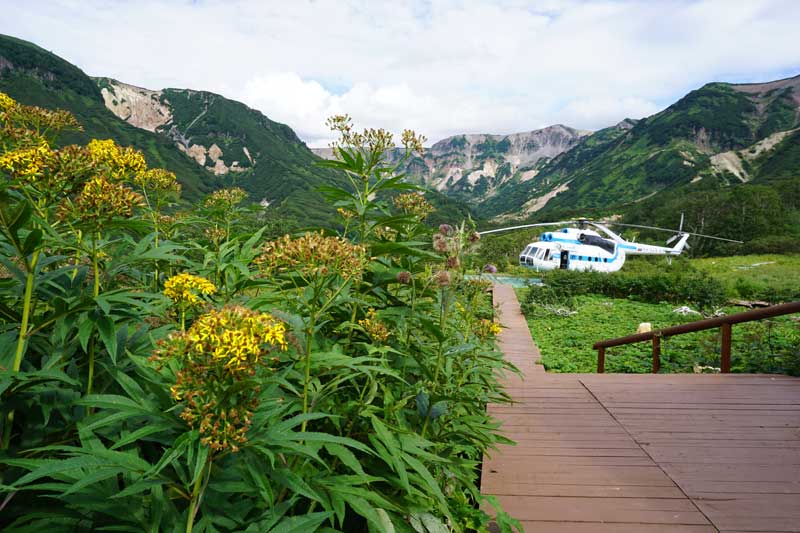 Helicopter excursions depart from a separate airport located outside of the city, near a small town called Paratunka. On arrival at the heliport, I was assigned to a group of around 20 other travelers who would be on the same helicopter. There were maybe four or five such groups there that morning.
We walked out onto the apron led by the guides assigned to our respective groups. The helicopters were all of the same variety – Mil Mi-8 Hips, a workhorse of the Soviet military. They certainly were not modern or even particularly comfortable, but perfectly serviceable for short jaunts such as the ones on this excursion.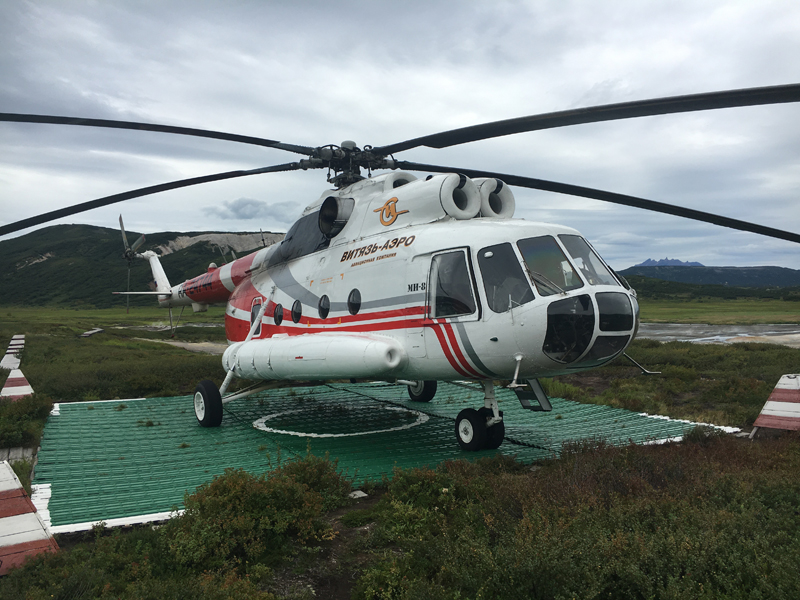 The windows are small portholes, and there are of course a limited number of window seats. So if you are traveling solo, best to pair up with someone in advance who is willing to take turns with you. On board and in flight, the rotors are deafeningly loud, so headsets providing ear protection are passed out. The guide on board tells you before takeoff about what you will see en route, along with some hand signals to denote when those sites are in view.
We took off slowly and with a few alarming jolts, but were quickly up in the air and flying over fields and forests. We passed by two volcanoes en route, both perfectly conical. One was smoking, and a brilliant, turquoise lake topped the other. The pilot flew around in one direction and then in the other to give both sides the best views. This was a phenomenal experience. Even through the small windows the volcanoes and their craters are a breathtaking sight.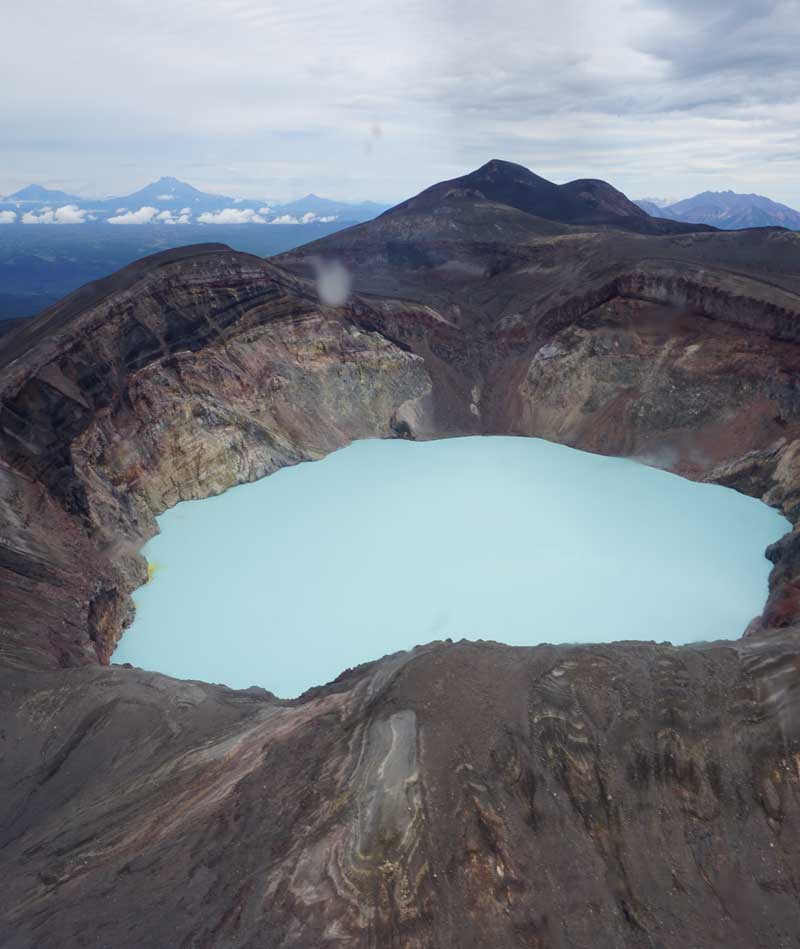 We made three stops today, with the helicopter ferrying us between them. The order varies from group to group and day to day, but all are typically included. The first stop, maybe an hour after takeoff, was at Uzon Caldera, part of the world famous Kronotsky Nature Reserve. This area is relatively flat and covered with low tundra-like vegetation.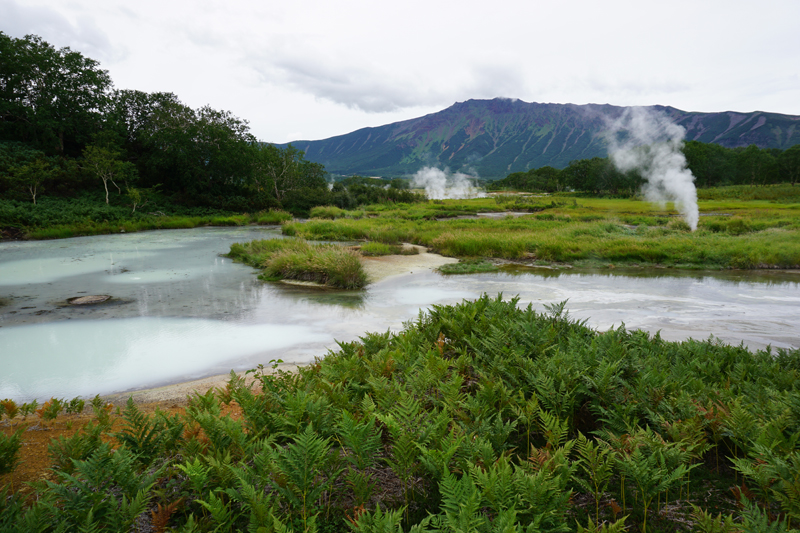 You explore the park on foot, walking only on designated boardwalks, with a shotgun-armed ranger accompanying you. There are lots of berries around, and accordingly, lots of bears. We saw a large bear walking in the distance, and at one point as it approached our area we had to halt and wait for it to move away again.
The highlight here though is the geothermal features. The boardwalk takes you past multiple mudpots, slowly bubbling away, active hot springs, and geysers. It feels very much like Yellowstone National Park in the U.S., but with far fewer people around, and virtually no infrastructure.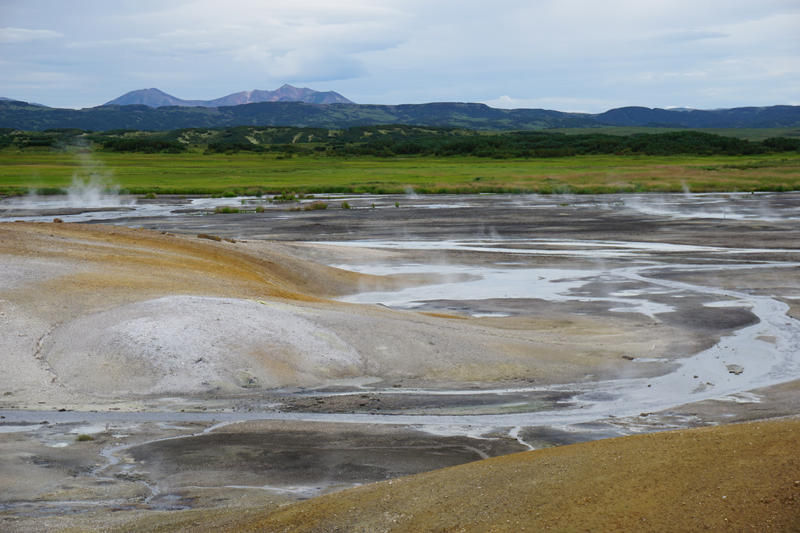 After our walk we returned to the helicopter and lunch boxes were passed out. We ate cheese sandwiches, smoked salmon, and cucumbers there on the boardwalk adjacent to the landing pad.
After lunch we lifted off again, landing 15 to 20 minutes later at the Valley of the Geysers. A large landslide in 2007 covered over many of the geysers in what was the main part of the valley. Those are slowly coming back to life, but there is still another active geyser field down an adjacent slope that travelers can see. The vegetation here is thicker, and the terrain is much steeper.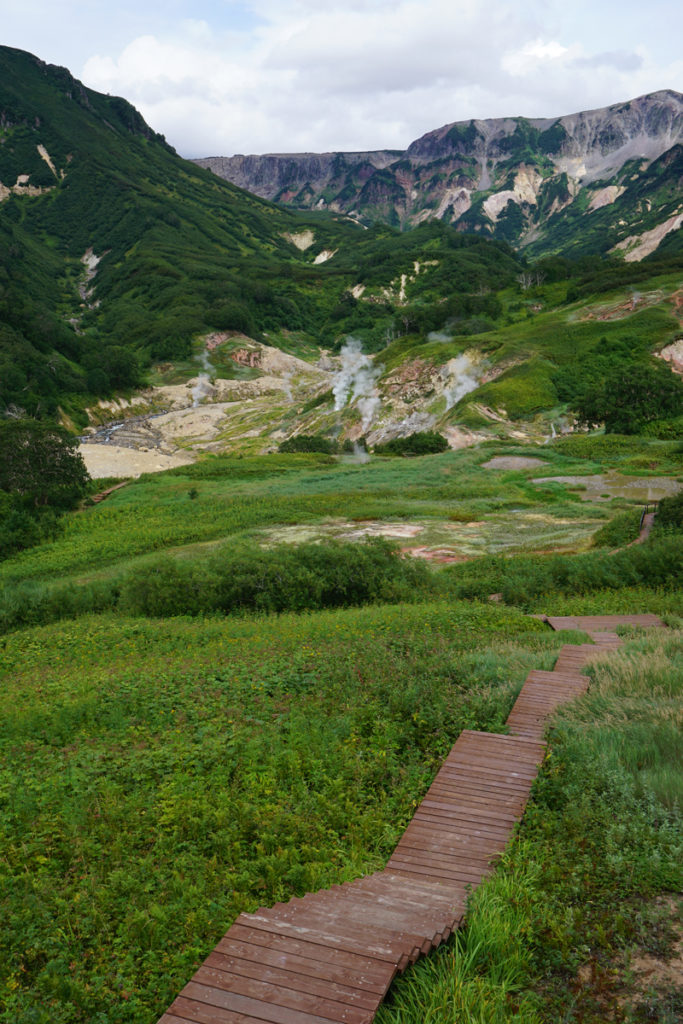 You must still stay on the boardwalks, but here there are plenty of stairs up and down. Another armed ranger led us around, with our guide narrating in English. We viewed several steaming geysers, and many more mudpots. The smell of sulfur pervades the air both here and at the Uzon Caldera. The star attraction was a medium-sized geyser down at the bottom of the slope, near a river. It erupts regularly. We waited for 15 or 20 minutes, and sure enough, the geyser erupted right on schedule, sending up a tower of steam and gushing, boiling water.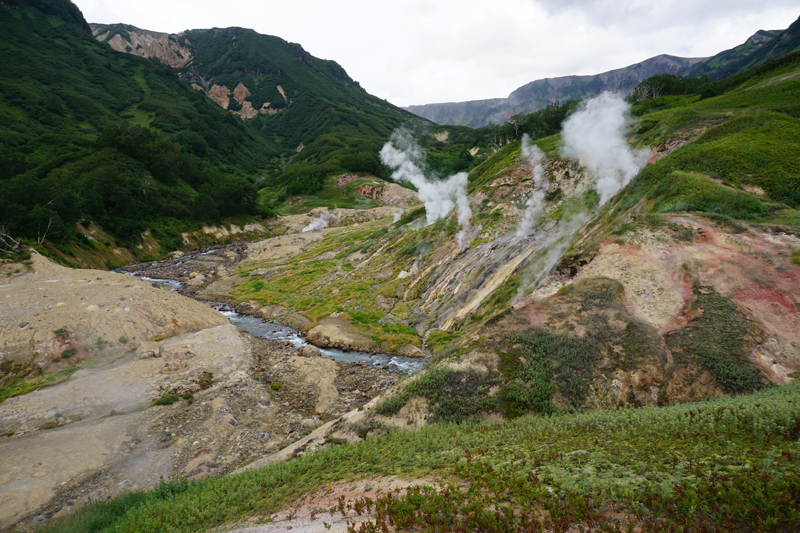 Our final stop, maybe halfway home, was Nalychevo Hot Springs. Those with bathing suits can enjoy the hot water (there are facilities for changing), and a dinner of baked salmon was served outside on a long picnic table in a grassy field next to the springs. The surrounding mountains and tundra were beautiful. This made for a very pleasant capstone to the day.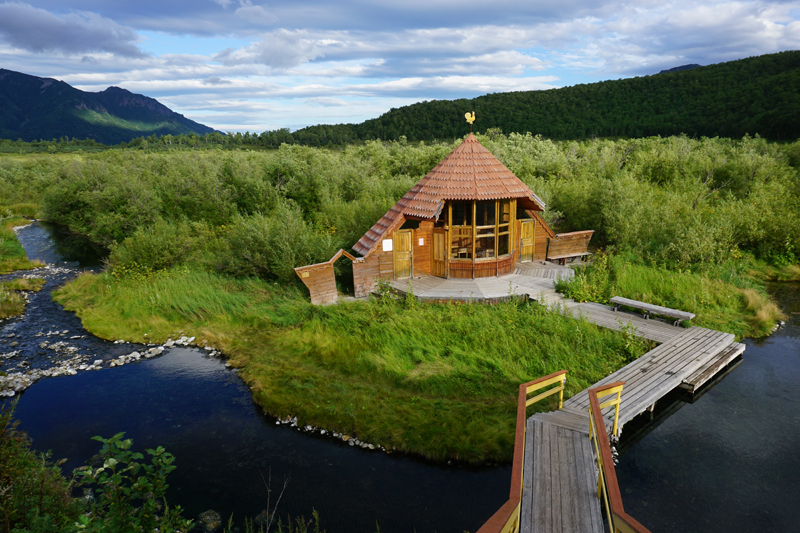 A Trek Through Fire and Ice
---
I had one last full day in Kamchatka, and the plan was to spend it hiking up to the caldera of an active volcano, Mutnovsky. I set off with my guide, his wife, and another hiker early in the morning, and we drove south out of town. The countryside soon turned to wilderness, and the road from smooth asphalt to bumpy washboard.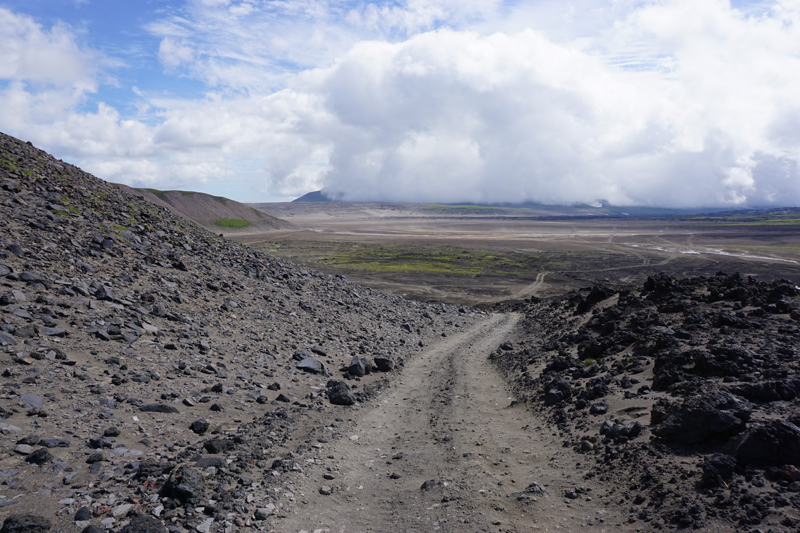 We slowly ascended the flanks of another volcano, Vilyuchinksy, and paused to view its conical slopes rising above the wildflower-studded roadside. At one point we stopped to let two bears cross the road in front of us – we kept back a fair ways. After descending from the flanks of Vilyuchinsky we entered the low caldera of Gorely Volcano.
The road here was not so much a road as a barely discernible path through pumice, ash, and lava rock. It was impressive in an extremely bleak way. Gradually we ascended again, up onto the slopes of our goal for the day – Mutnovsky Volcano.
At a certain elevation we entered the clouds, spoiling the views and making the going quite slow. At several points we had to stop and scout out the road. During one of these stops I found myself not five feet from a large marmot, which, terrified at my sudden appearance out of the gloom, chirped loudly and dove for cover. The hillsides were blanketed with blueberries and wildflowers, but thankfully there were no more bears, at least not that we saw.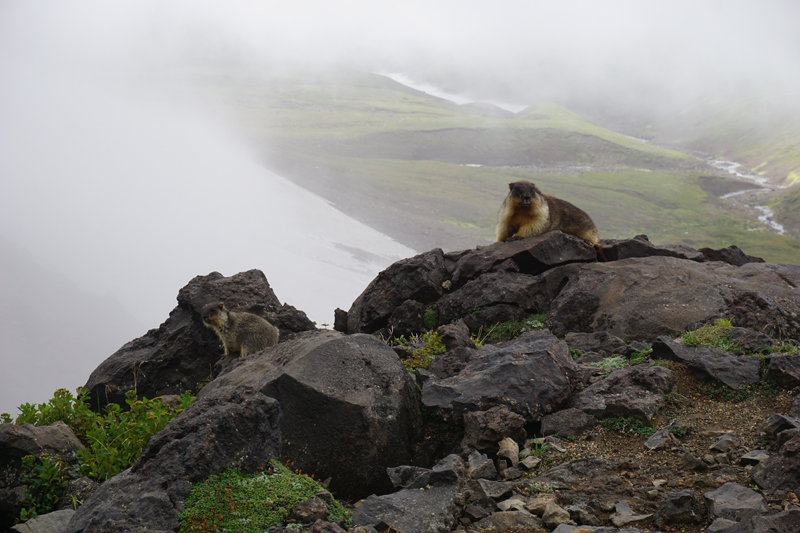 As we neared the trailhead, already high up the mountain, the clouds and fog began to clear. Our guide briefed us on the trail and we set off. The route was around four miles there at a steady incline, and the same four coming back. We passed over ice fields, scree-covered slopes, and along narrow ledges with glacier-fed torrents racing below.

Parts of the hike would likely have been totally off limits to travelers in more litigious nations. At various points we had to navigate under and through clouds of sulfuric acid emanating from active fumaroles, around splashing, toxic mudpots, and over bridges of melting ice. The geology was astounding. The volcano's fury had painted the landscape a kaleidoscope of reds, yellows, greens, whites, and browns, and contorted the rocks into spirals and dramatic arches.
(click image to view larger photo)
I loved it all. This was every bit as much of an adventure as my rafting experience had been. The hike culminated in a scramble up to a narrow (very narrow) ridge separating the trail and slope below from the active caldera on the other side. I climbed up with the assistance of a rope, and sat there straddling the ridge with one leg hanging down into the caldera and the other out, watching puffs of steam and fumes billowing up from the subsurface magma pool below.

We hiked back down and found our guide's wife preparing dinner. We enjoyed homemade smoked salmon and pickles, rye bread with butter and cheese, and salmon fillets baked over the campfire.
The Fish Market
---
My last day in Kamchatka was spent quietly. I had to catch the flight back to Anchorage that afternoon, and as such was not able to leave town. In the morning I visited a few of the same viewpoints and monuments that I had been to on my first day.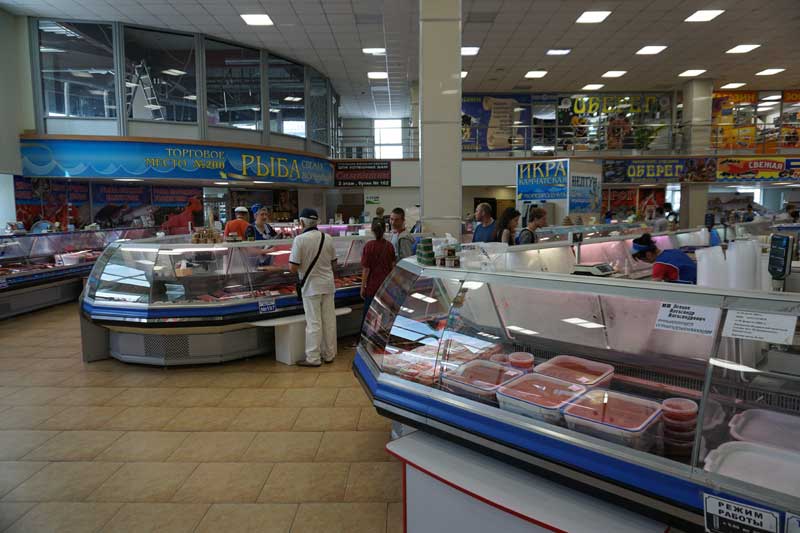 It was sunny, and I was aiming for better pictures. We also visited a local fish market. This market is modern and indoors – very clean and orderly.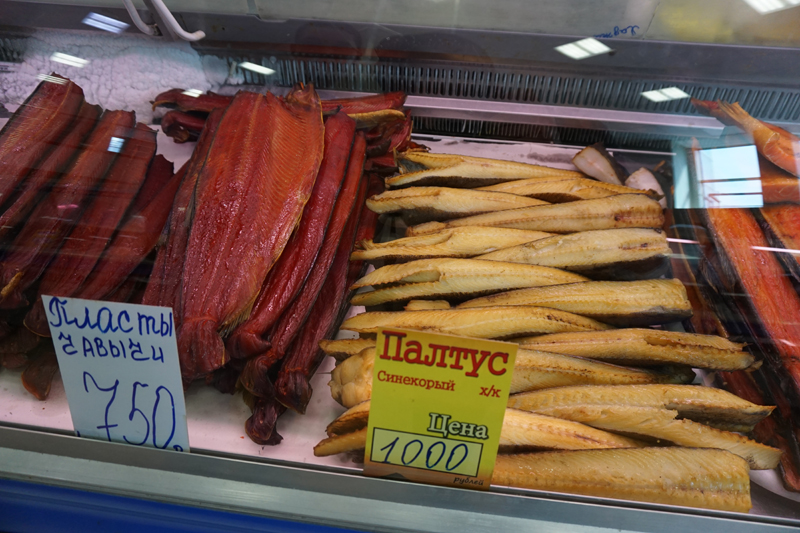 The selection was fantastic – piles and piles of fish harvested from the Pacific and from nearby rivers. Most of the fish was salmon of various species, and mostly smoked, both hot-smoked and cold-smoked. There was also an abundance of halibut that day, sea urchins, small herring-like fish, and octopus.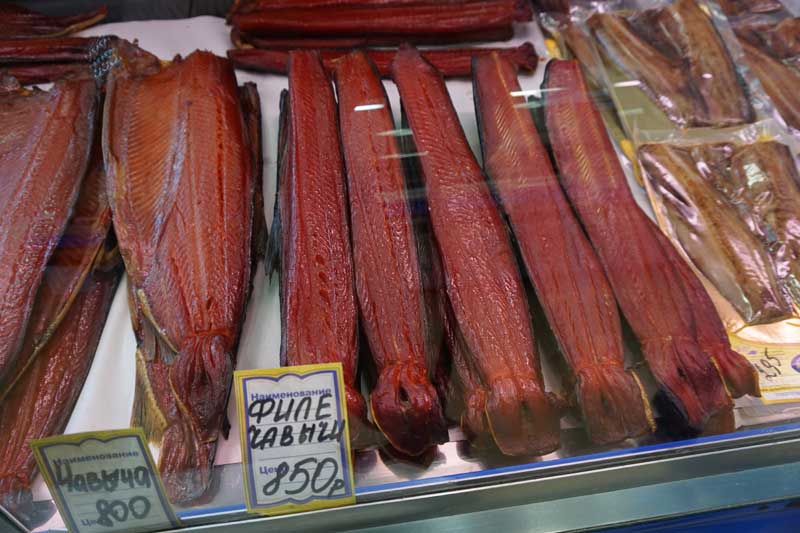 There were mounds of bright red, salmon caviar, from several different species. Tasting these was just fine with the purveyors, and the prices were a fraction of what you'd see in the US or Japan. I very seriously considered buying a tub and making that my lunch.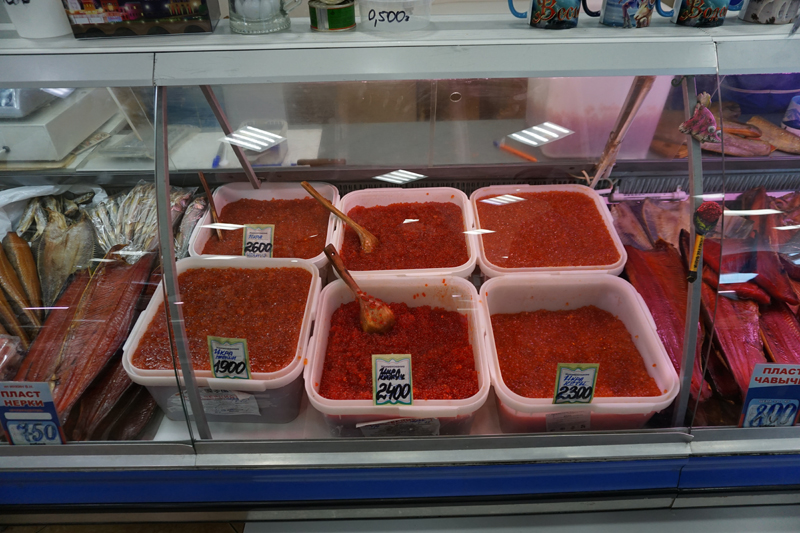 In the afternoon we visited a sled dog kennel. My guide introduced me to some of the dogs and their mushers, and showed me the basics of how the teams work. Hearing the happy, excited howling and yipping of 20-plus huskies all at the same time is quite entertaining.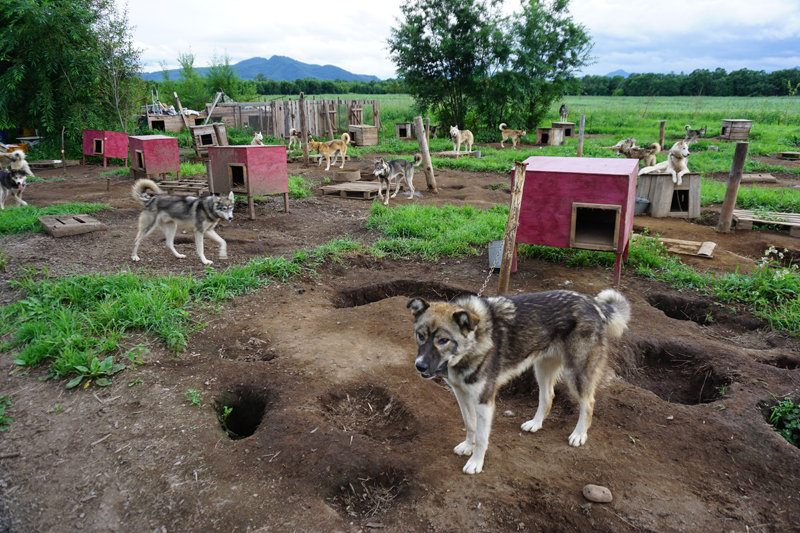 The sled dog facility was located right on a slow bend in a river that salmon use for spawning. I had never seen salmon spawning before, so I walked out there and was amazed by the sight. There were hundreds of half-decayed zombie fish flopping around in the shallow water, awaiting their demise at the hands of time, bears, and birds. My guide tapped me on the shoulder and, pointing at a tall clump of vegetation just across the water, whispered "medved" (the Russian word for bear). We turned and left.
Later that evening I drove out to the airport, bought a can of local beer, and spent my last half hour sitting on a park bench outside staring up at the volcanoes. What an amazing place.
Travel to Kamchatka with MIR
You can experience some of the same adventures as Jake on MIR's small group tour Remote Russia: Yakutia & Kamchatka.
MIR's full service, dedication, commitment to quality, and destination expertise have twice earned us a place on National Geographic Adventure's list of "Best Adventure Travel Companies on Earth.
Or, you can create your own exploration of Kamchatka with the help of our custom and private journey specialists. MIR specializes in personalized, private journeys, and we'd love to take your ideas and weave them into a trip tailored especially for you. Travel wherever, however, and with whomever you like, relying on our expert assistance. Contact us to find out more about our custom and private travel expertise – each trip handcrafted to your interests, dates, and pace.