error_outline
Flexible Private Trip — Book Your Dates for You & Yours
Tibet Sampler
Overview
Fly to the holy city of Lhasa high on the Tibetan Plateau. Admire the treasures of Tibetan culture on the "Roof of the World" and soak in the atmosphere of centuries of Buddhist practices. The highlights of this stirring journey are the holy city of Lhasa and the remote monasteries and sacred refuges hidden in the heart of the forbidding Tibetan Plateau.
Travels to: Tibet
Map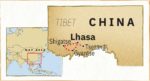 Itinerary
Days 1-2: Tsetang (Tibet)

Arrive in Lhasa and drive to Tsetang in the breathtaking Yarlung Valley, home of Tibet's early kings. Visit 8th century Samye, one of the country's first monasteries, and Yumbulagang, its first palace.

HIGHLIGHTS

Samye Monastery, Tibet's first monastery, built in the 8th century by King Trisong Detsen
Yumbulagang, considered Tibet's oldest building and its first palace
Far-reaching views of Yarlung Valley

Days 3-4: Lhasa

Visit the massive UNESCO-listed Potala Palace rising in splendor above Lhasa, and Norbulingka, formerly the summer residence of the Dalai Lamas. Circle the Jokhang Temple, Tibet's most sacred place. Visit Sera Monastery, home to about 400 monks, and Pabonka Monastery, atop a flat-topped granite outcropping. Just down the mountain is Chupsang Nunnery, where some 130 nuns chant and meditate.

HIGHLIGHTS

UNESCO-listed Potala Palace, with its thousands of altars and statues
Jokhang Temple, Tibet's most sacred site since the 7th century
Barkhor Market, the old market of Lhasa
The small Chupsang Nunnery, where 130 nuns live a monastic life

Days 5-8: Gyantse, Yamdrok Lake, Shigatse, Lhasa

On the way from Lhasa to Gyantse, pass by sacred Yamdrok Lake – said to be a goddess incarnate. Crossing 16,500-foot Karo La Pass, descend into Gyantse to admire the remarkable Kumbum Stupa, its 70 chapels adorned with thousands of frescoes, statues, and paintings. Continue to Shigatse's Tashilhunpo Monastery and its imposing exterior topped with a dazzling golden roof. On the return to Lhasa and the journey's end, contemplate the sweeping views under the limitless sky.

HIGHLIGHTS

Sacred turquoise Yamdrok Lake, a place of pilgrimage
Gyantse, with its 4,000-meter elevation – nearly 2.5 miles high
15th century Kumbum, a fabled shrine and place of Tibetan Buddhist pilgrimage
Tashilhunpo Monastery complex, seat of the Panchen Lama in Shigatse
Dates &amp Prices
Please note:
Private trip prices vary by season and are subject to hotel availability for your travel dates.
Listed prices below are based on double occupancy and a 2 traveler minimum.
Hotel upgrades, additional nights, and solo traveler prices are available on request.
Land tour price, per person, starting from:
2023 Dates

Available: April - October

Tour, double occupancy

$3,995
What's Included
Tour Includes

Shared accommodations as noted in the itinerary. Contact MIR for hotel upgrade prices.
Meals, as noted in the itinerary.
Restaurant tips for included meals.
One arrival and one departure transfer. Additional arrival and departure transfers available at additional cost.) MIR will arrange for travelers to be met upon arrival and seen off on departure, whether or not we make your air arrangements.
Ground transportation throughout itinerary by private vehicle (type of vehicle depends on number of travelers in your group.)
Services of experienced, English-speaking local guides, drivers, and other staff, as noted in the itinerary.
Guided sightseeing tours and entrance fees, as outlined in the itinerary.
Special events, excursions, and cultural performances, as outlined in the itinerary.
Complete pre-departure information, including detailed packing list, reading list, and Touring with MIR handbook with country-specific information, maps, and travel tips.
Final document packet, including luggage tags, final updates, and more.
Assistance booking your custom flight arrangements, on request. (Please note that international airfare is not included in the land tour cost).
Customized visa information and instructions. (Please note, visa fees are not included in the tour price.)

Not Included

International airfare and taxes/fuel surcharges.
Meals and drinks not specified as included in the itinerary.
Single supplement if requested or required.
Baggage handling.
Gratuities to local guides, drivers, porters, and other service personnel.
Expenses incurred as a result of delay, modification, or extension of a tour due to causes beyond MIR's control.
Travel-related insurance, including cancellation, medical, and evacuation insurance.
Visa fees, excess-baggage charges, airport departure taxes, vaccination and other medical costs.
Optional pre- or post-tour extensions.
Items of a personal nature, such as phone calls, email, laundry, and alcohol.
Activity Level
Level 3: Medium, but Customizable
This 'Essential' itinerary, designed for private travel, features extended periods at high elevations, long days walking and standing, some long overland travel segments on rough roads or off-road conditions, and overnight accommodations in smaller and more rustic properties. While some of these challenges are inherent in the destinations and sites, as this trip can be modified as needed for those travelers who are looking for a less challenging (or more challenging) program.
The elevation in Tibet is over 10,000 feet. The altitudes can cause difficulty even in healthy travelers, and potential problems can include headaches, shortness of breath, and other more serious complications. Those with a history of medical problems, particularly cardiac or respiratory, must consult a doctor before considering this trip.
There is a significant amount of touring on foot, and those travelers planning to take the program as written should be able to walk two miles a day on a variety of terrain surfaces including dirt paths, grass, unpaved sidewalks, uneven surfaces and steps, packed-dirt streets, broken pavement (streets or sidewalks), and with a general absence of handrails or ramps. Some attractions are only accessible via steep staircases with tall, uneven steps. In particular, staircases at Potala Palace in Lhasa are notorious for their length, steepness, and unevenness of the steps. Other monastery/temple visits will also require negotiating steep and narrow stairways for travelers who want to visit the upper stories. Some toilets on this itinerary will be eastern/squatting style toilets. Elevators are not available at touring sites, nor at a few of the hotels.
Other challenges include overall shortcomings in the tourism infrastructure of these developing destinations. Accommodations vary from three-star to four-star hotels including some in more remote areas with lower levels of amenities. Past travelers have also encountered challenges with plumbing, bureaucratic service, variety of locally available foods, and availability and quality of public restrooms.
Gallery