error_outline
Flexible Private Trip — Book Your Dates for You & Yours
Journey Through the Land of Genghis Khan
Overview
On this incredible week-long journey in Mongolia, get a feel for the nomadic life a world away from home. Explore the capital, Ulaanbaatar; witness the glow of the Flaming Cliffs at sundown; experience the living traditions of Mongolian people on intimate visits to local ger camps; and open to the unfamiliar resonances of Mongolian throat-singing, created to combat the loneliness of the nomadic herder under the big sky.
Travels to: Mongolia
Map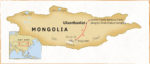 Itinerary
Days 1-2: Ulaanbaatar (Mongolia)

Begin in Ulaanbaatar, the political and cultural heart of Mongolia, and the country's capital. Visit the Gandan Monastery, showcasing a 20-ton gilded statue of "the Lord Who Looks in Every Direction," and the National Museum of History, displaying Stone and Bronze Age artifacts, sacred relics, and costumes of Mongolia's minority tribes. Explore Bogd Khaan Palace Museum, the former home of Mongolia's last Living Buddha, and pay your respects to the fallen Mongolian and Soviet soldiers killed in WWII at the memorial on Zaisan Hill. Back in the capital, admire the fascinating dinosaur skeletons on display at the Museum of Paleontology at Hunnu Mall.

HIGHLIGHTS

Ulaanbaatar, capital and most important city in Mongolia
Gandan Monastery, with the 20-ton gilded statue of "the Lord Who Looks in Every Direction"
National History Museum, an overview of the country's history and culture
Bogd Khaan Palace Museum, former home of Mongolia's Last Living Buddha
Museum of Paleontology at Hunnu Mall, displaying many dinosaur bones and nests discovered by expeditions that have combed the Gobi Desert

Day 3: Day trip to Gorkhi-Terelj National Park, Ulaanbaatar

Depart for a full day of exploration in alpine Gorkhi-Terelj National Park, getting a feel for the high steppe and magnificent scenery of the Mongolian countryside. Pause at the giant stainless-steel equestrian statue of Genghis Khan; sightseers can take in the views by entering inside and riding an elevator to a viewing platform perched on the horse's head. After lunch in a local ger, visit Terelj's sacred Turtle Rock as well as Aryapala Meditation Temple, created in 1998 as a center for Buddhist retreat and meditation. Enjoy an opportunity to hike and ride horses in Mongolia's beautiful outdoors, and visit with a nomadic family in their ger, conversing over a favorite traditional drink of salted and buttered tea.

HIGHLIGHTS

Gorkhi-Terelj National Park on the high steppe, dotted with monumental rock formations
Aryapala Meditation Temple, graced with majestic views and profound quiet
Visit with a nomadic family

Days 4-7: South Gobi Desert, Ulaanbaatar

Fly to the South Gobi, Mongolia's legendary southernmost province of semi-arid desert. Explore the Flaming Cliffs, one of the most renowned paleontological sites in the world where the world's first nest of dinosaur eggs was discovered in 1922. Discover one of the few areas of sand dunes in the Gobi, Moltsog Els, where the constantly shifting sands are piled by the wind and reach surprising heights. Visit a semi-nomadic, camel-herding family to learn about their daily lives in the harsh Gobi environment, and take a short camel ride in the desert if you wish. Continue to Yolyn Am ("Vulture's Mouth") Canyon, which cuts a narrow path into the rocky slopes of the Gurvansaikhan Mountains.

Fly back to the capital, enjoying a visit to the Zanabazar Museum of Fine Art followed by free time for independent exploration, last-minute shopping, or packing. Toast your Mongolian adventure at a festive farewell dinner featuring a special performance of Mongolian throat-singing. It's an otherworldly musical form in which a single vocalist simultaneously produces two or more distinct tones, or overtones.

HIGHLIGHTS

Legendary Gobi Desert, stretching 3,000 miles along the border of Mongolia and China
Flaming Cliffs, where the first nest of dinosaur eggs was discovered
Moltsog Els, one of the Gobi's rare regions of sand dunes
Visit with a semi-nomadic, camel-herding family
Yolyn Am ("Vulture's Mouth") Canyon
Cultural performance of traditional song and dance with throat-singing
Dates &amp Prices
Please note:
Private trip prices vary by season and are subject to hotel availability for your travel dates.
Listed prices below are based on double occupancy and a 2 traveler minimum.
Hotel upgrades, additional nights, and solo traveler prices are available on request.
Land tour price, per person, starting from:
2023 Dates

Available: June - September

This tour is available June-September; please be aware that pricing is always higher in July.

Tour, double occupancy

$4,795

Plus internal airfare

$350

2024 Dates

Available: June - September

Tour, double occupancy

$4,895

Plus internal airfare

$375
What's Included
Tour Includes

Shared accommodations as noted in the itinerary. Contact MIR for hotel upgrade prices.
Meals, as noted in the itinerary.
Restaurant tips for included meals.
One arrival and one departure transfer. Additional arrival and departure transfers available at additional cost.) MIR will arrange for travelers to be met upon arrival and seen off on departure, whether or not we make your air arrangements.
Ground transportation throughout itinerary by private vehicle (type of vehicle depends on number of travelers in your group.)
Services of experienced, English-speaking local guides, drivers, and other staff, as noted in the itinerary.
Guided sightseeing tours and entrance fees, as outlined in the itinerary.
Special events, excursions, and cultural performances, as outlined in the itinerary.
Complete pre-departure information, including detailed packing list, reading list, and Touring with MIR handbook with country-specific information, maps, and travel tips.
Final document packet, including luggage tags, final updates, and more.
Assistance booking your custom flight arrangements, on request. (Please note that international airfare is not included in the land tour cost).

Not Included

International airfare and taxes/fuel surcharges.
Meals and drinks not specified as included in the itinerary.
Single supplement if requested or required.
Baggage handling.
Gratuities to local guides, drivers, porters, and other service personnel.
Expenses incurred as a result of delay, modification, or extension of a tour due to causes beyond MIR's control.
Travel-related insurance, including cancellation, medical, and evacuation insurance.
Visa fees, excess-baggage charges, airport departure taxes, vaccination and other medical costs.
Optional pre- or post-tour extensions.
Items of a personal nature, such as phone calls, email, laundry, and alcohol.
Activity Level
Level 3: Medium, but Customizable
This 'Essential' itinerary, designed for private travel, features long days walking and standing, some long overland travel segments on rough roads or off-road conditions, and overnight accommodations in semi-rustic ger sleeping quarters. Walking surfaces vary and may include grass and dirt (possibly soggy ground), on dirt paths, across gravel and stony scrub, loose sand and pebbles, shallow streams, smooth stones, unpaved sidewalks and streets, uneven surfaces and steps, absent handrails, significant stair-climbing, and absence of elevators. While some of these challenges are inherent in the destinations and sites, this trip can be modified as needed for those travelers who are looking for a less challenging (or more challenging) program.
Two nights will be spent in the Gobi at the Gobi Dream Ger Camp, where the gers offer an en-suite toilet, shower, and sink. However, they are still stand-alone accommodations, connected by flagstone paths and with rustic heating systems (wood stoves) and limited access to electricity. If you rely on electricity for CPAP (continuous positive airway pressure) machines, or for any other reason, you must have your own battery or other back-up, or please reconsider participation.
There is a significant amount of touring on foot, and those travelers planning to take the program as written should be able to walk two to three miles a day, with some hiking, on a variety of terrain including through grass and dirt (possibly soggy ground), on dirt paths, across gravel and stony scrub, loose sand and pebbles, shallow streams, smooth stones, and the like. Overland drives in Mongolia will involve very rough and bumpy drives over dusty and unpaved tracks in basic vans, Russian jeeps, or other vehicles. During city touring you're likely to encounter uneven surfaces and attractions accessible only via steep staircases.
Museums generally do not have elevators. Air-conditioning is a luxury and not available in facilities outside the capital or in vehicles. In Mongolia, the airline infrastructure is not as developed as it is in the west. Flight schedules change constantly, and there is a strong likelihood that the program will have moderate to significant routing and timing changes based on changing flight schedules.
Other challenges include overall shortcomings in the tourism infrastructure in remote Mongolia. Past travelers have also encountered challenges with plumbing, bureaucratic service, variety of locally available foods, and availability and quality of public restrooms.
Gallery