Beginner's Guide to Mongolia's Magnificent Monasteries
Mongolia holds a special place in the hearts of adventurous travelers, who come back with tales of its vast steppe, rugged mountains, clear glacial lakes, and vivid blue skies. But beyond its natural outdoorsy appeal, it is also a land of deeply spiritual people. The country's shamanistic traditions may be better known to the world, but Buddhism has played just as important a role in shaping Mongolian history and culture.
Mongolia, Monasteries, and Monks
In the "Land of the Nomads," Buddhist monasteries were often the only permanent structures and one of the few cultural repositories of the arts. Borrowing traditions from their Tibetan neighbors, Mongolians soon developed their own unique practices and began incorporating them with existing shamanistic beliefs. By the end of the 19th century, more than 1,200 monasteries were spread across Mongolia, and about one third of the male population were monks.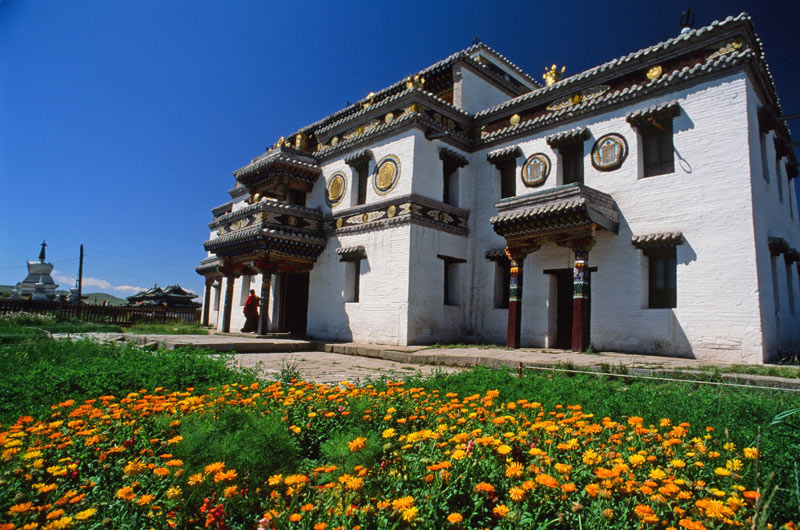 Mongolia's Monasteries: History and Traditions
After Mongolia became a Communist state, Joseph Stalin and his Mongolian counterpart, Khorloogiin Choibalsan, demolished hundreds of Buddhist temples during the Soviet purges of 1937-1938. Only a handful of temples and relics survived, and thousands of monks were imprisoned, executed, or "reeducated" into society.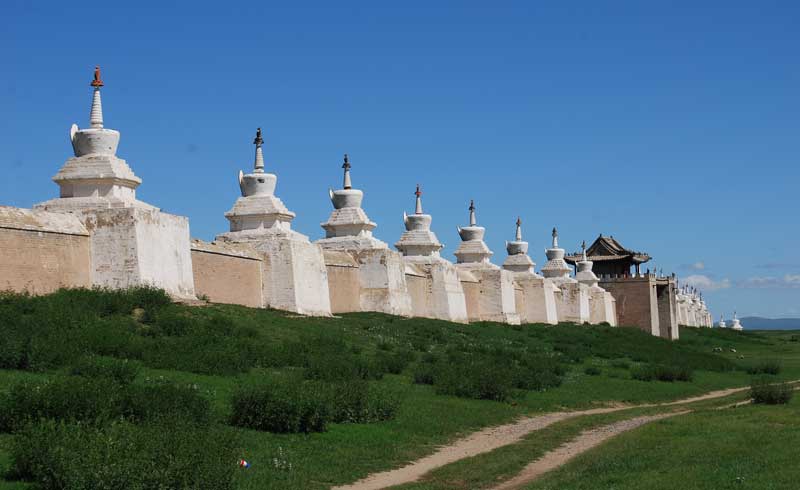 Since the Mongolian Democratic Revolution of 1990, Buddhism has seen an incredible revival. Monasteries are being rebuilt and restored, and a once-lost religious and cultural heritage is slowly being rediscovered. With their bold colors, richly detailed paintings, and sweet smell of incense, stepping inside one of these sacred places offers a glimpse into the past and a chance to witness a side of Mongolian history and traditions that few have the opportunity to see.
For those traveling to Mongolia, a visit to a monastery is a must.
Here are four must-see monasteries in the "Land of the Nomads":
1. Gandantegchinlen
---
Built in 1838, Gandantegchinlen (often abbreviated to just "Gandan") means "Great Place of Complete Joy," and grew to become Mongolia's principal center of Buddhist education. At one time the monastery housed nine colleges and over 5,000 monks. Badly damaged during the Stalinist purges, Gandan reopened in 1944 as a showpiece for foreign visitors – it was the only temple allowed to function during the Communist regime. In 1990, it was revitalized and restored as the country's Buddhist headquarters.
(click image to view larger photo)
Can't Miss:
Be sure to walk inside the main temple, which houses a massive statue of Avalokitesvara, the symbolic bodhisattva of compassion. The original statue was commissioned in 1911, but was lost during the Communist period – allegedly melted down to make Soviet bullets. The statue that stands today was built in 1996, and many Mongolians view it with pride as a symbol of their nation's rebirth and strength. In the monastery's courtyard, you'll find two temples: the Ochidara Temple, where the most important ceremonies are held; and the Didan-Lavran Temple, where the 13th Dalai Lama stayed just before the start of the British invasion of Tibet in 1904.
More photos and info about Gandantegchinlen: Enjoy our visual guide to some of the most notable monasteries of Mongolia with our free, full-color PDF.
2. Amarbayasgalant
---
Amarbayasgalant, the "Monastery of Tranquil Felicity," is one of the three largest monastic centers in Mongolia. Commissioned by Manchu Emperor Yongzheng, the monastery was built between 1727 and 1737 as the final resting place of Zanabazar, the famous sculptor and first spiritual head of Buddhism in Mongolia. The original complex consisted of over 40 temples and in 1936 housed over 2,000 monks.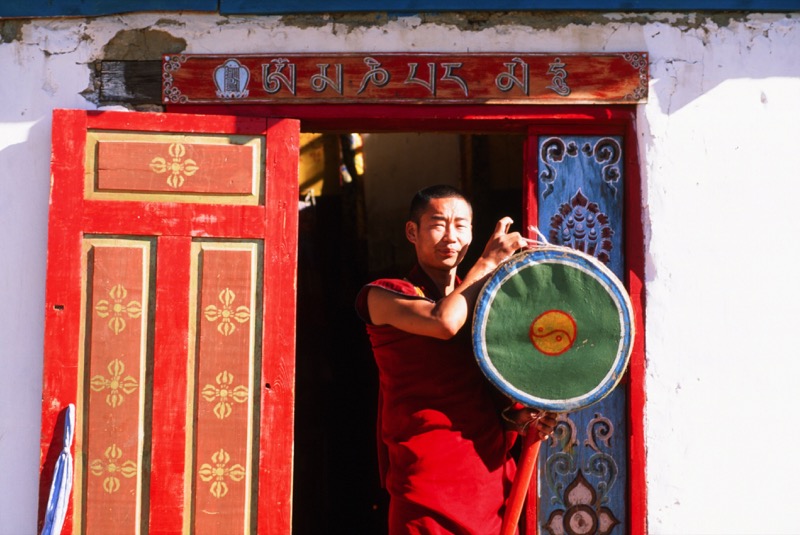 Can't Miss:
Though remote, Amarbayasgalant is well worth the visit. 28 of the original temples remain – all restored by UNESCO in 1988 – making it one of the country's most intact monasteries.
Unlike many Mongolian monasteries that borrowed heavily from Tibetan temples, Amarbayasgalant was built in the Chinese style. Be sure to note the Chinese inscriptions, symmetrical layout, deep red color scheme and Chinese roof guardians. The richly decorated main temple contains a statue of Rinpoche Gurdava, a Mongolian monk who raised a huge portion of the monastery's restoration funds. While here, you can witness monks performing their morning ceremonies, and the surrounding mountains offer a great opportunity for a hike and beautiful views of the valley.
3. Mandshir
---
Though from the surface it may not look impressive, Mandshir remains an important site for today's practicing Mongolian Buddhists. Established in 1733, Mandshir was dedicated to Manjusri – the bodhisattva of wisdom – and eventually became one of Mongolia's largest monastic centers, housing over 300 monks and 20 temples. The entire complex was razed during the Stalinist purges. However, the main temple was restored and converted into a museum after the Democratic Revolution in 1990.
Can't Miss:
Today, Mandshir is part of the Bogd Khan Nature Preserve. Its remains can still be viewed along with old photos showing what it looked like before its destruction in 1937. It's a great beginning or ending point for hikes throughout the reserve. For a quick hike nearby, climb up to the cliffs behind the monastery, where you'll find several Buddhist cave paintings dating from the 18th century.
4. Erdene Zuu
---
One of the earliest surviving monasteries, UNESCO-listed Erdene Zuu ("Thousand Treasures") was founded in 1586 as the first Buddhist monastery in Mongolia. At its peak, it housed about 1,000 monks. During the Stalinist purges, all but three of its temples were destroyed. Extensive restoration work was undertaken in 1990, and today Erdene Zuu is an active monastery and museum.
(click image to view larger photo)
Can't Miss:
Built with stones from the nearby ancient city of Kara Korum, Erdene Zuu is surrounded by a wall studded with 108 stupas, or shrines. (108 is a sacred Buddhist number symbolizing perfection.) As part of a meditative practice, Buddhists perform clockwise circumambulatory walks around the perimeter of these shrines. The monastery also houses a collection of Buddhist statues – thangkas – which are fabric banners painted with Buddhist deities and other artifacts that were saved from Soviet purges. Many of them date from the 18thcentury, making them some of the oldest Buddhist artifacts in Mongolia.
More photos and info about Erdene Zuu: Enjoy our visual guide to some of the most notable monasteries of Mongolia with our free, full-color PDF.
Travel to Mongolia with MIR
This list is only the beginning: Tovkhon, Shankh, and Khamariin Khiid are just a few of many other monasteries you can visit during your travels to Mongolia, each with its own unique style and history.
Want to witness these sacred spaces for yourself? MIR has nearly 30 years of experience hand-crafting tours to Mongolia. MIR's full service, dedication, commitment to quality, and destination expertise has twice earned us a place on National Geographic Adventure's list of "Best Adventure Travel Companies on Earth."
You can view one or more of these awe-inspiring sites on one of our small group tours and rail journeys by private train:
You can also opt to travel on a private journey to Mongolia on either our pre-made Essential Mongolia trip, or a customized journey designed to fit your desired dates, interest, and travel style.