Multi-Region
Kaliningrad & The Baltics
Photo credit: Kestutis Ambrozaitis
error_outline
See our Baltics tour!
Definitive Journey Through Estonia, Latvia, Lithuania & Kaliningrad
Overview
This overland journey roves the countryside and urban centers of four distinct nations: the three independent Baltic countries – Estonia, Latvia and Lithuania – and Kaliningrad, an exclave of Russia. Together they form a mosaic of countries ruled over in early years by the traders of the Hanseatic League, and later occupied by the Soviet Union at the end of World War II.
Map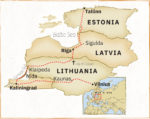 Itinerary
Days 1-2: Tallinn (Estonia)

Begin in Estonia's capital, Tallinn, with its collage of narrow cobblestone streets and red-roofed buildings. Explore the Dome Cathedral on Toompea Hill and visit the famous Song Festival Grounds, where the independent spirit of Estonians has been celebrated since 1988, when 300,000 people sang their way to the beginnings of independence from the Soviet Union.

HIGHLIGHTS

Tallinn, Estonia's capital, whose winding cobbled streets, red roofs, and turreted fortress wall are on the UNESCO World Heritage List
Song Festival Grounds, center of Estonia's "Singing Revolution"

Days 3-5: Sigulda (Latvia), Riga

Skirting Riga Bay, pause at Sigulda – the entrance to Gauja National Park – before coming to Latvia's capital, Riga, with its art nouveau architecture. Known for its appealing Old Town and the odd sculptures adorning its old buildings, Riga is a delight to explore on foot.

HIGHLIGHTS

Turaida Castle, originally founded in 1214 by the archbishops of Riga
UNESCO-listed Old Town of Riga, capital of Latvia
Riga's section of ornamental art nouveau buildings, one of the finest collections in Europe

Days 6-7: Klaipeda (Lithuania), Palanga

Travel across the countryside to the Lithuanian seaport of Klaipeda, pausing at the baroque Rundale Palace and at the Hill of Crosses, a place of national pilgrimage. Explore Klaipeda's narrow streets and merchant houses, and visit Palanga's Amber Museum.

HIGHLIGHTS

Hill of Crosses, covered by a multitude of crosses, some of them treasured examples of folk art
Klaipeda, whose restored Old Town contains examples of the German-influenced fachwerk, or timbered warehouses
Palanga, Lithuania's liveliest beach resort town, with 11 miles of beautiful sandy beaches

Days 8-10: Curonian Spit, Kaliningrad (Kaliningrad), Kaunas (Lithuania)

Continue to Kaliningrad via the narrow, UNESCO-listed Curonian Spit, passing fishing villages, white sand dunes, and the woodcarvings on the Hill of Witches. Known as Konigsberg until the Soviets renamed it in 1946, Kaliningrad has converted a WWII bunker into a museum. Its Gothic cathedral and Hansa Square are reminders of an era long past.

HIGHLIGHTS

UNESCO-listed Curonian Spit, a strange and beautiful landscape of corrugated dunes, little villages, and forests
Kaliningrad, an exclave of Russia separated from the main part of Russia by Lithuania and Belarus
Kaunas, the second-largest Lithuanian city, with its white Gothic Town Hall called the White Swan

Day 11-13: Vilnius, Trakai

Lithuania's beautiful capital, Vilnius, is the final stop. Last to give up its pagan traditions and first to declare independence from the Soviet Union, Lithuania is known for its amber and celebrated for its bravery. An exploration of Vilnius ranges from the medieval, at the restored Brick Gothic castle of Trakai, to the more recent, the KGB Museum commemorating the travails of thousands of Lithuanians. Stroll the cobbled streets of the Old Town, shopping for linen and glowing amber jewelry.

HIGHLIGHTS

UNESCO-listed Vilnius, capital of Lithuania, the largest baroque city north of the Alps
14th century Trakai Castle, the Brick Gothic residence of the Lithuanian Grand Dukes
KGB Museum, in the basement of the former District Court Building, where interrogations took place
Dates &amp Prices
Small group tour – max 16 travelers
Land tour price, per person. Based on double occupancy and minimum group size of 4 travelers.
Call for dates and prices
What's Included
Tour Includes

Accommodations, as noted in the itinerary.
Most meals, as noted in the itinerary.
A daily supply of bottled water.
Arrival/departure airport transfers on the tour start/end date. MIR will arrange for all travelers to be met upon arrival and seen off upon departure whether or not we make your flight arrangements.
Ground transportation throughout tour by private van or coach. (Type of vehicle depends on group size.)
Services of experienced, English-speaking local guides, drivers, and other staff, including a MIR Tour Manager.
Guided sightseeing tours and entrance fees, as outlined in the itinerary.
Special events, excursions, and cultural performances, as outlined in the itinerary.
Gratuities to local guides, drivers, and other service personnel, including servers at group meals.
Complete pre-departure information, including detailed packing list, reading list, and Touring with MIR handbook with country-specific information, maps, and travel tips.
Final document packet, including luggage tags, final updates, and more.
Assistance booking your custom flight arrangements, on request. (Please note, international airfare is not included in the land tour cost.)

Not Included

International airfare and taxes/fuel surcharges.
Meals and drinks not specified as included in the itinerary.
Single supplement (or partial single supplement where applicable), if requested or required.
Gratuities to Tour Manager.
Expenses incurred as a result of delay, modification, or extension of a tour due to causes beyond MIR's control.
Travel insurance, including cancellation, medical, and evacuation insurance.
Visa and/or passport fees, excess-baggage charges, airport departure taxes, vaccination and other medical costs.
Optional pre- or post-tour extensions.
Items of a personal nature, such as phone calls, email, laundry, and alcohol.
Activity Level
Level 2: Moderate
This small group tour in modern and cosmopolitan Kaliningrad, Estonia, Latvia, and Lithuania features long days walking and standing while touring, and some possibly long days in the touring vehicle. Only those fit to travel and who accept the local conditions should consider joining this program.
Travelers must be able to walk one to two miles a day, keeping up with fellow travelers. Footing can be an issue and travelers should be able to negotiate cobblestones, uneven surfaces (possibly steep and/or wet), and deal with situations without handrails or ramps. Some attractions are only accessible via steep staircases, and museums rarely have elevators. Some smaller hotels also may not have elevators.
Past travelers have also encountered challenges with plumbing, bureaucratic service, variety of locally available foods, and availability and quality of public restrooms. 
Accommodations are planned to be four to five-star properties.
Gallery