error_outline
Tour canceled. Pray for peace!
An In-Depth Study of Three Unsung Countries and Transdniester
Overview
Journey to Belarus, Ukraine, and Moldova – three of the least frequented and least familiar countries in Europe. Time slowed drastically here after the devastation of WWII, but these beautiful countries are emerging from the shadows of their Soviet past to take their places on the world stage. Visit an artist in Kyiv, share a meal with a Chisinau family, and take a day trip to the Transdniester region, a narrow strip of Moldovan land where separatists have declared a disputed independence.
Map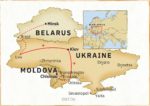 Itinerary
Days 1-3: Minsk (Belarus), Brest

Begin in Minsk, capital of Belarus, for a fascinating glimpse into its socialist past. Half of Minsk's population perished during WWII and little remained of the city. Visit the monuments that honor their memory, the Gallery of Russian and Modern Belarusian Art, and stop at the manor house of Polish and American hero (and friend of Thomas Jefferson) Tadeusz Kosciuszko. In Brest, admire the massive UNESCO-listed stone Brest Fortress, built by Czar Nicholas I in the mid-1800s.

HIGHLIGHTS

Minsk's main street, the animated promenade, Nezavisimosty Avenue
Visit to a rural farmhouse for lunch with a local family
Memorial for the 1943 Nazi village massacre in Khatyn
UNESCO-listed Brest Fortress, defended from the Nazis for a full month before falling

Days 4-6: Lviv (Ukraine)

Crossing the Ukrainian border, arrive in Lviv, founded in the 13th century. Conquered by the Poles in 1349, Lviv feels very Central European, with its lovely UNESCO-listed Old Town Square surrounded by Renaissance and Baroque merchant dwellings. Step back in time at the open-air ethnographic museum featuring Ukrainian villages from the 18th-20th centuries, then fly to the capital, Kyiv.

HIGHLIGHTS

Lviv's lovely Old Town, with Prospekt Svobody, Ploshcha Rynok (Market Square), and the Town Hall
Pharmacy Museum, its walls lined with old shelves stacked with little boxes, antique bottles, vessels and scales
Lychakiv Cemetery, where some of the graves are crowned with sculptures by Ukraine's most prominent artists
Visit the workshop of a local painter who specializes in religious icons

Days 7-9: Kiev

In Kyiv, visit some of Ukraine's most important sites including the St. Sophia Cathedral, the Caves Monastery, and the Chernobyl Museum. Stroll and shop on the cobbled Khreshchatyk Street, filled with galleries, shops, cafés, and artists' studios. Learn traditional egg-painting with a local artist, then fly to Odessa, a renowned seaport on the coveted Black Sea coast.

HIGHLIGHTS

Golden Kiev, capital of Ukraine and mother city of Eastern Slavic peoples
Pecherskaya Lavra, or Caves Monastery, a UNESCO World Heritage Site founded in 1051
The Chernobyl Museum, remembering the 1986 explosion and fire at Reactor #4, only 62 miles from Kiev
Paint an egg step-by-step at an artist's studio, learning the traditional art of this treasured folk craft

Day 10: Odessa

Explore Odessa, a cultural center and strategic naval base, climbing its much-filmed Potemkin Steps and touring its Partisan Caves, where resistance fighters hid during WWII.

HIGHLIGHTS

The Potemkin Steps, immortalized in Sergei Eisenstein's film Battleship Potemkin
The stately Odessa Opera House & Ballet Theatre, a baroque symbol of the city
Catacombs where the Ukrainian partisans took their resistance movement literally underground

Days 11-14: Chisinau (Moldova), Transdniester

Next is Chisinau, Moldova's tree-lined capital. Survey some of Moldova's ancient monasteries and sample the deep red wines for which the country is gaining a reputation. Embark on a day trip to the Transdniester region, a narrow strip of land bordering Ukraine where separatists have declared a disputed independence.

HIGHLIGHTS

Stefan cel Mare Park, a luxuriant and open green area in the center of the capital
Lunch with a local family in their home
Cave Monastery in Orhei Vechi, excavated in the 13th century and inhabited until the 18th century
Transdniester region, a de facto presidential republic offering a fascinating glimpse back into Soviet times
Dates &amp Prices
Small group tour – max 16 travelers
Land tour price, per person. Based on double occupancy and minimum group size of 5 travelers.
2023 Dates

Tour, double occupancy

$7,695

Plus internal airfare

$275
What's Included
Tour Includes

Accommodations, as noted in the itinerary.
Most meals, as noted in the itinerary.
A daily supply of bottled water.
Arrival/departure airport transfers on the tour start/end date. MIR will arrange for all travelers to be met upon arrival and seen off upon departure whether or not we make your flight arrangements.
Ground transportation throughout tour by private van or coach. (Type of vehicle depends on group size.)
Services of experienced, English-speaking local guides, drivers, and other staff, including a MIR Tour Manager.
Guided sightseeing tours and entrance fees, as outlined in the itinerary.
Special events, excursions, and cultural performances, as outlined in the itinerary.
Gratuities to local guides, drivers, and other service personnel, including servers at group meals.
Complete pre-departure information, including detailed packing list, reading list, and Touring with MIR handbook with country-specific information, maps, and travel tips.
Final document packet, including luggage tags, final updates, and more.
Assistance booking your custom flight arrangements, on request. (Please note, international airfare is not included in the land tour cost.)

Not Included

International airfare and taxes/fuel surcharges.
Internal airfare. (Internal airfare is quoted separately and subject to change by airlines.)
Meals and drinks not specified as included in the itinerary.
Single supplement (or partial single supplement where applicable), if requested or required.
Gratuities to Tour Manager.
Expenses incurred as a result of delay, modification, or extension of a tour due to causes beyond MIR's control.
Travel insurance including cancellation, medical, and evacuation insurance.
Visa and/or passport fees, excess-baggage charges, airport departure taxes, vaccination and other medical costs.
Optional pre- or post-tour extensions.
Items of a personal nature such as phone calls, email, laundry, and alcohol.
Activity Level
Level 2: Moderate
This small group tour features long days walking and standing while touring, and some possibly long days in the touring vehicle. Only those fit to travel and who accept the local conditions should consider joining this program.
Travelers must be able to walk one to two miles a day, keeping up with fellow travelers. Footing can be an issue and travelers should be able to negotiate cobblestones, uneven surfaces (possibly steep and/or wet), and deal with situations without handrails or ramps. Some attractions are only accessible via steep staircases. Museums rarely have elevators.
Past travelers have also encountered challenges with plumbing, bureaucratic service, variety of locally available foods, and availability and quality of public restrooms.
Accommodations are planned to be four to five star properties.
Gallery