A Traveler's Tale: Yurt Living in Sary Tash, Kyrgyzstan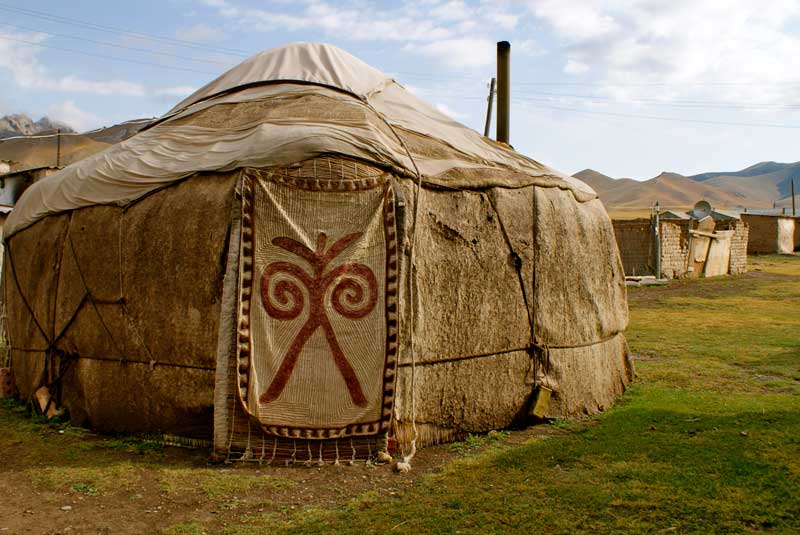 Our guest blogger is Caroline Eden, a renowned journalist and travel writer from the U.K. specializing in Central Asia aToday's Traveler's Tale is from Caroline Eden, a renowned journalist and travel writer from the U.K. specializing in Central Asia and the Caucasus. Caroline's travel stories have appeared in Conde Nast, Wanderlust and National Geographic Traveler, among other publications. She also is an author, publishing Samarkand, a gorgeous book of recipes and travel stories inspired by her time on the Silk Road.
She traveled with MIR on a portion of The Pamir Highway: From the Tien Shan to the High Pamirs. Here she recalls a stay in a traditional Kyrgyz yurt.
---
Sound Sleeping in a Yurt
Late-summer rain thundered off the roof of the yurt, splashing bottle-cap-sized holes into the dirt outside. Inside it was warm and cozy. Thick felt, tightly wrapped around the wooden ribs of the yurt, muffled the sound of the falling drops. Mild wood-smoke hung in the air, its escape-route at the top of the yurt temporarily covered up against the deluge.
Sleep comes easy in a setting like this and I leaned into the yurt's juk (a pile of blankets traditionally placed opposite the entrance), keeping my eyes just open enough to flip through a paperback book while refueling on black tea. Earlier that day, I had travelled on precarious high-altitude roads to the tiny town of Sary Tash from Osh, Kyrgyzstan's second city. It had been a hair-raising – but exhilarating – half-day journey through thick morning fog with multi-colored bunting marking the eye-popping drops at the side of the roads.
My host family at the yurt homestay had retreated inside their modern brick house, leaving me to my book and romantic notions of yurt living. Beyond the padded walls of the yurt, horses blew steam from their noses and Kyrgyz men tended to their sheep in the damp. Aside from the house and two other yurts there were no other man-made markers on the surrounding landscape.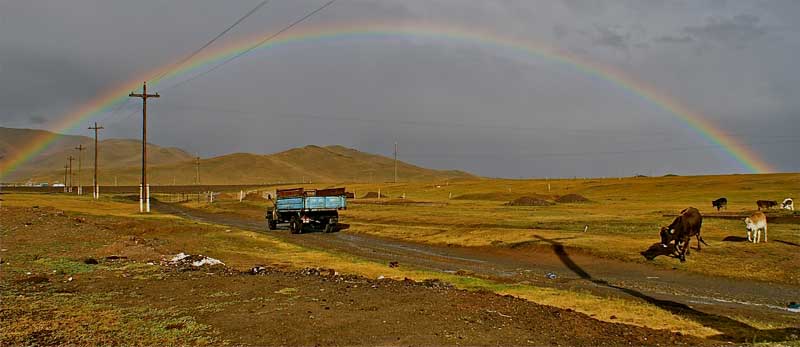 Finally, the rain stopped tapping the roof and I gingerly poked my head out. In the sky, a giant rainbow straddled the valley. My host took this fair-weather opportunity to check on me. He filled the rose-painted teapot with more tea and placed a plate of borsok – the Central Asian answer to donuts – before me. He bowed as he left and put his right hand on his heart, the traditional silent goodbye. I filled up on these puffy fried balls of dough, dipping them in sugar, before finally easing into a nap.
On the Road to Tajikistan
I was at this yurt in order to meet up with my MIR travel companions (for our group tour) who were en-route from Kashgar, far-west China. Together, we would drive over the impressively high Kyzyl-Art Pass (4,280 m) and travel onwards into Tajikistan.
Three Roads Converge in Sary Tash
Three roads converge in Sary Tash, making it a useful and spectacularly remote meeting point for travellers overlanding between Tajikistan, China and Kyrgyzstan. There are few amenities in the town, a 20-minute walk away from the yurt – just a rusty gas pump, a Soviet-style café and a striking cemetery with yak tails blowing in the wind marking the spot where local horsemen were buried. The nomadic Kyrgyz are skilled horsemen and horses are in the people's blood – they trade, race and even date on their sure-footed beasts. The Kyrgyz saying, "If you're only given one day's life, spend half of it in the saddle," sums it up best.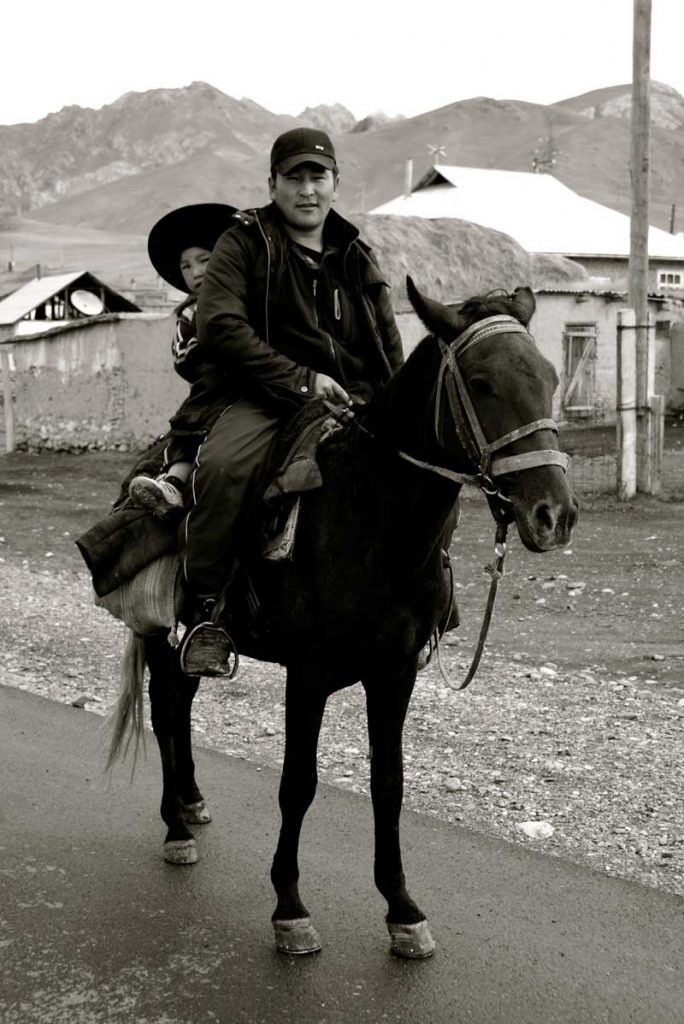 Lack of amenities aside (and what can you really expect in such wilderness?), the scenery surrounding Sary Tash, when not shrouded in cloud, is nothing short of spectacular. Golden grassy knolls converge with rolling green steppe against a backdrop of fierce grey jutting mountains.
Kashgar's Famous Sunday Market
Late afternoon the MIR group arrived and we exchanged tales over dinner. They described Kashgar's famous Sunday Market where cooks hawked hand-flung noodles, men bartered for fat-bottomed sheep and cauldrons of plov (pilaf) bubbled under awnings. I tried to paint an accurate picture of Osh by listing its quirky attractions: a real Aeroflot plane in a park, a fertility cave high up on a mountainside and an aging statue of Lenin. The weirdest scene of all in Osh was a remarkably good – and thoroughly unexpected – California-style café where I ate tacos and listened to The Grateful Dead humming from crackly speakers.
Good Breakfast Then Goodbye to the Yurt
In the morning at breakfast one of our group returned to the yurt after a morning stroll. Peeling back the flap, his eyes widened as he pointed backwards and exclaimed "It's pure prairie out there!" And he was right.
We popped out of the yurt, one by one, and were met with a rain-drenched grassy steppe that shone a bright emerald green under a huge sun. The green seemed to stretch on forever and ever. We beamed at each other, packed up the jeeps and set off for the onward journey, eager for more rugged adventure and thrillingly unsure of what form it would take.

Travel to Kyrgyzstan with MIR
MIR has 30 years of travel experience to Central Asia and was the first American travel company to open an accredited office in Uzbekistan. Clients rave about our on-the-ground support, tour managers, and dedication and commitment to quality. MIR's destination expertise has twice earned us a place on National Geographic Adventure's list of "Best Adventure Travel Companies on Earth."
Chat with one of our destination specialists today!