Kyrgyzstan: Why I Love This Unfamiliar Frontier
MIR President and co-founder Douglas Grimes always loves his travels along Central Asia's Silk Road, seeking memorable places and life-changing experiences for MIR travelers. Kyrgyzstan is a Silk Road country with plenty of both.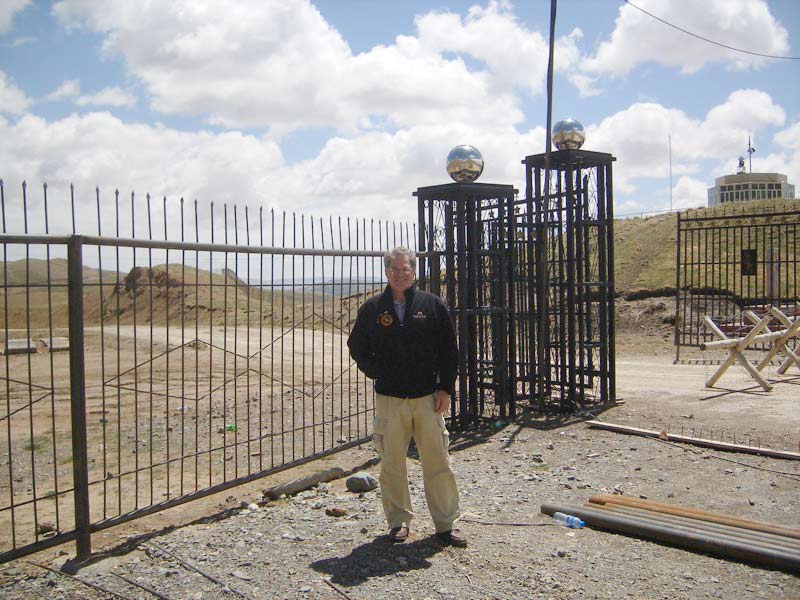 I can't even count the extensive scouting trips I've taken through Central Asia, but those to the countryside of Kyrgyzstan, the Silk Road's best kept secret, always stay with me. My travels here, as well as our generous hosts, always reinvigorate my appreciation of this part of the world.
It's a remote, unfamiliar frontier, wide open to travelers who are eager to experience wild beauty, meet nomadic people, and discover the traditions of their forebears.
Here are my picks for a few of the many reasons Kyrgyzstan is so special: 
1) The Views from Torugart Pass
---
One of the most intriguing ways to enter Kyrgyzstan is by traveling from Kashgar in Western China, over the 12,000-foot-plus Torugart Pass at the China-Kyrgyz border, to Tash Rabat. At 11,500 feet, it's one of the most atmospheric places in Kyrgyzstan.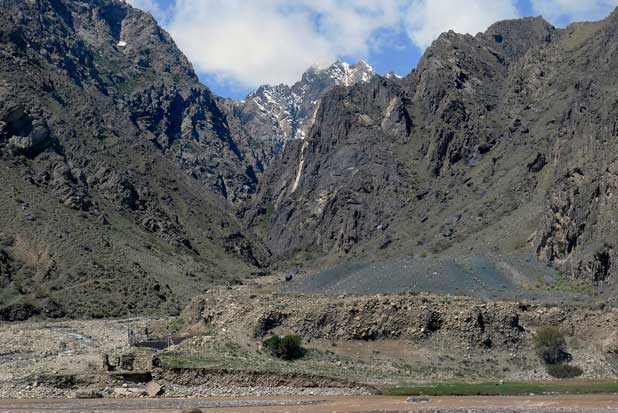 From the road you can appreciate spectacular views of rugged mountain peaks towering above deep valleys and far-away glaciers feeding blue lakes, breathing life into the region. 
2) Tash Rabat, an Ancient Silk Road Rest Stop
---
Tash Rabat is a massive stone fortress and ancient caravanserai used by 15th century Silk Road merchants and caravans as a rest stop. It's the largest stone structure in Central Asia, and its architecture is similar to that of Samarkand. The fortress contains numerous underground passages, secret exits, and underground prisons.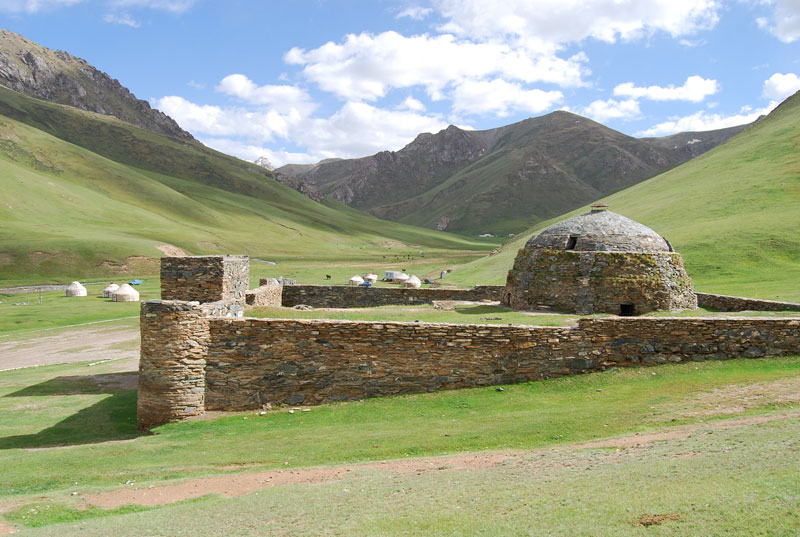 It's exhilarating to come down the pass into Kyrgyzstan and find the serene alpine pastures around Tash Rabat, grazed by herds of yaks and sheep and tended by mounted herders. The only sounds are the burbling of a mountain stream, and the low calls of the animals. And at night, the Milky Way spread across the dark sky looks close enough to touch.
(click image to view larger photo)
3) Handmade Felt in Kochkor
---
One of my favorite pastimes while exploring the Kyrgyzstan countryside is visiting the sprawling village of Kochkor, located in the flat plain of a cup-shaped valley, and spending time with resident craftswomen.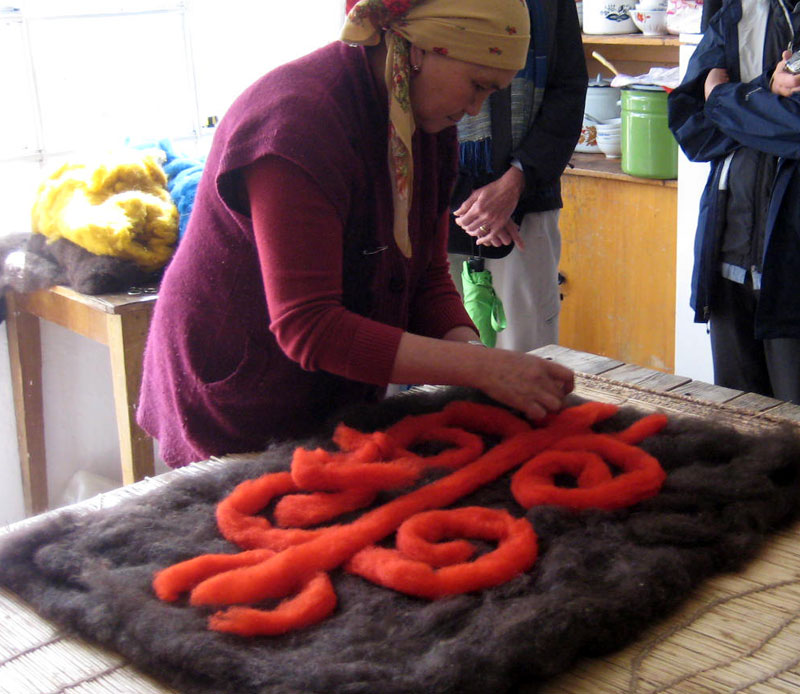 I never get tired of observing their traditional craft of felt making, a craft that has survived the centuries. Kyrgyz have always used felted wool to cover their yurts, and to make rugs, bags, slippers, and hats.
(click image to view larger photo)
4) Alluring Lake Issyk-Kul
---
A drive around the entirety of beautiful Lake Issyk-Kul is not to be missed. "Issyk-Kul" means "warm lake" because of the fact that it never freezes, despite its high elevation. It's considered to be the world's second-largest alpine lake, after Lake Titicaca in South America. Archaeological discoveries from the lake's bottom include ancient relics and graves dating back to the first millennium BC. The lake shore is dotted with little resort towns and some modern hotels.
(click image to view larger photo)
Located at the eastern tip of Lake Issyk-Kul, the town of Karakol was founded late in the 19th century as a Russian military outpost and grew as a refuge for Chinese Muslims (called Dungans) fleeing persecution in the late 19th and early 20th centuries. Many buildings here are constructed in a Chinese style from wood and without metal nails, including a lovely Russian Orthodox Church. Here, I like to visit a local Dungan Chinese Muslim family home for a meal and to hear about Dungan traditions and history. Their culture is a mix of Chinese, Muslim, Kyrgyz, and Russian customs and practices.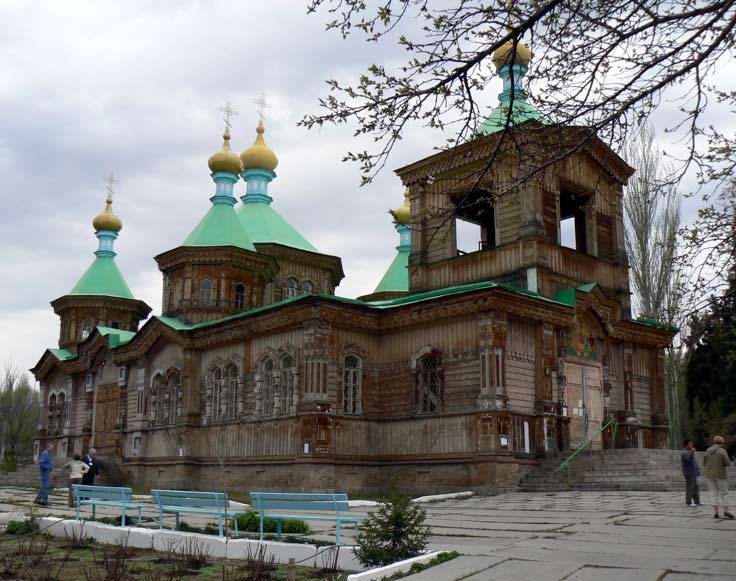 A little northeast of Issyk-Kul, the beautiful steep-sided Chon (Big) Kemin Valley runs parallel to the border of Kazakhstan between two mountain ranges. The valley's population is mostly Kyrgyz, and time-honored traditions are still practiced here including Kyrgyz horse games such as Ulak Tartysh, a sort of polo played with a goat carcass, and kurosh, wrestling on horseback.
(click image to view larger photo)
5) A Climb Up Burana Tower
---
I always make time to climb Burana Tower (one of the only remaining Silk Road watch towers in Kyrgyzstan) on the way to the capital, Bishkek. The settlement around the tower, Balasagun, was an important seat of power, and was so celebrated that Genghis Khan's Mongol horde spared it from destruction when they began to conquer the region in the early 13th century.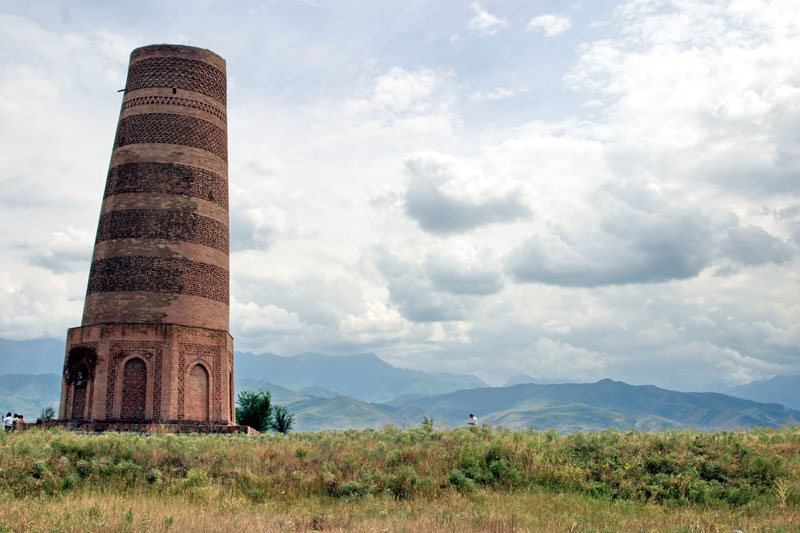 From the top, you look out on miles and miles of grassland, as well as the small museum below with its graveyard of ancient carved bal-bals, stout stone figures used as monuments.
(click image to view larger photo)
6) Kyrgyz Hospitality
---
Long-standing nomadic traditions have been woven into the way of life of the people who make their homes in this mountainous terrain. Known for their hospitality, the Kyrgyz people welcome visitors with open arms, inviting them to experience their traditions and explore their homeland.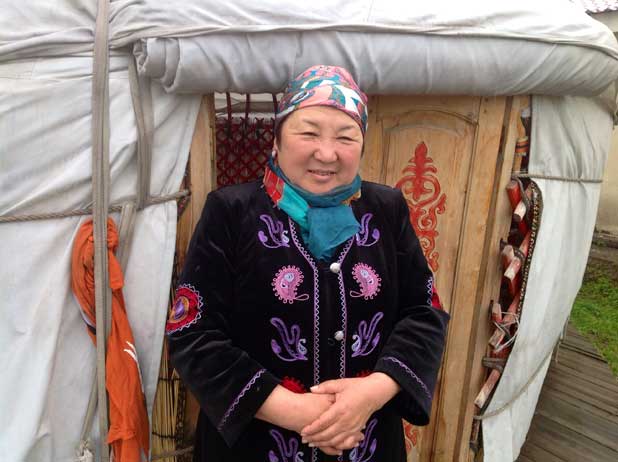 There's a hopeful, positive mood in Kyrgyzstan these days, with tourism opening up and more visitors arriving. You can see that optimism in action with a visible infrastructural investment in highways, new hotels, guesthouses springing up, and restaurants busy with patrons.
One example is a charming guesthouse in the Chon-Kemin Valley, a family-run establishment built on farmland about 80 miles from Bishkek. Everything in this sweet two-story house is handmade in a rustic bare-wood style.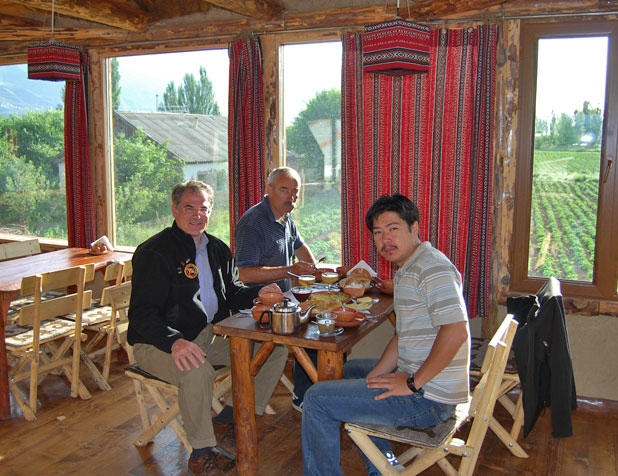 It's convenient for them, since they have their own small sawmill and cut all their own boards. The couple opened a new restaurant on the second floor, featuring organically grown local food. There are also three other separate structures with rooms and private facilities, a meeting room, and a traditional Russian banya, or steam bath.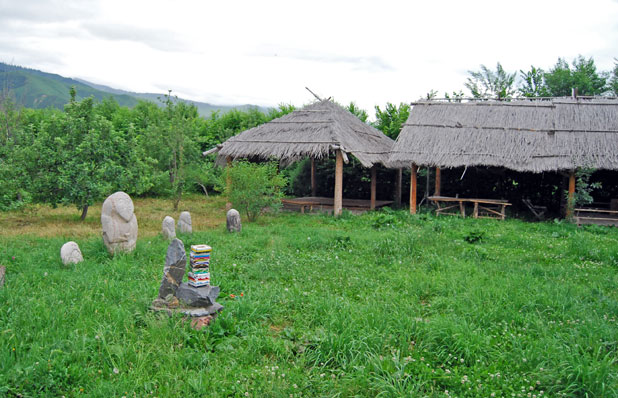 These guesthouse owners say their beginning years were challenging, but now first-time visitors are returning and spreading the word about their place. They're full of hope for the future – a very healthy indicator that reflects hope and optimism for the entire Kyrgyz nation.
Another example of tasteful innovation is found in the hills behind Bishkek. The Supara Restaurant and Ethno-Complex is a modern interpretation of a traditional yurt encampment built around seven felt and wood dwellings, where fresh local cuisine is served in your choice of brilliantly-decorated yurts. (Supara means a traditional Kyrgyz leather tablecloth.)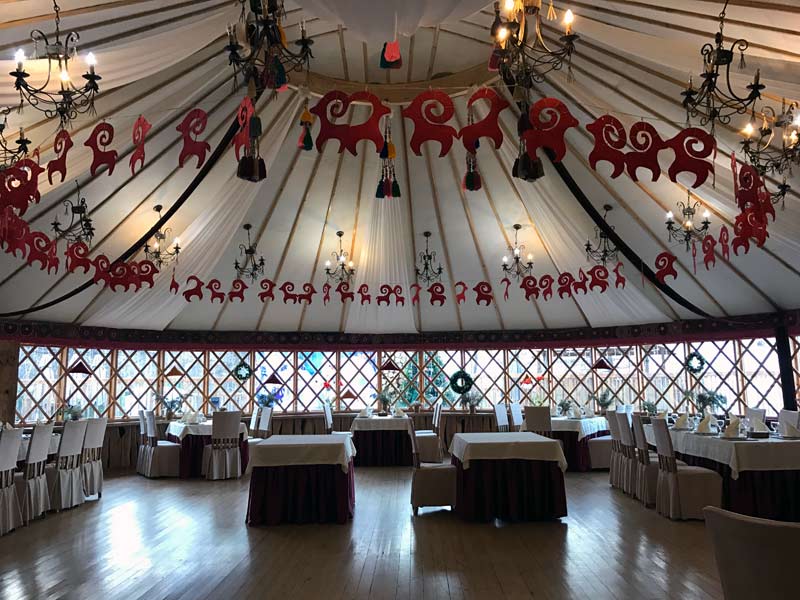 Up in the mountains about an hour away, the Supara Chunkurchak is a new specialty yurt lodge with sweeping views of the surrounding mountains and the valley below. Set at 8,000 feet, the lodge features comfortable modernized en suite yurts, and serves both regional and European cuisine.
(click image to view larger photo)
7) Outdoor Adventure, and Boorsok 
---
As Kyrgyzstan gains a reputation among adventure lovers, mountaineers, skiers, rafters, and trekkers, a new backwoods hotspot has opened up for travelers to enjoy. Near Lake Issyk-kul, the gorgeous Jyrgalan Valley is tucked into the Tersky Ala-Too Mountains at 7,500 feet. The pastoral valley is surrounded by sharply inclined peaks and watered by shallow rushing streams.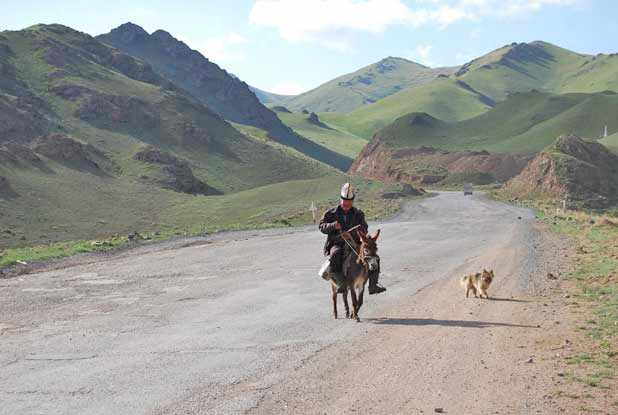 You can spend an afternoon visiting the valley, or a week trekking with horses to carry your gear. You can take a short hike among the alpine flowers, or simply drive here to visit with a Kyrgyz family and share lunch in their home. The family can show you how to make boorsok, a fragrant sweet bread fried in oil like a doughnut and served with honey or jam.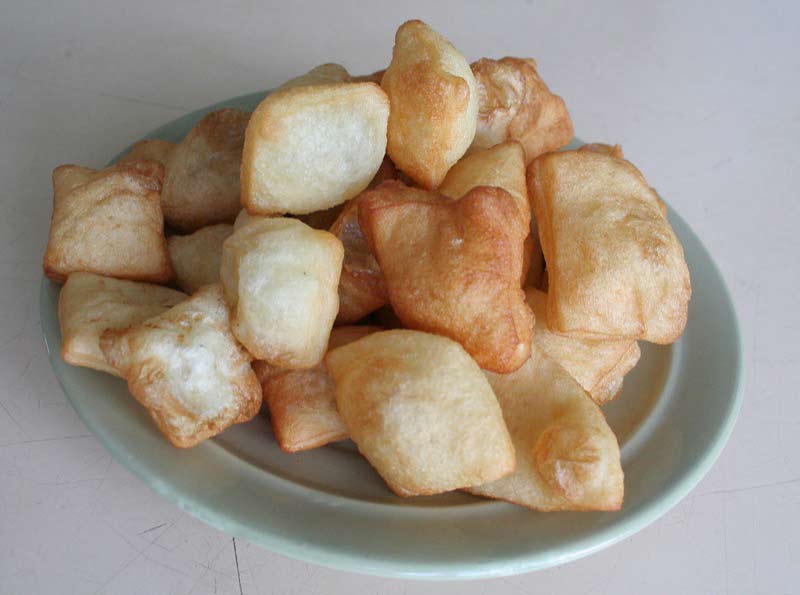 Travel to Kyrgyzstan with MIR
MIR has 30 years of experience in travel to Central Asia. Clients rave about our on-the-ground support, tour managers, dedication, and commitment to quality. MIR's destination expertise has twice earned us a place on National Geographic Adventure's list of "Best Adventure Travel Companies on Earth."
Discover the surprising mountainous landscapes of Kyrgyzstan on a MIR small group tour or private rail journey. Or try a custom, private itinerary hand-crafted to your travel interests and dates. Take a look at our Essential Kyrgyzstan itinerary which is ready-made for your private trip. You can even use it as a starting point for your own custom itinerary