The Silk Road Less Traveled from Kyrgyzstan to Tajikistan
Overview
On this itinerary, MIR takes you through rarely explored Kyrgyzstan and Tajikistan on a road trip filled with personal connections and jaw-dropping vistas. Begin in Kyrgyzstan's mountain villages, where you'll share meals and take part in the daily practices of nomadic shepherds. Then cross into Tajikistan on the Pamir Highway, one of the world's great mountain drives, where 20,000-foot peaks have earned the title Roof of the World. Along the way you'll stop at isolated villages where residents delight at meeting visitors.
MIR's experienced guides know the roads and know the people. They'll take you on an adventure you'll never forget.
Travels to: Kyrgyzstan, Tajikistan
Map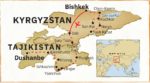 Itinerary
Days 1-4: Bishkek (Kyrgyzstan), Chon-Kemin, Son Kul

Start in Kyrgyzstan's capital, Bishkek, where visits to museums, the city's main bazaar, and a textile-designer's workshop serve as an introduction to Kyrgyz culture. Then drive to a traditional village in Chon-Kemin and get immersed in the life of the countryside, sharing meals with locals and taking part in daily rituals. Spend a night in a yurt near alpine Son Kul Lake, surrounded by the towering peaks of the Tien Shan Mountains. Witness a match of kok-boru, an intense sport on horseback originally played by medieval herders.

HIGHLIGHTS

Bishkek's State Museum of Fine Arts, featuring Kyrgyz art and handicrafts
Osh Bazaar, with its fruits, nuts, prepared foods, and brilliant Kyrgyz textiles
Taking a master class in silk and wool scarf-making
Climbing to the top of Burana Tower, one of the few remaining Silk Road watchtowers in Kyrgyzstan
Seeing a yurt raised – a process so distinctive and well engineered that it's on the UNESCO List of Intangible Cultural Heritage
A fireside performance of selections from the Epic of Manas, a traditional poem deeply rooted in Kyrgyz culture
Spending the night on alpine Son Kul Lake, surrounded by lush pastures, grazing animals, and the yurts of nomadic herders
Watching a match of kok-boru, a team sport on horseback with some similarity to polo

Days 5-7: Naryn, Tash Rabat, Kochkor, Bishkek

Drive up to the mountain town of Naryn, meet a community of Afghan Pamirs who have resettled there, and watch a demonstration of felt-making – a centuries-old craft that's falling out of common practice. Explore the well-preserved 15th century Tash Rabat caravanserai, a former highland outpost on the Silk Road that's Central Asia's largest stone structure. Return to Bishkek, stopping along the way to have lunch with a local family in the little village of Kochkor.

HIGHLIGHTS

Visiting with a community of Afghan Pamirs; resettled in Kyrgyzstan in 2017, they hold on to their own customs, including traditional dress and song, while assimilating into local life
Witnessing the dying art of traditional felt-making
A cooking demonstration of how to prepare beshbarmak, the Kyrgyz national dish, and boorsok, a fragrant, sweet fried bread
Touring Tash Rabat, a giant stone fortress and Silk Road caravanserai filled with underground passages and secret exits
Lunch with a local family in Kochkor Village

Days 8-9: Osh, Sary Tash, Murghab (Tajikistan)

From Bishkek fly to Kyrgystan's second-largest city, Osh, located in the lush Fergana Valley, and browse its lively 2,000-year-old Jayma Bazaar, one of Central Asia's largest open-air markets. Then depart on the stunning drive along the Pamir Highway. Spend the night in little Sary Tash, and then cross into Tajikistan, continuing the climb by 4WD vehicle over dramatic 14,050-foot Kyzyl Art Pass and settling in for the night in the town of Murghab. This is truly one of the world's great mountain drives, with stunning scenery at every turn.

HIGHLIGHTS

The sensory overload of Osh's fabulous Jayma Bazaar
A Kyrgyz bread baking demonstration in Osh
The breathtaking scenery of the Pamir Highway at 14,050-foot Kyzyl-Art Pass
Picnicking at high-altitude Karakul Lake, created by a meteor 10 million years ago
Murghab, the highest town in Tajikistan, with views into China

Days 10-13: Langar, Wakhan Corridor, Khorog

After crossing the Khargush Pass, the descent into the Wakhan Valley provides possible sightings of migrating nomads, Bactrian camels, and orange marmots – all with Afghanistan's Hindu Kush Mountains as a backdrop. Follow traces of the old Silk Road through the Wakhan Corridor to the town of Khorog, a path that provides its own spectacular views, flanked by the Pamirs on one side and the Hindu Kush on the other. A day in Khorog provides a break from driving and multiple opportunities to experience the local culture.

HIGHLIGHTS

More amazing mountain vistas
Stops along the Wakhan Corridor to visit hot springs, Buddhist stupas, Ismaili shrines, and ruined forts
Khorog's park-like botanical gardens, among the world's highest at an elevation of 7,600 feet
A visit to a Khorog school, with the chance to help local children practice their English
Sitting in on an evening prayer service at a jamaatkhana, a community prayer house for Ismaili Muslims
Lunch with a representative from a local NGO who shares experiences living and working in Tajikistan
Meeting artisans at the Pamiri Handicrafts Center

Days 14-18: Kalaikhumb, Dushanbe

Follow the Afghan border to the sleepy mountain village of Kalaikhumb in the Gorno-Badakhshan Autonomous Region. This isolated area, accessible only by the Pamir Highway, is spiked with 20,000-foot peaks, earning it the nickname Roof of the World. Descend to Dushanbe, the capital of Tajikistan, where two days of touring include the lively Shohmansur Bazaar; the large, modern National Museum of Tajikistan; the small but fascinating Gurminj Museum of Musical Instruments; and, outside of town, the 18th century Hissar Fortress.

HIGHLIGHTS

Gazing at "the Roof of the World" from the isolated village of Kalaikhumb
Dushanbe's covered Shohmansur Bazaar, which exemplifies the city's traditional role as a market town
Exuberant demonstrations frequently performed at the Gurminj Museum of Musical Instruments
The imposing towers of Hissar Fortress
Dates &amp Prices
Small group tour – max 12 travelers
Land tour price, per person. Based on double occupancy and minimum group size of 4 travelers.
What is a Partial Single Supplement?
2022 Dates

Tour, double occupancy

$7,995

Plus internal airfare

$100

Partial single supplement

$895

2023 Dates

Tour, double occupancy

$8,095

Plus internal airfare

$100

Partial single supplement

$895
What's Included
Tour Includes

Accommodations, as noted in the itinerary.
Most meals, as noted in the itinerary.
A daily supply of bottled water.
Arrival/departure airport transfers on the tour start/end date. MIR will arrange for all travelers to be met upon arrival and seen off upon departure whether or not we make your flight arrangements.
Ground transportation throughout tour by private van or coach. (Type of vehicle depends on group size.)
Services of experienced, English-speaking local guides, drivers, and other staff, including a MIR Tour Manager.
Guided sightseeing tours and entrance fees, as outlined in the itinerary.
Special events, excursions, and cultural performances, as outlined in the itinerary.
Gratuities to local guides, drivers, and other service personnel, including servers at group meals.
Complete pre-departure information, including detailed packing list, reading list, and Touring with MIR handbook with country-specific information, maps, and travel tips.
Final document packet, including luggage tags, final updates, and more.
Assistance booking your custom flight arrangements, on request. (Please note, international airfare is not included in the land tour cost.)
Customized visa information and instructions. (Please note, visa fees are not included in the tour price.)

Not Included

International airfare and taxes/fuel surcharges.
Meals and drinks not specified as included in the itinerary.
Single supplement (or partial single supplement where applicable), if requested or required.
Gratuities to Tour Manager.
Expenses incurred as a result of delay, modification, or extension of a tour due to causes beyond MIR's control.
Travel insurance, including cancellation, medical, and evacuation insurance.
Visa and/or passport fees, excess-baggage charges, airport departure taxes, vaccination and other medical costs.
Optional pre- or post-tour extensions.
Items of a personal nature, such as phone calls, email, laundry, and alcohol.
Baggage handling.
Activity Level
Level 4: Rigorous
This intentionally adventuresome (due to the nature of the destination) small group tour features challenging overland travel on steep, rough, single-lane mountainous roads using 4WD vehicles; and rustic accommodations, some without reliable constant electricity and/or without hot water or indoor plumbing. There are long days walking and standing while touring, a border crossing on foot while carrying/rolling your own luggage, unpaved sidewalks and streets, uneven surfaces and steps, absent handrails, significant stair-climbing, and absence of elevators. Only those very fit to travel and who are willing to accept local standards of amenities and services, and the physical challenges, should consider joining this program.
Conditions are expected to be particularly challenging in the Wakhan Corridor region of Tajikistan. Those with a history of medical problems, particularly cardiac or respiratory, must consult a doctor before considering this trip. We strongly encourage you to speak with us about any questions you may have regarding the rigors of this trip or destination when considering this tour.
Travelers must be able to walk at least two miles a day (with some hiking), keeping up with fellow travelers on a variety of terrain including through villages, on dirt paths, and the like. Some drives in steep, mountainous conditions with poor-quality roads at high elevation and without guardrails may last as long as 8-10 hours driving time (with comfort stops). A large part of the trip is at high elevations ranging from 7,000 ft to over 15,000 ft (the highest points on the itinerary are: the Kyzyl-Art Pass at 14,050 ft en route from Sary Tash to Murghab; the Khargush Pass at 14,000+ ft on the way down to Langar; and the Ak-Baital Pass at 15,270 ft). Electricity is not a reliable constant throughout the itinerary. If you rely on electricity for CPAP (continuous positive airway pressure), or for any other reason, you must have your own battery or other back-up, or please reconsider participation. In some places, established public restrooms will be Eastern-style. In other places where there are no restrooms, the group will make "bush stops."
One night is spent in a yurt/tent camp in Son Kul, Kyrgyzstan with camp-like facilities and no indoor plumbing; yurts are shared among several group members. An additional six nights are spent in homestays/guesthouses/small private hotels where sleeping accommodations may be shared with other group members and WCs will be rustic outhouses. Yurts, and even guesthouses, can be cold at night, and hot water and/or showers are often unavailable.
The border crossing may require walking up to about a half-mile while managing baggage, and bags may need to be carried rather than rolled, as the road/sidewalk surface is not always paved or smooth. Some attractions are only accessible via steep staircases with tall uneven steps, and some of the sites may involve steep steps inside narrow passageways with limited light. Elevators are not available at touring sites, nor at a few of the hotels. Air conditioning is a luxury and not available in facilities outside the capitals.
Other challenges include overall shortcomings in the tourism infrastructure of these developing destinations, including some that can cause walking challenges such as unpaved sidewalks, uneven surfaces and steps, packed-dirt streets, broken pavement (streets or sidewalks), and a general absence of handrails or ramps. Accommodations will vary widely and will include three and four-star hotels in Bishkek, Khorog, Kalaikhumb, and Dushanbe (collectively 10 nights) with small hotels, homestays, yurts, and other rustic accommodations elsewhere. When using small properties with limited capacity, it is possible the group will be split between two different properties. Past travelers have also encountered challenges with plumbing, bureaucratic service, variety of locally available foods, and availability and quality of public restrooms.
Gallery