error_outline
Flexible Private Trip — Book Your Dates for You & Yours
Mountains & Markets
Overview
A trip to secluded Tajikistan is as pure a taste of Central Asia as you're likely to find anywhere. In its ancient cities and beautiful mountain-wreathed countryside, international tourists are largely a novelty, welcomed with wonder at bustling colorful bazaars, historic mosques and madrassahs, and rustic country guesthouses. On this itinerary, authentic adventure and genuine cultural exchange aren't just easy to find – they're hard to avoid.
Travels to: Tajikistan
Map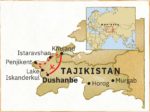 Itinerary
Days 1-2: Dushanbe

In Dushanbe, Tajikistan's capital, tour the lively Shohmansur Bazaar; the large, modern National Museum of Tajikistan; the small but fascinating Gurminj Museum of Musical Instruments; and, outside of town, the 18th century Hissar Fortress.

HIGHLIGHTS

Dushanbe's covered Shohmansur Bazaar, which exemplifies the city's traditional role as a market town
Exuberant performances by the staff at the Gurminj Museum of Musical Instruments
The imposing towers of Hissar Fortress

Days 3-4: Iskanderkul, Penjikent

Journey overland through plunging Varzob Gorge and over 11,000-foot Anzob Pass to lovely turquoise Iskanderkul (Alexander Lake). Continue to the town of Penjikent, the site of a major archaeological dig.

HIGHLIGHTS

Gusgarf Waterfall in deep Varzob Gorge
Iskanderkul, a high-altitude lake ringed by craggy mountain peaks
The early medieval remains of a citadel, private homes, and two Zoroastrian temples at Penjikent's archaeological site
Penjikent's Rudaki Museum of History and Regional Studies, which holds frescoes from the archaeological site

Days 5-8: Istaravshan, Khujand, Dushanbe

Cross the Shahriston Pass on the way to the 2,500-year-old town of Istaravshan. Stroll its winding alleys and visit Kuk Gumbaz, a beautiful 16th century mosque and madrassah. Continue to Khujand, Tajikistan's second-largest city, located in the lush Fergana Valley. A square in its Old Town is home to the historic Muslihiddin Memorial Complex and Panjshanbe Bazaar, one of Central Asia's most atmospheric markets. Fly back to Dushanbe for a final night and a farewell dinner.

HIGHLIGHTS

The classic blue dome and intricate tile work of Kuk Gumbaz, Tajikistan's only example of Timurid architecture – the style that predominates in Samarkand
The famed knife makers of Istaravshan, whose wares are for sale in the local bazaar
Muslihiddin Memorial Complex, which includes a 16th century mosque, a 19th century minaret, and the 12th century mausoleum of revered leader and poet Muslihiddin Khunjandi
Pink-painted Panjshanbe Bazaar, a large, lively covered market
Dates &amp Prices
Please note:
Private trip prices vary by season and are subject to hotel availability for your travel dates.
Listed prices below are based on double occupancy and a 2-traveler minimum.
Hotel upgrades, additional nights, and solo traveler prices are available on request.
Land tour price, per person, starting from:
2023 Dates

Available: April - October

Tour, double occupancy

$3,525

Plus internal airfare

$125
What's Included
Tour Includes

Shared accommodations as noted in the itinerary. Contact MIR for hotel upgrade prices.
Meals, as noted in the itinerary.
Restaurant tips for included meals.
One arrival and one departure transfer. Additional arrival and departure transfers available at additional cost.) MIR will arrange for travelers to be met upon arrival and seen off on departure, whether or not we make your air arrangements.
Ground transportation throughout itinerary by private vehicle (type of vehicle depends on number of travelers in your group).
Services of experienced, English-speaking local guides, drivers, and other staff, as noted in the itinerary.
Guided sightseeing tours and entrance fees, as outlined in the itinerary.
Special events, excursions, and cultural performances, as outlined in the itinerary.
Complete pre-departure information, including detailed packing list, reading list, and Touring with MIR handbook with country-specific information, maps, and travel tips.
Final document packet, including luggage tags, final updates, and more.
Assistance booking your custom flight arrangements, on request. (Please note that international airfare is not included in the land tour cost).

Not Included

International airfare and taxes/fuel surcharges.
Internal airfare. (Internal airfare is quoted separately and subject to change by airlines).
Meals and drinks not specified as included in the itinerary.
Single supplement if requested or required.
Baggage handling.
Gratuities to local guides, drivers, porters, and other service personnel.
Expenses incurred as a result of delay, modification, or extension of a tour due to causes beyond MIR's control.
Travel-related insurance including cancellation, medical, and evacuation insurance.
Visa fees, excess-baggage charges, airport departure taxes, vaccination and other medical costs.
Optional pre- or post-tour extensions.
Items of a personal nature such as phone calls, email, laundry, and alcohol.
Activity Level
Level 3: Medium, but Customizable
This 'Essential' itinerary designed for private travel features long days walking and standing, some rustic accommodations, some long days of overland travel, some stair climbing, unpaved sidewalks and streets, uneven surfaces and steps, absent handrails, and lack of elevators. While some of these challenges are inherent in the destinations and sites, as one of our Essential Series programs this trip can be modified as needed for those travelers who are looking for a less challenging (or more challenging) program.
There is a significant amount of touring on foot, and those travelers planning to take the program as written should be able to walk one to two miles a day comfortably. Footing can be an issue and travelers should be able to negotiate streets of packed dirt, cobblestones, uneven surfaces (possibly steep and/or wet), and deal with situations without handrails or ramps. Accommodations in rustic guesthouses and/or homestays may feature shared outdoor WC facilities, and may not offer showers. The accommodations at Lake Iskander Kul are listed as "Tourist Bungalow," but are not freestanding private buildings – the usual configuration is more akin to a ground-level motel, with a line of adjacent private rooms each accessed directly from outdoors. Some attractions are only accessible via steep staircases. Museums and hotels rarely have elevators.
Past travelers have encountered challenges with bureaucratic service, road conditions, plumbing, unpaved sidewalks, uneven surfaces and steps, variety of locally available foods, and availability and quality of public restrooms. Accommodations in the basic program will vary from tourist class hotels to more basic homestays and/or guesthouses. Upgrades may be available in some cities, please call for details. Air-conditioning is a luxury and may not be available.
Gallery