error_outline
Russia tour sales suspended
The Gobi Desert, A Country Naadam Celebration, Lake Baikal
Overview
This adventure is filled with experiences that should be on any intrepid traveler's bucket list. With MIR's expert guides leading the way, you'll explore the spectacular landscape of the Gobi Desert; attend a Naadam Festival, Mongolia's biggest celebration of the year dating back to the days of Genghis Khan; ride on the legendary Trans-Siberian Railroad; and take a boat out onto Lake Baikal, the world's deepest freshwater lake, looking for a species of seal found only there. Along the way you'll have signature MIR experiences – drinking tea with nomads, riding a camel through the Gobi, meeting the dogs at a husky training center, taking a banya, and much more.
Map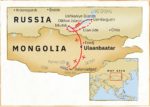 Itinerary
Days 1-2: Ulaanbaatar (Mongolia)

The trip begins in Mongolia's capital and largest city, Ulaanbaatar. Here you'll tour the monumental Gandan Monastery and learn about the traditional nomadic culture of the region at the National History Museum.

HIGHLIGHTS

The main temple of the Gandan Monastery, which houses an 85-foot-tall, 20-ton, gold-gilded statue of Migjid Janraisig, a Buddhist bodhisattva
The National History Museum's extensive collection, ranging from petroglyphs to traditional costumes to correspondence between the pope and Genghis Khan

Days 3-6: Gobi Desert, Country Naadam Festival

Make the one-hour flight from Ulaanbaatar to Dalanzadgad and transfer to Three Camel Lodge, Mongolia's premier eco-lodge, where you'll spend three nights in a well-appointed ger (a traditional yurt) while exploring the Gobi Desert.  Adventures include touring Togrogiin Shiree and the Flaming Cliffs, two major paleontological sites; sharing tea with a nomad family; looking for ibex, snowcocks, golden eagles, and the other wildlife that inhabit shady Yolyn Am Canyon; and riding a camel over the sand dunes of Moltsog Els. On the final full day, attend a country Naadam Festival – a joyous annual competition held throughout Mongolia that showcases traditional wrestling, horse racing, and archery.

HIGHLIGHTS

Togrogiin Shiree, where the famous "Fighting Dinosaurs" fossils were uncovered
The luminescent Flaming Cliffs, one of the world's most renowned paleontological sites where dinosaur eggs were discovered by Roy Chapman Andrews, a real-life inspiration for Indiana Jones
The wildlife of cool Yolyn Am Canyon
Sharing tea with a nomad family and riding a camel with a local herder
Attending a country Naadam Festival, Mongolia's annual summer celebration

Days 7-10: Irkutsk (Russia), Listvyanka

Fly from Ulaanbaatar to Irkutsk to begin the Siberian part of the itinerary. A tour of this surprisingly sophisticated little city includes a classical music performance at the Decemberist House Museum, one of Irkutsk's best-preserved historic homes. Continue to the town of Listvyanka, set along the shores of UNESCO-listed Lake Baikal, the world's deepest and oldest freshwater lake. Learn about the lake's unique ecosystem at the Baikal Museum, where an aquarium is home to two nerpas – a species of freshwater seal found only at the lake. Then get out on the water with a private cruise that follows the cliff-hugging path of the old Circumbaikal Railway.

HIGHLIGHTS

The Decembrist House Museum, the preserved home of one member of a group of failed 19th century revolutionaries who settled in Irkutsk following their terms in Siberian labor camps
Little Listvyanka village and its Baikal Museum, which includes aquariums displaying the lake's unique marine life
A private cruise of Lake Baikal, with stops to examine the tracks and tunnels of the beautifully situated Circumbaikal Railway
The 166-acre Wooden Architecture Museum, a collection of authentic Russian and indigenous buildings from the 17th to the 20th century
A visit to Husky Hut, Listvyanka's training center for Siberian huskies
An optional banya – an authentic Russian steam bath – in Listvyanka

Days 11-12: Trans-Siberian Railway, Ulan Ude

From Irkutsk, board the legendary Trans-Siberian Railway and travel along one of its most scenic stretches leading to Ulan Ude, capital of Russia's Buryat Republic. Stop in at the local market and then tour Ivolginsk Datsan, the center of Buddhism in Russia where young llamas from all over the country come to live and study. Make a trip outside of town to visit a village of Old Believers – a religious group that rebelled against changes to the Orthodox liturgy in 1652 and were exiled to Siberia. In their isolated enclaves, they've preserved 17th century styles of clothing, architecture, and music. UNESCO includes this unique community on its List of the Intangible Cultural Heritage of Humanity.

HIGHLIGHTS

A ride on the Trans-Siberian Railway, passing through taiga (subarctic forest) and stopping at small villages
The main temple of Ivolginsk Datsan, filled with decorative silks, painted woodwork, and precious stones
A home-cooked dinner with a group of Old Believers

Days 13-16: Ust-Barguzin, Olkhon Island, Irkutsk

Return to Lake Baikal, winding through Zabaikalsky National Park – which includes the eastern shores of the lake and the southern Barguzin Mountains – and ending the day with a homestay in the fishing village of Ust-Barguzin. Boat across Lake Baikal to search for freshwater seals around the Ushkaniye Islands, and then spend the night on Olkhon, Baikal's largest island, where the indigenous Buryats believe the lake's gods live. Ferry back to the mainland, return to Irkutsk, and mark the trip's final night with a farewell dinner.

HIGHLIGHTS

Zabaikalsky National Park, a preserve for the natural beauty of Lake Baikal's eastern shores
Getting a taste of local hospitality through dinner and an overnight with a family in the fishing village of Ust-Barguzin
A boat ride to the Ushkaniye Islands to look for nerpas, Lake Baikal's freshwater seals
Overnight on Olkhon Island, sacred to the local Buryats
Dates &amp Prices
Small group tour – max 16 travelers
Land tour price, per person. Based on double occupancy and minimum group size of 6 travelers.
2023 Dates

Tour, double occupancy

$9,395

Plus internal airfare

$700
What's Included
Tour Includes

Accommodations, as noted in the itinerary.
Most meals, as noted in the itinerary.
A daily supply of bottled water.
Arrival/departure airport transfers on the tour start/end date. MIR will arrange for all travelers to be met upon arrival and seen off upon departure whether or not we make your flight arrangements.
Ground transportation throughout tour by private van or coach. (Type of vehicle depends on group size.)
Services of experienced, English-speaking local guides, drivers, and other staff, including a MIR Tour Manager.
Guided sightseeing tours and entrance fees, as outlined in the itinerary.
Special events, excursions, and cultural performances, as outlined in the itinerary.
Gratuities to local guides, drivers, and other service personnel, including servers at group meals.
Complete pre-departure information, including detailed packing list, reading list, and Touring with MIR handbook with country-specific information, maps, and travel tips.
Final document packet including luggage tags, final updates, and more.
Assistance booking your custom flight arrangements, on request. (Please note, international airfare is not included in the land tour cost.)
Customized visa information and instructions. (Please note, visa fees are not included in the tour price.)
Train tickets along the Circumbaikal Railway from Irkutsk to Ulan Ude; Boat transportation on Lake Baikal

Not Included

International airfare and taxes/fuel surcharges.
Meals and drinks not specified as included in the itinerary.
Single supplement (or partial single supplement where applicable), if requested or required.
Gratuities to Tour Manager.
Expenses incurred as a result of delay, modification, or extension of a tour due to causes beyond MIR's control.
Travel insurance, including cancellation, medical, and evacuation insurance.
Visa and/or passport fees, excess-baggage charges, airport departure taxes, vaccination and other medical costs.
Optional pre- or post-tour extensions.
Items of a personal nature such as phone calls, email, laundry, and alcohol.
Internal airfare. (Internal airfare is quoted separately and subject to change by airlines.)
Activity Level
Level 4: Rigorous
This intentionally adventuresome small group tour features a variety of challenging transportation modes, which include overland travel sometimes on rough/unpaved roads, local trains, domestic and regional flights, and a day trip by boat. There is also a significant amount of touring on foot, managing your own bags to and from hotels, and some rustic accommodations. If you rely on electricity for CPAP, or for any other reason, you must have your own battery or other back-up, or please reconsider participation. Only those fit to travel and who are willing to accept local standards of amenities and services and the physical challenges of the program should consider joining.
Travelers must be able to walk at least 2 miles a day while keeping up with fellow travelers on a variety of terrain including packed dirt (muddy when wet) and some light hiking over uneven terrain. Drives in rural Mongolia, and to some extent in rural Russia, involve bumpy driving over rough, dusty, and unpaved roads in basic vans or off-road vehicles. In cities, particularly in Ulaanbaatar, high traffic volumes and traffic jams should be expected. Train travel challenges include potential problems getting on and off trains: there may be low platforms, steep steps, and/or gaps between the platform and the train. Domestic and regional flights are highly subject to change, and odd-hours flights (early a.m. and overnight flights) are to be expected. For part of the Lake Baikal program, travel is by boat; and travelers should expect steep and potentially slick gangways, the possibility of rough water, doorways with raised thresholds, and steep stairwells within the vessel. One night is spent in a rustic homestay at Lake Baikal (with outhouses and shared banya-style bathing facilities); three nights are spent in ger camps in Mongolia.
Some attractions are only accessible via steep staircases with tall, uneven steps, and some of the sites may involve steep steps inside narrow passageways with limited light. Elevators are not available at touring sites, nor at some of the hotels.
Other challenges include overall shortcomings in the tourism infrastructure of these remote destinations, including some that can cause walking challenges such as unpaved sidewalks, uneven surfaces and steps, packed-dirt streets, broken pavement (streets or sidewalks), and a general absence of handrails or ramps. Accommodations vary from three or four-star properties to ger camps and homestays as noted above. Past travelers have also encountered challenges with plumbing, bureaucratic service, variety of locally available foods, and availability and quality of public restrooms.
Gallery