My Favorite Moments From Mongolia's Golden Eagle Festival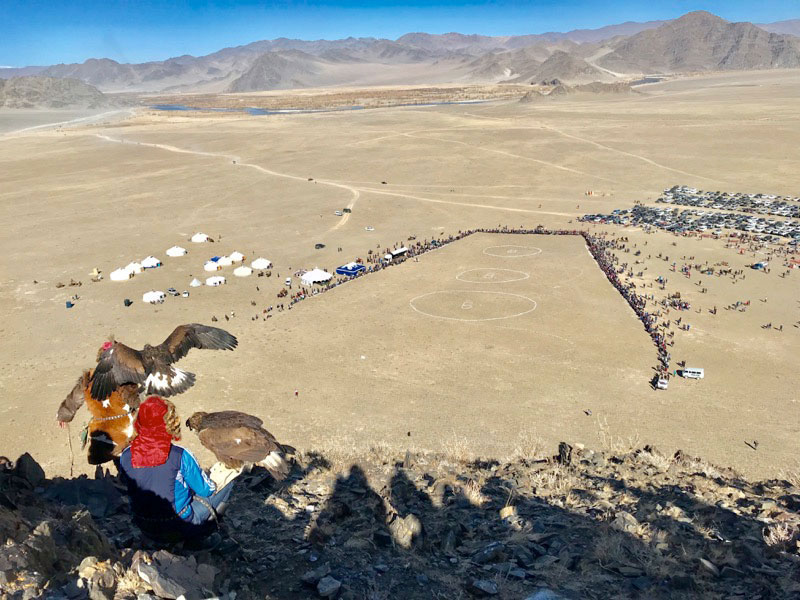 ---
Michel Behar, with his plethora of languages and profusion of colorful neckties, is one of MIR's most popular tour managers. He's led multiple tours to each of the countries in MIR's portfolio, and has a loyal following of travelers who appreciate his wit and wisdom. Here he takes a moment from his busy tour schedule to share some of the reasons he loves traveling to Mongolia and attending its one-of-a-kind Golden Eagle Festival.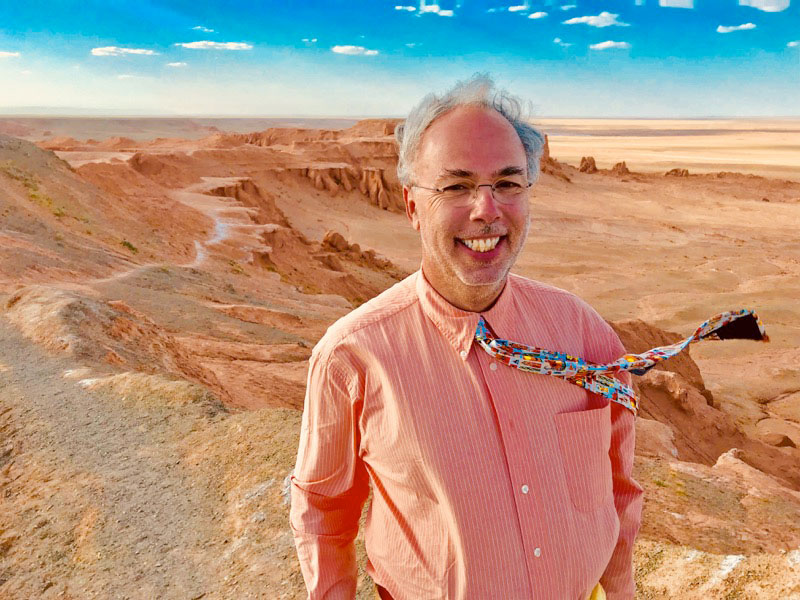 ---
I was delighted to have had an opportunity to lead MIR's Mongolia's Golden Eagle Festival small group tour and to attend the country's Golden Eagle Festival – an annual gathering in the far west of Mongolia where a group of ethnic Kazakhs have kept alive a 6,000-year-old tradition, hunting with magnificent golden eagles.
I love to travel to Mongolia because, even though parts of it are changing, nomads and pastoralists still roam the wide-open spaces, living in the temporary gers that dot the land.
On the Mongolia's Golden Eagle Festival small group tour, we go way beyond even these remote places to experience an amazing event that few travelers have seen. My time on this tour was the highlight of my travels last year.
Here's why I love Mongolia's Golden Eagle Festival:
1. The Eagle Aristocracy on Parade
---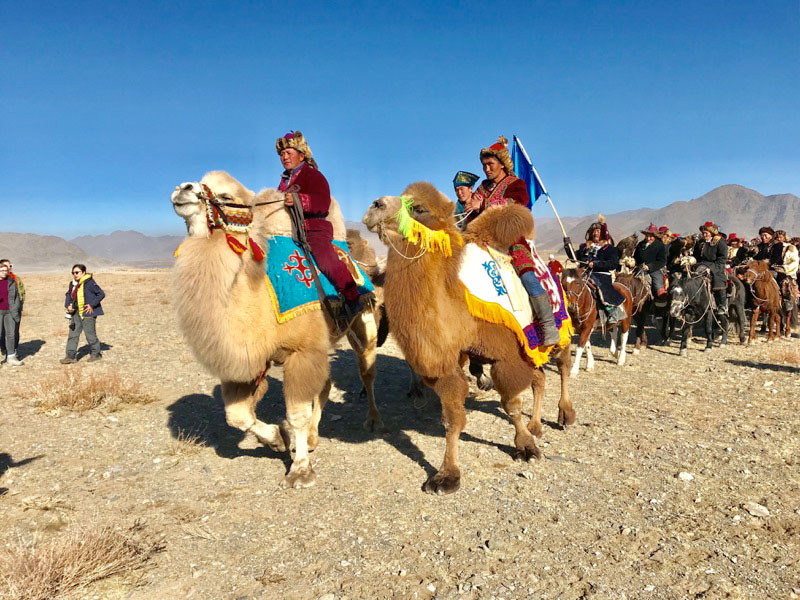 The festival started with a parade of proud men, a few women, and children of all ages on horses and camels with hooded eagles; some 120 eagle hunters participated this year. Back in the 1990s there were only 40 eagle families left worldwide, but growing awareness of the festival has sparked a renaissance of the traditional art.
The hunters are resplendent in their hand-crafted fur jackets, embroidered robes, and traditional hats, with their eagles balancing on their arms – also decked out in hand-made hoods and braided rawhide leashes. A prize is usually given to the hunter and bird with the finest attire and gear. Travelers and local spectators, standing in a horseshoe shape around the eagle landing field, cheer and applaud for the hunters, the birds, and their regalia.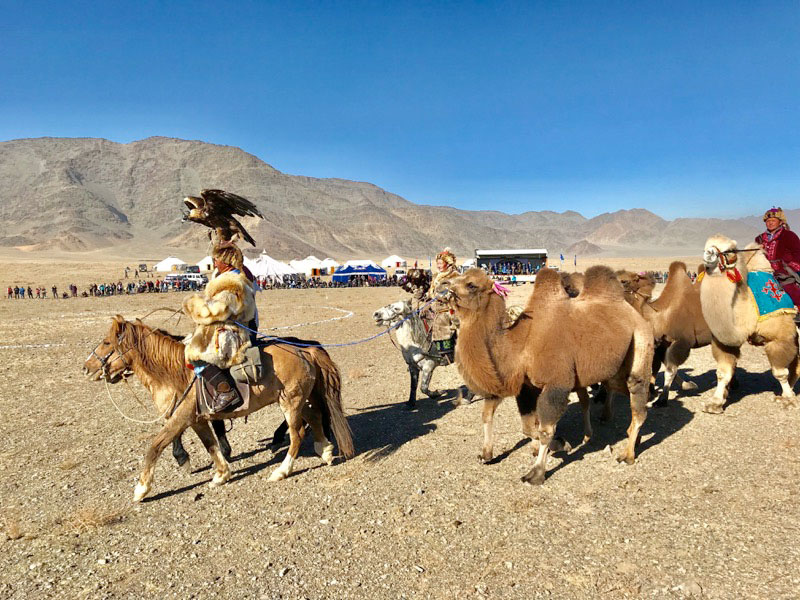 2. The Main Event: Eagles at Work
---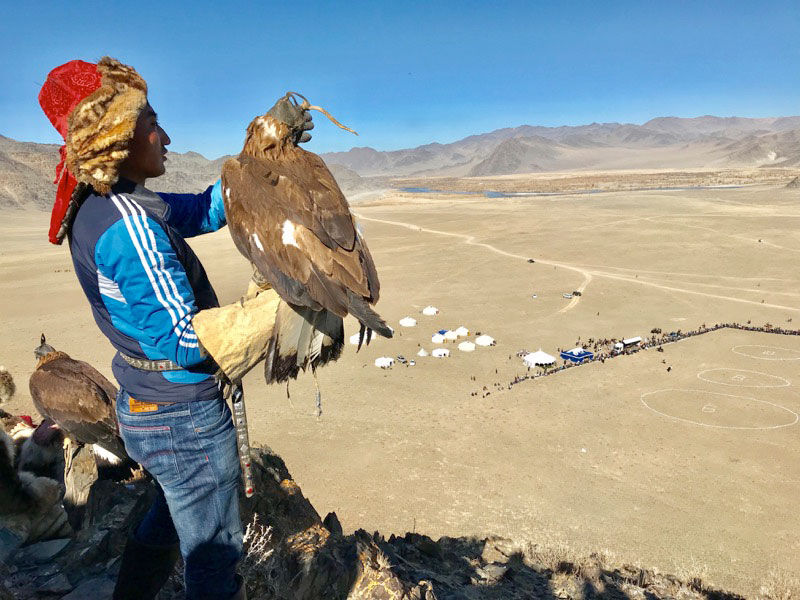 Dozens of eagle hunters gathered on the jagged 400-foot cliff overlooking the festival grounds, and released their birds. The eagles have been trained to catch a fox pelt that is being dragged.
We could choose whether to observe from up on the cliff or from down below. A few hardy hikers and I climbed to the top and sat on jagged rocks to get photos of the eagle hunters as they waited their turns to perform, but most of our travelers stayed below. Both were prime viewing areas.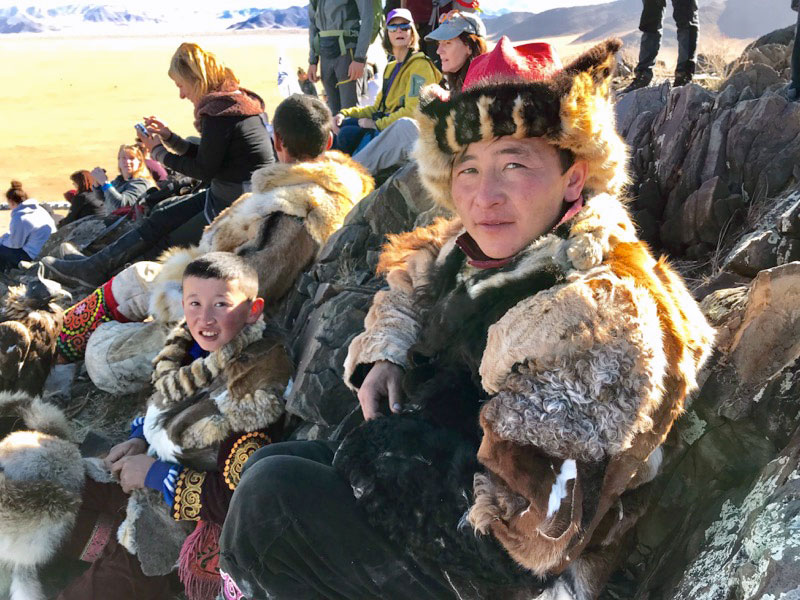 From up there we saw the eagles launching from the arms of their handlers and heard the swish of their enormous wings as they took off, then dove for the ground. From the ground, travelers could see the birds hitting their targets.
At the end of the first day, anxious eagle hunters gathered at the jury to see the judges' list and find out whether they qualified for the second round.
(click image to view larger photo)
3. Festival Games
---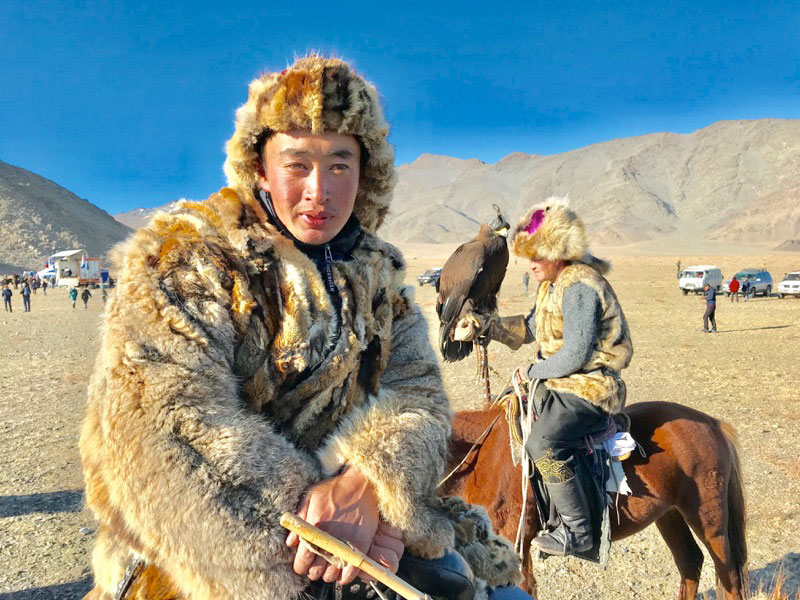 During breaks in the eagle events, the local people competed in camel racing and archery, as well as horse games. These included Tenge Ilu, or "coin-snatching," in which a rider leans down from his mount to sweep coins off the ground at a full gallop. Since Mongolia no longer mints coins, sometimes the coins are replaced by swatches of fabric.
Another traditional horse game we saw is called Kyzguar, which evolved from bride-chasing, in which young men and women chase each other on horseback. And of course, there's the rough-and-ready ancient Central Asian polo-type game called Kok Bar in Mongolia in which two teams struggle over a goat carcass, trying to carry it across the other team's goal line.
4. The Award Ceremony
---
At the end of the second and final day, the winners in each category received envelopes with money, medals and a diploma, and the eagle-hunting winner was granted a golden cup.
Dressed in their best festival attire, the winners were surrounded by friends, family, and cheering fans as they rode off with their prizes.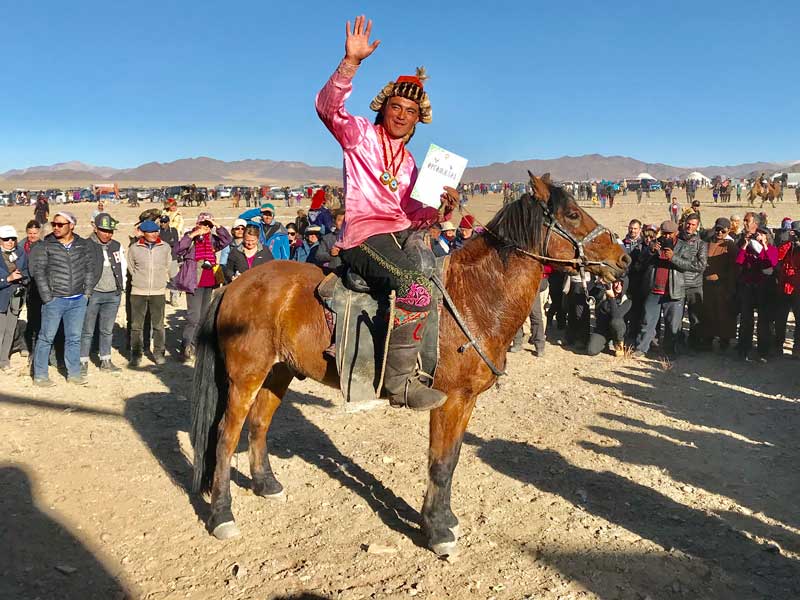 5. Closing Ceremony
---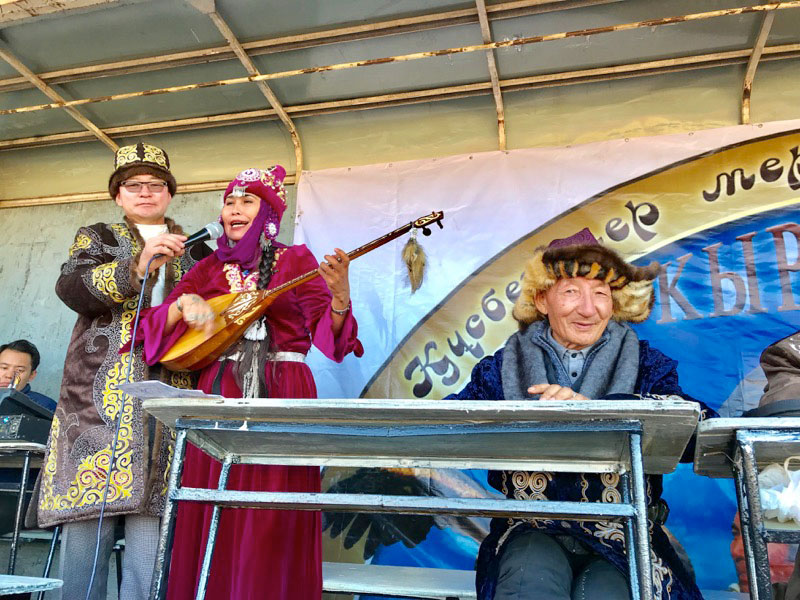 The festival concluded with a wonderful concert of Kazakh songs and music, which I found to be even more traditional than any I have heard in Kazakhstan itself. Costumed dancers and singers responded to musicians playing traditional instruments in an age-old celebration of life.
Beyond the Golden Eagle Festival: More Signature Experiences in Ulgii
---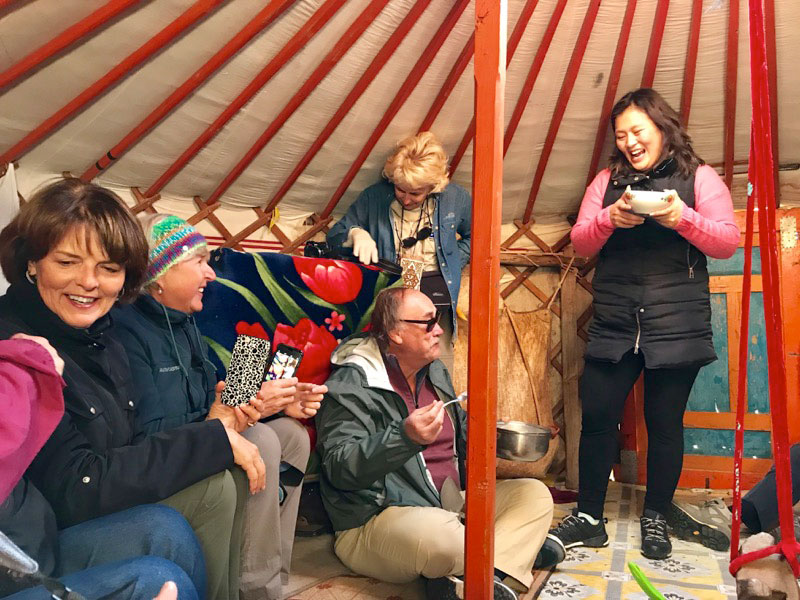 The Golden Eagle Festival is held every year in Ulgii, in the westernmost province of Mongolia. We spent three days in this remote and isolated little town. Here are some of the other enriching experiences we had while we were there.
Met up with Chaimurad, the winner of the 2016 Eagle Festival in 2016, and his friends.
Visited a Kazakh nomadic family home where we were welcomed with plenty of traditional snacks and hot tea.
Chatted with Kazakh women collecting firewood around the ger camp and families with eagles passed by on their way to the festival, stopping to be photographed.
Enjoyed gourmet candle-lit dinners at the restaurant ger.
Met with an ak sakal (literally, white beard), his daughter, and his wife. This tribal elder has a high standing and advisory role among his people. He met us dressed in a traditional blue outfit adorned with medals and skullcap. They served us tea and a table full of snacks, showing the hospitality of the steppe.
(click image to view larger photo)
Travel to the Mongolian Golden Eagle Festival with MIR
MIR has more than 30 years of experience handcrafting tours to Mongolia. Our full service, dedication, commitment to quality, and destination expertise have twice earned us a place on National Geographic Adventure's list of "Best Adventure Travel Companies on Earth."
Experience the extraordinary art of eagle hunting firsthand on MIR's celebratory small group tour, Mongolia's Golden Eagle Festival. With MIR veteran tour manager Michel Behar leading the way in 2022, travelers will fly to the remote Mongolian outback to attend the annual Golden Eagle Festival, where the eagle hunters display their birds' speed, skill, and training, as well as the deep bond that forms between bird and human. Along the way explore the remote Gobi Desert, the busy capital city of Ulaanbaatar, the high steppe of Mongolia, and Terelj National Park.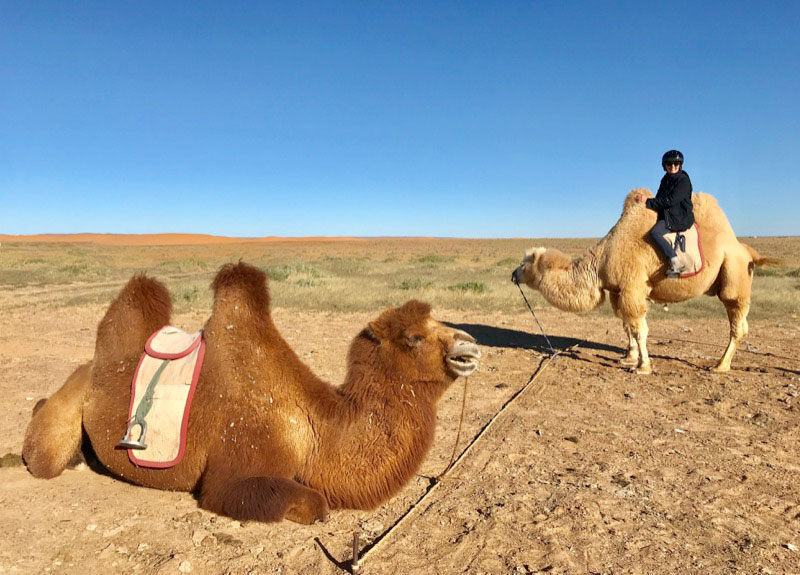 ---
Chat with one of our destination specialists today!
---