Traveler Spotlight: What It's Like to Travel to Dubai Right Now
Dubai reopened to tourism, including travelers from America, on July 7, 2020, allowing travelers from all normally permitted countries to visit. This country continues to draw travelers who, even during these times, are so called "addicted" to the mysterious technologies of the future.
In February 2021 Luba Rudenko, director of MIR's affiliate Kyiv Office, and her husband visited Dubai on a part business-part pleasure trip. Here are their insights into traveling to Dubai right now.
How is it traveling these days?
Luba: Having not travelled internationally for over a year, we were very tempted by the opportunity to travel to Dubai, despite the COVID restrictions. The UAE requires a negative COVID test performed within 72 hours of arrival in order to enter, so I researched state-approved laboratories in Ukraine where we could get tested. The test cost was $28 here in Kyiv.
We easily booked our flights with FlyDubai for the 15th of February. The morning of the 14th, we went to our selected lab to get the COVID test, and it only took about 20 minutes for both of us. The procedure was very simple: show your passport and give samples for the test. Afterward, we received a form from the reception desk and made sure that all of our personal information was correct. In less than 12 hours we received two emails – our tests were negative!
The next day on February 15th, we dropped by the testing center to collect our test results on the way to the airport. It is very important to have the original test results affixed with an official stamp (everything in Ukraine has to have a 'stamp') and signature from the testing center. And the document has to be issued in the English language.
What was it like at the airports?
Luba: Upon arrival at the airport in Kyiv, we were surprised by how few travelers there were. Our flight to Dubai was at 11:30 pm. At the check-in desk, the airport representative checked our COVID test document before issuing our boarding passes. After that, we passed very quickly through security and passport control. In the waiting area, there was only one cafe working that evening, as there were only two flights that night. However, all duty free shopping areas were open.
When the time came to board the plan, we noticed that our flight was quite full. But boarding went very quickly. Almost all seats were taken on the Boeing 737-800 plane.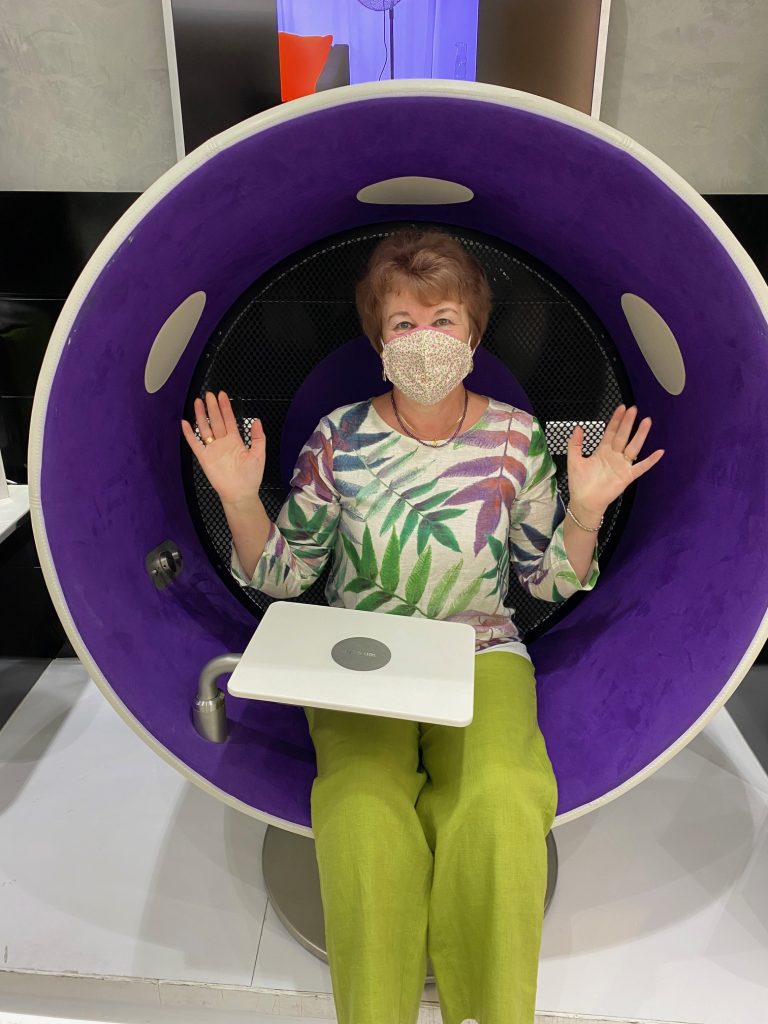 In Ukraine, face masks are mandatory in all public places. So from the time we entered the airport and during the entire 5-hour flight, we had our masks on. When I fell asleep during the flight, my mask slid down my mouth a bit and the flight attendant asked my husband to wake me up so that I could fix my mask so it fit properly. Passengers were only allowed to take their masks off during the in-flight meal.
What was it like entering and leaving Dubai?
Luba: Upon arrival to Dubai at 6:00 in the morning, we were directed to a testing area to get another COVID test. (Travelers from some countries, including Ukraine, are required to take another COVID test upon arrival in Dubai.) But Emirates paid for the COVID testing upon arrival, so it wasn't a problem. The procedure was very similar to the one we went through in Ukraine. The airport staff asked for our COVID test document from Ukraine and then filled out an e-form in English by scanning our passport data and inputting our email. Then the test was done and we moved to passport control and the luggage claim area.
We passed through all of the airport procedures quite quickly, and we realized that traveling now (even with COVID restrictions) is a rather advantageous time as there were not that many travelers at the Dubai airport.
We flew back to Dubai on February 25th and had to two options to take the COVID test needed to return to Ukraine: either get the test done in Dubai 48 hours prior to arrival to Kyiv, or to have it done upon arrival at the Kyiv airport. We went with the second option, as I wanted to experience how it was done at the Kyiv airport. Everything went fine. We took another COVID test upon arrival at the Kyiv Boryspil airport ($32) and received confirmation that the test was negative by lunch time the next day.
What was it like traveling in Dubai as a tourist right now?
Luba: When we arrived in Dubai, a driver from our hotel met us at the airport to take us to the Hilton Ras Al Khaimah Beach Resort, where we had decided to spend the leisure portion of our trip. It is located about 120 km from Dubai. We checked in and went to bed right away, as we were rather tired after the overnight flight.
The next morning we received our negative test results from the COVID test at the Dubai airport, and were again very happy to be negative. The next five days relaxing at the resort were wonderful. One of the nicest things was the lack of people, though we did see an Indian wedding taking place at the hotel. It was a great cultural experience for us.
For the majority of our time at the resort, it was very peaceful and quiet with very few guests. But towards the end of our stay, which fell on a weekend, more guests started to arrive.
After spending five days at the beach resort, we headed back to Dubai and checked in to the Jumeirah Emirates Towers Hotel for the business portion of our trip. We stayed on the 44th floor with a great view, and even got a complimentary room upgrade due to the lack of guests! The occupancy rate at the time of our stay was approximately 50%, and was so high only because of the 2021 Gulfood Expo that was taking place about 1.5 km from the hotel.
In my opinion, the way that Dubai has been planned and designed requires you to take a taxi no matter where you go. But I, being a professional guide, like to explore new places by walking around. One morning we decided to take a walk to the ExpoCenter and came across "the wild peacock settlement," a three-minute walk from the hotel.
This was my 5th visit to Dubai, the first of which was in 1992. Every time I visit, I experience new feelings and can see new progress in the growth of the city. A new attraction in Dubai for me this time was a visit to the "The Dubai Frame" – a representative landmark of modern Dubai which separates the old and new parts of the city.
How was the food?
Luba: Our breakfast was included at the Hilton Ras Al Khaimah Resort. Instead of a traditional buffet set-up where you can grab what you want on your own, the buffet area was taped off with red and white stripes. You could go only as far as the stripe, then would point to what you wanted. A waiter would then take your plate and put the selected food on it. The same with drinks, fruit, deserts, etc. The variety of dishes was amazing with a lot of choices. And all hotel personnel were wearing masks.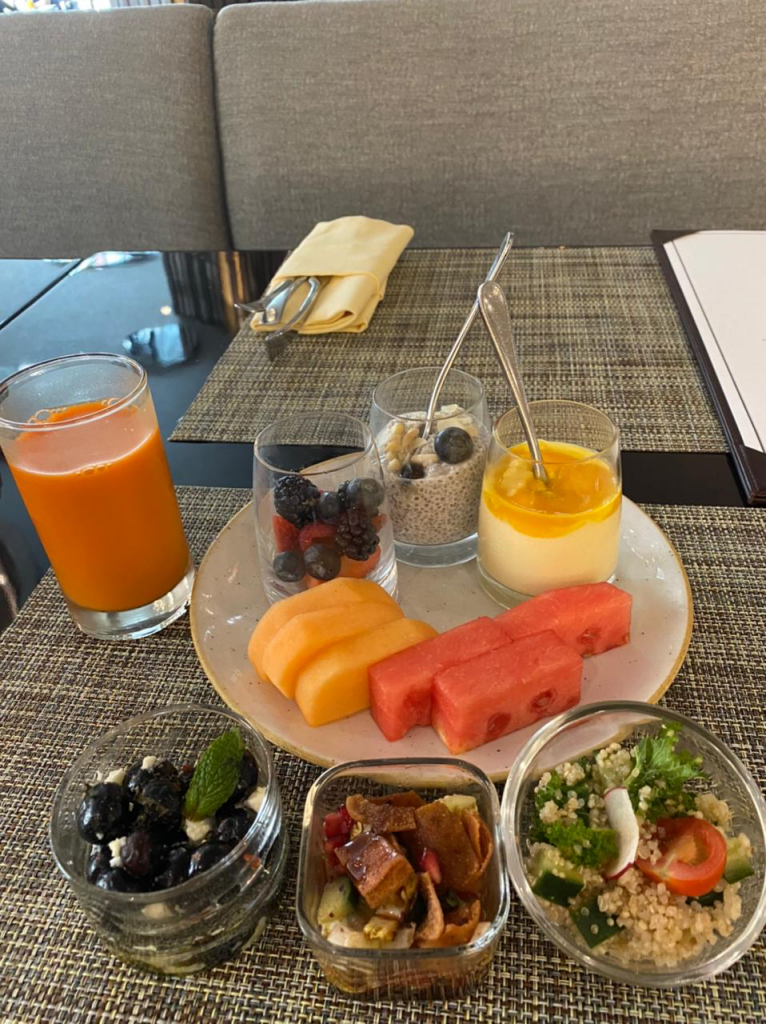 Across the street from the hotel we found a Czech restaurant and visited it quite often, as it had delicious food as well as Czech draft beer, a beloved drink of my husband's.
Another advantage to traveling during the COVID pandemic – exceptional experiences are easier to come by. We visited the fish market in Ras Al Khaimah and bought a kilo of langoustines and had them grilled and served at the one of the local restaurants under special arrangements.
During hotel breakfasts there was tremendous amount of fruit and berries served with chia seeds, oats, and other garnishes, as well as flavored yogurts. We very much loved the fresh mango and visiting the fruit markets. During our stay we bought over 5 kilos of very sweet and juicy mangoes imported from Kenya.
Any advice for those thinking about a visit to Dubai right now?
Luba: One of the most advantageous things in traveling to Dubai was the lack of people everywhere, especially at the airports. There was also a lot of new equipment related to zero contact at the airports including smart gates for passport scanning. All the shops, cafes, and duty free were open, but also almost empty.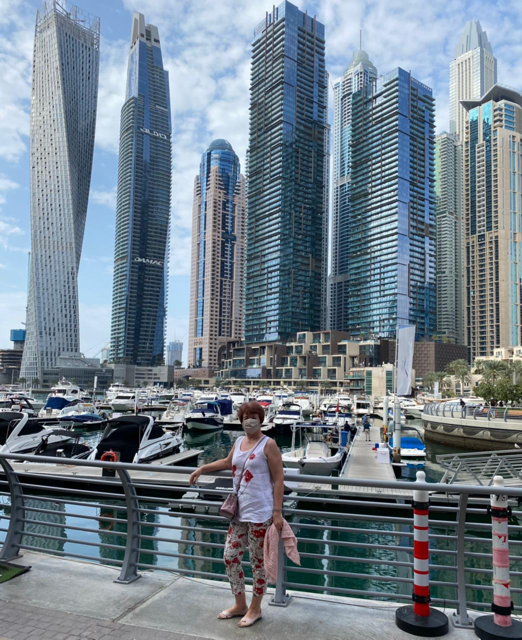 In 2020 Jumeirah Emirates Towers hotel was closed for 8 months. Now, the occupancy rate is under 40% and the room rates are very attractive. No crowded breakfasts, the staff are very welcoming, and the variety of healthy meals is amazing!
It is obvious that all hospitality facilities are looking forward to meeting long awaited guests and are very pleased to greet newcomers.
Take the moment – do not lose this opportunity!
MIR has been handling the ins and outs and special requests of personalized travel in our destinations for more than 30 years. With MIR affiliate offices in Western Russia, Siberia, Uzbekistan, Ukraine, and Georgia we can assure you of on-the-ground support possessing some of the most extensive travel and tourism experience in the region, as well as an unmatched ability to plan fascinating and unusual itineraries. And we love to plan private trip extensions to places like Dubai for our travelers flying Emirates/Fly Dubai to our regions.
To schedule your own adventure in any of MIR's destinations, contact our Private Journey Specialists with a list of things you've always wanted to do, see, or experience; or send us your thoughts using our easy Custom Travel Inquiry Form.
Need fresh ideas to inspire your wanderlust? In addition to browsing our many Essential series of pre-made private trips, you can narrow down your choices online using our Trip Finder and the Destination Map.
Chat with one of our destination specialists now!