Enthralling Uzbekistan: Our Favorite Things to See & Do
While each of Central Asia's five 'Stans has something distinctive to offer, Uzbekistan has been and continues to be the heart and soul of the Silk Road – the crossroads between East and West, where ideas that helped shape the modern world were forged and disseminated. 
The region's cradle of culture for more than two millennia, Uzbekistan is home to three of the most renowned Silk Road oases: Khiva, Bukhara, and Samarkand. Each is an incredible maze of exotic architecture and gorgeous decorative art, as well as treasured UNESCO World Heritage Sites.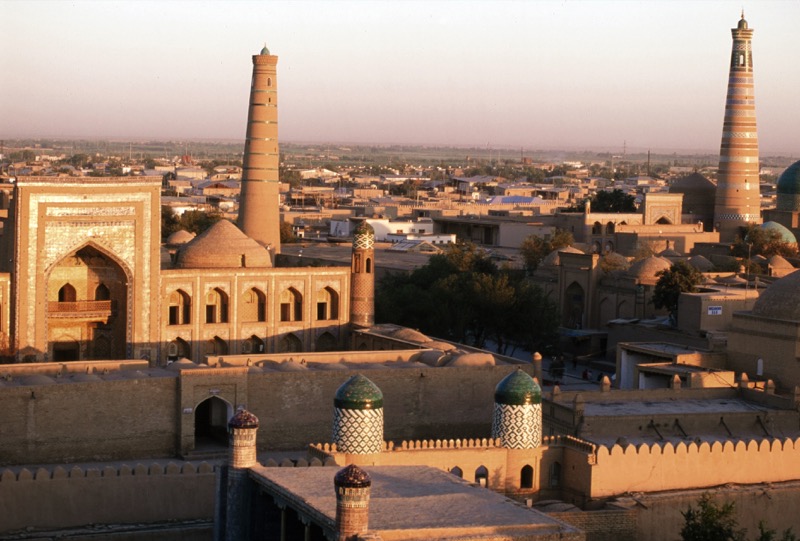 Why now is the time to discover Uzbekistan
Uzbekistan still remains a mystery to many people, but this Central Asian nation is steadily being rediscovered by today's travelers. Dazzling mosques and minarets, modern museums, striking natural scenery, lively bazaars, and engaging, down-to-earth people combine to make it one of the world's most fascinating and vibrant countries, where you can witness living history and traditions that have changed little throughout the centuries.
Every step taken here retraces the path by which silk, spices, ideas, politics, and religions moved across ancient empires. Throughout MIR's 30 years of experience planning travel to unforgettable destinations, Uzbekistan has consistently remained a favorite with clients and MIR staff alike.
(click image to view larger photo)
Here are just some of the extraordinary highlights you can experience on a modern-day caravan through this fascinating cultural crossroads:
1. Explore Ancient & Modern Tashkent
---
Although it doesn't look it today, Tashkent is one of the oldest cities in Uzbekistan. It's estimated that humans have lived here since 2000 BC. A major caravan crossroads, the city was conquered at various times by Turks, Arabs, Mongols, and the Russian Empire before it was ultimately named a capital city by the Soviets in 1930.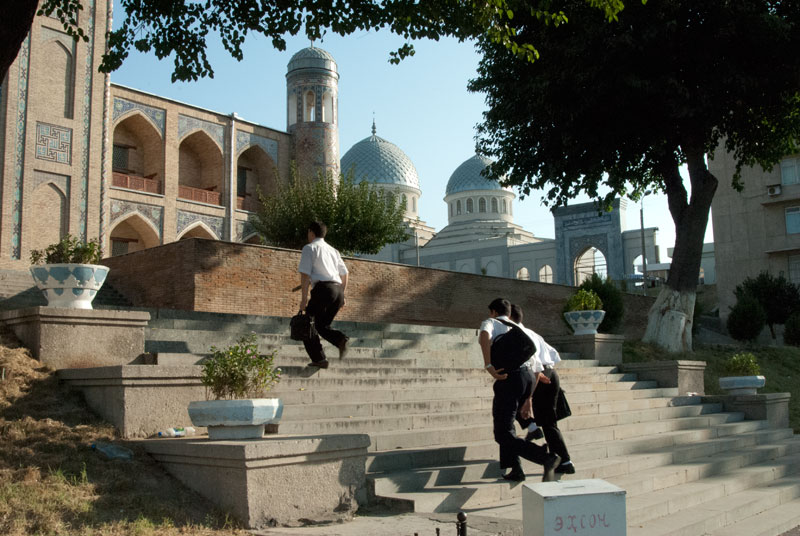 Tashkent lost much of its architectural history in a huge earthquake in 1966, and subsequent Soviet and modern-day redevelopments led to an unusual jumble of oversized 20th century Soviet building and reconstructed traces of the old city seen today. But it's this unique architecture that shows the profound impact Soviet Russia had on Uzbekistan, and makes the city such a fascinating place to explore.
You can pay homage to Tashkent's ancient roots and modern rebirth at numerous sites including Khast Imam Square, where some of Tashkent's oldest monuments remain; the Courage Monument, honoring the Soviet people who helped rebuild the city after the 1966 'quake; and the Tillya Sheikh Mosque, where the oldest Koran in the world is safeguarded.
(click image to view larger photo)
2. Learn How to Cook Plov, Uzbekistan's Favorite Dish
---
Plov is Uzbekistan's national dish, with good reason. It's hearty and filling; made with slow-cooked meat, rice, onions, carrots, and exotic spices like cumin, saffron ,and coriander; then simmered for hours in a traditional cast-iron kazan, or pot, over an open flame. Typically the centerpiece at Central Asian festivals, weddings, and other special occasions, plov is prepared by every Uzbek family according to its own traditional recipe.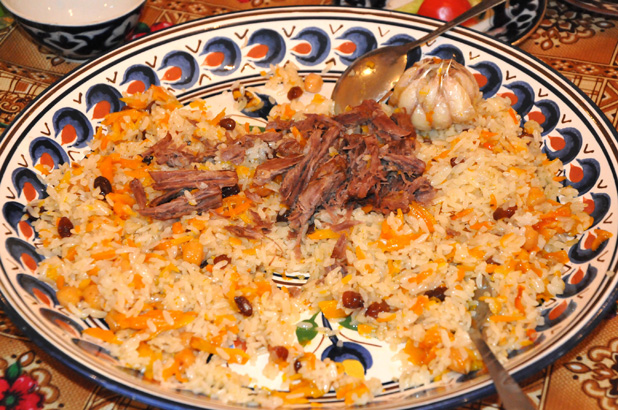 Travelers can discover the secrets of making plov at a master class in the home of an Uzbek family. Learn how the freshest ingredients are combined to create this savory concoction, as the family demonstrates traditional cooking methods passed from down generation to generation.
(click image to view larger photo)
Master the art of cooking plov on MIR's Backstreets & Bazaars of Uzbekistan small group tour, or add a cooking class to a flexible essential tour or handcrafted custom private journey to Uzbekistan.
3. Observe How Silk is Made in Margilan
---
Uzbekistan is one of the world's major producers of silk, and its long history of sericulture can be traced back to the Fergana Valley, where Central Asian silk production began. Fergana is the most fertile part of the country, and its mild climate produces ideal growing conditions for mulberry trees – the food for silkworms.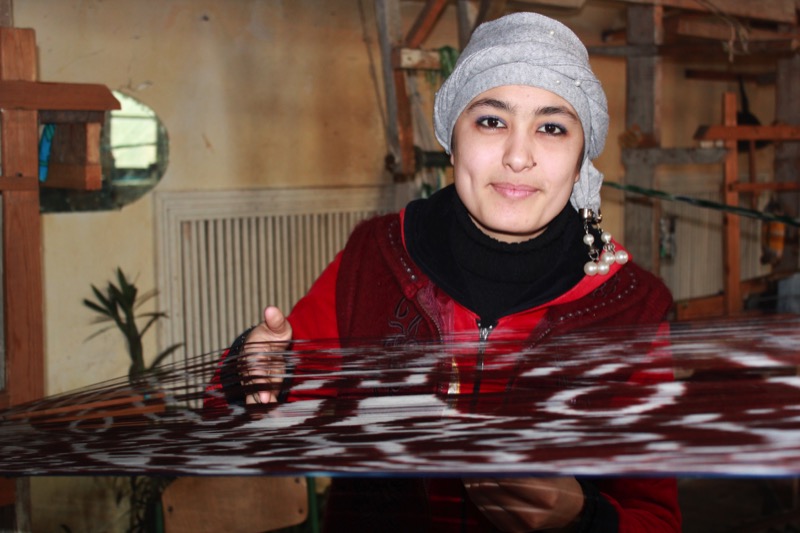 For some of the country's best silks, head about 13 miles out of Fergana to Margilan, a center of silk production since the 9th century where traditional silk-making techniques are still practiced. Shop the colorful local bazaar, said to be one of the most authentic in the valley, and tour the workshop of a renowned silk master, where silk is prepared from silkworm cocoons in the ancient way and woven into colorful traditional patterns.
(click image to view larger photo)
This video takes you inside a silk workshop in Margilan for a glimpse at how Uzbek ikat silk patterns are made.
4. See the Legendary Silk Road Oasis of Samarkand
---
Samarkand is synonymous with the Silk Road. Perhaps the most well known of ancient Silk Road cities, this fabled oasis has been settled since the 6th century BC. Its strategic location between China and the Western world secured its importance as a center for trade and cultural exchange, and made it an attractive target for the world's most famous conquerors including Alexander the Great, Genghis Khan, and Tamerlane, who made it his capital city.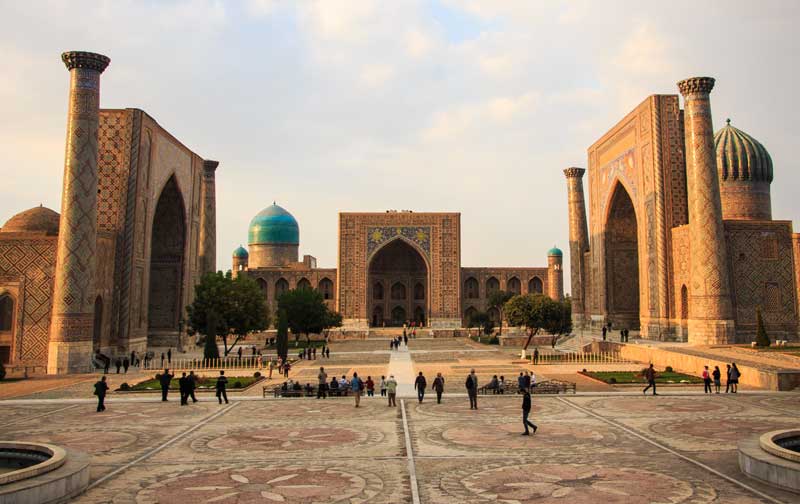 Assembling the finest architects and artisans of the time, Tamerlane and his grandson, Ulug Bek, transformed the city into a treasure trove of stunning decorative art and architecture. Today a UNESCO World Heritage Site, Samarkand bears the indelible stamp of these two men, and their legacy can be found in such extraordinary monuments as majestic Registan Square, the Bibi-Khanum Mosque, and the avenue of 15th century mausoleums called Shah-i-Zinde.
(click image to view larger photo)
5. Sleep in a Desert Yurt Camp
---
Among the list of favorite experiences from MIR travelers returning from Uzbekistan is a night spent in a nomadic yurt camp in the immense Kyzyl Kum, or Red Sand, Desert. Beyond the chance to explore the unusual natural beauty of the dunes, a yurt stay allows travelers to experience a side of traditional nomadic Uzbek culture not often seen in the major modern metropolitan areas.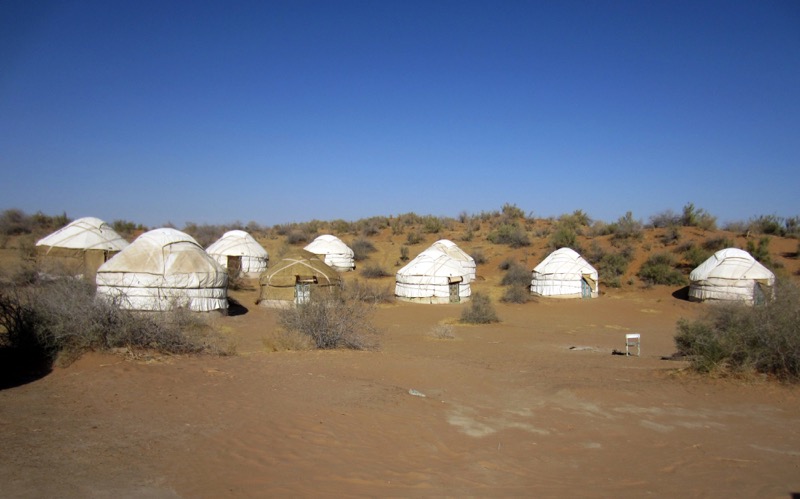 Miles away from the drone and hum of the cities, relaxing around a campfire under the stars and dining on a fresh meal prepared over the flames affords an opportunity to discover what life must have been like for thousands of Silk Road explorers and traders carrying their wares across the sandy wastes.
(click image to view larger photo)
Our Silk Route Odyssey: Caravan Across Uzbekistan includes a night spent in a nomadic yurt camp in the Kyzyl Kum. You can also add a yurt camp stay to a flexible essential tour or custom private journey to Uzbekistan.
6. Browse Uzbekistan's Famed Markets and Bazaars
---
With the country's long history as a center of trade, a stroll through Uzbekistan's fabulous markets and bazaars is a thrilling experience. Stalls are piled high with traditional Uzbek clothing and textiles, such as chapan coats, ikat silks (currently a hot item with international fashion designers), embroidered doppe skullcaps, and sumptuous suzani. Women's jewelry, ceramics, and carpets are also popular buys; and produce stands are brimming with fresh fruits and vegetables.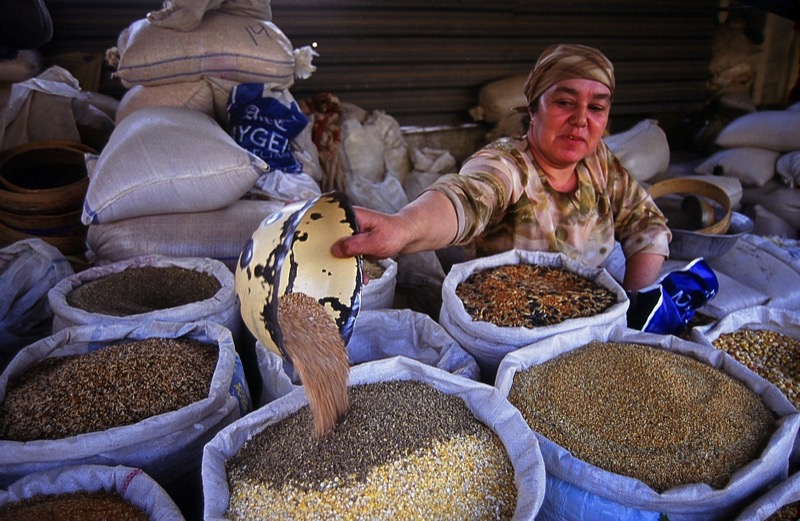 Fantastic shopping can be found throughout Uzbekistan, but Bukhara's trade domes are often a favorite stop with MIR travelers.
(click image to view larger photo)
7. Explore a "Desert of Forbidden Art"
---
Out in the desert in the vicinity of Uzbekistan's shrinking Aral Sea is the incredible Savitsky Art Museum, considered by some to be one of the world's greatest museums. This remote desert museum houses the incredible life's work of its founder, Igor Savitsky, who was able to amass a collection of thousands of banned avant-garde Russian art pieces without interference from Moscow, and keep it hidden from the watchful eyes of the KGB.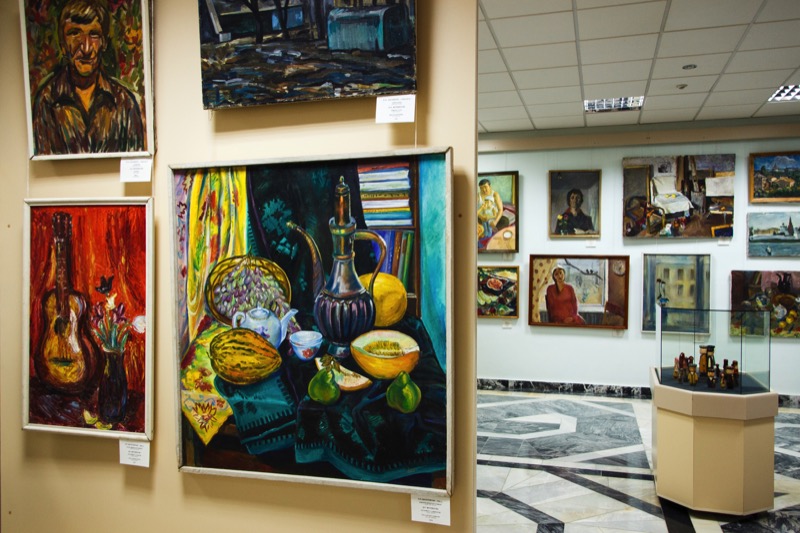 Today, the collection is the second-largest gathering of Russian avant-garde art after the Russian Museum in St. Petersburg. The incredible story of how this collection came to be is told in the award-winning documentary, "Desert of Forbidden Art."
(click image to view larger photo)
Visit this hidden gem in the desert on either of these MIR small group tours:
Or add a tour of the Savitsky to a flexible essential tour or custom private journey through Uzbekistan.
8. Immerse Yourself in the Living Cities of Bukhara and Khiva
---
Samarkand may be a household name, but the UNESCO-listed oases of Bukhara and Khiva are show-stopping architectural marvels in their own right. Bukhara's ornately patterned madrassahs and billowing turquoise domes and Khiva's undulating city walls of plastered mud have been remarkably preserved throughout the ages, as if you've stepped back in time to an era when caravan cities of old offered rest and shade to weary travelers.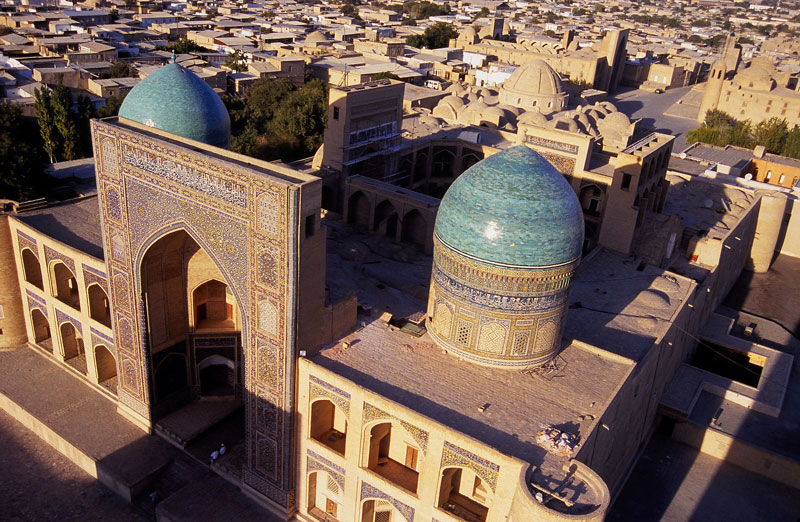 Be sure to allot plenty of time to wander through the Old Town of Bukhara. This area encompasses over 140 protected architectural treasures including the Lyabi-Hauz Plaza, the center of the Old Town surrounded by centuries-old madrassahs; and the Ark Citadel, the original fortress of Bukhara dating back over 2,000 years.
(click image to view larger photo)
Khiva's Old Town is just as atmospheric to stroll through. Admire the Tash-Hauli Palace, built in the 19th century for the reigning khan and his four wives, and the Kunya Ark, the original residence of the khans. There are several places that offer aerial views of the city's blue-green tiled minarets and mud-brick architecture, as you can see in the following video panorama from Khiva's old city walls:
9. Take Off on a Camel Ride Through the Desert
---
No journey to Uzbekistan is complete without a thrilling ride on the back of a camel. A centuries-old mode of Central Asian transport, these "ships of the desert" were used by ancient Silk Road explorers to carry precious bundles of silks, spices, teas, and jewels from East to West across treacherous desert sands.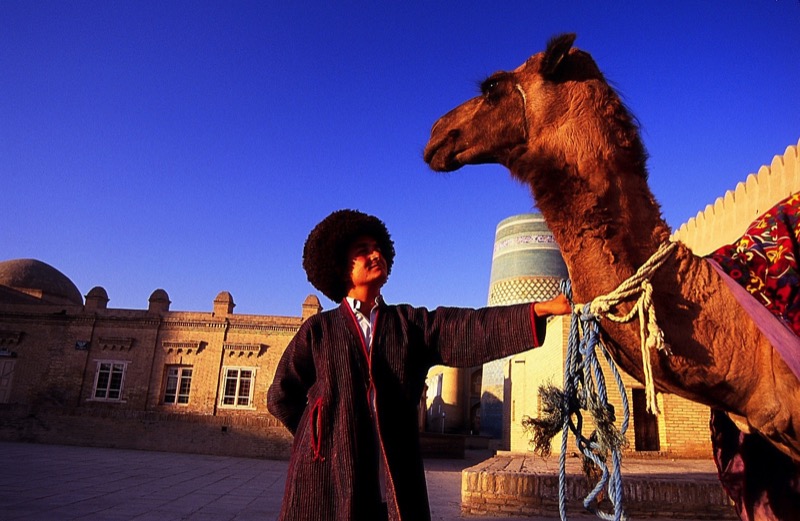 MIR's small group tour Silk Route Odyssey: Caravan Across Uzbekistan includes a camel ride into the Kyzyl Kum Desert, allowing travelers to experience Central Asia as the ancient caravan traders once did. After learning a few introductory tips, set off on camelback for Aidarkul Lake, a beautiful oasis in the midst of the Kyzyl Kum sands, stopping for a lakeside picnic lunch.
(click image to view larger photo)
You can also travel through the desert by camelback on a flexible essential tour, or on a handcrafted custom private journey to Uzbekistan.
10. Dine in the Home of a Local Family
---
Uzbek hospitality is legendary, with deeply ingrained traditions that remain essential to everyday life along the Silk Road. MIR tours are known for the inclusion of serendipitous meetings, visits, and opportunities to interact with the people of our favorite countries. We think there's no better way to understand Uzbek culture and connect with its warm people than with a chance to visit local families inside their private homes.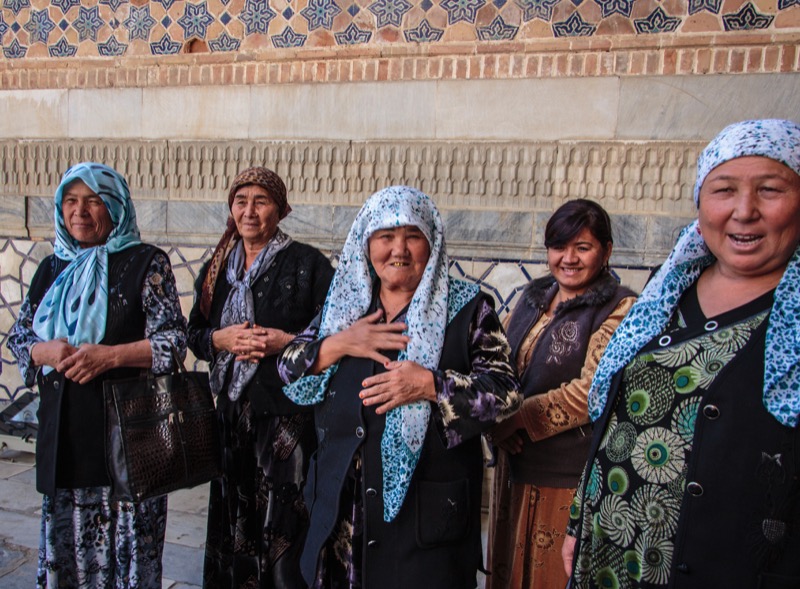 MIR can arrange meetings in several places in Uzbekistan, from lunch in the home of a master ceramics artist in the Fergana Valley to dinner in a private home in Nukus, where travelers will be treated to a feast of traditional Central Asian dishes as they learn more about the daily lives of everyday people in this corner of the world.
(click image to view larger photo)
Travel to Uzbekistan with MIR
MIR has nearly 30 years of travel experience in Central Asia and has an affiliate office in Uzbekistan. We have a roster of contacts who can take you to places you didn't even know you wanted to go. Our full service, dedication, commitment to quality, and destination expertise have twice earned us a place on National Geographic Adventure's list of "Best Adventure Travel Companies on Earth."
You can visit Uzbekistan in a number of ways: on a small group tour, on a rail journey by private train, on a pre-built flexible essential tour, or on a customized private trip put together just the way you want it.
Small Group Tours
Rail Journeys by Private Train
Flexible Essential Trips
Custom Private Journeys