Multi-Region
Castles of Transylvania by Private Train
Photo credit: David W. Allen
Istanbul to Budapest Aboard the Golden Eagle Danube Express
Overview
Take a short and sweet weeklong rail journey that begins in historic Istanbul, heads north through Bulgaria and Romania's beautiful Transylvania region, and rolls on to sophisticated Budapest. Explore alluring capital cities, walk the halls of palaces and royal castles from a range of eras and empires, discover three UNESCO World Heritage Sites, and watch the unfamiliar world of the Carpathian Mountains and the Hungarian Plain stream past your cozy private cabin.
Travels to: Bulgaria, Hungary, Romania, Turkey
Photos and details: Discover what life is like aboard the Golden Eagle Danube Express.
Map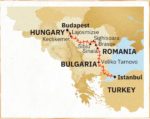 Itinerary
Days 1-2: Istanbul (Turkey)

Begin in Istanbul, the former capital of two great empires and the historic meeting place of East and West. Board the Golden Eagle Danube Express for Bulgaria.

HIGHLIGHT

Fabulous Istanbul, Turkey's bustling metropolis once known as Constantinople
UNESCO-listed Old Town Sultanahmet, home of the stately Topkapi Palace, the immense Hagia Sophia, and the legendary Blue Mosque

Day 3: Veliko Tarnovo (Bulgaria)

Arrive in Veliko Tarnovo, inhabited since the Paleolithic Age and once capital of the 12th-century Second Bulgarian Empire. View remains of the Royal Fortress, and walk the town's winding, cobbled streets. Watch the countryside unfold as the train lumbers north to Romania.

HIGHLIGHTS

Veliko Tarnovo, where houses seemingly grow out of each other's roofs
Royal Fortress ruins, preserved high atop Tsarevets Hill

Days 4-5: Sinaia (Romania), Brasov, Sighisoara, Sibiu

Arrive in Sinaia, gateway to the beautiful Bugeci Mountains, and visit the summer palace of King Carol I, Peles castle. Explore the birthplace of Vlad Tepes the Impaler (Dracula) in the citadel of Sighisoara, and visit Bran Castle in Brasov, which served as Bram Stoker's model for Dracula's ancestral home. Stroll the Old Town Square in the Saxon town of Sibiu.

HIGHLIGHTS

Peles Castle, final resting place of several Romanian monarchs
Bran Castle, immortalized as Dracula's castle in Bram Stoker's novel
Sighisoara, a UNESCO-listed medieval town in the heart of Transylvania

Days 6-7: Kecskemet (Hungary), Lajosmizse, Budapest

Explore Kecskemet's stunning art nouveau architecture and buildings, and enjoy a spectacular Puszta horse show in Lajosmizse. End the journey in genteel Budapest, Hungary's Hapsburg-style capital, with its renowned Royal Palace, Matthias Church, and splendid Opera House.

HIGHLIGHTS

Kecskemét, on the Great Hungarian Plain, renowned for the wonderful art nouveau buildings surrounding its central square
Remarkable demonstration of Hungarian horses and horsemanship in Lajosmizse
Budapest, UNESCO-listed capital of Hungary, with fine baroque, neoclassical, and art nouveau buildings
Dates &amp Prices
Minimum group size: Minimums vary – call for confirmation status
Land Tour Price, Per Person.
2023 Dates

May 8 - 14

Special price for May 8, 2023 departure!

Deluxe Class, double occupancy

$10,295

Deluxe Class, single occupancy

$15,495

Superior Deluxe Class, double occupancy

$12,995

Superior Deluxe Class, single occupancy

$21,795

Deluxe Class, double occupancy

$10,695

Deluxe Class, single occupancy

$15,995

Superior Deluxe Class, double occupancy

$13,395

Superior Deluxe Class, single occupancy

$22,495

2024 Dates

Deluxe Class, double occupancy

$11,195

Deluxe Class, single occupancy

$16,795

Superior Deluxe Class, double occupancy

$14,095

Superior Deluxe Class, single occupancy

$23,595
What's Included
Tour Includes

Accommodations, as noted in the itinerary.
All meals, from dinner on Day 1 through breakfast on final tour day, including a generous allowance of wine, local beer, and soft drinks with lunch and dinner.
Arrival/departure transfers, provided you arrive and depart on the tour start/end dates and in the tour start/end cities.
All guided off-train tours, as outlined in the itinerary.
Services of an experienced Train Tour Manager as well as local guides for scheduled off- train tours.
Complimentary tea, coffee, and mineral water from your car attendant at all times while on board the train.
All gratuities.
Baggage handling.
Complete pre-departure information, including detailed packing list, reading list, and Touring with MIR handbook with country-specific information, maps, and travel tips.
Assistance booking your custom flight arrangements, on request. (Please note that international airfare is not included in the land tour cost.)

Not Included

International airfare, including taxes/fuel surcharges, and surface transport to the point of joining/leaving the tour. MIR is able to assist with arrangements, as detailed in the itinerary.
Meals and drinks not specified as included in the itinerary.
Single supplement (difference between double rate and single occupancy rate) if requested or required.
Optional pre- or post-tour extensions.
Expenses incurred as a result of delay, modification, or extension of a tour due to causes beyond MIR's control.
Visa fees, excess baggage charges, airport departure taxes, vaccination and other medical costs.
Travel insurance, including cancellation, medical, and evacuation insurance.
Items of a personal nature, such as phone calls, email, laundry, and alcohol.
Activity Level
Level 2: Moderate
This rail journey by private train group tour features significant touring on foot, throughout which travelers are expected to keep up with other group members. Walking during touring days will be on a variety of surfaces, with many streets and sidewalks being uneven, and elevators generally not available during touring excursions, leading to some stair climbing. Challenges on board on board the train include long onboard distances with heavy doors, as well as steep steps and gaps to navigate while embarking and disembarking. Only those willing to accept local standards of amenities and services should consider joining this program.
Travelers must be able to walk a mile per day keeping up with other group members. Streets and sidewalks can be uneven or unexpected surfaces, and handrails are not always present. Steps, which may be required due to lack of elevators, may be steep and/or uneven, and may also lack handrails. The distance on board the train between sleeping and dining carriages may be significant, and there are many heavy doors to navigate when moving throughout the train. Getting on and off the train involves navigating steep steps, low platforms and possible gaps between the train and the platform. Navigating rail stations may also involve traveling up and over steep steps/footbridges to cross tracks, or steep steps and dark tunnels to cross under to/from the train station. Although porterage is provided where possible, you may have to carry your baggage for short distances.
General shortcomings of the tourism infrastructure may include problems with bureaucratic service, and availability and quality of public restrooms when not on board the train.
Gallery