Photo credit: Peter Švehla / www.slovakia.travel
Handcrafted, Private Tours to Slovakia
Overview
You want to do things your way. We get it. MIR has been planning custom, private tours from scratch for over three decades, and we understand just how important flexibility is in travel.
Traveling privately on a custom private tour affords a great deal of flexibility – flexibility to immerse yourself in your own exclusive experience, to craft an itinerary around your interests, to go at your own pace, and to travel when it's right for you.
How does it work? We'll connect you with one of our Private Tour Designers so that you can share your vision and expectations with us.
We'll ask you questions to better learn about your interests: Want to discover traditional folk music and instruments from Slovakia's rich musical culture? How about exploring caves and medieval stone castles nestled within the Small Carpathian Mountains?
We'll share our extensive experience in the region – and our suggestions. And then we'll dig into it and custom-craft a private tour itinerary for your review. Give us a call at 800-424-7289 to get started, or click here to be on your way.
Signature Experiences
Below are just a few examples of the signature experiences that MIR can arrange for you in Slovakia. Let them be a source of inspiration, then get in touch with one of our Private Tour Designers to craft an itinerary that's uniquely suited to your travel goals, budget, and style.
Enjoy a private tour and/or concert at the internationally respected Reduta Palace, a beautiful neo Baroque dance hall built in 1914 and now home to the Bratislava Philharmonic Orchestra.
Ride a funicular up to Hrebienok station in the High Tatras mountains for incredible views of the wide, forested valleys and a cold beer (or toasty drink) and snacks at a cozy cabin restaurant.
Sample award winning wines in Pezinok. A local vintner will share the history of the region and explain the winemaking process. Afterwards, sample some of the region's signature wines.
Hike on Gerlachovsky Peak, the tallest mountain in the High Tatras. With a vertical rise of 6,500 feet, the rugged peak is a challenge to hikers and climbers. The Austrian Alps are visible from the top in clear weather.
Suggested Private Tours
And if you don't feel that a fully-customized trip is what you seek, we've got the perfect solution. Whether you're looking for a compact trip that hits the highlights or something more in depth, MIR offers suggested private tours that can be adapted to your choice of dates. Our itinerary, your dates – it's a great option whether you're traveling solo, as a couple, or in a small group.
Explore suggested private tours: Essential Central Europe
Need a bit more encouragement? Or want a better lay of the land? Read more about how to design your own trip, or get in touch, we're here to help.
Map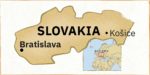 Gallery
1/10

Alexander Vojček / www.slovakia.travel

2/10

Juraj Gašpar / www.slovakia.travel

3/10

Roman Malega / www.slovakia.travel

4/10

Alexander Vojček / www.slovakia.travel

5/10

Štefan Kačena / www.slovakia.travel

6/10

Ján Lacika / www.slovakia.travel

7/10

Ján Lacika / www.slovakia.travel

8/10

Alexander Vojček / www.slovakia.travel

9/10

Juraj Gašpar / www.slovakia.travel