Photo credit: Julia Rindlaub
An Expedition from Kashgar to Lhasa
Overview
Retrace the overland journey of ancient traders and adventurers on a segment of the old Silk Road. Begin in Western China, experiencing the legendary Kashgar Sunday Animal Market, where merchants sell everything from ducks to sheep. Hop a train heading east to Turpan's lush Grape Valley – watered by a 2,000-year-old irrigation system – and to Dunhuang's UNESCO-listed Mogao Caves, frescoed and carved with a thousand images of the Buddha. Ride the high-altitude train from Xining to Lhasa, visiting one of Tibet's most iconic sites, the Potala Palace. Explore the Tibetan Plateau on a splendid route that embraces the sacred cities of Gyantse and Shigatse, as well as Lhasa, "City of the Sun."
Map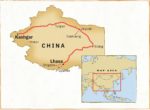 Itinerary
Days 1-5: Kashgar (China), Turpan

Begin in 2,000-year-old Kashgar, the fabled city that greeted Marco Polo as he entered the Middle Kingdom. Browse its Sunday Animal Market, where locals purchase livestock for meat, milk, or transportation. Board an overnight train to Turpan, a welcome oasis on the northern Silk Road. The sweet wine grapes cultivated in Turpan are irrigated with a 2,000-year-old gravity-fed system. Explore the Bezeklik Thousand Buddha Caves, begun in 366 AD, and investigate the underground tombs of Astana.

HIGHLIGHTS

Kashgar Sunday Market and its unrivaled animal bazaar
17th century Abakh Hoja (Fragrant Concubine) Tomb
Turpan, the hottest city in China, located in the "Valley of Fruits"
Bezeklik Thousand Buddha Caves, begun in 366 AD

Days 6-8: Train to Liuyuan, Dunhuang

Depart by fast day train to the city of Liuyuan, the gateway to Dunhuang where the Mogao Buddhist Caves were created. Marvel at the incredible frescoes and painted statues of this UNESCO-listed wonder, and take a short camel ride at the foot of Echoing Sands Mountain.

HIGHLIGHTS

Mogao Thousand Buddha Caves, UNESCO World Heritage Site in Dunhuang
Bactrian camel ride at the southern edge of the Taklamakan Desert

Days 9-11: Xining, High-altitude railway

Catch the train to Xining, located high on the Tibetan Plateau in remote Qinghai Province. Admire the brilliant blues, golds, and reds of Ta'er Monastery, and browse the grand Tibetan Medicine and Culture Museum with its impressive collection of artifacts and information about ancient Tibet. Board the high-altitude train to Lhasa, passing by the world's highest railroad station, Tangula.

HIGHLIGHTS

Buddhist Ta'er Monastery, with its Great Hall of the Golden Roof, constructed from hundreds of tiles with embedded precious gems
Tibetan Medicine and Culture Museum, documenting the history of ancient Tibet from 4,000 years ago
High-altitude railway from Xining to Lhasa

Days 12-18: Lhasa (Tibet), Yamdrok Lake, Gyantse, Shigatse

Spend a night in Lhasa before continuing to Gyantse's celebrated Kumbum Stupa and turquoise Yamdrok Lake, said to be a goddess incarnate. In Shigatse, discover gold-roofed Tashilhunpo Monastery, founded by the first Dalai Lama in 1447. Back in Lhasa, visit the massive UNESCO-listed Potala Palace, rising in splendor above the city, and Jokhang Temple, Tibet's most sacred site. Wander Barkhor Market, bargaining for yak-wool boots or Tibetan fur hats. Venture into the valley where Chupsang Nunnery is hidden, then celebrate the journey's end with a festive farewell dinner in Lhasa.

HIGHLIGHTS

Sacred turquoise Yamdrok Lake, a place of pilgrimage
Gyantse, with an elevation of 4,000 meters – nearly 2.5 miles high
15th century Kumbum Stupa, a fabled shrine and place of Tibetan Buddhist pilgrimage
Tashilhunpo complex, seat of the Panchen Lama in Shigatse
UNESCO-listed Potala Palace, with thousands of altars and statues
Jokhang Temple, Tibet's most sacred site since the 7th century
Barkhor Market, the old market of Lhasa
The small Chupsang Nunnery, where some 130 nuns chant and meditate
Dates &amp Prices
Small group tour – max  16  travelers
Land tour price, per person. Based on double occupancy and minimum group size of 6 travelers.
What is a Partial Single Supplement?
2023 Dates

Tour, double occupancy

$7,295

Partial single supplement

$1,425

2024 Dates

Tour, double occupancy

$7,295

Partial single supplement

$1,395
What's Included
Tour Includes

Accommodations, as noted in the itinerary.
Most meals, as noted in the itinerary.
A daily supply of bottled water.
Arrival/departure airport transfers on the tour start/end date. MIR will arrange for all travelers to be met upon arrival and seen off upon departure whether or not we make your flight arrangements.
Ground transportation throughout tour by private van or coach. (Type of vehicle depends on group size.)
Services of experienced, English-speaking local guides, drivers, and other staff, including a MIR Tour Manager.
Guided sightseeing tours and entrance fees, as outlined in the itinerary.
Special events, excursions, and cultural performances, as outlined in the itinerary.
Gratuities to local guides, drivers, and other service personnel, including servers at group meals.
Complete pre-departure information, including detailed packing list, reading list, and Touring with MIR handbook with country-specific information, maps, and travel tips.
Customized visa information and instructions. (Please note, visa fees are not included in the tour price.)
Final document packet, including luggage tags, final updates, and more.
Assistance booking your custom flight arrangements, on request. (Please note, international airfare is not included in the land tour cost.)
Train tickets, as included in the itinerary.
Tibetan travel permit fee.

Not Included

International airfare and taxes/fuel surcharges.
Meals and drinks not specified as included in the itinerary.
Single supplement (or partial single supplement where applicable), if requested or required.
Gratuities to Tour Manager.
Expenses incurred as a result of delay, modification, or extension of a tour due to causes beyond MIR's control.
Travel insurance, including cancellation, medical, and evacuation insurance.
Visa and/or passport fees, excess-baggage charges, airport departure taxes, vaccination and other medical costs.
Optional pre- or post-tour extensions.
Baggage handling.
Items of a personal nature, such as phone calls, email, laundry, and alcohol.
Activity Level
Level 4: Rigorous
This intentionally adventuresome small group tour features the challenges of riding public overnight trains in second-class cabins and of travel at high elevations. Additional challenges include some rustic accommodations without reliably constant electricity, and some long overland drives in rough or off-road conditions. There are also long days walking and standing while touring, and navigation of rail stations which can include steep steps/footbridges to cross tracks, or steep steps and dark tunnels to cross under to/from the train station. Plus unpaved sidewalks and streets, uneven surfaces and steps, absent handrails, significant stair-climbing, and absence of elevators. Only those very fit to travel and who are willing to accept local standards of amenities and services, and the physical challenges of the program, should consider joining. We strongly encourage you to speak with us about any questions you may have regarding the rigors of this trip or destination when considering this tour.
Two nights total are spent on overnight trains (four-berth compartments) with shared WC but no bath facilities. A luxurious experience should not be expected, and crowded trains are the standard. The train configuration will be one berth per traveler in four-berth train compartments on overnight sleeper trains between Kashgar and Turpan and Xining and Lhasa. Each traveler will share the compartment with three other travelers. Compartments may be mixed sex. Single compartments are not available. Solo travelers upgrading to two travelers per cabin accommodations may be matched with a roommate of the opposite sex. Four-berth compartments used for train overnights have two upper berths which require a climb up a narrow ladder/foothold. Since electricity is not a reliable constant throughout the itinerary, if you rely on electricity for CPAP (continuous positive airway pressure), or for any other reason, you must have your own battery or other back-up, or please reconsider participation. Air conditioning is not generally available.
The elevation in Xining is over 7,000 feet. The elevation in Tibet is over 10,000 feet. The altitudes can cause difficulty even in healthy travelers, and potential problems can include headaches, shortness of breath, and other more serious complications. Those with a history of medical problems, particularly cardiac or respiratory, must consult a doctor before considering this trip.
Travelers must be able to walk two miles a day while keeping up with fellow travelers on a variety of surfaces including dirt paths, grass, and the like. Trains have steep steps to enter and exit, and narrow hallways with multiple heavy doors once on board. Some attractions are accessible only by staircases with tall or uneven steps. Some toilets on this itinerary, including some of those aboard the trains, will be eastern/squatting style toilets. Elevators are not available at touring sites, nor at a few of the hotels.
Other challenges include overall shortcomings in the tourism infrastructure of these developing destinations, including some that can cause walking challenges such as unpaved sidewalks, uneven surfaces and steps, packed-dirt streets, broken pavement (streets or sidewalks), and a general absence of handrails or ramps. Accommodations vary from three-star hotels to the overnights on board public trains. Past travelers have also encountered challenges with plumbing, bureaucratic service, variety of locally available foods, and availability and quality of public restrooms.
Gallery