error_outline
Flexible Private Trip — Book Your Dates for You & Yours
Uzbek Oases of Samarkand, Bukhara, and Khiva
Overview
At the heart of this private tour are Uzbekistan's three brilliant Silk Road oases: Khiva, Bukhara, and Samarkand. Each is a living city, but each is also a time capsule filled with gorgeous, historic mosques, madrassahs, and minarets. Every step along the way, MIR's destination experts make sure you have a one-of-a-kind experience as you discover the beauty and the generous spirit of this fascinating country.
Travels to: Uzbekistan
Map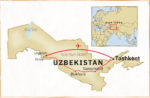 Itinerary
Days 1-4: Tashkent (Uzbekistan), Samarkand

The private tour begins in Tashkent, Uzbekistan's capital and largest city. Wander through its main market, Chorsu Bazaar, and tour its most noteworthy sights, including Independence Square and Kukeldash Madrassah. On your second morning, travel by train to blue-tiled Samarkand, the conqueror Tamerlane's ancient capital, hailed by UNESCO as "the crossroad of cultures." Visit massive Bibi Khanum Mosque, Ulug Bek's incredible observatory, and gracefully proportioned Registan Square.

HIGHLIGHTS

Tashkent's park-like Independence Square, formerly Lenin Square, rechristened and adorned with a new monument following Uzbekistan's 1991 proclamation of independence
The monumental 16th century Islamic architecture of Tashkent including Kukeldash Madrassah, Kaffal-Shashi Mausoleum, and Barak-Khan Madrassah
UNESCO-listed Samarkand's Registan Square, bordered by three beautiful madrassahs
The 14th century conqueror Tamerlane's architectural legacy in Samarkand including Bibi Khanum Mosque, the largest of its day, and Ulug Nek Observatory
A meal with a family in a Samarkand home

Days 5-6: Bukhara

Arrive at Bukhara, Central Asia's most ancient living city. Its UNESCO-listed Old Town encompasses more than 140 protected monuments, including the Lyabi-Hauz Plaza at the heart of the city and the Ark Citadel, Bukhara's original fortress.

HIGHLIGHTS

Old Bukhara's ageless domed bazaars and its central Lyabi-Hauz Plaza, adorned with a reflecting pool
Ark Citadel, Bukhara's giant ancient fortress

Days 7-10: Khiva, Tashkent

Travel overland to Khiva, the best preserved of Uzbekistan's Silk Road oasis cities. Wander through the winding alleys of the UNESCO-listed Old Town filled with minarets, cobbled alleys, mosques, and the beautifully preserved Kunya Ark – the original residence of the ruling khans. From nearby Urgench, fly back to Tashkent to spend the final night of your private tour.

HIGHLIGHTS

Khiva's Old Town (Ichon-Qala in Uzbek), a UNESCO World Heritage Site
Tash-Hauli Palace, built in the 19th century for the khan and his four wives
Dzhuma Mosque, famous for its carved wooden pillars
Kunya Ark, the original residence of the khans
Dates &amp Prices
Please note:
Private trip prices vary by season and are subject to hotel availability for your travel dates.
Listed prices below are based on double occupancy and a 2 traveler minimum.
Hotel upgrades, additional nights, and solo traveler prices are available on request.
Land tour price, per person, starting from:
2023 Dates

Available: March - November

Tour, double occupancy

$3,395

Plus internal airfare

$100

2024 Dates

Available: March - November

Tour, double occupancy

$3,695

Plus internal airfare

$100
What's Included
Tour Includes

Shared accommodations as noted in the itinerary. Contact MIR for hotel upgrade prices.
Meals, as noted in the itinerary.
Restaurant tips for included meals.
One arrival and one departure transfer. Additional arrival and departure transfers available at additional cost.) MIR will arrange for travelers to be met upon arrival and seen off on departure, whether or not we make your air arrangements.
Ground transportation throughout itinerary by private vehicle (type of vehicle depends on number of travelers in your group).
Services of experienced, English-speaking local guides, drivers, and other staff, as noted in the itinerary.
Guided sightseeing tours and entrance fees, as outlined in the itinerary.
Special events, excursions, and cultural performances, as outlined in the itinerary.
Complete pre-departure information, including detailed packing list, reading list, and Touring with MIR handbook with country-specific information, maps, and travel tips.
Final document packet, including luggage tags, final updates, and more.
Assistance booking your custom flight arrangements, on request. (Please note that international airfare is not included in the land tour cost).

Not Included

International airfare and taxes/fuel surcharges.
Internal airfare. (Internal airfare is quoted separately and subject to change by airlines).
Meals and drinks not specified as included in the itinerary.
Single supplement if requested or required.
Baggage handling.
Gratuities to local guides, drivers, porters, and other service personnel.
Expenses incurred as a result of delay, modification, or extension of a tour due to causes beyond MIR's control.
Travel-related insurance including cancellation, medical, and evacuation insurance.
Visa fees, excess-baggage charges, airport departure taxes, vaccination and other medical costs.
Optional pre- or post-tour extensions.
Items of a personal nature such as phone calls, email, laundry, and alcohol.
Activity Level
Level 2: Moderate, but Customizable
This 'Essential' itinerary designed for private travel in Uzbekistan features long days walking and standing, some long days of overland travel, some stair climbing, unpaved sidewalks and streets, uneven surfaces and steps, absent handrails, and lack of elevators. While some of these challenges are inherent in the destinations and sites, as one of our Essential Series programs this trip can be modified as needed for those travelers who are looking for a less challenging (or more challenging) program.
There is a significant amount of touring on foot, and those travelers planning to take the program as written should be able to walk one to two miles a day comfortably. Footing can be an issue and travelers should be able to negotiate streets of packed dirt, cobblestones, uneven surfaces (possibly steep and/or wet), and deal with situations without handrails or ramps. Some attractions are only accessible via steep staircases. Museums rarely have elevators.
Past travelers have encountered challenges with bureaucratic service, plumbing in and out of hotels, and availability and quality of public restrooms. Accommodations in the basic program will vary from superior tourist class to simple and basic small private hotels (often referred to locally as bed-and-breakfasts). Upgrades may be available in some cities, please call for details. Air-conditioning is a luxury and may not be available.
Gallery