error_outline
Flexible Private Trip — Book Your Dates for You & Yours
From the Capital to the Caspian
Overview
As a travel destination, Turkmenistan is a place where a little effort can reap surprising rewards. It isn't as tourist-focused or well preserved as neighboring Uzbekistan, but with MIR as your guide you'll see novel, fascinating places, from a modern metropolis clad in white marble to the UNESCO-listed ruins of what once was one of the world's great cities. You'll meet a mountain tribe barely touched by the outside world, enter a jaw-droppingly beautiful limestone canyon, and camp out at the edge of a flaming gas crater known as the "Door of Hell." When you're done, you'll have discovered a country full of wonders little known to foreign travelers.
Travels to: Turkmenistan
Map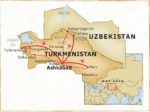 Itinerary
Days 1-3: Ashgabat (Turkmenistan), Nisa, Nohur, Serdar

In Turkmenistan's capital, Ashgabat, explore the flamboyant gilded architecture that has sprung from the rubble of a massive 1948 earthquake, and gain insight into the country's history and culture at the beautifully situated National Museum. A trip outside of town takes you to the ruins of the ancient city of Nisa, a UNESCO World Heritage Site that was once the center of the Parthian Kingdom. The following day, journey up into the Kopet Dag Mountains to visit the isolated Nohur people, whose longstanding cultural traditions have felt little influence from the outside world. Overnight in the small city of Serdar.

HIGHLIGHTS

The opulent modern architecture of Ashgabat, which holds a Guinness record for the highest density of white marble buildings in the world
Learning the story of Turkmenistan at the National Museum, where the collection includes Stone Age tools, drinking horns used in Zoroastrian rituals, and beautifully crafted amulets
The ruins of Nisa's two fortresses, which show influences of ancient Greek and Roman culture
A visit to a silk-weaving workshop in a Nohur tribal village

Days 4-6: Turkmenbashi, Yangykala

Pass through the fertile Sumbar River Valley, dotted with pomegranate orchards and small farms, making a stop at the archaeological site of Dehistan. After a night in the country's only seaport, Turkmenbashi, drive to picturesque Yangykala Canyon, where striated limestone cliffs unfold before you in a strange, strikingly beautiful panorama. Within the canyon, visit the shrine of 14th century Sufi holy man Gozli Ata. Return to Turkmenbashi and take a short flight back to Ashgabat.

HIGHLIGHTS

Excavated houses, mosques, and caravanserais at the site of Dehistan, once a prominent market town
The bustling port city of Turkmenbashi
The brilliantly colored limestone cliffs of unusual, and unusually photogenic, Yangykala Canyon
The twin domes of beautifully situated Gozli Ata Mausoleum, Turkmenistan's most remote pilgrimage site

Days 7-8: Mary, Merv

Depart Ashgabat for the modern town of Mary, a base for exploring the nearby remains of ancient civilizations. Start by learning about the area at the Mary Museum, and then head to two archaeological sites: Gonur Depe, a Bronze Age center of Zoroastrianism; and UNESCO-listed Merv, which also has Bronze Age origins and, as an important medieval Silk Road way station, grew to be one of the world's largest cities before a brutal sacking by the Mongols in the 13th century.

HIGHLIGHTS

The exceptional ethnological and archaeological exhibits at the Mary Museum
The palace, necropolis, and Zoroastrian temples at Gonur Depe
The vast archaeological site of Merv, one of the world's great lost cities

Days 9-12: Darvaza, Kunya Urgench, Ashgabat

Fly to Ashgabat and from there head north into the Kara Kum Desert, pitching camp beside the flaming Darvaza Gas Crater – one of Turkmenistan's most unusual sights, nicknamed "the Door to Hell." Continue north to the UNESCO-listed ruins of Kunya-Urgench, a medieval agricultural center. Return again to Ashgabat and head outside of town for a private tour of a farm where renowned Akhal-Teke horses are bred. That evening, celebrate your time in Turkmenistan with a farewell dinner.

HIGHLIGHTS

Tent camping next to the Darvaza Gas Crater as it emits its brilliant glow
The beautiful Kutlug-Timur Minaret at the Kunya Urgench ruins
An up-close look at Akhal-Teke horses, the pride of Turkmenistan
Dates &amp Prices
Please note:
Private trip prices vary by season and are subject to hotel availability for your travel dates.
Listed prices below are based on double occupancy and a 2 traveler minimum.
Hotel upgrades, additional nights, and solo traveler prices are available on request.
Land tour price, per person, starting from:
2023 Dates

Available: March - November

Tour, double occupancy

$3,995

Plus internal airfare

$300

2024 Dates

Available: March - November

Tour, double occupancy

$3,995

Plus internal airfare

$300
What's Included
Tour Includes

Shared accommodations as noted in the itinerary. Contact MIR for hotel upgrade prices.
Meals, as noted in the itinerary.
Restaurant tips for included meals.
One arrival and one departure transfer. Additional arrival and departure transfers available at additional cost.) MIR will arrange for travelers to be met upon arrival and seen off on departure, whether or not we make your air arrangements.
Ground transportation throughout itinerary by private vehicle (type of vehicle depends on number of travelers in your group).
Services of experienced, English-speaking local guides, drivers, and other staff, as noted in the itinerary.
Guided sightseeing tours and entrance fees, as outlined in the itinerary.
Special events, excursions, and cultural performances, as outlined in the itinerary.
Complete pre-departure information, including detailed packing list, reading list, and Touring with MIR handbook with country-specific information, maps, and travel tips.
Final document packet, including luggage tags, final updates, and more.
Assistance booking your custom flight arrangements, on request. (Please note that international airfare is not included in the land tour cost).

Not Included

International airfare and taxes/fuel surcharges.
Internal airfare. (Internal airfare is quoted separately and subject to change by airlines).
Meals and drinks not specified as included in the itinerary.
Single supplement if requested or required.
Baggage handling.
Gratuities to local guides, drivers, porters, and other service personnel.
Expenses incurred as a result of delay, modification, or extension of a tour due to causes beyond MIR's control.
Travel-related insurance including cancellation, medical, and evacuation insurance.
Visa fees, excess-baggage charges, airport departure taxes, vaccination and other medical costs.
Optional pre- or post-tour extensions.
Items of a personal nature such as phone calls, email, laundry, and alcohol.
Travel entry pass to Turkmenistan payable on arrival.
Activity Level
Level 3: Medium, but Customizable
This 'Essential' itinerary designed for private travel features long days walking and standing, some rustic accommodations, some long days of overland travel, some stair climbing, unpaved sidewalks and streets, uneven surfaces and steps, absent handrails, and lack of elevators. While some of these challenges are inherent in the destinations and sites, as one of our Essential Series programs this trip can be modified as needed for those travelers who are looking for a less challenging (or more challenging) program.
There is a significant amount of touring on foot, and those travelers planning to take the program as written should be able to walk one to two miles a day comfortably. Footing can be an issue and travelers should be able to negotiate streets of packed dirt, cobblestones, uneven surfaces (possibly steep and/or wet), and deal with situations without handrails or ramps. One night is spent in a remote pilgrim guesthouse where sleeping accommodations will be shared with other group members and WCs will be rustic outhouses. One night is spent in a tent camp without access to running water. Nights can be cold. Some attractions are only accessible via steep staircases. Museums and hotels rarely have elevators.
Past travelers have encountered challenges with bureaucratic service, road conditions, plumbing, unpaved sidewalks, uneven surfaces and steps, variety of locally available foods, and availability and quality of public restrooms.
Accommodations in the basic program will vary from tourist class hotels to more basic homestays and/or guesthouses. Upgrades may be available in some cities, please call for details. Air-conditioning is a luxury and may not be available.