Local Life & Landscapes of Georgia, Armenia & Azerbaijan
Overview
This genuinely off-the-beaten-path itinerary visits remote mountains and tiny villages to explore the cultures of Azerbaijan, Armenia, and Georgia – some of the most hospitable regions of the world. You'll be invited into homes for meals, tour vineyards, meet master craftspeople, and experience traditional song and dance – along with seeing unique historical sites and gorgeous Caucasus Mountains scenery.
Travels to: Armenia, Azerbaijan, Georgia,
Map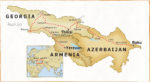 Itinerary
Days 1-4: Baku (Azerbaijan), Shemakha, Lahij, Sheki

Explore Baku, Azerbaijan's capital and a bustling business center for the Caspian oil industry. Wander the narrow stone streets of its UNESCO-listed medieval Old Town, stroll modern Fountain Square, and tour the royal Shirvanshah's Palace complex. Then travel outside the city to discover Azerbaijan's deeply traditional village culture. In Maraza, climb to the landmark Diri Baba Mausoleum.  On the outskirts of Shemakha, drop in at a farm to learn how locals make yogurt and butter. In Lahij – an ancient, almost untouched village – see a coppersmith forge samovars using medieval techniques passed down from the Middle Ages. In Sheki, visit a local artist who creates vivid stained glass windows called shebeke, and then tour the Khan's Palace where such windows were used in abundance.

HIGHLIGHTS

The winding streets, mosques, and tiny shops of Baku's walled Old Town
Vivid hand-loomed carpets at the State Museum of Azerbaijani Carpets and Applied Folk Art in Baku
The 15th century Diri Baba Mausoleum, adorned in decorative carvings
Meeting the locals, including dinner with a family in Lahij and visits to a dairy farm, a coppersmith's workshop, and a glass-maker's studio
The mosaic-covered Khan's Palace, a UNESCO World Heritage site

Days 5-6: Signagi (Kakheti Region, Georgia)

Cross the border into Georgia and enter the region of Kakheti, Georgia's wine country. Take a walking tour of the vineyards of Pheasant's Tears Winery, which uses traditional methods and organic grapes to produce some of the country's most esteemed wines. Continue to the charming town of Signagi to experience Georgia's exceptional cuisine and hospitality at a "Georgian Table" feast. The following day visit three characteristic villages: Panaani, Machkhaani, and Magaro. Have a homegrown, home-cooked lunch in the beautiful garden of a local resident, and then visit the 9th century Bodbe Monastery.

HIGHLIGHTS

Touring and tasting at Pheasant's Tears Winery
The narrow streets and intricate wooden balconies of the hill town of Signagi
A Georgian Table feast, accompanied by a performance of traditional songs in a centuries-old, distinctly Georgian polyphonic style
Lunch with an enterprising local who cultivates and cooks all of her own food
The gardens and frescoed basilica of Bodbe Monastery

Days 7-8: Omalo, Dartlo (Tusheti Region)

Take an adventurous drive into the mountains of Tusheti, Georgia's most remote region. The one narrow road, open only from June through October, provides unbeatable views and some spine-tingling curves. Bed down in Omalo, Tusheti's largest village, and the following day visit idyllic Dartlo, a village of only a handful of families. While in the mountains, sample Tusheti's singular culinary achievement, khinkali – juicy meat-and-spice dumplings – washed down with home-brewed beer at a local festival.

HIGHLIGHTS

Crossing 9,500-foot Abano Pass on the winding Tusheti mountain road
A picnic amid spectacular mountain scenery
Indulging in khinkali dumplings and local beer

Days 9-10: Tbilisi

Descend from the mountains and make the drive to hip, picturesque Tbilisi, Georgia's capital and by far its largest city. Explore the narrow streets of the red-roofed Old Town, and then head to the art nouveau Sololaki District for lunch and a wine tasting. Visit the Georgian National Museum to examine some of the country's most significant archaeological finds, including 1.8-million-year-old Homo erectus skulls.

HIGHLIGHTS

The beautiful drive to Tbilisi through the Kakheti lowlands and the green Gombori Mountains
The elaborately carved balconies of Tbilisi's Old Town
The National Museum's extensive, eclectic collection
More exceptional food and wine

Days 11-13: Kutaisi, Mestia

Head to Kutaisi, Georgia's second-largest city (though just a tenth the size of Tbilisi), stopping along the way at the workshop of a ceramicist who makes qvevri, the 200- to 900-gallon earthenware vessels used for fermenting Georgian wines. Tour the city, best known as the site of Jason's mythical quest for the Golden Fleece, and visit the UNESCO-listed 12th century Gelati Monastery. Then it's back up into the mountains – this time in the region of Svaneti, which has earned a UNESCO World Heritage listing for its remarkably preserved medieval appearance and its massive watchtowers. As a result of their isolation, Svanetians are considered the "most Georgian of all Georgians." Get a chance to meet some of them at lunch in a local home in the town of Mestia, and then visit its first-rate ethnographic museum.

HIGHLIGHTS

The frescoes and mosaics of Gelati Monastery
A demonstration and explanation of how qvevri wine vessels are made
The steep, remote mountains of Svaneti, studded with medieval watchtowers
Lunch with locals in Mestia
The amazingly high-quality medieval icons and gold altar crosses of Mestia's ethnographic museum

Days 14-16: Batumi, Akhaltsikhe, Vardzia

Drive down from the mountains to the Black Sea for a stop in Batumi, an important port and resort city where 19th century oil barons' homes contrast with a modernized waterfront. Back inland, cross the pastures of the Ajara region, stopping for lunch at a local farm, before reaching the 1,000-year-old town of Akhaltsikhe. It once sat at a junction of the old Silk Road and today features ruins of an ancient fortress and a renovated Old Town. Then explore Vardzia, a remarkable medieval city consisting entirely of caves built into a rock face.

HIGHLIGHTS

The tropical-resort ambience of Batumi, where cafes spill out onto the broad, tree-lined streets
Akhaltsikhe's medieval Christian, Jewish, and Islamic structures – a testament to the multicultural influences brought by the Silk Road
Exploring the network of hundreds of caves that makes up Vardzia

Days 17-21: Phoka, Gyumri (Armenia), Yerevan

Pay a visit to the delightful Phoka Nunnery, where the nuns make cheese and chocolate by hand, before crossing into Armenia. From the city of Gyumri explore the mountainside Ashtarak region, visiting 13th century Saghmosavank Monastery and having a home-cooked Armenian meal in the beautiful wine cellar of a 170-year-old house.

The tour's final stop is the Armenian capital of Yerevan, a city older than Rome. Explore its mix of old and new: medieval shrines hidden behind imposing Soviet-style facades; the narrow lanes of the Old Town; Republic Square; the giant, modern Cascade stairway; and, above town, 167-foot-tall Mother Armenia statue, with a museum housed in its base. A day trip goes to the remote little monastery of Khor Virap, which has fantastic views of Mt. Ararat. Along the way, visit the workshops of a carpet weaver and a master craftsman of traditional reed instruments. A farewell dinner features Armenian food, folk music, and dance.

HIGHLIGHTS

Handcrafted chocolates, cheeses, and beeswax candles made at Phoka Nunnery
13th century Saghmosavank Monastery (Monastery of the Psalms), built of red and black stone
Experiencing Armenian cuisine and hospitality in a beautiful mountainside home
Yerevan's Cascade, a massive, magisterial staircase in the center of the city, adorned with waterfalls and a world-class sculpture garden
The view of looming, snow-capped Mt. Ararat from Khor Virap monastery
A visit to the studio of Karen Hakobyan, one of the finest makers of the duduk, a traditional Armenian reed instrument
Dates &amp Prices
Small group tour – max 12 travelers
Land Tour Price, Per Person. Based on double occupancy and minimum group size of 5 travelers.
2023 Dates

Tour, double occupancy

$8,695

2024 Dates

Tour, double occupancy

$9,495
What's Included
Tour Includes

Accommodations, as noted in the itinerary.
Most meals, as noted in the itinerary.
A daily supply of bottled water.
Arrival/departure airport transfers on the tour start/end date. MIR will arrange for all travelers to be met upon arrival and seen off upon departure whether or not we make your flight arrangements.
Ground transportation throughout tour by private van or coach. (Type of vehicle depends on group size.)
Services of experienced, English-speaking local guides, drivers, and other staff, including a MIR Tour Manager.
Guided sightseeing tours and entrance fees as outlined in the itinerary.
Special events, excursions, and cultural performances, as outlined in the itinerary.
Gratuities to local guides, drivers, and other service personnel, including servers at group meals.
Complete pre-departure information including detailed packing list, reading list, and Touring with MIR handbook with country-specific information, maps, and travel tips.
Final document packet including luggage tags, final updates, and more.
Assistance booking your custom flight arrangements, on request. (Please note, international airfare is not included in the land tour cost.)
Customized visa information and instructions. (Please note, visa fees are not included in the tour price.)

Not Included

International airfare and taxes/fuel surcharges.
Meals and drinks not specified as included in the itinerary.
Single supplement (or partial single supplement where applicable), if requested or required.
Gratuities to Tour Manager.
Expenses incurred as a result of delay, modification, or extension of a tour due to causes beyond MIR's control.
Travel insurance including cancellation, medical, and evacuation insurance.
Visa and/or passport fees, baggage handling or excess-baggage charges, airport departure taxes, vaccination and other medical costs.
Optional pre- or post-tour extensions.
Items of a personal nature such as phone calls, email, laundry, and alcohol.
Activity Level
Level 4: Rigorous
This intentionally adventuresome (due to the nature of the destinations) small group tour features challenging overland travel including on steep, rough, single-lane mountainous roads using 4WD vehicles; and rustic accommodations, some without reliable constant electricity. There are also long days walking and standing while touring, foot traverses of two border points while carrying/rolling baggage, unpaved sidewalks and streets, uneven surfaces and steps, absent handrails, significant stair-climbing, and absence of elevators. Only those very fit to travel and who are willing to accept local standards of amenities and services and the physical challenges of the program should consider joining. Conditions are expected to be particularly challenging in the Tusheti region of Georgia. We strongly encourage you to talk with us about any questions you may have regarding the rigors of this trip or destination when considering this tour.
Travelers must be able to walk at least two miles a day, keeping up with fellow travelers on a variety of terrain including through villages, on dirt paths, and the like. Some drives in steep, mountainous conditions with poor-quality roads at elevation and without guardrails may last as long as 8-10 hours driving time (with comfort stops). Since electricity is not a reliable constant throughout the itinerary, if you rely on electricity for CPAP (continuous positive airway pressure), or for any other reason, you must have your own battery or other back-up, or please reconsider participation. 
Border crossings may require walking up to about a half-mile while managing baggage, and in some cases bags may need to be carried during these crossings rather than rolled, as the road/sidewalk surface is not always paved or smooth. Some attractions are only accessible via steep staircases with tall, uneven steps, and some of the sites may involve steep steps inside narrow passageways with limited light. Elevators are not available at touring sites, nor at a few of the hotels.
Other challenges include overall shortcomings in the tourism infrastructure of these developing destinations, including some that can cause walking challenges such as unpaved sidewalks, uneven surfaces and steps, packed-dirt streets, broken pavement (streets or sidewalks), and a general absence of handrails or ramps. 
Accommodations vary from four star properties in the capitals to relatively basic and simple hotels in the more remote areas. This program makes use of rustic hotels in the mountainous Svaneti region of Georgia. Past travelers have also encountered challenges with plumbing, bureaucratic service, variety of locally available foods, and availability and quality of public restrooms. 
Gallery