The Timeless Appeal of the Republic of Georgia
MIR Vice President Annie Lucas has traveled to the Republic of Georgia countless times over the last 30 years, and is MIR's resident Georgia travel expert. Her first trip to Georgia was in the early 1990s in the dead of winter. In spite of some chilly nights spent bundled in all her clothes when the old government-run system experienced electrical shortages – commonplace back then – she was totally taken with the congenial generosity of the people, the joyous feasts, free-flowing wine, spontaneous songs, and the incredible beauty of the country's soaring mountains and sheltered valleys. Since then she has been back many times, cementing her love for and knowledge of the rural villages, urban centers, promising restaurants, and natural wine bars of gorgeous Georgia.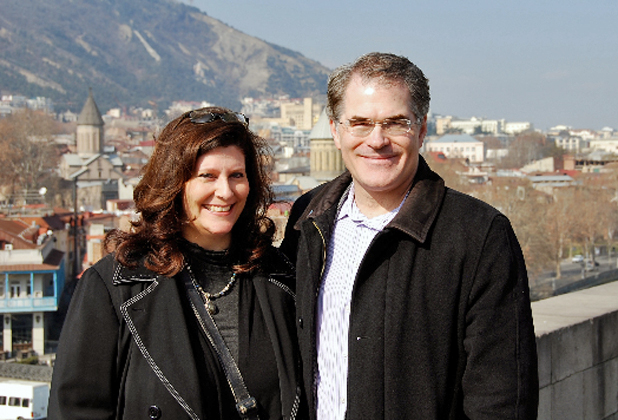 Location, location, location…
The little country of Georgia, where Jason once sought the Golden Fleece, is set along the eastern Black Sea shore just above Turkey. Its lush lowlands extend upwards into the dizzying heights of the Caucasus Mountains. With its South Caucasus companions Armenia and Azerbaijan, it fills the rugged spaces between the Black and the Caspian Seas.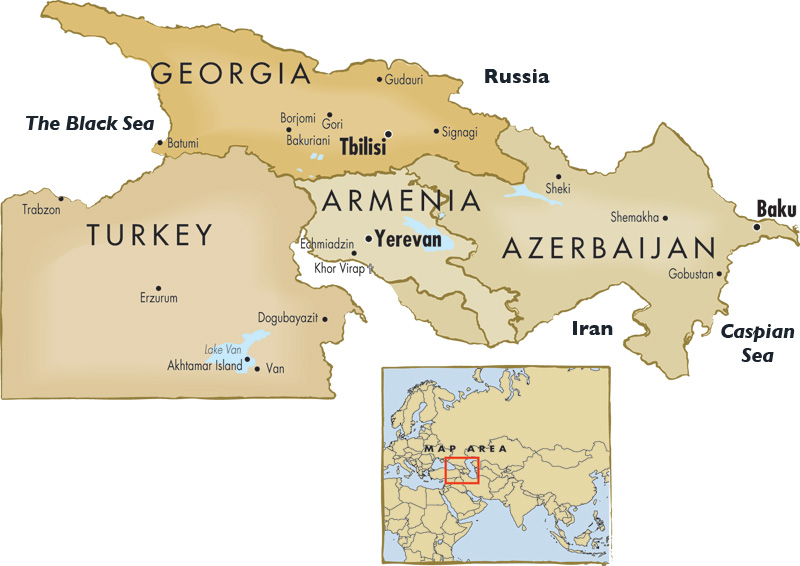 A crossroads of civilizations, Georgia has everything a traveler could ask for in a destination: fabulous feasts, ebullient hosts, fervent toasts, harmonies that grab you by the heart, razor-sharp mountain peaks whose valleys are dotted with medieval watch-towers, contemporary museums filled with evidence of a succession of ancient cultures, flourishing cities where you can find glowing glass high-rises next to old stone churches, and a populace who will likely dive straight from small talk to the deep concerns of their hearts.
Where else in the world can you:
Drive from snow-clad mountains to tea plantations and palm trees on the sea shore in one day?
Sip the natural amber wines of Kakheti, fermented in ceramic vessels called qvevri, a method used for more than 8,000 years?
Dig in to a crusty Ajaran khachapuri, shaped like a boat filled with cheese, butter, and egg?
Hear the robust, hair-raising harmonies of ancient polyphonic folk songs, included by UNESCO on its list of the world's Intangible Cultural Heritage?
Indulge in a Georgian Table feast, where the abundant dishes are piled on top of one another and the host proposes toast after toast to life and love?
Stroll the streets of a mountain town surrounded by ancient stone towers that are straight out of the Middle Ages?
(click image to view larger photo)
Why is now the time to travel to Georgia?
It's not just me that's buzzing about Georgia. Publications such as Elle Decor, Travel & Leisure, Forbes, National Geographic, and The New York Times have articles reviewing the country of Georgia and some of the reasons you will want to travel there.
More and more people are becoming aware of the riches Georgia has to offer: its deep and complex wines, the soulful harmonies of its traditional songs, its remote mountain hideaways, luminous contemporary architecture, and lingering hours-long feasts. The time to visit is now, before the rest of the world wakes up to Georgia.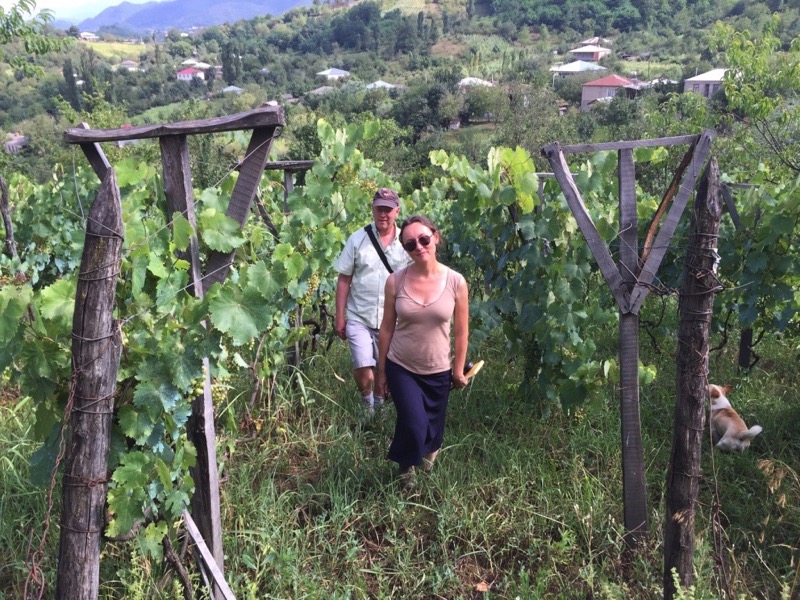 We love the spirit of Georgia. And over three decades of experience crafting tours here, we've gained an insider's knowledge of the incredible experiences and sites this under-the-radar country has to share.
Georgia is a country of superlatives, and here are some of our favorite reasons to travel there… now!
1. One of the world's best wine regions
---
Arguably the oldest wine producing area in Europe, Georgia today is generating a contemporary wine-making scene that harks back to its 8,000-year-old roots, when organic grapes were aged in huge earthenware vessels, called qvevri, and buried in the earth until they ripened into wonderfully full-bodied wines. Bloomberg Business named Georgia "one of the world's best wine regions."
(click image to view larger photo)
Read more about it:
2. Delicious and bounteous feasts
---
Epicures agree that some of the most sumptuous food in the world is served at a Georgian feast. A "Georgian Table" experience can last several hours, with dozens of dishes and countless toasts. The table is covered with plates of delicacies balanced on top of each other – chicken in crushed walnut sauce, khachapuri (a savory cheese pie), puff pastries, little meat dumplings called khinkali, salads and marinated vegetables, just to name a few. Most of it is locally sourced, regionally-flavored, and farm/garden to table, as well.
(click image to view larger photo)
More photos and articles about delicious Georgian cuisine:
3. Your own personal toastmaster
---
A large feast, or supra, will have a sort of toastmaster called a tamada, who is charged not only with toasting and inviting others to toast, but with telling stories and jokes and sometimes leading songs.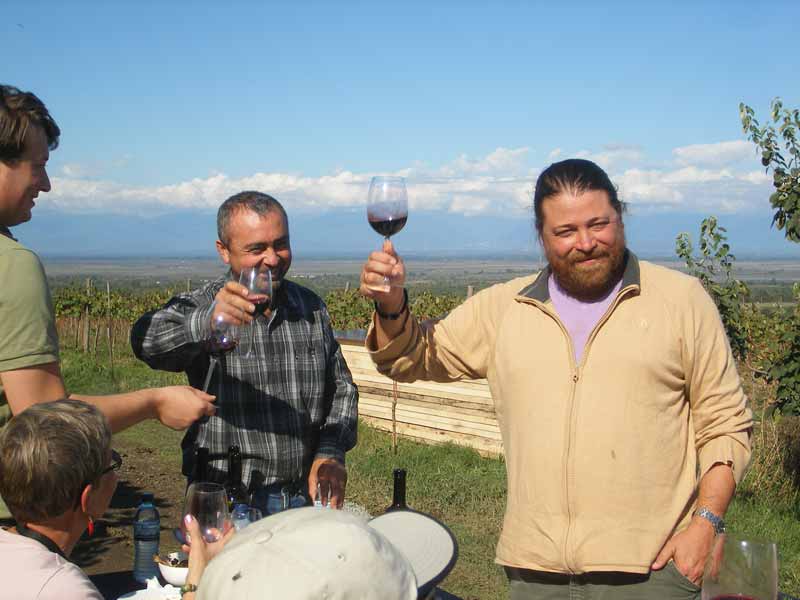 More photos and articles about a Georgian toast: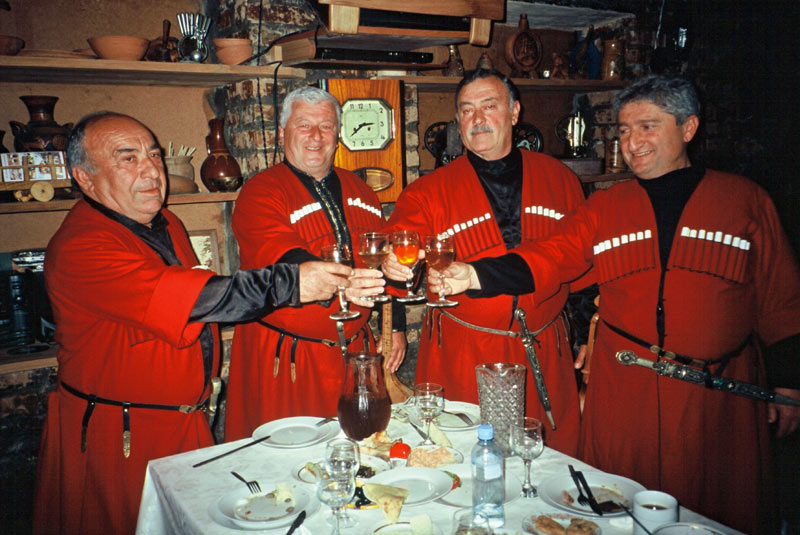 4. Harmonic traditions
---
Georgia has one of the oldest and most intriguing polyphonic vocal traditions in Europe. Developing independently of Western European rules of harmony, Georgian vocal music has been passed down by ear for hundreds of years – possibly since the 5th century BC.
More info and photos and videos celebrating Georgia's music and dance traditions: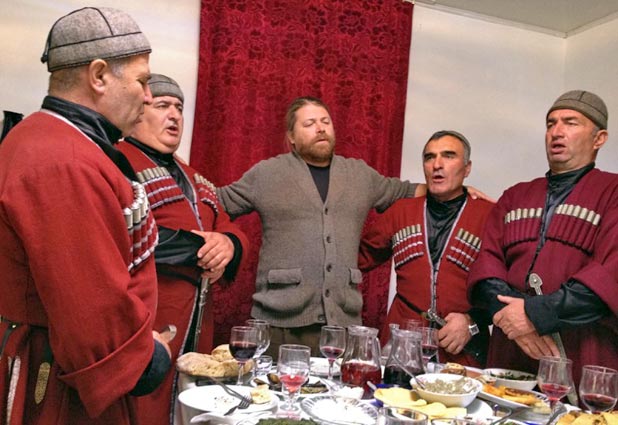 5. Remote mountain villages
---
Set in the steep valleys of the towering Caucasus Mountains, the Svaneti region is one of the highest inhabited place in Europe.
The Tusheti region, even more remote, is an untamed corner of formidable alpine slopes that shepherds and their sheep reach by a three-day climb up a precipitous switchback road, spending the summer in the high elevations.
Both of these regions' formerly inaccessible solitude has helped them preserve their mountain heritage intact.
(click image to view larger photo)
More photos and articles about life in the mountains of Georgia: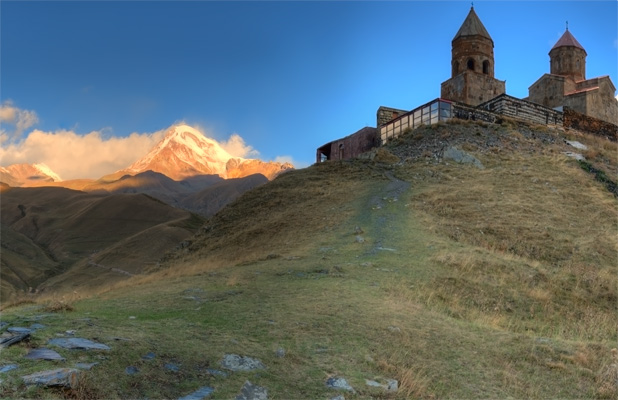 6. Bold architecture and landscapes
---
Tucked in the shadows of the Caucasus Mountains, Georgia's surprisingly diverse landscapes have been called some of the most beautiful on earth. Steep, arid mountains and rolling hillsides are dotted with ancient stone watchtowers and fortress-like churches, evidence of the harsh battles and the daily difficulties of early Georgian tribesmen, while fertile green valleys in the lowlands are spread with charming vineyards and lush farmland.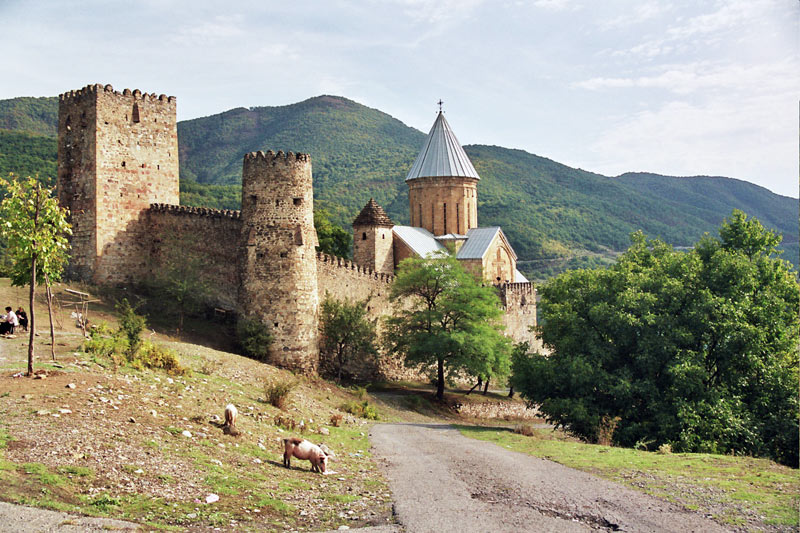 As a country caught at a strategic crossroads between East and West, Georgia has a deep and complex history, influenced by the various empires that struggled for sovereignty over its hills and valleys. It's given the country a spectacular array of architecture, from cave monasteries and ancient cathedrals precariously perched on mountaintops, to Tbilisi's unusual blend of art nouveau apartments, Soviet-era tower blocks, and contemporary modern structures.
(click image to view larger photo)
More photos and articles about life in the mountains of Georgia:
7. The Intensity of Tbilisi
---
Georgia's capital city, Tbilisi, has its own flavor, its own flair. Street life is vigorous yet laid back, if that can be, sporting khachapuri by the slice, corner kiosks selling churchkela (the Georgian sweet made of grape-juice-dipped strings of walnuts,) hidden gardens, artists' studios, medieval sulfur baths, and business people dodging the madcap traffic as they hurry to appointments.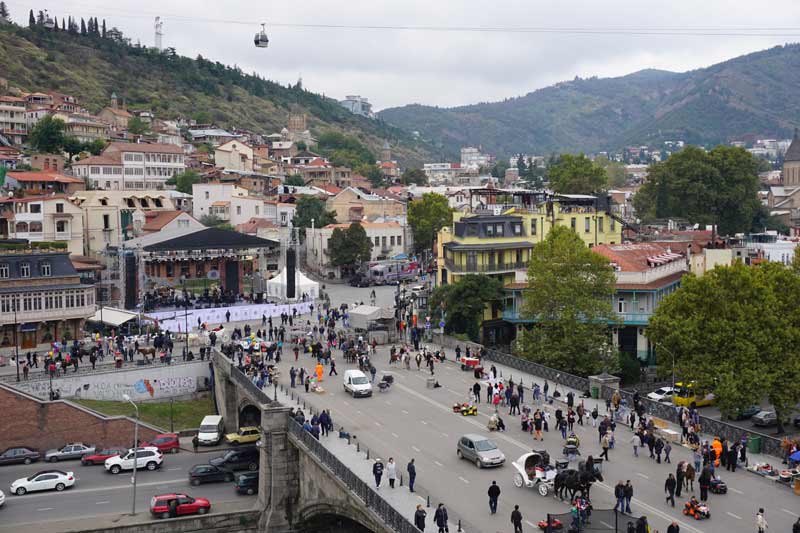 Beyond the hubbub, you can find little jazz joints, underground natural wine bars, an array of restaurants with a uniquely Georgian twist on farm-to-table, hidden courtyards with crumbling art nouveau balconies, and five star hotels where you can rest up from the kinetic pace and the ever-ready night life. A tantalizing city, it's been known to hold on to travelers far longer than they had intended to stay. You must try it to appreciate its many moods.
(click image to view larger photo)
Some more photos and info about Tbilisi, Georgia's captivating capital:
8. Open-handed hospitality
---
A proud independent spirit, a long tradition of lavish hospitality, and an abundance of Nature's gifts combine to make the Georgian people fabulous hosts, imaginative chefs, creative artists, and open-hearted friends.
(click to view larger image)
More articles about ways to be amazed by Georgia: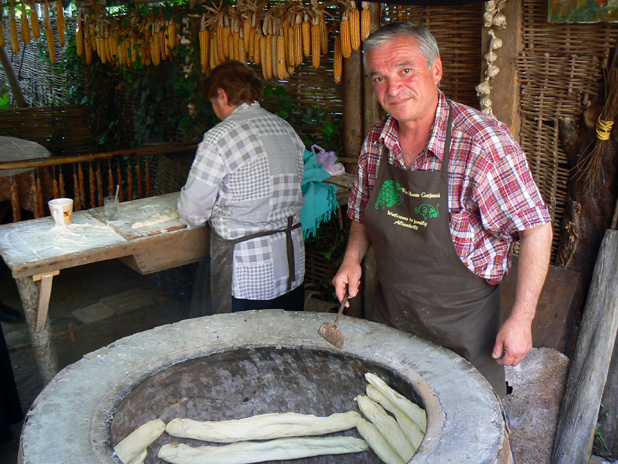 Travel to Georgia with MIR
MIR has more than 30 years of unmatched destination expertise and travel planning experience, hand-crafting tours to Georgia and the South Caucasus since 1986.
Fall in love with this part of the world on MIR's small group tours to Georgia:
You can also opt to travel privately on your choice of dates and at your pace on a private, customized journey of Georgia, or one of our pre-made private Essential trips: