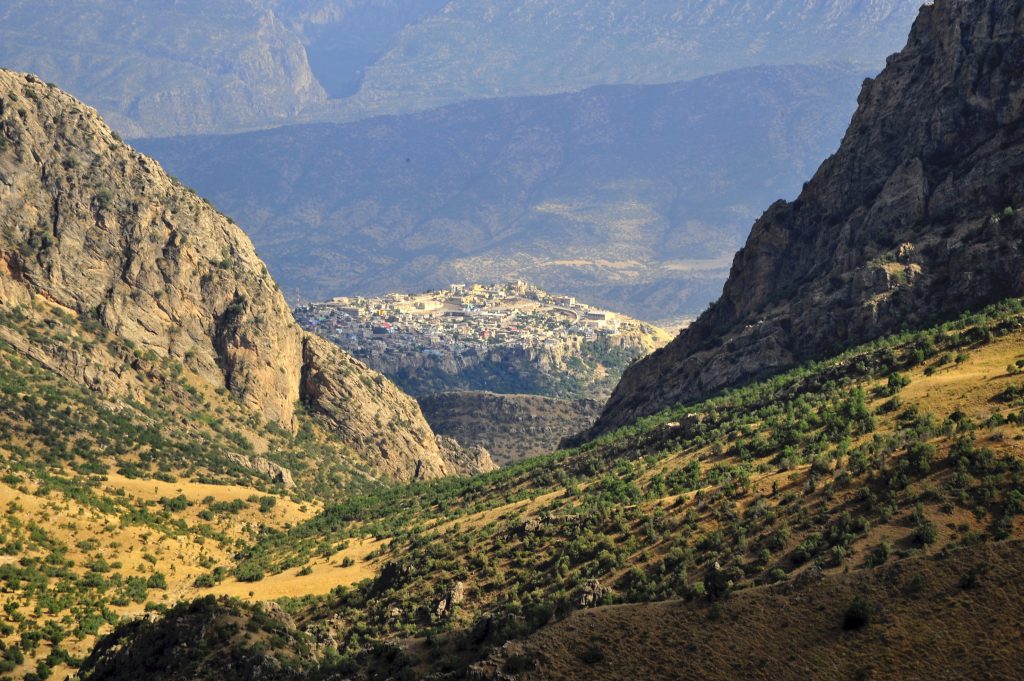 First off, what is Kurdistan? While the cultural homeland of the Kurds spans borders and encompasses parts of Iraq, Iran, Syria, and Tukey, the Kurdistan that we are focusing on today is an autonomous region in the north of Iraq. Since the fall of Saddam Hussein they have managed their own affairs, with a Kurdish military, police force, and government all existing as separate entities from their Iraqi equivalents. This autonomy has brought Kurdistan and the diverse minorities living there a newfound sense of peace and stability, and the region seems to be poised to enter a long-awaited period of prosperity.
And who are the Kurds? Kurds are not Arabs, nor Turks, nor Persians. They speak an Indo-European language that is a close relative of Persian, but not mutually intelligible with it. Most are Sunni Muslims. The Kurds have long been allies of the U.S., and they suffered terribly under Saddam Hussein's repressive dictatorship. Though the majority in Kurdistan, Kurds are not the only inhabitants of the region. Assyrian Christians speaking a dialect of Aramaic, Turkmens, Armenians, Arabs, and Yazidis (a Kurdish-speaking religious minority) also call this land home.
As to why one should visit Kurdistan, one of the main reasons is simply that travel to Kurdistan is now possible. For decades the threats of war, violence, and repression kept visitors away. Times have changed, all of these threats have faded, and the region is open. Many passport holders can obtain a visa-on-arrival at the main airport in Erbil. Hotels ranging from 3-star standards to 5-star properties have opened up in the principal cities of Erbil, Duhok, and Sulaymaniyah. A cadre of skilled guides is developing, all of them locals passionate about their homeland. And there is so much to see during your visit to Kurdistan! Whether you are interested in bustling, exotic bazaars, battlefields dating to the time of Alexander the Great, scenic waterfalls nestled in forested, lush mountains, or obscure, beautiful, and peaceful monasteries and temples – Kurdistan has it all.
(click image to view larger photo)
When to Visit Kurdistan
---
Located in the far north of Iraq, and crossed by the Zagros Mountains, Kurdistan has a continental and temperate climate. Summers are hot and dry, though nowhere near as hot as the deserts of southern Iraq. Winters are cool and rainy and at higher elevations cold and snowy. Erbil and Duhok receive around the same annual precipitation as San Francisco, and Sulaymaniyah substantially more. If you are looking for cool temperatures and greenery, spring is best. For cool temperatures and blue skies, fall is best. Summers are typically too hot to recommend, though if you are looking to focus on the mountains a summer trip might be advisable. Winters are cool to cold in Kurdistan, but the region can easily be visited then, minus a few of the higher mountainous areas.
(click image to view larger photo)
How to Get to Kurdistan
---
While located in Iraq, it is easy to get to Kurdistan without setting foot in Baghdad or elsewhere in the country. FlyDubai flies direct from Erbil to Dubai where connections with Emirates are possible. Qatar Airways flies direct to Doha and then on to numerous U.S. airports. Finally, Turkish Airlines operates a direct route from Istanbul to Erbil. These same three airlines also serve Kurdistan's second city, Sulaymaniyah.
Travel to southern Iraq is also possible these days and becoming increasingly popular. See our separate blog, Why Travel to Southern Iraq. Baghdad is well connected by air to both Sulaymaniyah and Erbil for travelers looking to combine the regions of northern and southern Iraq.
(click image to view larger photo)
What to See in Kurdistan
---
Kurdistan is diverse, both culturally and geographically. That diversity translates to a great deal to do and see in the region. Here is a small subset of some of the experiences possible in Kurdistan:
Meet with a Syriac Orthodox monk at the ancient Monastery of St. Matthew, learning more about this little understood sect of Christianity and taking in sweeping views of northern Mesopotamia from the scenically perched compound.
Walk across what may have been the site of the Battle of Gaugamela, fought and won by Alexander the Great in his conquest of Achaemenid lands over 2,000 years ago.
Explore Lalish, the religious and cultural focal point for the Yazidi people, who were brutally persecuted by the Islamic State during their occupation of nearby areas.
Spend time with Yazidi refugees while learning about efforts to help them recover and regain a sense of normalcy.
Hear from representatives of another of Kurdistan's Christian groups, the Chaldean Catholic Church, at the millennia-old Rabban Hormizd Monastery outside of Duhok.
Chat with Assyrian children at an orphanage near the predominately Christian town of Alqosh, not far from Duhok.
Explore the recent ruins of Saddam Hussein's former palace atop Gara Mountain – still a gorgeous spot.
Wander through the ancient monuments and modern markets of Amedi, a hilltop town – one of Kurdistan's most picturesque locales.
Visit Shanidar Cave, an important and extensively studied archaeological site once inhabited by Neanderthals that has yielded valuable insights into their cultural practices.
Taste a local delicacy, fish caught from the Great Zab River – a tributary of the Tigris ­– as you wind through hills and gorges of the Zagros Mountains.
Marvel at the strikingly beautiful scenery of Rawanduz Gorge as you drive and walk along Hamilton Road, which was carved out of the rock walls here in the early 20th century.
Contemplate the decades of repression and atrocity inflicted by Saddam Hussein on the Kurds at the beautiful but deeply sad Amna Suraka museum and in the village of Halabja.
Browse the exhibits at the U.S.- and UNESCO-supported Slemani Museum, Iraq's second largest museum with galleries focusing on the region's history from prehistory through Ottoman times.
Interact with picnicking locals and enjoy the lush greenery at the beautiful Ahmed Awa Waterfall in the Zagros Mountains near Sulaymaniyah.
Observe (or join!) the lines of pilgrims at a fertility shrine in Shaqlawa, a foothills town near Erbil with an attractive market.
Gaze out across the ancient city of Erbil from atop its UNESCO World Heritage-listed citadel, now preserved and home to a textiles museum.
Enjoy a meal of traditional, home-cooked cuisine at the home of a local family in Erbil, chatting with them to learn about their lives and place in modern Kurdistan, accompanied by a performance of Kurdish folk music.
(click image to view larger photo)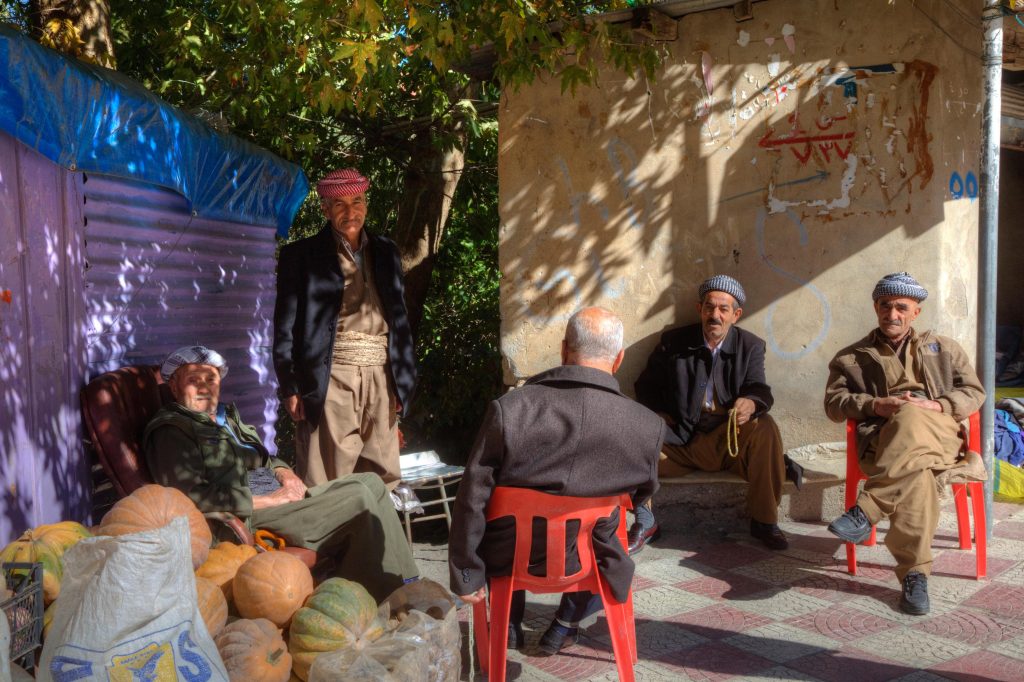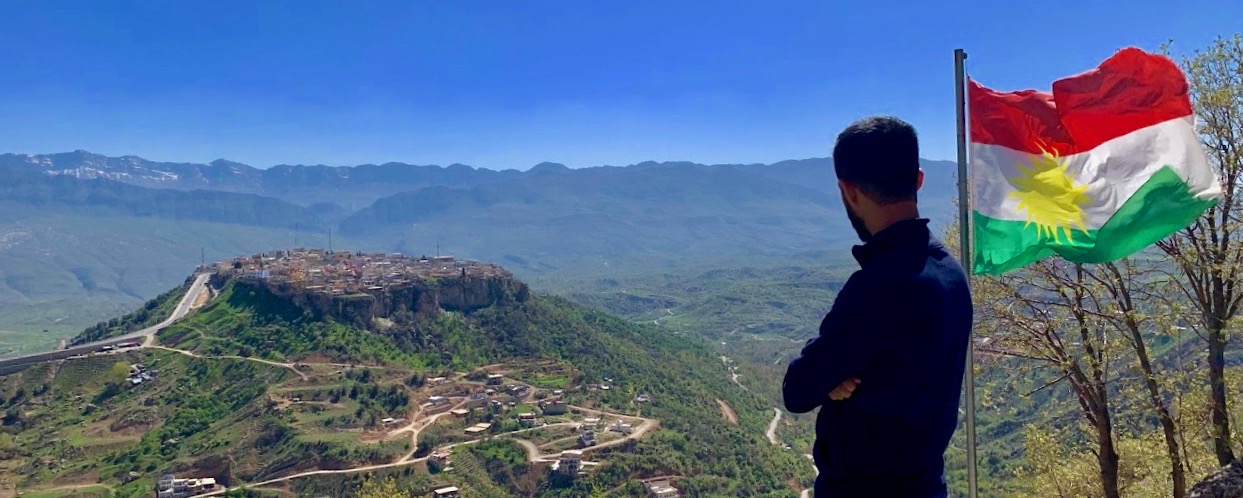 MIR Small Group Tours and Private and Custom Offerings