error_outline
New tour for 2023! Connects to our Kurdistan tour!
From Baghdad to Babylon
Overview
Starting in the capital Baghdad and ending in the southeastern port city of Basra, this 10-day exploration of southern Iraq focuses on the majority Shia areas of the country. This region is also deeply rich in history. It is home to the ruins of some of the planet's most ancient civilizations (the Sumerians, Akkadians, and Babylonians, for example), alongside sites that were pivotal in the early development of Islam. The region is also fascinating as the cultural homeland to both urban Shia Arabs in cities like Karbala and Najaf and rural Marsh Arabs. The former are custodians of some of the most beautiful and holy mosques in the Muslim world, and the latter (who are also Shia) have a unique lifestyle based on the reed-lined waterways of Iraq's marshes. Both suffered greatly under Saddam Hussein's regime, and the revitalization of the area has been important to the rebirth of Iraq as a new state free of the former dictator.
Map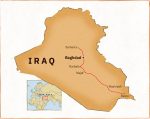 Itinerary
Days 1-3: Baghdad (Iraq), Samarra

The adventures starts in Baghdad, Iraq's capital and largest city. Over the course of three nights and two days explore the local culture in the souqs and streets and get acquainted with the country's ancient history while browsing the exhibits at the national museum. Head out of town on a day trip to view the Great Mosque of Samarra and its impressive Malwiya Minaret.

HIGHLIGHTS

Explore the 28 galleries and hundreds of thousands of artifacts housed at the Museum of Iraq, one of the world's best museums, especially for ancient Mesopotamian civilizations and Islamic history
Acquaint yourself with life in contemporary Baghdad as you browse the booksellers and markets on Mutanabbi Street and in the Souq al Safafeer
Climb the 9th-century Malwiya Tower in Samarra, one of the world's oldest and largest minarets, unique for its spiral shape, akin to the inside of a seashell
Visit the ruins of the Parthian and Sassanian capital, Ctesiphon, which lies not far from Baghdad

Days 4-6: Karbala, Najaf

From Baghdad head into the ancient heartland of Mesopotamia to view Babylon, both the ancient ruins and one of Saddam Hussein's palaces. Then continue to Karbala, an important pilgrimage site for Shia Muslims and the location of the historically important Battle of Karbala. The next stop is Najaf, one of Iraq's major cities and another important center for Shia pilgrims. The UNESCO-listed ruins of ancient Sumerian city-states are located nearby.

HIGHLIGHTS

Wander the ruins at Babylon, one of the most famous of Iraq's many ancient cities, and afterwards climb up to the palace overlooking the site, a testament to Saddam Hussein's megalomania
Explore Ukhaidir Palace, an Abbasid archaeological site extensively documented by Gertrude Bell in the early 20th century
Contemplate the history of Shia Islam at the spectacular pilgrimage sites of southern Iraq, especially the Imam Husayn Mosque in Karbala, the Great Mosque of Kufa, and the Imam Ali Shrine in Najaf
Step back into time as you explore the millennia-old Sumerian city-states of Ur and Uruk, both included on UNESCO's World Heritage List

Days 7-10: Nasiriyah, Basra

Continue through Mesopotamia towards the Persian Gulf, stopping in Nasiriyah to view its bustling markets and then the marshes  near where the Euphrates River meets the Tigris River. The finals nights are spent in Basra, home to Ottoman heritage. Head out for a sunset cruise on the final night to take in the city from a new perspective.

HIGHLIGHTS

Learn about the culture and tumultuous recent history of the Marsh Arabs as you explore the waterways of their reed-filled homeland aboard a boat
See where the Euphrates and Tigris meet to form the Shatt al Arab, a purported site of the Biblical Garden of Eden, and then later head out on the Shatt al Arab to see Basra from a new perspective
View Ottoman-era Shanasheel houses along the canals of Basra, largely dilapidated now but still evocative of a bygone era, and the subject of UNESCO-supported efforts to revive the traditional carpentry technique
Dates &amp Prices
Small group tour – max 16 travelers
Land tour price, per person. Based on double occupancy and minimum group size of 6 travelers.
This trip connects to our preceding Kurdistan tour, October 9-17, 2023.
2023 Dates

Oct 17 - 26

October 17-26, 2023 departure led by Michel Behar!

Nov 7 - 16

One spot left!

Tour, double occupancy

$6,895

2024 Dates

Tour, double occupancy

$7,295
What's Included
Tour Includes

Accommodations, as noted in the itinerary.
Most meals, as noted in the itinerary.
A daily supply of bottled water.
Arrival/departure airport transfers on the tour start/end date. MIR will arrange for all travelers to be met upon arrival and seen off upon departure whether or not we make your flight arrangements.
Ground transportation throughout tour by private van or coach. (Type of vehicle depends on group size.)
Services of experienced, English-speaking local guides, drivers, and other staff, including a MIR Tour Manager.
Guided sightseeing tours and entrance fees, as outlined in the itinerary.
Special events, excursions, and cultural performances, as outlined in the itinerary.
Gratuities to local guides, drivers, and other service personnel, including servers at group meals.
Complete pre-departure electronic document that includes detailed packing suggestions, reading list links, country-specific information, maps, travel tips and more.
Assistance booking your custom flight arrangements, on request. (Please note, international airfare is not included in the land tour cost.)
Customized visa information and instructions. (Please note, visa fees are not included in the tour price.)
Electronic final update bulletin, with any late news, updates and important information.

Not Included

International airfare and taxes/fuel surcharges.
Meals and drinks not specified as included in the itinerary.
Single supplement (or partial single supplement where applicable), if requested or required.
Gratuities to Tour Manager.
Expenses incurred as a result of delay, modification, or extension of a tour due to causes beyond MIR's control.
Travel insurance, including cancellation, medical, and evacuation insurance.
Visa and/or passport fees, excess-baggage charges, airport departure taxes, vaccination and other medical costs.
Items of a personal nature, such as phone calls, email, laundry, and alcohol.
Optional pre- or post-tour extensions.
Activity Level
Level 3: Medium
The accommodations vary from three- to five-star properties. It is important to keep in mind that parts of Iraq are not up to the standards North American travelers expect. Services are improving; however, you may encounter problems with bureaucratic service, road conditions, plumbing, unpaved sidewalks, uneven surfaces and steps, variety of locally available foods, and availability and quality of public restrooms. You are traveling in some areas that see relatively few travelers, and the infrastructure is not yet fully developed.
While this program is designed to be the most comfortable possible for travel in this region, it is rated as rigorous touring due to the daily walking involved, the length of some bus rides and the overall shortcomings of the tourism infrastructure. This itinerary features a significant amount of touring on foot. Many streets are made of packed dirt, and some attractions are only accessible via steep staircases with tall uneven steps. Often the museums have no elevators. During touring excursions, availability of western toilets is unreliable in in the region. Many public toilets encountered during touring, at museums, at restaurants and so forth are squat toilets, and handrails may be inadequate.
Every effort has been made to make the information in this schedule accurate. However, trip itineraries are always subject to change. We do our best to inform you in advance of any changes, but due to the nature of travel in the region, this may not always be possible. Only those willing to accept these conditions should consider joining this program.
To reap the full rewards of this adventure, travelers must be able to walk at least a mile a day, keeping up with fellow travelers. Flexibility, a sense of humor and a willingness to accept local standards of amenities and services are essential components to the enjoyment of this trip.
Gallery
10/20

Explore Mesopotamia

12/20

Explore Mesopotamia

13/20

Explore Mesopotamia

16/20

Explore Mesopotamia

17/20

Explore Mesopotamia

18/20

Explore Mesopotamia

19/20

Explore Mesopotamia