error_outline
Meet winegrowers, chefs, artists, and singers as you taste your way across gorgeous Georgia
An Epicurean Adventure Across Georgia's Wine Country
Overview
International travelers are discovering what residents of the South Caucasus region have long known: Georgian food and wine are out-of-this-world good. This tour takes you to the places where Georgia's extraordinary flavors shine brightest: in the vineyards, restaurants, and family tables where the country's most accomplished winemakers and chefs ply their crafts. Along the way you'll get to know the hip, historic capital city of Tbilisi, explore picturesque mountains dotted with centuries-old villages and monasteries, and discover firsthand why Georgians are famous for their hospitality.
Travels to: Georgia
Map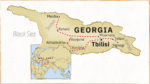 Itinerary
Days 1-3: Tbilisi (Georgia), Mtskheta

Start your Georgian experience by getting to know hip, picturesque Tbilisi, the country's capital and by far its largest city. A day of touring includes wandering the narrow streets of the red-roofed Old Town; a stroll down broad Rustaveli Avenue, Tbilisi's main thoroughfare; and a funicular trip into the surrounding hills to see the 4th century Narikala Fortress and the towering Mother Georgia monument. You'll then go underground to a cellar wine bar to sample a cross-section of Georgian wines. Dinner is a supra, a traditional feast with dozens of dishes and a tamada (toastmaster) leading the festivities.

Next, take a day trip to the surrounding Kartli region. Visit UNESCO-listed Mtskheta, capital of the eastern Georgian kingdom of Iberia from the 3rd century BC through the 5th century AD. Continue getting to know Georgian wines with tastings at the Saguramo Wine Research Station and the Mukhrani Chateau vineyard.

HIGHLIGHTS

Landmarks in and around Tbilisi, including the 4th century Narikala Fortress, the hillside Mother Georgia monument, and the elaborately carved balconies of the Old Town
A thorough introduction to Georgian wine, with tastings at three sites
A supra – a traditional feast – showing off Georgia's splendid cuisine and unstinting hospitality
UNESCO-listed Mtskheta's two exceptional early Orthodox churches

Days 4-6: Kutaisi, Svaneti

Drive into Imereti, a region of small farms, vineyards, villages, and orchards. Lunch with a local winemaker, then pause to wonder at Katskhis Sveti, a 140-foot-tall limestone monolith on top of which medieval monks built a tiny church and hermitage. At your overnight destination, the town of Kutaisi, have a dinner featuring Imeretian cuisine, some of Georgia's most creative and complex cooking.

On the following two days, explore UNESCO-listed 12th century Gelati Monastery; drive through the steep,  stunning Caucasus Mountains of the secluded Svaneti region, known for its UNESCO-listed medieval watchtowers; visit a Svanetian home for a gourmet lunch; and have a dinner accompanied by Svan singers performing in a traditional polyphonic style.

HIGHLIGHTS

A dinner of traditional Imeretian cuisine; typical dishes include kid baked in a clay oven and wild mushrooms with tarragon and local cheese
The frescoes and mosaics of Gelati Monastery
The steep, remote mountains of Svaneti, studded with medieval watchtowers
A home-cooked Svanetian lunch, which might feature hen roasted in rose petals and eggplant slices stuffed with garlic-walnut paste
A performance of traditional songs in a centuries-old polyphonic style that developed independent of European rules of harmony

Days 7-9: Borjomi, Vardzia, Tbilisi

Descend from the mountains to the town of Zugdidi, where lunch features another regional cuisine, Megrelian. In the afternoon visit a maker of qvevri, the giant earthenware vessels used to ferment Georgian wine, and then continue to the resort town of Borjomi. On subsequent days explore the medieval cave city of Vardzia and the delightful Phoka Nunnery, where the nuns make cheese and chocolate by hand, before returning to Tbilisi.

HIGHLIGHTS

Traditional Megrelian cuisine, known for its adjika (pepper sauce), satsivi (spicy walnut chicken), and ghomi (a dish resembling polenta)
Borjomi, a resort town situated on a beautiful gorge and famed for its mineral water
Exploring the network of hundreds of caves that make up Vardzia
Handcrafted chocolates, cheeses, and beeswax candles made at Phoka Nunnery

Days 10-13: Telavi, Signagi, Tbilisi

Head into Georgia's most esteemed wine region, Kakheti. In and around the charming towns of Telavi and Signagi, walk through the vineyards and sample the renowned natural wines at Pheasant's Tears Winery; visit the estate of Alexander Chavchavadze, a 19th century aristocrat and poet who was also a groundbreaking winemaker; tour the 9th century Bodbe Monastery; and continue indulging in exceptional meals. On your final day, join a local chef on his morning rounds at Signagi's food market before returning to Tbilisi for a visit to the Dry Bridge Market, where you can search through the handmade jewelry and crafts for a souvenir from your Georgian journey.

HIGHLIGHTS

Touring, tasting, and a farm-to-table meal at Pheasant's Tears Winery
The narrow streets and intricate wooden balconies of the hill town of Signagi
The beautifully restored mansion of Alexander Chavchavadze
The basilica and gardens of Bodbe Monastery
Local jewelry and crafts at Tbilisi's Dry Bridge Market
Dates &amp Prices
Small group tour – max 16 travelers
Land tour price, per person. Based on double occupancy and minimum group size of 6 travelers.
2024 Dates

Tour, double occupancy

$5,995
What's Included
Tour Includes

Accommodations, as noted in the itinerary.
Most meals, as noted in the itinerary.
A daily supply of bottled water.
Arrival/departure airport transfers on the tour start/end date. MIR will arrange for all travelers to be met upon arrival and seen off upon departure whether or not we make your flight arrangements.
Ground transportation throughout tour by private van or coach. (Type of vehicle depends on group size.)
Services of experienced, English-speaking local guides, drivers, and other staff, including a MIR Tour Manager.
Guided sightseeing tours and entrance fees, as outlined in the itinerary.
Special events, excursions, and cultural performances as outlined in the itinerary.
Gratuities to local guides, drivers, and other service personnel, including servers at group meals.
Complete pre-departure information, including detailed packing list, reading list, and Touring with MIR handbook with country-specific information, maps, and travel tips.
Final document packet including luggage tags, final updates, and more.
Assistance booking your custom flight arrangements, on request. (Please note, international airfare is not included in the land tour cost.)

Not Included

International airfare and taxes/fuel surcharges.
Meals and drinks not specified as included in the itinerary.
Single supplement (or partial single supplement where applicable), if requested or required.
Gratuities to Tour Manager.
Expenses incurred as a result of delay, modification, or extension of a tour due to causes beyond MIR's control.
Travel insurance including cancellation, medical, and evacuation insurance.
Visa and/or passport fees, excess-baggage charges, airport departure taxes, vaccination and other medical costs.
Optional pre- or post-tour extensions.
Items of a personal nature such as phone calls, email, laundry, and alcohol.
Activity Level
Level 3: Medium
This small group tour features long days walking and standing while touring, a large amount of stair climbing with some steep steps, several long overland drives sometimes on poor quality roads, and accommodations in some cases that offer common WCs and do not have en suite shower facilities. Only those fit to travel and who are willing to accept local standards of amenities and services and the physical challenges of the program should consider joining this program. 
Travelers must be able to walk one to two miles a day, keeping up with fellow travelers, often on uneven surfaces.
There are overall shortcomings in the tourism infrastructure of these developing destinations, including some that can cause walking challenges such as unpaved sidewalks, uneven surfaces and steps, packed-dirt streets, broken pavement (streets or sidewalks), and a general absence of handrails or ramps. Some attractions are only accessible via steep staircases with tall uneven steps – in some cases, stairways are in narrow passages with limited light. Elevators are not available at touring sights, nor at some of the hotels.
Past travelers have also encountered challenges with plumbing, bureaucratic service, and availability and quality of public restrooms. 
Accommodations vary from four star properties to relatively basic and simple hotels in the more remote parts of the countryside.
Gallery