error_outline
Flexible Private Trip — Book Your Dates for You & Yours
Cultures & Contrasts in the Land of Fire
Overview
Azerbaijan, situated where the Caucasus Mountains meet the Caspian Sea, is a dramatic combination of the very old and the very new. Explore the booming capital, Baku, and then take to the hills to visit villages lost in time, enclaves of the region's original people, ancient archaeological sites, and a stained-glass-lit khan's palace.
Travels to: Azerbaijan
Map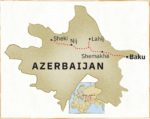 Itinerary
Days 1-3: Baku (Azerbaijan), Gobustan

Explore Baku, Azerbaijan's capital and a bustling business center for the Caspian oil industry. Wander the narrow stone streets of the UNESCO-listed medieval Old Town, stroll modern Fountain Square, and admire the dramatically lit Flame Towers skyscrapers. Take a day trip to see the UNESCO-listed petroglyphs of Gobustan and the Zoroastrian Fire Temple in Surakhani village, originally built over a flaming gas vent.

HIGHLIGHTS

The winding streets, mosques, and tiny shops of Baku's walled Old Town
Vivid hand-loomed carpets at the State Museum of Azerbaijani Carpets and Applied Folk Art
Baku's Beaux Arts mansions – the byproduct of an early 20th century oil boom
The swooping architecture of the Heydar Aliyev Cultural Center, designed by famed Iraqi-British architect Zaha Hadid
Gobustan's petroglyphs, which provide a surprisingly rich portrait of daily life in ancient times

Day 4: Maraza, Shemakha, Lahij

Head west out of Baku to spend the day getting a sense of Azerbaijani village life. In Maraza, climb to the landmark Diri Baba Mausoleum, set on the side of a hill. On the outskirts of Shemakha, visit a farm to learn how locals make yogurt and butter. And stop in Lahij, an ancient, almost untouched village that seems worlds away from Baku. Coppersmiths here are renowned for their beautiful plates and samovars, made using techniques passed down from the Middle Ages. Visit the studio of a copper master to see how it's done.

HIGHLIGHTS

The 15th century Diri Baba Mausoleum, adorned in decorative carvings
Shemakha, former capital of the once-powerful Shirvan Khanate from the 6th to the 15th centuries
The UNESCO-listed traditional coppersmithing techniques of Lahij village

Day 5: Sheki

Spend a day exploring historic Sheki, one of the oldest towns in Azerbaijan; its historic center and Khan's Palace are UNESCO World Heritage sites. Stop at the caravanserai, an inn from the days of the Silk Road that still accommodates travelers today. Visit the workshop of a local artist who creates vivid stained glass windows called shebeke, and then tour the Khan's Palace, where such windows were used to great advantage.

HIGHLIGHTS

The mosaic-covered Khan's Palace, a UNESCO World Heritage site
A walking tour of Sheki's Old Town – also UNESCO-listed – with a chance to visit the crafts market and sample renowned local halvah
A visit to the workshop of a traditional stained glass maker

Days 6-7: Nij, Baku

Return to the capital today, stopping along the way at the small town of Nij. Nij was part of a historical region known as Caucasian Albania, a once predominantly Christian territory with origins that can be traced as far back as the 5th century BC. Its residents are primarily Udis, a small ethnic group with ancient roots that maintains its own language and practices a distinct form of Christianity. Visit the Orthodox Albanian Church of St. Elesei, Nij's main spiritual center. Upon returning to Baku, spend an evening sightseeing and preparing for departure the following day.

HIGHLIGHTS

Nij, home to Udis, direct descendants of ancient Caucasian Albanians
The Orthodox Albanian Church of St. Elesei, given away to the Armenian patriarchy by Czar Nicholas I in the 19th century, and returned only in 2003
A final evening in Baku
Dates &amp Prices
Please note:
Private trip prices vary by season and are subject to hotel availability for your travel dates.
Listed prices below are based on double occupancy and a 2 traveler minimum.
Hotel upgrades, additional nights, and solo traveler prices are available on request.
Land tour price, per person, starting from:
2023 Dates

Available: April - November

Tour, double occupancy

$2,995
What's Included
Tour Includes

Shared accommodations as noted in the itinerary. Contact MIR for hotel upgrade prices.
Meals, as noted in the itinerary.
Restaurant tips for included meals.
One arrival and one departure transfer. Additional arrival and departure transfers available at additional cost.) MIR will arrange for travelers to be met upon arrival and seen off on departure, whether or not we make your air arrangements.
Ground transportation throughout itinerary by private vehicle (Type of vehicle depends on number of travelers in your group).
Services of experienced, English-speaking local guides, drivers, and other staff, as noted in the itinerary.
Guided sightseeing tours and entrance fees, as outlined in the itinerary.
Special events, excursions, and cultural performances, as outlined in the itinerary.
Complete pre-departure information, including detailed packing list, reading list, and Touring with MIR handbook with country-specific information, maps, and travel tips.
Final document packet including luggage tags, final updates, and more.
Assistance booking your custom flight arrangements, on request. (Please note that international airfare is not included in the land tour cost).

Not Included

International airfare and taxes/fuel surcharges.
Meals and drinks not specified as included in the itinerary.
Single supplement if requested or required.
Baggage handling.
Gratuities to local guides, drivers, porters, and other service personnel.
Expenses incurred as a result of delay, modification, or extension of a tour due to causes beyond MIR's control.
Travel-related insurance including cancellation, medical, and evacuation insurance.
Visa fees, excess-baggage charges, airport departure taxes, vaccination and other medical costs.
Optional pre- or post-tour extensions.
Items of a personal nature such as phone calls, email, laundry, and alcohol.
Activity Level
Level 3: Medium, but Customizable
This 'Essential' itinerary designed for private travel features long days walking and standing, some long days of overland travel, significant stair climbing, unpaved sidewalks and streets, uneven surfaces and steps, absent handrails, and lack of elevators. While some of these challenges are inherent in the destinations and sites, as one of our Essential Series programs this trip can be modified as needed for those travelers who are looking for a less challenging (or more challenging) program.
There is a significant amount of touring on foot, and those travelers planning to take the program as written should be able to walk at least a mile a day comfortably. Some long drives are an inevitable element of the routing this tour uses, and road conditions in the region can be bumpy and rough. Some attractions are only accessible via steep staircases with tall, uneven steps, and handrails are not always in place. Interior staircases may involve steep steps inside narrow passageways with limited light. Touring will be over a variety of surfaces such as cobblestones, bricks, packed or loose dirt or gravel, and uphill or downhill sections.
Past travelers have also encountered challenges with bureaucratic service, plumbing in and out of hotels, and availability and quality of public restrooms.
Accommodations in the basic program are generally small, moderate, three-star to four-star hotels, some quite small with basic amenities and services. Upgrades may be available in some cities, please call for details.
An additional potential challenge comes for those travelers visiting Armenia prior to Azerbaijan. In that situation, please be prepared for the possibility of additional questioning at passport control about your reasons for having visited Armenia. Expect that customs officials may wish to inspect any items purchased in Armenia. Please note that it is prohibited to carry goods produced in Armenia bearing the name or label of Nagorno-Karabakh into Azerbaijan; such items are subject to possible confiscation at the border. Alcohol produced in Armenia (especially with Nagorno-Karabakh on the label) and guidebooks, maps, or other printed materials manufactured in Armenia (depicting Nagorno-Karabakh as Armenian territory or as an independent country) will not be allowed into the country of Azerbaijan.