error_outline
Private Trip — Book Privately on Set Dates (September 2023-call for details)
Kazakh Culture and Traditions in Mongolia's Far West
Overview
Western Mongolia's Altai Festival is a more exclusive and in many ways more traditional version of the larger and more famous Golden Eagle Festival. Both take place in Ulgii, capital of western Mongolia and home to a large Kazakh population. Both also feature the same types of events showcasing Kazakh culture and eagle hunting traditions. The Altai Eagle Festival takes place a bit earlier, meaning often warmer, more enjoyable weather; and the smaller footprint event makes for a more up-close and intimate but no less exhilarating one-of-a-kind experience. Plus, we stay in a luxury ger camp located close to the festival grounds.
This journey starts in Mongolia's capital, Ulaanbaatar, where you'll explore museums and the country's most important temple. You'll then fly to Ulgii for five nights in a remote luxury ger camp. Aside from the festival, you'll also spend time with an eagle hunter, go horseback riding, and hike up to a scenic pass in the mountains, if you so wish. Then return to Ulaanbaatar for a final two nights, taking a day trip to search for endangered takhi horses in Hustaiin Nuruu National Park on the penultimate day.
This journey is designed to be booked privately, ideal for individuals, couples, or friends. The dates are timed around the festival and flights to and from Ulgii, as well as Turkish Air flights into Mongolia.
Travels to: Mongolia
Map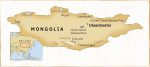 Itinerary
Days 1-2: Ulaanbaatar (Mongolia)

Begin in Ulaanbaatar, the political and cultural heart of Mongolia, and the country's capital. Visit the Gandan Monastery, showcasing a 20-ton gilded statue of "the Lord Who Looks in Every Direction," and the National Museum of History, displaying Stone and Bronze Age artifacts, sacred relics, and costumes of Mongolia's minority tribes. Explore the Zanabazar Fine Arts Museum and its collection of Buddhist thangkas, statues, and other art

HIGHLIGHTS

Ulaanbaatar, capital and most important city in Mongolia
Gandan Monastery, with the 20-ton gilded statue of "the Lord Who Looks in Every Direction"
National History Museum, an overview of the country's history and culture
Zanabazar Fine Arts Museum, home to collections of ancient and contemporary art
Sukhbaatar Square, an immense open square at the heart of the city

Days 3-8: Ulgii and the Altai Eagle Festival

Head by plane to Ulgii, a majority Kazakh town in Mongolia's far west. Spend some time on arrival to explore a bit of the city, the capital of one of Mongolia's most beautiful provinces. Then head out to the ger camp in the Tsambagargav Valley, near the grounds of the Altai Eagle Festival. Spend the next four days learning about the culture and traditions of Kazakh eagle hunting. In addition to attending the festival itself, you'll also get some hands-on experience and explore the surrounding wilderness as well.

HIGHLIGHTS

Attending the fantastic Altai Eagle Festival, including the opening ceremony, the events, and the awards ceremony
Spending some time with a Kazakh eagle hunter, riding horseback through the wilderness and learning about the sport
Listening to Kazakh folk performances, celebrating the festival and the heritage of the surrounding communities
Watching a demonstration of traditional Kazakh horse games, a centuries-old pastime on the steppes of the region
Overnighting in the wilderness in traditional yet comfortable gers
Hiking up a river valley to a pass in the Altai Mountains, a beautiful spot known locally as Tavan Belchir ("five pastures")

Days 9-10: Ulaanbaatar, Hustaiin Nuruu National Park

After the conclusion of the Altai Eagle Festival, fly back to the capital Ulaanabaatar for a final two nights in Mongolia. Spend your final full day exploring Hustaiin Nuruu National Park on a a day trip outside of the city. Enjoy a bit of free time for independent exploration, last-minute shopping, or packing.

HIGHLIGHTS

Searching for takhi (Przewalski's horses) on the steppes of Hustaiin Nuruu National Park
Learning about the history, successes, and challenges of conservation work in the park
Visiting the small Takhi Museum to learn more about the ecology of the horses and reintroduction efforts
Dates &amp Prices
Please note:
Special rates are available for groups of four or more travelers – please download the detailed itinerary or contact MIR for more details
Listed prices below are based on double occupancy and a two traveler minimum.
Additional nights in Ulaanbaatar and solo traveler prices are also available on request.
While bookable on a private basis, the trip dates must be September 13-22, 2022 to match the dates of the festival and associated flights.
Land tour price, per person, starting from:
Call for dates and prices
What's Included
Tour Includes

Accommodations as noted in the itinerary.
Breakfast, lunch and dinner every full day of the tour (9 breakfasts, 8 lunches and 8 dinners).
Restaurant tips for included meals.
Services of experienced, English-speaking local guides, drivers, and other staff, as noted in the itinerary.
One arrival and one departure transfer. Additional arrival and departure transfers available at additional cost.) MIR will arrange for travelers to be met upon arrival and seen off on departure, whether or not we make your air arrangements.
Ground transportation throughout itinerary by private vehicle (type of vehicle depends on number of travelers in your group.)
Guided sightseeing tours and entrance fees, as outlined in the itinerary.
Special events, excursions, and cultural performances, as outlined in the itinerary.
Baggage handling where available - though porters are rare in the more remote parts of the program.
Complete pre-departure electronic document that includes detailed packing suggestions, reading list links, country-specific information, maps, travel tips and more.
Assistance booking your custom flight arrangements (on request; please note that international airfare is not included in the land tour cost).
Electronic final update bulletin, with any late news, updates and important information.
Altai Eagle Festival entrance fees.

Not Included

Internal airfare (internal airfare is quoted separately and is subject to change by airlines).
International airfare or taxes/fuel surcharges.
Meals not specified as included in the itinerary.
Baggage handling.
Single supplement charge, if requested or required.
Items of a personal nature (phone calls, email, laundry, alcohol, excess baggage, etc).
Gratuities to guides, drivers, and support/service staff (at restaurants, hotels, etc.).
Expenses incurred as a result of delay, modification or extension of a tour due to causes beyond MIR's control.
Travel and trip cancellation insurance.
Activity Level
Level 4: Rigorous Touring

This program is rated as rigorous touring due to several factors. Outside of the capital, there are almost no roads, so overland transfers around Ulgii will involve very rough and bumpy drives over dusty and unpaved tracks in basic vans, Russian jeeps or other vehicles. This itinerary features a significant amount of touring on foot, both in the city and out of it. In the city, you're likely to encounter uneven surfaces and attractions accessible only via steep staircases. Museums generally do not have elevators. In the rural areas, there will be a variety of challenging terrains, especially on the hike on Day 7
To reap the full rewards of this adventure, travelers must be able to walk at least two to three miles a day; hike for 4-5 hours on uneven, rough terrain on one day; and must be able and willing to handle the rustic accommodations in Ulgii. Flexibility, a sense of humor and a willingness to accept local standards of amenities and services are essential components to the enjoyment of this trip. Other challenges include overall shortcomings in the tourism infrastructure in remote Mongolia. Past travelers have also encountered challenges with plumbing, bureaucratic service, variety of locally available foods, and availability and quality of public restrooms.
This tour maintains a focus on cultural interaction; we will be visiting gers, and participants may share meals with local residents. It is therefore important that tour members have a desire to involve themselves in the local culture in order to enjoy this trip. If you are looking for a less adventurous experience, MIR offers flexible/private and scheduled small group tour options featuring more comfortable accommodation and which do not venture into the remote and undeveloped Mongolian desert. Please ask for details on these tours (Mongolia Explorer: Gobi & Beyond and Essential Mongolia) as well as a custom private journey which may be a better match for your interests and physical capabilities.
Gallery