A Classic Silk Road Survey
Overview
The "5 'Stans" of Central Asia – Kazakhstan, Kyrgyzstan, Tajikistan, Turkmenistan, and Uzbekistan – are a treasure trove of history, culture, and natural beauty. Marvel at the ancient cities of Samarkand and Bukhara, admire the majestic mountains of Kyrgyzstan, and explore the stunning capital of Turkmenistan. More than 2,000 years ago, the great trade routes linking Europe and China opened Central Asia to foreign cultures, customs, and religions. Join a modern-day caravan on an epic journey to five of these exotic countries.
The April 1, 2023 departures of this tour will feature special host Michel Behar, who has traveled and led more than 100 tours to every corner of MIR's realm since 1998.
Travels to: Kazakhstan, Kyrgyzstan, Uzbekistan, Tajikistan, Turkmenistan
Map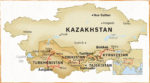 Itinerary
Days 1-5: Almaty (Kazakhstan), Lake Issyk-Kul (Kyrgyzstan), Bishkek

Begin in and around Almaty, the quickly modernizing business capital of Kazakhstan, beautifully situated amid the majestic Tien Shan mountain range. Cross into Kyrgyzstan and spend two nights at beautiful alpine Lake Issyk-Kul before exploring Kyrgyzstan's capital, Bishkek.

HIGHLIGHTS

Central Almaty's Panfilov Park, home to the candy-colored Zenkov Cathedral
A demonstration of traditional Kazakh falconry in the Tien Shan foothills
A boat ride on Lake Issyk-Kul
Iron Age petroglyphs at Cholpan-Ata, near Lake Issyk-Kul
Burana Tower, one of few remaining Silk Road watchtowers in Kyrgyzstan
In Bishkek, an evening performance of selections from the Epic of Manas, a traditional Kyrgyz poem

Days 6-8: Osh, Fergana (Uzbekistan), Margilan, Rishtan, Khujand (Tajikistan)

Fly to Kyrgystan's second-largest city, Osh, located in the lush Fergana Valley, which spans three of the five 'Stans. From there ascend UNESCO-listed Sulaiman-Too Sacred Mountain, one of the holiest Islamic sites in Central Asia. In the Uzbek portion of the valley, visit Margilan and Rishtan, villages specializing in silks and ceramics. Cross the border into Tajikistan for an overnight in historic Khujand.

HIGHLIGHTS

Sulaiman-Too Sacred Mountain, an Islamic holy site known as "Little Mecca"
Visits to Margilan's market and the workshop of one of its silk makers
Lunch and a workshop tour with a ceramics master in Rishtan Village
Khujand's huge, pink Panjshanbe covered bazaar

Days 9-17: Tashkent (Uzbekistan), Samarkand, Bukhara, Khiva, Nukus

The Uzbek portion of the trip starts in the capital of Tashkent and then devotes seven nights to three spectacular UNESCO-listed Silk Road oasis cities: blue-tiled Samarkand, once Tamerlane's seat of power; Bukhara, site of the 2,000-year-old Ark Citadel; and Khiva, with its classic winding alleys and distinctive dun-colored walls. Then travel through the Kyzyl Kum (Red Sands) desert to the remote city of Nukus, the unlikely home of the world-class Savitsky Museum of avant-garde Russian art.

HIGHLIGHTS

The wide, tree-lined boulevards of modern Tashkent
Samarkand's Registan Square, bordered by three beautiful madrassahs
The 14th century conqueror Tamerlane's architectural legacy in Samarkand, including Bibi Khanum Mosque, the largest of its day, and Ulug Nek Observatory
Old Bukhara's ageless domed bazaars and its central Lyab-i-Hauz Plaza, adorned with a reflecting pool
Ark Citadel, Bukhara's huge 2,000-year-old fortress
Khiva's Old Town, known as Ichon-Qala, a "living museum" that looks much as it did centuries ago
Tash-Hauli Palace and Dzhuma Mosque, two of Khiva's most impressive structures
Savitsky Art Museum, the world's second largest collection of Russian avant-garde art

Days 18-22: Kunya Urgench (Turkmenistan), Dashoguz, Ashgabat, Nisa, Merv

Cross into Turkmenistan and visit the UNESCO-listed Old Town of Kunya Urgench, then board a flight to the capital, Ashgabat, a city of flamboyant gilded architecture born from the rubble of a massive 1948 earthquake. A four-night-stay there includes day trips to two UNESCO-listed ancient cities: Nisa, once capital of the Parthian Empire; and Merv, an oasis that supported human life as far back as the Iron Age.

HIGHLIGHTS

Kunya Urgench's 11th century Kutlug-Timur Minaret, standing 190 feet tall and decorated with intricate mud brickwork
The opulent new architecture of Ashgabat, which holds a Guinness record for highest density of white marble buildings in the world
The $100-million Kipchak Mosque, with its 164-foot golden dome and room for 10,000 worshippers, located just outside Ashgabat
The ruins of Nisa's two fortresses, which show influences of ancient Greek and Roman culture
A trip outside Ashgabat to a farm that breeds renowned Akhal-Tekke horses
Dates &amp Prices
Small group tour – max 16 travelers
Land tour price, per person. Based on double occupancy and minimum group size of 5 travelers.
2023 Dates

Apr 1 - 22

Popular leader Michel Behar scheduled to lead this departure.

Apr 15 - May 6

Limited space available!

Sept 9 - 30

New departure date added!

Oct 7 - 28

Sold out! Waitlist available.

Tour, double occupancy

$8,395

Plus internal airfare

$350

2024 Dates

Sept 7 - 28

One spot left!

Oct 5 - 26

Only 2 spots left!

Tour, double occupancy

$8,495

Plus internal airfare

$380
What's Included
Tour Includes

Accommodations, as noted in the itinerary.
Most meals, as noted in the itinerary.
A daily supply of bottled water.
Arrival/departure airport transfers on the tour start/end date. MIR will arrange for all travelers to be met upon arrival and seen off upon departure whether or not we make your flight arrangements.
Ground transportation throughout tour by private van or coach. (Type of vehicle depends on group size.)
Services of experienced, English-speaking local guides, drivers, and other staff, including a MIR Tour Manager.
Guided sightseeing tours and entrance fees, as outlined in the itinerary.
Special events, excursions, and cultural performances, as outlined in the itinerary.
Gratuities to local guides, drivers, and other service personnel, including servers at group meals.
Complete pre-departure information, including detailed packing list, reading list, and Touring with MIR handbook with country-specific information, maps, and travel tips.
Final document packet, including luggage tags, final updates, and more.
Assistance booking your custom flight arrangements, on request. (Please note, international airfare is not included in the land tour cost.)
Customized visa information and instructions. (Please note, visa fees are not included in the tour price.)

Not Included

International airfare and taxes/fuel surcharges.
Internal airfare. (Internal airfare is quoted separately and subject to change by airlines.)
Travel entry pass to Turkmenistan.
Meals and drinks not specified as included in the itinerary.
Single supplement (or partial single supplement where applicable), if requested or required.
Gratuities to Tour Manager.
Expenses incurred as a result of delay, modification, or extension of a tour due to causes beyond MIR's control.
Travel insurance, including cancellation, medical, and evacuation insurance.
Visa and/or passport fees, excess-baggage charges, airport departure taxes, vaccination and other medical costs.
Optional pre- or post-tour extensions.
Items of a personal nature, such as phone calls, email, laundry, and alcohol.
Activity Level
Level 3: Medium
This small group tour features long days walking and standing while touring, several long days of overland travel (some on poor quality roads), lengthy foot traverses of two border points while carrying/rolling your own luggage, unpaved sidewalks and streets, uneven surfaces and steps, absent handrails, significant stair-climbing, and absence of elevators. Only those fit to travel and who are willing to accept local standards of amenities and services, and the physical challenges, should consider joining this program.
Travelers must be able to walk at least two miles a day, keeping up with fellow travelers. A few drives on poor-quality roads may last as long as 8-10 hours driving time (with comfort stops). Some border crossings may require walking up to about a half-mile while managing your own baggage; and in some cases, bags may need to be carried during these crossings rather than rolled, as the road/sidewalk surface is not always paved or smooth.
There are overall shortcomings in the tourism infrastructure of these developing destinations, including some that can cause walking challenges such as unpaved sidewalks, uneven surfaces and steps, packed-dirt streets, broken pavement (streets or sidewalks), and a general absence of handrails or ramps. Some attractions are only accessible via steep staircases with tall uneven steps – these can also be spiral staircases and/or in narrow passages with limited light. Elevators are not available at touring sights, nor at a few of the hotels.
Past travelers have also encountered challenges with plumbing, bureaucratic service, variety of locally available foods, and availability and quality of public restrooms.
Accommodations vary from four and five star properties to relatively basic and simple hotels in the more remote cities.
Gallery