Iran From Top To Bottom
Overview
Join us on an in-depth exploration of Persia's rich history and sophisticated culture, stretching from the time of ancient empires to modern-day Iran. The itinerary counts 13 UNESCO World Heritage Sites among its scores of marvels and includes opportunities to experience warm, welcoming Iranian hospitality.
With MIR's expert guides leading the way, you'll tour some of the world's most impressive ancient ruins, highlighted by vast, ornate Persepolis. You'll marvel at the greatest achievements of Persian architecture, including the intricate design and brilliant colors of Isfahan's Imam Mosque. You'll shop for traditional crafts in the labyrinthian, eight-century-old Tabriz Bazaar. And you'll discover the country's diverse subcultures, past and present, from the Zoroastrian Fire Temple of Yazd to the Armenian and Jewish quarters of Isfahan.
Travels to: Iran
Map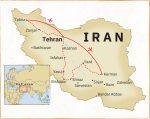 Itinerary
Days 1-3: Tehran (Iran)

Tehran – Iran's capital and its major metropolis, numbering more than nine million residents – is the natural starting point for exploring the country's rich history and bustling contemporary life. Visits to major museums provide an introduction to Persian culture, and tours of two palaces are your first immersion into the region's majestic architecture. You'll dine at local restaurants, gaze at the spectacular Crown Jewels, and get a photo op at Azadi Tower, Tehran's iconic modern landmark.

HIGHLIGHTS

Golestan Palace, the 16th-century fortress of the Safavid Dynasty, now a UNESCO World Heritage Site
Sa'ad Abad Palace, a beautifully manicured 700-acre complex that was once home to the royal family
The spectacular Iranian Crown Jewels, including Darya-ye-Nur, the world's largest uncut diamond, and the Peacock Throne, covered in over 23,000 gems
Reza Abbasi Museum's extensive array of decorative arts, some dating back well over a thousand years
The Carpet Museum, a striking showcase for one of Persia's signature crafts

Days 4-6: Tabriz, Zanjan

A flight of a little over an hour takes you from Tehran to Tabriz, a city of 1.7 million that serves as capital of Iran's East Azerbaijan Province. Tabriz is home to one of the world's oldest and largest covered bazaars and is the site of the Blue Mosque, renowned for its 15th-century mosaics. A day trip takes you to the remote Monastery of St. Stephanos, a thousand-year-old testament to the long history of Christianity in the region. The following day, visit the Throne of Solomon, an archaeological site that includes ancient Zoroastrian and Sassanian temples, and spend the night in the charming city of Zanjan.

HIGHLIGHTS

Browsing through the grand labyrinth of Tabriz Bazaar, a UNESCO-listed site that's been flourishing since the 13th century
The intricate, arabesque mosaics decorating Tabriz's Blue Mosque
The UNESCO-listed Monastery of St. Stephanos, distinguished by its elaborate, Armenian-style brickwork
The remains of a 3rd-century Zoroastrian fire temple at the UNESCO-listed Throne of Solomon

Days 7-10: Kerman, Rayen, Jupar, Yazd

The next stop is the mile-high city of Kerman. This serves as a base for exploring the ancient citadel of Rayen, the mausoleum of revered Sufi teacher Shah Nematollah Vali, and UNESCO-listed Shahzadeh – one of Iran's grandest Persian gardens. During your time in Kerman you'll tour the city's splendid bazaar, sip tea in what was once a traditional bathhouse, and visit a workshop in the celebrated weaving center of Jupar. The next stop is Yazd, a desert city of such beauty and cultural significance that it's designated a UNESCO World Heritage Site in its entirety. Yazd is a traditional center of Zoroastrianism; its Fire Temple remains an important pilgrimage site, and its Towers of Silence, central to Zoroastrian death rituals, loom on the hilltops outside of town.

HIGHLIGHTS

Rayen Castle, one of the finest examples in the world of ancient mud-brick architecture
The vibrant blue-tiled dome and minarets of the Shah Nematollah Vali Mausoleum
The terraced pools gracing UNESCO-listed Shahzadeh Garden
Taking tea in Kerman at a former bathhouse that's maintained its original elegant tile-work
The many treasures Yazd, including the UNESCO-listed Dowlat Garden, the Friday Mosque, and the Zoroastrian Fire Temple and Towers of Silence

Days 11-14: Shiraz, Persepolis, Firuzabad, Bishapur, Yasuj

Departing from Yazd, stop at the ruins of the city of Pasargadae, founded by Cyrus the Great in the 6th century BC. Next, arrive in Shiraz, one of Iran's most beautiful and historically rich cities renowned for its gorgeous gardens and intricate architecture. Shiraz is also a base for two memorable day trips: to Persepolis, one of the world's great archaeological sites, and to Firuzabad, home to the Ardashir I Palace and a congregating point for Qashqai nomads. A mountain drive the following day leads to the city of Bishapur, built by King Shapur I in 266 and famed for its ancient reliefs carved into a cliffside.

HIGHLIGHTS

The limestone mausoleum of Cyrus the Great at the UNESCO-listed ruins of Pasargadae
The brilliant colors of Nasir-ol-Molk Mosque and the cypress-lined avenues of Naranjestan Garden, two highlights of Shiraz
The ornate columns and beautifully rendered bas-reliefs at UNESCO-listed Persepolis, once one of the great cities of the ancient world and now one of the world's most impressive archaeological sites
Dining on Persian stew at a local restaurant in Firuzabad
The towering cliffside reliefs of Bishapur, depicting military triumphs by Cyrus the Great over Roman adversaries

Days 15-19: Isfahan, Tehran

Past and present majestically intertwine in the city of Isfahan, where beautiful, historic public spaces buzz with activity. Stroll through the centerpiece, UNESCO-listed Imam Square, and explore the spectacular buildings that surround it – the Imam Mosque, the Sheikh Lotfollah Mosque, and the Ali-Qapu Palace. Other Isfahan attractions include the Royal Qeisarieh Bazaar, the Friday Mosque, the Chehel Sotun Palace, the elegant bridges over the Zayandeh River, and the Armenian and Jewish quarters. En route to Tehran for departure, discover a final UNESCO-listed site: Bagh-e Fin, a classic Persian garden.

HIGHLIGHTS

Taking in the scene at 22-acre Imam Square, one of the largest city squares in the world
The turquoise minarets and intricate tile-work of the magnificent Imam Mosque
Shopping for classic Persian arts and crafts at the immense Royal Qeisarieh Bazaar
Eight hundred years of Persian architecture on display at UNESCO-listed Friday Mosque, the largest and most eclectic mosque in all of Iran
Discovering the legacies of minority cultures in Isfahan's Armenian and Jewish quarters
The beautiful, brilliantly engineered waterworks at Bagh-e Fin
Dates &amp Prices
Small group tour – max 16 travelers
Land tour price, per person. Based on double occupancy and minimum group size of 6 travelers.
2023 Dates

Tour, double occupancy

$7,495

Plus internal airfare

$250

2024 Dates

Tour, double occupancy

$7,595

Plus internal airfare

$250
What's Included
Tour Includes

Accommodations, as noted in the itinerary.
Most meals, as noted in the itinerary: 18 breakfasts, 17 lunches, and 17 dinners.
A daily supply of bottled water.
Arrival/departure airport transfers on the tour start/end date. MIR will arrange for all travelers to be met upon arrival and seen off upon departure whether or not we make your flight arrangements.
Ground transportation throughout tour by private van or coach. (Type of vehicle depends on group size.)
Services of experienced, English-speaking local guides, drivers, and other staff, including a MIR Tour Manager.
Guided sightseeing tours and entrance fees, as outlined in the itinerary.
Special events, excursions, and cultural performances, as outlined in the itinerary.
Gratuities to local guides, drivers, and other service personnel, including servers at group meals.
Complete pre-departure electronic document that includes detailed packing suggestions, reading list links, country-specific information, maps, travel tips and more.
Electronic final update bulletin, with any late news, updates and important information.
Assistance booking your custom flight arrangements, on request. (Please note, international airfare is not included in the land tour cost.)
Customized visa information and instructions. (Please note, visa fees are not included in the tour price.)

Not Included

International airfare and taxes/fuel surcharges.
Internal airfare. (Internal airfare is quoted separately and subject to change by airlines.)
Meals and drinks not specified as included in the itinerary.
Single supplement (or partial single supplement where applicable), if requested or required.
Gratuities to Tour Manager.
Expenses incurred as a result of delay, modification, or extension of a tour due to causes beyond MIR's control.
Travel insurance, including cancellation, medical, and evacuation insurance.
Visa and/or passport fees, excess-baggage charges, airport departure taxes, vaccination, and other medical costs.
Optional pre- or post-tour extensions.
Items of a personal nature, such as phone calls, email, laundry, and alcohol.
Activity Level
Level 3: Medium
The accommodations vary from first class to very basic and simple hotels. It is important to keep in mind that parts of Iran are not up to the standards North American travelers expect. Services are improving; however, you may encounter problems with bureaucratic service, road conditions, plumbing, unpaved sidewalks, uneven surfaces and steps, variety of locally avail- able foods, and availability and quality of public restrooms. You are traveling in some areas that see relatively few travelers, and the infrastructure is not yet fully developed.
While this program is designed to be the most comfortable possible for travel in this region, it is rated as rigorous touring due to the daily walking involved, the length of some bus rides, and the overall shortcomings of the tourism infrastructure. This itinerary features a significant amount of touring on foot. Many streets are made of packed dirt, and some attractions are only accessible via steep staircases with tall uneven steps. Some of the cities visited are over 5,000 feet in elevation, about the same as Denver. Often the museums have no elevators. In particular at the archaeological site of Persepolis, an entire half-day is spent exploring on foot, without access to shade or seating. At Isfahan's Ali-Qapu Palace, there are approximately 80 steps to negotiate before coming to the rooftop viewing area. Drives in the northern part of the country at the beginning of the program include long and winding mountainous roads. In the past some have experienced motion sickness, and it may be advisable to come prepared with motion sickness preventatives. During touring excursions, availability of western toilets is unreliable in Iran. Many public toilets encountered during touring, at museums, at restaurants, and so forth are squat toilets, and handrails may be inadequate.
Every effort has been made to make the information in this schedule accurate. However, trip itineraries are always subject to change. We do our best to inform you in advance of any changes, but due to the nature of travel in Iran, this may not always be possible. Only those willing to accept these conditions should consider joining this program.
To reap the full rewards of this adventure, travelers must be able to walk at least a mile a day, keeping up with fellow travelers. Flexibility, a sense of humor and a willingness to accept local standards of amenities and services are essential components to the enjoyment of this trip.
Gallery